Feature
What the teams said – Sprint day in Belgium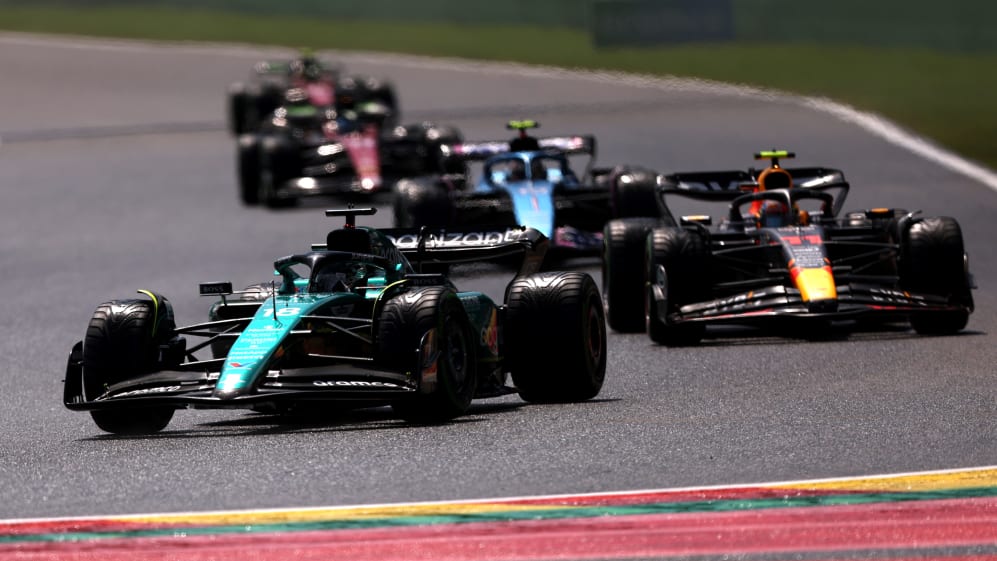 Red Bull
Verstappen grabbed P1 for the Sprint with a steady lap in the Shootout. But when the Sprint began, he opted for safety first and didn't pit immediately for inters. As such he lost to lead to Piastri, but after the Safety Car came back out, used the opportunity to close the gap and launched a Sprint-winning pass as the Safety Car peeled back in. Perez didn't have such a successful day. Qualifying down in P8, he jumped ahead of a few cars by pitting for inters immediately, but then suffered contact with Hamilton during the Sprint which cost him a chunk of bodywork. Losing downforce, he ran wide and wound up retiring.
READ MORE: Verstappen overhauls Piastri in rain-hit Sprint race at Spa-Francorchamps
Max Verstappen,1st
"It wasn't a straightforward race today, we made the safer call with the pit stop because there was a lot of risk in pitting straight away, I opted to stay out for another lap. After that, as soon as I came out on the intermediates, I could see that we had a lot of pace, it was just a matter of time. The weather of course was challenging today, it was okay from my position, but I understand that the people behind me were still struggling to see. There are some improvements to be made with the visibility, but I think race control did the smart thing today, they took some time to analyse everything and that was wise. At the moment, it looks like our car is fast on the wet and the dry so I'm pretty chilled and looking forward to the race tomorrow."
Sergio Perez, DNF
"It was a shame that we had to retire from the race today and get no points for the team. The conditions were tricky and Lewis ran out of grip and crashed into the side of me. I had massive damage to the sidepods and floor and once we realised the extent of this, we had to retire. It is unfortunate, as today we had some good opportunities and had a great strategy. The race pace was good and I think we could have caught Pierre Gasly. All in all, I think everything was managed well today by race control and we have been really strong the whole weekend and had the pace to fight for pole today. Ultimately, we lost a few points today but we look forward to tomorrow."
Christian Horner, Team Principal
"We brought Checo in immediately for the tyre change and he got a great release that jumped both Mercedes and Ferrari's, elevating him to 4th. Unfortunately there was the contact with Lewis that caused significant damage to his side pod causing a significant loss in down force that meant we had no choice but to retire the car. For Max, it was another clinical performance. We chose to bring him in after the first lap which ended up putting him in 2nd, just behind Piastri. While it was a very strong drive from Oscar today, Max was able to bring it home and covert the win following the safety car. We regroup now and prepare for tomorrows race, Checo on the front row and Max in 6th following the gear box penalty. So, another challenge and no doubt the weather will play a part but both drivers are sharp and on their toes and we look forward to some good racing."
McLaren
Piastri nailed his final lap in the Shootout to miss out on P1 by just 0.011s. But in the Sprint itself, he dived straight into the pits for inters. Some quick work by his mechanics and a storming out-lap meant he had the lead at the start of the second lap. He did well to keep Verstappen at bay until the Safety Car came out, and at the restart couldn't break the slipstream and was a sitting duck. Second place is still a very handy result. As for Norris, he lost out thanks to traffic in the Shootout, and as such started down the order. He then lost out in the pits thanks to being held in his box due to more traffic, but P6 is still a solid result.
Lando Norris, 6th
"I think it was a difficult but reasonable day. We got good points, quite a few as a team, especially with Oscar finishing in P2, so congratulations to him for scoring his first top three in Formula One. I think we did the best we could in the conditions, from being the second car, having to box on the second lap, we lost maybe two positions because of this, so it could have been a little bit better but that's just the way it is sometimes. I'm still happy with how we performed and I'm looking forward to taking the momentum into tomorrow's race."
Oscar Piastri, 2nd
"Very, very happy, we tried our best today and scored valuable top three points. We boxed when the Safety Car came in and led for a few laps, but Max was able to pass me shortly after the restart. It's nice to be up there in P2. I think our pace was really strong, so full credit to the team again. The last three weekends have been pretty special, compared to where we were earlier in the year, so, I can't thank the team enough for the car. We've still got a little bit of work to do to continue working towards the top, but it's a lot nicer to be up there and to lead my first laps in F1 was a day I won't forget."
Andrea Stella, Team Principal
"We come out of today's Sprint with ten points, which is a very strong result for the team. Circumstances were difficult once again with rain at the start, but the team managed the conditions well, adapting to the changing requirements. We also acknowledge Race Control and how they have managed the challenging conditions well all weekend, putting safety as its main priority.
"Oscar pitted immediately following the safety car start for Intermediates. There wasn't much we could do with Max later on after the Safety Car restart, but we are very happy for Oscar scoring a first top three result in his F1 career with today's P2. Lando stayed out an extra lap as we wanted to avoid congestion in the pit-lane. He drove a strong race and finished P6.
"We look forward to the Belgian Grand Prix and whatever weather comes our way tomorrow."
Alpine
Alpine managed to get both cars into the top 10 in the Shootout, and opted to pit Gasly at the end of the final Formation Lap. Some swift work from his pit crew enabled the Frenchman to return to the track in third, and he did a superb job to manage his ailing tyres and keep Hamilton at bay to score six valuable points. Ocon wasn't quite so fortunate, losing out after pitting second time around. He did climb back through the field, and ran out of laps to close down Russell for P8.
READ MORE: 'I'm extremely happy' – Gasly hails 'amazing' P3 Sprint finish for Alpine in Belgium
Esteban Ocon, 9th
"First of all a big congratulations to Pierre and the team for today's great result. These are some important points for the team after a few tough weeks so I'm very happy for everyone. On my side it was a pretty straightforward race. The conditions were tough out there but the team did a good job with the strategy and pit stops. I had a couple of good fights on track with Daniel [Ricciardo] and George [Russell] but, unfortunately, we just missed out on the points today. We are fully focused now on tomorrow's Grand Prix where we'll be looking to move up the grid and finish the first part of the season on a high."
Pierre Gasly, 3rd
"I'm so happy for the entire team today, this one is for everyone trackside and at the factories in Viry and Enstone. For me, it's very special to achieve third place here in Spa-Francorchamps with all its history and personal moments that are clearly close to my heart. We took some risks in Sprint Qualifying this morning and it paid off as we ended in sixth place. Then, it was down to a well-executed pit-stop to switch to Intermediates which meant we jumped a number of positions and put ourselves in contention for the top three. It was not easy to hold off Sergio [Perez] and then Lewis [Hamilton] but we did it and I'm so pleased. Tomorrow our focus is on the main race where we know it will be tough starting from twelfth but we can take some confidence into it and hopefully we can come away with another strong result."
Ferrari
Leclerc made a mistake on his final lap in the Shootout which cost him a chance of P1, but the Ferrari boys still had good starting slots on the second row. Sainz pitted first for inters which kept him in front of his team mate, but both suffered slow stops and lost out to Hamilton. Fortunately for them, Hamilton's time penalty meant they inherited a place at the flag.
Charles Leclerc, 5th
"We didn't maximise our package today. Starting on the Wets like everyone else, I pitted one lap after Carlos, which I think was the right choice because we would have lost more time stopping right behind him. Unfortunately, we lost time in the pitlane and as a consequence we lost some positions there. The race tomorrow will depend a lot on the weather, as teams have set up their cars for different conditions. It's always a bit of a gamble here, not just in terms of strategy, but you need a bit of luck too. In any case, it should be a good fight and I look forward to getting back in the car."
Carlos Sainz, 4th
"We had good pace with the Inters but we missed out on a better result. The pit stop was crucial today and unfortunately, we lost some valuable positions there. We will look into it, but apart from that it was a solid Saturday for the team and I felt good in these conditions. Now we focus on tomorrow: it's difficult to know how our pace will be during the race so I prefer to be cautious. However, I'm looking forward to putting everything together and finishing this first part of the season with a good result. Let's race again!"
Fred Vasseur, Team Principal
"Firstly, I think the race direction took the right decision about the start procedure. We have to put safety first and visibility has been the main concern. As for our race, we were unlucky to lose places with both Carlos and Charles, because both their pitstops were affected by traffic in pit lane, which meant we were unable to release our cars back into the fast lane. Unfortunately, it is always a bit risky when you are near the pit lane entry as you cannot see who is coming in from the track, so we didn't want to take too many risks.
"Now we must focus on tomorrow. No one has been able to work on race pace and today's Sprint did not provide any particularly useful information. From what we have seen so far, out performance seems quite good, on both the wet weather tyres and the dry ones and tomorrow's weather could be a bit better with a lower chance of rain. Starting from first and fourth, we need to make the most of this opportunity."
Mercedes
It was a messy day from Mercedes, who once again promised more than they delivered. Hamilton and Russell tripped over each other in the Shootout which compromised both of their final flying runs. In the Sprint itself, Hamilton pitted first but lost out to Perez in the pit lane. He had the pace to fight with the Red Bull and made a move midway through the race. He was alongside when he understeered into the Mexican, earning himself a five-second time penalty for his troubles, which dropped him three places at the flag. As for Russell, he lost out hugely by staying out the extra lap on the full wet tyres, but pulled off a late move on Ricciardo to grab the final point.
READ MORE: Hamilton and Perez share their views after dramatic Sprint race clash at Spa
Lewis Hamilton, 7th
"The conditions were very tricky out there and we're all trying our best. I think the contact with Perez was a racing incident. He went wide and was slow through turn 14 and I got a great exit – I was more than half-a-car alongside him and we ended up just coming together. Naturally it wasn't intentional, but I got a penalty for it. Ultimately, it doesn't make a huge difference. The difference between fourth and seventh in a Sprint where you don't get a lot of points means it's not punishing.
"The positives are that our pace has been good. Today in the Sprint Shootout, we would have been fighting for the front-row without the issues on our final lap. We would have been right up there battling with Max, but it wasn't meant to be. We now start third tomorrow and I hope I'll be able to fight with the Ferraris and Perez."
George Russell, 8th
"I think P8 was the maximum we could achieve from a shortened Sprint today. The car was really quick; I think we were probably the second fastest out there behind Max. Unfortunately after a bad qualifying session this is all you can really get. It also wasn't easy out there in those conditions. It was my decision to pit one lap after the safety car had come in and that was perhaps not the correct one. We came out P12 after the pit stop and got back to P8. To recover those positions in such a short race is positive. With two more laps, we could have possibly got up to P5, but it is what it is, and I'm relatively satisfied."
Toto Wolff, Head of Mercedes-Benz Motorsport
"The car was good today. I would rather have a quick car that is doing good things and have a less optimal position in the Sprint, than benefitting from other's misfortunes and being lucky. Given everything that happened today that we didn't optimise, I'm OK with how our race played out.
"Both Lewis and George had great pace; George overtook several cars and was closing on Norris who was much further ahead, so he had a good recovery. The contact between Lewis and Perez I saw as a racing incident more than penalty worthy. They were side-by-side and we want to see people racing. Nevertheless, that was the decision, and we now move on to the Grand Prix tomorrow. If we take similar pace into the race, we will be in a good position to fight for a decent result."
Andrew Shovlin, Trackside Engineering Director
"Both drivers drove a good race today. We'd have liked a few more laps to attack as the car was working well. Lewis' penalty is frustrating, but the big points are tomorrow and if the car has the pace it had today, we should be on for a strong result.
"George did a really good job to get into the points. It wasn't easy to overtake as the DRS was disabled but he was making steady progress through the field and had good pace. We still don't have any proper dry running so it's hard to know where everyone will be on pace; we can expect Max to be difficult to beat even with his penalty, but everything else is up for grabs."
AlphaTauri
After his error yesterday in qualifying, Ricciardo did a much better job on Saturday. He nearly made it to SQ3, losing his final flying run and a chance to progress to red flags. In the Sprint, once it all shook out he found himself running eighth in the final points paying position, but couldn't keep Russell's Mercedes at bay. As for Tsunoda, he managed to spin during the Sprint, which dropped him down the field.
Daniel Ricciardo, 10th
"The conditions during Sprint qualifying were fairly similar to yesterday. After yesterday, I felt there was more I could improve on in the corners, and after today I got a little more out of them and feel I've made another step forward. It's my first Sprint qualifying with these shorter sessions, so I think it's about timing and knowing when to go. In the end, we were the first on track, maybe that hurt us a little with the time, and everyone else was able to improve. It's not like we expected to have a solid SQ3 car, so maybe our qualifying result isn't too far off our true pace anyway. All in all, I feel progress has been made, so I'm happy with that.
"At the beginning of the Sprint race, we were able to hold the pace and I thought it was good, but as the track dried and it came to the last three laps, I could feel the tyres struggling and the car getting slower. I knew I was P9, and I could still see the Ferrari and Lando (Norris) in the McLaren ahead. They pulled away in the second sector, but I was hanging on in the straights and keeping them in sight. I saw Perez go off, but in the end, I was losing the car quite a lot, and I was overtaken by Russell and Ocon before the chequered flag. After the race, everyone's tyres looked pretty beat up, but we have to understand why we dropped off more than others. It would've been nice to score a point, but I'm glad to see the chequered flag because I don't know how much longer the tyres could've kept me on the track."
Yuki Tsunoda, 18th
"During Sprint qualifying this morning, I made some mistakes and couldn't put a clean lap together. It's super frustrating having qualified P16 because that position hurt us this afternoon, but it was my fault. It was better to prioritise the car in front, which was Daniel because he had a much bigger chance to score points than me, so I think the strategy was good. My whole race felt strange because the rear grip was really poor, but together with the team, we'll investigate what happened there tonight, and I hope everything is ok. At the restart following the Safety Car, I had a massive rear lock and I couldn't control anything, and almost crashed into another car, which would've been the worst-case scenario. By starting P16 in these conditions, my main focus was on bringing the car back in the same shape for tomorrow. Luckily, I was able to avoid any incident with any other car or barrier. I'm happy to start P11 tomorrow for the main race, which is the most important one. I miss the points, so I'm hoping we can finish in the top 10 tomorrow."
Jody Egginton, Technical Director
"The focus during today's Sprint qualifying was on ensuring that tyres were optimised to the track conditions and in the right condition at the right time, to take advantage of track evolution. Daniel's laps were clean, and he progressed nicely, just missing out on SQ3, whilst Yuki did not quite get his best lap together and could not escape SQ1, which is a shame as he had shown a good performance in qualifying yesterday. The weather played its part at the start of the Sprint Race, but following the pit stops, Daniel was running between P8 and P9. He was struggling with tyres towards the end and came home in P10. Yuki had a rear lock and spin at the restart, meaning he was left trailing the field, and given the race length, he wasn't able to recover. It's a tight field and we have been more competitive here this weekend, so we feel we have some opportunities in tomorrow's race. We will go away, review the data and see what we can do to take another step for the race."
Aston Martin
Stroll was the only driver to risk putting on slick tyres in SQ2 in the Shootout, but the track wasn't quite ready and he crashed out. That cost his team mate a lap time too and left them both down the order for the start of the Sprint. Once the dash got going, Alonso dipped a wheel on the wet kerb and spun out into the gravel with a rare mistake. Stroll did see the chequered flag, but started too far back to make much of an impression.
READ MORE: 'My mistake' – Alonso reflects on Sprint crash at the end of costly Saturday for Aston Martin
Fernando Alonso, DNF
"I was following very closely behind Nico [Hülkenberg] at the entry to Pouhon; I lost downforce, touched the white line, and just lost the car. Trying to find grip – and guessing the grip levels in each corner – was tricky. It was very slippery, and it was my mistake.
"But we weren't in the points anyway – and with just 11 racing laps, it was always going to be difficult to score today.
"Still, these things are better happening today than tomorrow. We turn the page."
Lance Stroll, 11th
"It was pretty tough out there today. The wet conditions made the visibility very poor and the car just didn't have the pace we needed. It hasn't been the day we were hoping for, but the weather should be a bit more stable tomorrow – so we'll push hard and see what we can do."
Mike Krack, Team Principal
"We saw more sunshine and showers in Spa today, giving us the full range of changeable track conditions. Like the rest of the grid, we chose to switch to the Intermediate tyres as quickly as possible in the Sprint, but we did not manage to progress into the points from our low starting positions.
"Fernando unfortunately dropped out of the Sprint, but the car did not sustain damage. So, we move on from a challenging day where we did not optimise things. We can hopefully convert our top-10 starting positions for the Grand Prix into points tomorrow."
Williams
Both cars made SQ2 earlier on but could go no further. Albon risked going for one late lap and didn't set a time thanks to Stroll's crash, while Sargeant spun and likewise didn't set a time. Roll on the Sprint, and Albon finished where he started. Sargeant dropped a few places after picking up a penalty for speeding in the pit lane.
Logan Sargeant, 16th
"A difficult Sprint race out there and in those drying conditions the tyres were really struggling to hang on. All in all, considering I was the second Williams car to pit, I extracted the maximum from our situation today. I could've potentially had a slightly better Q2 by finishing that lap. Hopefully if it's dry conditions tomorrow it should suit our car better and we should have an opportunity to move forward."
Alex Albon, 12th
"That was really tough. We've been struggling all weekend in this greasy weather, where we just can't seem to get on top of it. We got some understanding of it during the Sprint Shootout; however, we were just putting new tyres on the car. As soon as we did more than 9 corners, the tyres were overheating. It's good to go through these periods where it becomes clear to us that we're weak in these conditions, and it's obvious when you see the tyres overheating quickly. With a lower downforce set up, it normally works around here, however you don't see the benefit of the straights when you're sliding through corners with the heat building and the tyres continuously overheating. If the race can stay dry tomorrow, we'll be in a good place."
Dave Robson, Head of Vehicle Performance
"Another day of very mixed weather. We were better today on the Inters at low fuel but in the drying conditions they didn't last very long so we opted to go for a single timed lap at the end of the 2nd part of the Shootout but were unable to set a laptime when the session ended early following the red flag. It would have been good to try the car on a slick tyre in the final part of the Sprint Shootout but otherwise it was a good session.
"The Sprint race was difficult as the track dried rapidly, which increased the degradation on the Intermediates. There wasn't enough time to move to the slick tyres and make up for the pit stop. Therefore, the drivers had to manage the Inters to the end of the race.
"It was a difficult day but provided some good learning ahead of the Grand Prix tomorrow."
Alfa Romeo
Alfa Romeo's decent pace from Hungary wasn't evident at a soggy Spa on Saturday. Both drivers exited at the first time of asking in the Shootout, which left them too much to do in the Sprint itself. The better news is that Bottas starts much further up tomorrow for the Grand Prix and with the race expected to be dry, that pace from Hungary could well make an appearance.
Valtteri Bottas, 13th
"It was pretty tricky out there today, but nothing different from what we have had this weekend so far. The weather has been changing unbelievably fast throughout the day, and it's been unpredictable, too. At least, despite everything, we got some good racing done this afternoon, which is always good fun, and also made up a few places up through the field. Overall, as a positive to take home from today, our pace and car felt good, which gives us confidence ahead of tomorrow's race, with better starting positions."
Zhou Guanyu, 15th
"I had very limited visibility during most of the Sprint: it only started to get slightly clearer in the final four or five laps, so, obviously, overtaking was a difficult job as well. Overall, the main goal today, given the situation, was trying to keep the car away from any damage. During the race we opted to pit earlier than expected, as the tyres were degrading very quickly due to the drying lines. Nevertheless, tomorrow should be mostly cloudy and dry, and I believe this weather should suit our car more. I am confident, with dry conditions, we should be able to move forward quickly and charge through the field."
Alessandro Alunni Bravi, Team Representative
"Today, we have been able to execute our race well and recover positions with both drivers, despite our starting places on the grid. This morning, in the Shootout, we couldn't properly extract performance from our package because of the unsuitable conditions during the session, and also because of an unfortunate timing which saw both drivers being stuck in traffic on the last chicane before their final push lap. Valtteri had a solid race, recovering four places on track and benefitting from the right call to switch to intermediate tyres on the first lap, showing good race pace in comparison to our direct competitors. With Zhou, we opted to split strategies and call him to the pits one lap later, to have him benefitting from some free air around him and avoiding time-loss with a double pit stop. He, too, was able to recover four positions overall, despite some troubles with visibility due to the water spray raised by cars in front. As a positive to take from today, we have seen how our set up works best in drying conditions, which gives us confidence ahead of tomorrow's main event, which is expected to be dry: we made a step forward, no matter the slippery and changeable conditions, but this was still not sufficient to fully show our potential. Now, we must look ahead onto tomorrow's race, aiming to keep up with good performance and being ready to take up any opportunity this track may offer."
Haas
Haas had a very error-ridden Shootout to follow on from their difficult qualifying. Hulkenberg didn't even manage to set a time after coming out too late following his front jack breaking, while Magnussen couldn't progress either. The Dane seemed keen to try slick tyres during the Sprint, but the team didn't want to take the risk and both drivers came home well outside of the top 10.
Nico Hulkenberg, 17th
"It was difficult. We were in the group of cars that pitted at the start of the first lap when the Safety Car came in. We picked up a bunch of places, but we didn't really have the pace to cut through, and the car was difficult to drive. I had one off at Turn 15 where I went into the gravel and damaged the floor as well, which lost more performance, so this difficult weekend continues."
Kevin Magnussen, 14th
"It's pretty gnarly when you can't see anything. When they called the rolling start at the beginning I was pretty surprised because we still couldn't see a thing. Coming down to Turn 5 of course when you get into the corners you can see again because the speed is that much slower but going down the straight you literally can see nothing. Towards the end, the track was ready for slick tyres, I think it was past the crossover but there just wasn't enough laps to make up that pit stop loss in a Sprint, so we didn't go for it in the end. P14 for us, we will see what we can do tomorrow."
Guenther Steiner, Team Principal
"In this morning's Sprint Shootout, we got caught out with tyre temperature – we went too high, too quickly, and tried a different strategy at the end of qualifying, and it didn't work out. That was the only possibility where we could get anywhere so we took the risk, but obviously it didn't work out and we started from a bad position. In the race, I think we got the best out of it that we could from the position we started in and the circumstances. Not a fantastic day but then we just saved whatever was left to be saved."
Pirelli
Mario Isola, Motorsport Director
"The Saturday of a Sprint weekend is always very exciting, even more so if rain plays a part. We saw three very close Sprint Shootout sessions, both on the intermediates and the Softs, with really close gaps, especially when one considers the length of the track. In the Race, it was practically impossible to evaluate the behaviour of the wet tyres, because once the Safety Car came into the pits, the conditions were clearly ideal for intermediates. They worked in the way we had expected from what we saw yesterday, with a reasonably limited degradation even over longer runs as seen in the race.
"Tomorrow, the teams will go into the race with plenty of information about the rain tyres, but they will be pretty much in the dark when it comes to the dry weather ones. In the case of mixed conditions in the race, the crossover time from dry tyres to intermediates is estimated to be between 1.54/1.55.00, while from the intermediates to the extreme wets its between 2.04/2.05.00 (times based on a low fuel load). If it does not rain, then they will all have to base their strategy simulations on data gathered from past races at this track and on how the trio of available compounds have behaved in the first part of this season. We are doing exactly that ourselves and at the moment all we can do is confirm our earlier prediction, which indicated there was not much difference between a one stop or a two stop. And, without much information, this becomes an even finer line, so there is a bigger chance of some surprises tomorrow."