Feature
What the teams said – Thursday practice in Las Vegas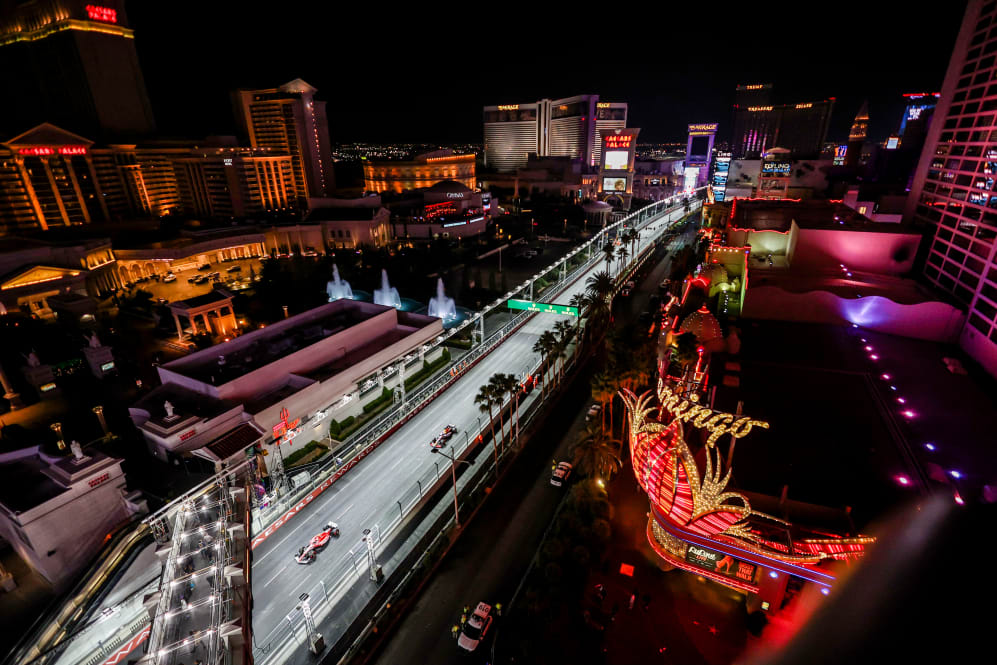 Ferrari
Ferrari were on fine form under the Vegas lights, finishing an encouraging one-two, albeit with Leclerc half a second clear of Sainz. That difference was perhaps not surprising, given that the Spaniard's car had to be rebuilt after his drain cover strike in FP1. He will also take a 10-place grid drop for using additional power unit elements.
READ MORE: Leclerc confident Ferrari can fight for pole in Las Vegas as Sainz hails 'heroic' mechanics
Charles Leclerc - FP1: 1:40.909, P1; FP2: 1:35.265, P1
"It was a bit of a different day. With FP1 being stopped after just four laps, we didn't get much mileage in, so we did our best to make up for it in FP2, with 90 minutes and 4 tyre compounds available to us. The session was productive, we put in a solid number of laps and I really enjoyed driving on this track. For now, we look quite competitive, but there is still a long way to go. We have a limited amount of time left to prepare for tomorrow, so we will work hard to keep this momentum."
Carlos Sainz - FP1: 1:45.824, P7; FP2: 1:35.782, P2
"An eventful day for us after the problem in FP1 with the manhole cover. Our guys however did an amazing job. They basically had to rebuild the entire car ahead of FP2 and thanks to them we managed to complete our programme in the second session, so a big thank you to all the mechanics. We seem to be on the competitive side this weekend and I'm looking forward to tomorrow. On the negative side, we have been given a 10-place penalty for Sunday after the manhole cover damaged, amongst other things, my battery and we had to replace it. I honestly cannot understand it and I think an exemption to the rule should have been considered given what happened, but we'll have to deal with it."
Aston Martin
Alonso came away predicting a tight qualifying and a fun race after he finished best of the rest behind the two Ferraris, suggesting another trip to the podium could be on the cards. Stroll's session was also solid, in what was a positive day for the team in green.
READ MORE: Alonso expecting 'tight' qualifying battle in Las Vegas but says there is still more to come from Aston Martin
Fernando Alonso – FP1: No time set; FP2: 1:35.793, P3
"This is a really interesting circuit with a lot of very different corners and long straights. At night, the tyres lose temperature a little bit so it's interesting going into the hard braking zones. This could make for a fun race with overtaking opportunities. Let's see tomorrow if we can optimise things. We had a decent first day but we still need to work on a few things, as does everybody. Let's see tomorrow when we extract more potential from the car. I think it's going to be very tight in Qualifying and the race."
Lance Stroll - FP1: No time set; FP2: 1:36.496, P8
"This is a fun, fast circuit. It's really cool to be in Vegas. The cooler temperatures are a bit of a challenge, for sure, with getting the tyres up to temperature – we'll see how it goes tomorrow. The field is tight but I think we were pretty competitive today, so I'm looking forward to tomorrow."
Red Bull
Red Bull were keeping their cards close to their chest after a relatively low-key day (by their high standards), but with both Verstappen and Perez hinting that there is likely plenty more to come from the RB19 around the new Las Vegas track.
READ MORE: 'We can do a better job' – Verstappen reflects on areas for improvement after first running in Las Vegas
Max Verstappen - FP1: 1:44.397, P4; FP2: 1:36.183, P6
"The track was quite slippery, it took a bit of extra time to rubber in due to the minimal running in FP1, but it was evolving and was a bit better towards the end of FP2. We managed to do our whole run programme which was the most important thing today with the disruption. From what we learnt, it won't be super straightforward to pick the tyres for the race. The soft was good over one lap, but it was struggling quite a lot on the long run. Even the medium didn't perform as expected, so there's still a few things we have to look into to improve our degradation. I think we still look very good compared to the others, but there's more lap time and management to find."
Sergio Perez - FP1: 1:46.793, P9; FP2: 1:36.085, P4
"It's a shame that FP1 ended the way it did, and I feel very sorry for the fans. However, I'm sure we will have a good weekend of racing ahead of us. It's a brand-new track and the grip level is quite low, which does make things a lot more challenging in the car. We have made good progress, which is important, so I am happy with our performance so far. Ferrari have a strong race pace, but we will see what tomorrow brings; come race day I think we will be there."
Alfa Romeo
A top-five result for Bottas should give Alfa high hopes of picking up some much-needed points in Vegas this weekend. Zhou may have been well off the Finn's time, but the car clearly has pace, so expect to see the gap close before qualifying.
Valtteri Bottas - FP1: 1:47.147, P10; FP2: 1:36.129, P5
"Finishing in the top five is always nice, but it's still very early days and we can't get too carried away. Everyone will improve massively tomorrow, and we will need to do the same, but as far as today is concerned, we looked good. We have a clear direction to follow with the setup to improve the balance of the car, as it's still a bit understeery in the slow-speed corners, and there is a lot of time to be gained if we fix that. The track is just as we expected: really fast, with long straights and very slippery at the beginning of the session. The grip kept getting better with every lap, and we expect more evolution tomorrow. Now, we need to focus on finding some more performance ahead of qualifying: it will be an even longer night than it has been already, but we're motivated to continue at this level."
Zhou Guanyu - FP1: 1:48.822, P14; FP2: 1:37.656, P18
"It was definitely an interesting session, for the time and the track conditions. I don't think the final classification shows our true pace: to explore more options, we chose a different setup from Valtteri, which didn't work as well as his, and I locked up and went straight on my final lap, so we know there's more that we can extract from the car. Discovering the track was a bit challenging: the surface was very slippery, which was not surprising given the new tarmac and yesterday's rain, but it improved a lot as the session progressed and I expect it to continue doing so tomorrow, and lap times to keep tumbling. This track seems to reward confidence under braking, and getting temperature into the tyres will be crucial. We'll need to figure out the best plan to do so in qualifying, especially keeping in mind the cooler temperatures we could be facing tomorrow."
Haas
A solid start to the home team's weekend, with Hulkenberg – running an older set-up package on his VF-23 – comfortably inside the top 10. Magnussen – with the newer package – wasn't far behind, so the Haas boffins will have some interesting data to crunch ahead of FP3.
Nico Hulkenberg - FP1: 1:43.446, P2; FP2: 1:36.489, P7
"It was obviously an interesting day, in unique circumstances for everyone involved. I think having FP2 start at 02:30 will be a record that will stand for a long time, I don't think that will be beaten easily. Building up to it and learning the circuit, we found that okay and we're obviously still exploring. We'll have to see overnight what we can do with our set-up but it didn't feel bad today, at least over one lap. Thanks to the fans who came out and stayed with us for so long, we'll make sure to bring you more entertainment tomorrow."
Kevin Magnussen – FP1: 1:44.261, P3; FP2: 1:36.917, P13
"We've done our first laps in Vegas now, and it's not a bad track, I had fun out there. As always, we need to find more speed but at least after all the waiting, we got some laps in and have data to look at for tomorrow. There weren't many surprises from the simulator to the track, it is very low-grip, but it is also very fun."
Guenther Steiner, Team Principal
"It wasn't a perfect start to FP1, running for less than 10 minutes in total, but I think the decision was right to wait and fix the track so we can get some laps in. FP2 was extended to 90-minutes as we lost so much time, and even though there was a big delay, it was a good thing that we did it. As much as everyone is tired, we had enough energy to get through a session – which for sure will help going into FP3. I think we went out there pretty prepared for a new event, so we need to continue our work tomorrow and get the cars in a good spot for qualifying and the race."
Mercedes
By their own admission, exactly where the Silver Arrows stand in the Las Vegas pecking order is perhaps not something to bet big on just yet. They look to have built a solid foundation for their weekend, however, so will be hoping to consolidate that overnight and challenge the frontrunners come qualifying.
Lewis Hamilton - FP1: 1:48.513, P12; FP2: 1:36.663, P9
"It's an incredibly fast circuit and I had a lot of fun out there. I'm so glad we got to run again today. The circuit did a great job to fix the issue we saw in FP1, and we had an interesting FP2. The balance of the car wasn't too bad and on similar tyres, I don't feel that we're too far off compared to our competitors. It looks like everyone is suffering from graining and we were running out of tyres; I think everyone was in a similar boat. That's likely due to a combination of a new track surface and the temperature. We are also running a low downforce set-up, so you are sliding through a lot of the slow-speed corners, and some of the high-speed corners too. The rest of the weekend is going to be interesting, and I think Qualifying is going to be hugely important. Managing degradation is going to be key on Saturday night in the race too. Overall though, I had a blast out there, I feel great and I'm ready to go again later today."
George Russell - FP1: 1:45.497, P6; FP2: 1:36.890, P12
"It was good to finally get going after quite a long day! It was great to take to the track properly in FP2 and it's a very fast circuit. It's some of the highest speeds of the year and racing at night is spectacular. It's going to be an interesting weekend. The session was dominated by trying to get the tyres working, and then managing graining too. I think that could hinder everyone come Saturday night.
"The track was evolving very quickly; the early laps were like driving on ice. However, as the dirt and the dust cleared you were learning, and your braking points were changing. That's tricky, especially with a low downforce set-up, but I had good fun out there. Overall though, it's all about pace. It was hard to get a true idea of where we are relative to others given we only took one new set of Soft tyres, where others took two. Ultimately, race pace will be key. I'm looking forward to getting some sleep now and coming back for FP3 later today!"
Andrew Shovlin, Trackside Engineering Director
"It was good to get running again in FP2 and we were able to complete most of our programme. Ahead of the event, we'd identified warm-up and graining as being the most significant challenges that we would face. We ran through a few tests to today aimed at further understanding those issues. The track grip was evolving rapidly, which was helping the car balance come together through the session. We know we've got a few areas that we can look to improve in terms of that balance and long run pace too.
"It's clearly a very tight field as is becoming the norm this year. Every little bit of performance we can find ahead of Qualifying is going to be useful. It's also good to have a bit of time now to pick through the data ahead of FP3 this evening. Overall, we've got off to a decent start and we'll hopefully be able to build on that as we go into Qualifying and the Grand Prix."
Williams
Many have been predicting big things from Williams this weekend, given the FW45's prodigious straight-line speed. And it could yet happen. Albon certainly showed flashes of serious pace as he secured a top-10 slot. Home hero Sargeant had a more difficult time of it, ending up bottom of the timesheets.
Alex Albon - FP1: No time set; FP2: 1:36.688, P10
"It's a tricky track but it wasn't too bad, however it's going to be all about the braking. As soon as you get confident on the brakes, you're going to be quite quick. Being a new track, the evolution is extremely high, but I do think we're in good shape and the car is in a good place. We're going to have to do a bit of fine tuning which is expected but the pace was good. I think the long run is a little more difficult because of the cold temperatures but otherwise I feel good."
Logan Sargeant - FP1: No time set; FP2: 1:38.140, P20
"It was a tricky session with extremely low grip. Obviously with the temperatures as well it's taking a long time for the tyres to come in. The long run at the end wasn't too bad but we need to figure out the low fuel stuff for tomorrow. There's a lot of data to get through from that session. It's really about switching the tyre on as quick as we can as that makes a huge difference for both me and the car and we'll figure out the best way to do that."
Dave Robson, Head of Vehicle Performance
"It has been a very long day here in Las Vegas, but it was good to get some proper running in during FP2. The grip was very low for a lot of the session but improved steadily as more laps were completed.
"Both drivers showed good pace across the compound range and were able to gather a lot of useful data and experience. There isn't a lot of working time between now and FP3, but we will use what time there is to learn from today's running and find some more pace from the FW45.
"It has been great to run the cars on this exciting new circuit and in such an iconic city. We've started the weekend well but there is a long way still to go and more performance to find."
McLaren
McLaren were cautious heading into the Las Vegas weekend, with the new street circuit not one that's expected to play to the MCL60's strengths. Thus their failure to break into the top 10 in the small hours of Friday morning was arguably no big surprise.
Lando Norris - FP1: 1:48.947, P15; FP2: 1:36.864, P11
"Today was a tricky day on a tricky circuit. The grip was poor and it's easy to go through the tyres quite quickly, which is what we were doing.
"I think we're a long way off where we've been the last few weekends, but probably where we expected. It's similar to where we were in Monza and other low downforce circuits. It's a struggle at the minute but I'm sure we can make progress into tomorrow."
Oscar Piastri - FP1: No time set; FP2: 1:36.987, P14
"It was interesting to get out on track for my first laps in Las Vegas. It was very, very slippery and it's a difficult track which is quite bumpy, but it was nice to get out there. The tyres were pretty difficult with a lot of graining, which is something we need to try to look at for tomorrow. We'll have to see what we can do, hopefully it's a better day all around for everyone involved and hopefully we can have the crowd back tomorrow. It's a shame they didn't get to see any action today."
Andrea Stella, Team Principal
"It was a shame for teams and spectators alike that we lost the first session, but what happened with the manhole cover is something that we've seen before. The FIA reacted well to fix the problem and get us going for FP2.
"We had some issues with cooling the car, which means we lost a little bit of time at the start of the session. We got going relatively soon and got into understanding the behaviour of the car and the behaviour of the tyres. Conditions here are unique, with a unique temperature and unique tarmac characteristics. It's very smooth and very slippery, which means the cars operate in a regime very different to what we've seen in recent races.
"We have work to do to extract more performance – but we gathered a lot of data that we will look at in preparation for FP3. There is performance we can unlock, and we remain positive about the rest of the weekend, but we need to find this improvement because we weren't particularly competitive today. My thanks go to the entire team who have navigated working on a difficult schedule into the early hours of the morning. We now get some rest ahead of a busy few final days here in Las Vegas."
Alpine
Like Ferrari, Alpine found themselves with a lot of work to do following FP1 after Ocon struck a loose drain cover. They turned it around in admirable fashion, with the Frenchman back on track for the second session. Neither he nor Gasly lit up the timesheets, but the vibe from the team was positive – and they even squeezed in some 2024 development work.
Esteban Ocon - FP1: 1:45.365, P5; FP2: 1:37.241, P16
"It's been a busy night with a lot of emotions to say the least! On one side, it was very cool to drive around the iconic Las Vegas streets for the first time today, and on the other, an unfortunate and premature end to the first practice session. I sustained heavy damage on my car after hitting a loose drain cover on the track during the first laps and, consequently, we had to change the chassis. Huge credit to the team for patching it all up in such a tight timeframe just in time for the delayed second session. Free Practice 2 was straightforward, testing different things and getting to grips with the tyres and track conditions. I enjoy this track and it should make for an exciting Qualifying and Race. Let's see what we can do later today after a few hours of well-deserved sleep for everyone."
Pierre Gasly - FP1: 1:48.253, P10; FP2: 1:37.134, P15
"That was quite a crazy night in Las Vegas. I don't think we will ever experience driving a Formula 1 car at 3am in the morning ever again! Firstly, it was good to drive the circuit for the first time and, I must say, it is quite an impressive spectacle with all the lights and iconic sights. It was a pity to lose the time in Free Practice 1, so it was important to maximise the full 90 minutes in Free Practice 2 in order to be prepared for the rest of the weekend. We have learned a lot from that session and it is important now we take the time to run through the data and aim to improve the car ahead of Qualifying."
Matt Harman, Technical Director
"It has been quite an interesting night here in Las Vegas. Unfortunately, Esteban suffered significant damage to his car in Free Practice 1 after hitting a loose drain cover while returning to the Pit Lane under red flag conditions. The resulting impact caused damage to the front section of floor and the underbody of the chassis. It meant we had to prepare the spare chassis. Credit to the team for the turnaround and having everything ready on time for the delayed Free Practice 2. Every lap is vital at a new circuit and it was important to have both cars running for the full 90 minutes in Free Practice 2, where we also experimented with some items for our A524 challenger. It's been quite surreal to run a Formula 1 car in the early hours of the morning but I guess that is part of the incredible Las Vegas experience! We have plenty of data to work through ahead of Free Practice 3 later today and we aim to have both cars in a good set-up window for Qualifying."
AlphaTauri
Neither driver was quick on paper, but the Italian team appeared confident they know which direction to take to get themselves in the mix come qualifying. Tsunoda relished the new track, including attacking the kerbs, while Ricciardo asserted he's definitely targeting Q3.
Yuki Tsunoda - FP1: 1:45.908, P8; FP2: 1:37.412, P17
"It's a shame for the fans that FP1 wasn't restarted, but safety comes first. It took some time for FP2 to start, but in the end, we got to drive for 90 minutes and were able to collect valuable data. The track surface is quite slippery, but I enjoy the track layout itself, especially the kerbs because they're drivable and you can be quite aggressive, which is fun. Our performance doesn't seem great so far, but we gathered a lot of data today, so I'm sure we can make some positive steps forward. We have an idea of some limitations and have already tried ways to improve them, particularly in the long run, and it definitely feels better already. We'll work together and do our best to extract the maximum performance from our package."
Daniel Ricciardo - FP1: 1:48.650, P13; FP2: 1:37.680, P19
"It was a long day on a very low-grip track. FP2 started later than originally scheduled, but these things happen sometimes. We had a fairly smooth session and learnt a lot of things throughout it. As it's a new track, especially a street circuit, it took more time to feel comfortable, so you always need to take a bit more margin as mistakes can be more costly. After some changes to the long run, it looks stronger, and after we refine some limitations tonight, I don't think we'll be far off the pace for qualifying tomorrow, so I'm sure if we put it all together, we can aim to make it to Q3."
Jonathan Eddolls, Chief Race Engineer
"With very little running in FP1, we were able to carry the tyres across to FP2 and conduct a 90-minute session with four available sets, so it was a busy session. Being a new track, the key points we worked on were understanding the tyre behaviour and how to extract the most from them and then optimising the downforce level for this track. The graining on the tyres was the biggest issue, more so on the softer compounds. We expect this to improve by the race, but we still need to see what else we can do with the setup to reduce the impact. It's not an easy choice regarding the downforce level because you want minimum drag with the very long straights, but with the low grip in the corners, you need more load. We tried a couple of options and will review the data overnight to see what we can learn from others in order to make the optimum choice from FP3 onwards. The short-run pace was not where we expected it to be, so there is some work to do tonight to improve that, but having said that, we appeared more competitive on the longer runs. With the later FP2 session time, we have less time available until the curfew to analyse the data, but we'll do all we can to work on setup changes and improve the performance for tomorrow."
Pirelli
Simone Berra, Chief Engineer
"It was definitely an unusual first day, with one session reduced to almost nothing and the next one extended by 50%, along with permission granted to use all the sets of tyres available to make up for the time lost in the first session. This meant we were able to get some useful initial indications which are important for the rest of the weekend, starting with how the track is evolving. As was entirely predictable, lap times tumbled down pretty quickly with every passing lap, even if we are still quite a long way off our simulation times, by around three to four seconds. Furthermore, we were able to check the speed of track evolution over a time period reasonably similar to a race distance, which highlights how conditions might change during the race itself, thus informing strategy and compound choices.
"Looking at the split of laps completed between the Soft, Medium and Hard, it seems the last of these is being saved by several teams specifically for Saturday night, with the Medium also being very much in the running. Having said that, the Soft cannot be ruled out completely, precisely because of my earlier comment about track evolution. When assessing this, we must also take into account that much of the track is now open again to road traffic which is bound to lead to a quite significant reset in terms of the rubber laid down on the track surface.
"Going into the Las Vegas round, we had two bugbears in mind: warm-up and graining. Honestly, as regards the first of those, today we didn't notice anything dramatic or unprecedented compared to what we have seen before in this discipline. As for the second, it was clearly significant, but still in line with what we have experienced at other tracks. Furthermore, we saw today how the graining tended to progressively reduce as the cars did more and more laps, a sign that the situation could change, possibly quite significantly, by Saturday night, opening up opportunities that maybe today seemed unlikely."