What tyres will the teams and drivers have for the 2022 British Grand Prix?
Pirelli have nominated the three hardest tyres in their range for this weekend's 2022 British Grand Prix at Silverstone.
F1's official tyre suppliers will allocate the same range of tyres that were last used for the Spanish Grand Prix, with the teams set to be able to call upon the hard C1 (x2 sets), the medium C2 (x3 sets), and the soft C3 compounds (x8 sets) for Silverstone.
"The British Grand Prix was where the new show car for the 2022 season was displayed last year, to highlight the future direction of the sport that we have embarked on from this season," said Pirelli's Motorsport Director Mario Isola.
F1 NATION: The gang look ahead to Silverstone as Mercedes detail 'bigger, more visible' upgrade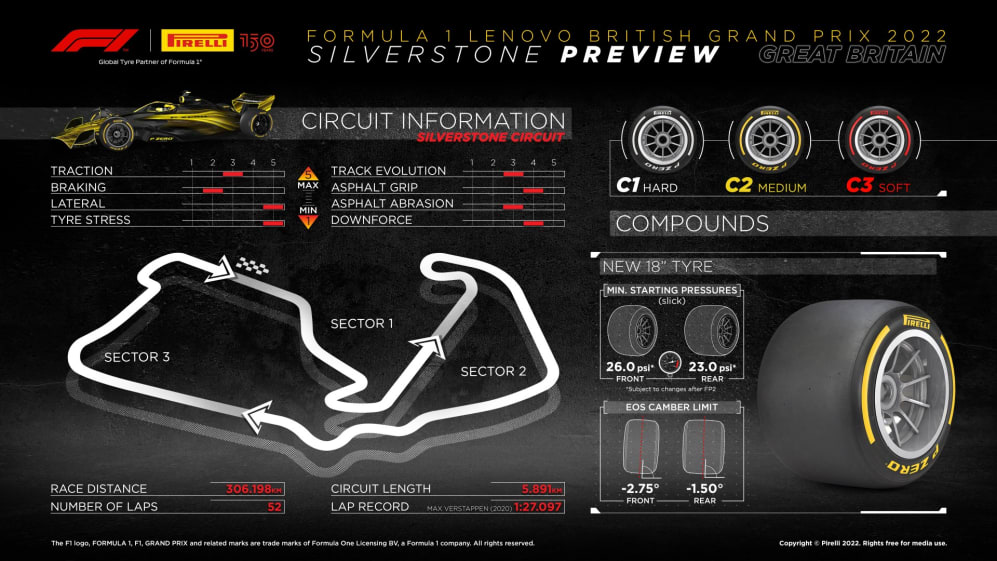 "The latest aerodynamic regulations are designed to allow drivers to follow each other more closely for longer to give more chance of overtaking, as we saw in Canada, while the tyres are designed to provide less overheating, more stability, and increased driveability within a wider working window. All these aspects will be tested this weekend, on one of the most challenging tracks for tyres of the year."
Silverstone will also play host to Formula 2 this weekend and Pirelli have allocated the white-walled hard and red-banded soft tyres to the teams, a change from last year's round when the hard and the medium tyres were used.
Formula 3 will use the white-banded hard tyre as used in Bahrain and Barcelona.
For more information about Pirelli's Formula 1 tyres, visit pirelli.com.