What tyres will the teams and drivers have for the 2023 Las Vegas Grand Prix?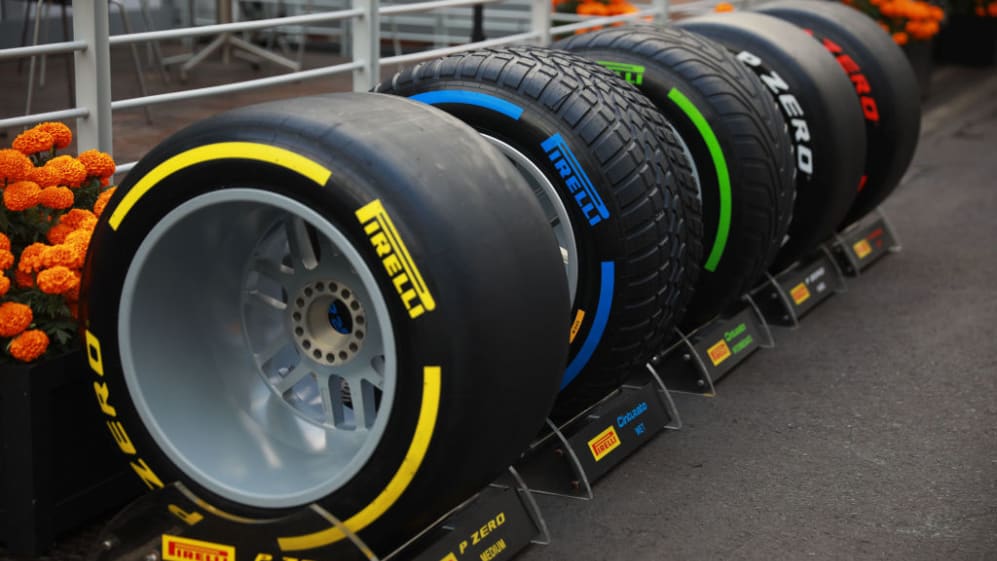 Pirelli have announced which three compounds the drivers will have to play with at the inaugural Las Vegas Grand Prix this weekend – the final of three races in America this year.
F1's official tyre supplier have announced that they will be bringing the three softest tyres in their range, last seen at the Mexico City GP in October, with the teams able to call upon the C3 (hard tyre), C4 (medium tyre), and the C5 (softs).
READ MORE: Red Bull unveil special fan-designed Las Vegas livery ahead of weekend's inaugural Grand Prix
They will get two sets of the hard tyre (marked white), three sets of the medium tyre (marked yellow), and eight sets of the soft tyre (marked red), as well as the green intermediate tyre and the blue full wets, if required.
"Formula 1 returns to the United States for the third time this year, following Miami and Austin," said Pirelli's Motorsport Director Mario Isola. "And it's with one of the most-eagerly Grands Prix of the year, in Las Vegas, where the pinnacle of motorsport hasn't been seen since 1982.
"This will be an incredible race, as every day is showtime in Las Vegas, and all of us working in Formula 1 want to put on the sort of spectacle that is worthy of this amazing city.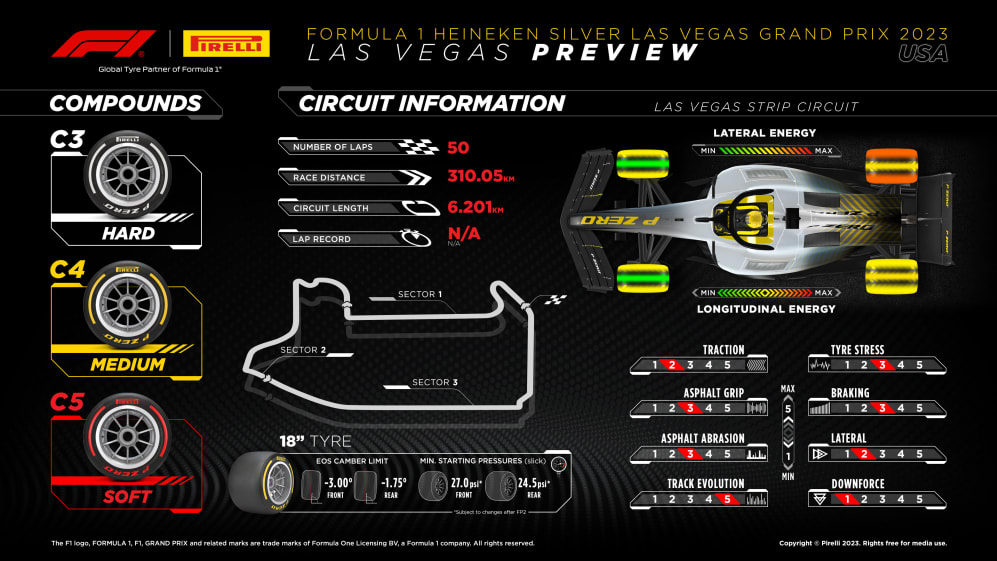 "It will also be a major technical challenge for both the teams and us, as we head into this race with no real references apart from simulation. Nobody has ever actually driven the 6.12-kilometre Las Vegas Strip circuit before, which is second only to Spa in terms of overall length this year, characterised by three straights and 17 corners.
"The surface will be a mix of the usual street asphalt, especially on the actual Strip, as well as other parts that have been completely re-asphalted for the occasion, adding another unknown element.
READ MORE: Carlos Sainz and Justin Thomas score victory at the inaugural Netflix Cup in Las Vegas
"There won't be any support races and the track will be opened again to normal traffic for long chunks of the day, which means that the surface won't rubber in as usual and deliver improved grip.
We're expecting the cars to run quite low levels of downforce, similar to Baku or indeed Monza, hitting a high-top speed will be key to being competitive. All the sessions will take place at night, with unusual ambient and track temperatures for a race weekend; more similar to those found back when pre-season testing used to take place in Europe.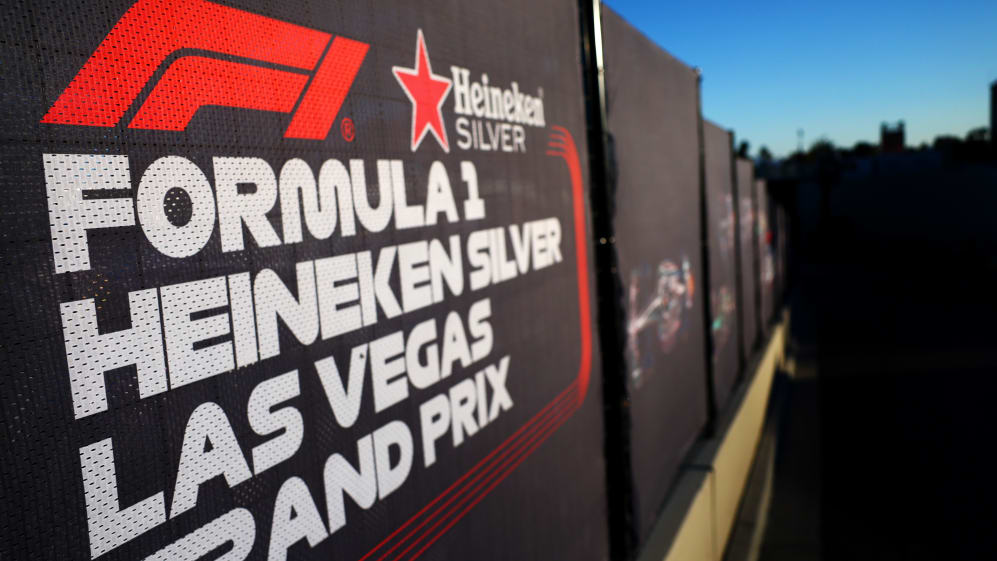 "Those long straights also make it harder to warm up tyres in qualifying, as well as keep them in the right window: the same challenge as seen in Baku, which will probably be more pronounced in Las Vegas.
"Bearing all this in mind, we've selected the trio of softest compounds for this weekend: C3, C4, and C5, which should guarantee good grip. Minimum tyre pressures should be 27 psi at the front and 24.5 psi at the back, due to the expected low temperatures as well as the track layout.
READ MORE: 'We're creating a new legacy' – The mind-boggling logistics behind the creation of the Las Vegas Grand Prix
"In cold conditions, the gap between cold tyre pressures and normal running pressures is greatly reduced – so when the car is moving, tyre pressure will increase a lot less than on other circuits due to the low asphalt temperatures. As a result, we think that running pressures will still be lower than on other circuits that are tough on tyres, such as Baku for example."
He added: "So all the elements are in place for an extraordinary race, packed with surprises and unpredictability. As the title of Elvis Presley's famous racing film goes…Viva Las Vegas."
For more information about Pirelli's F1 tyres, visit pirelli.com.