What tyres will the teams and drivers have for the first ever Qatar Grand Prix at Losail?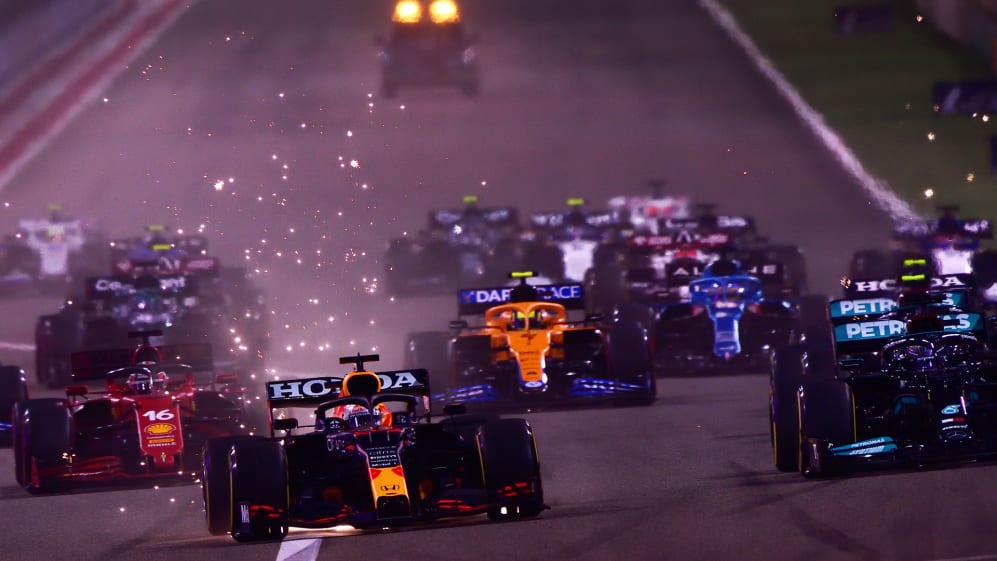 The first ever Qatar Grand Prix takes place this weekend at Losail International Circuit, and Pirelli have announced their tyre nominations for Round 20 of the 2021 World Championship.
Qatar ends a triple-header that began with a dominant Max Verstappen display in Mexico and continued with a terrific Lewis Hamilton comeback in Brazil. For this 57-lap race, Pirelli have nominated the three hardest compounds in their range.
That means the C1 (hard, x2 sets), C2 (medium, x3 sets) and C3 (soft, x8 sets) tyres will be in use for the fifth and, according to Pirelli, last time this year. The tyre suppliers add that Losail may be a "high-severity circuit… similar to Silverstone or Mugello" with sand from the desert affecting grip.
"Qatar will provide a thrilling new challenge at a unique venue with its own special character, so we're very much looking forward to our first visit," began Pirelli Head of F1 and Car Racing Mario Isola. "Coming to a new circuit isn't a novel experience for us though, and we rely on simulation data as well as track information that we collect in advance to select the nomination that will be used.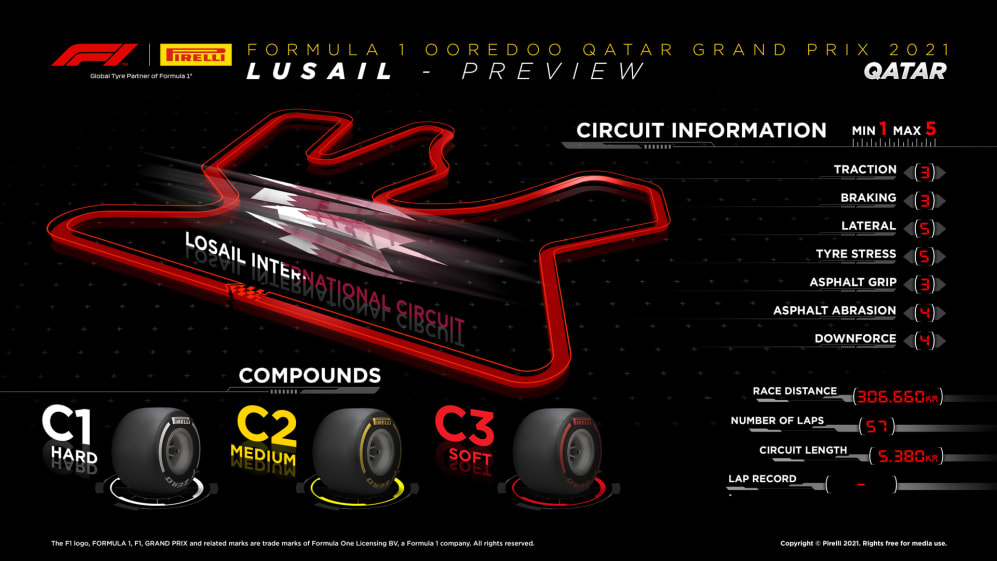 "We haven't had the chance to measure the roughness of the asphalt with our instruments but the promoter provided us with very useful information on the asphalt characteristics. From what we can see, the hardest tyres in the range will be well-suited to Losail, due to the quite abrasive asphalt and the very demanding corners. But as we've never actually raced there before, we'll only get a true picture of how the tyres really work on this circuit once we arrive," he added.
Pirelli point out that while there's a 1km+ long start-finish straight, 16 corners follow – including a complex from Turns 12-14 that essentially make up a 5.2g corner – to test the tyres. Furthermore, the track still has its original 2004 surface that has become abrasive over time and dusty.
As one of four races this year that are held in the evening, track temperature will change significantly over the three days with a huge difference between day and night in the desert. The Grand Prix on November 21 takes place at 5pm local time, while FP1 and FP3 take place during the day. Therefore, FP2 and qualifying provide more representative race conditions.
Finally, without any support races on the schedule this weekend, there will be no rubber on the track before the F1 cars run on November 19 – with sand to almost "reset" the surface over the weekend.