Feature
Who's Hot and Who's Not After Day 1 in Russia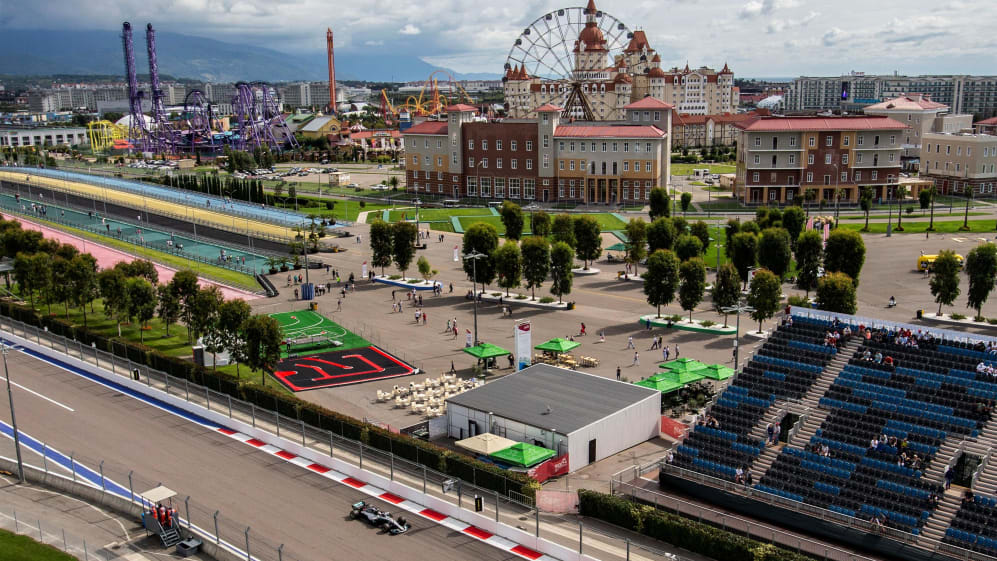 Both Sebastian Vettel and Lewis Hamilton led sessions in Sochi on Friday, as the two title protagonists prepared to continue their fight to see which can become a five-time world champion first. But who had the strongest first day in Russia? And which drivers have work to do heading into Saturday? Time to have a rummage around the data to see what we can find.
The Sochi Autodrom has hosted four Formula 1 Grands Prix since 2014, and each and every one has been won by Mercedes. That's two victories for Lewis Hamilton in the first two years, followed up by triumphs for Nico Rosberg and Valtteri Bottas most recently.
But 2018 has witnessed the interesting phenomenon of Sebastian Vettel and Ferrari triumphing at 'Mercedes tracks' like Montreal, Spa and Silverstone. Can the Scuderia buck the trend once more? Or is the trend for trend-bucking about to be bucked (still with us?). Let's see how the running went in Russia on Friday…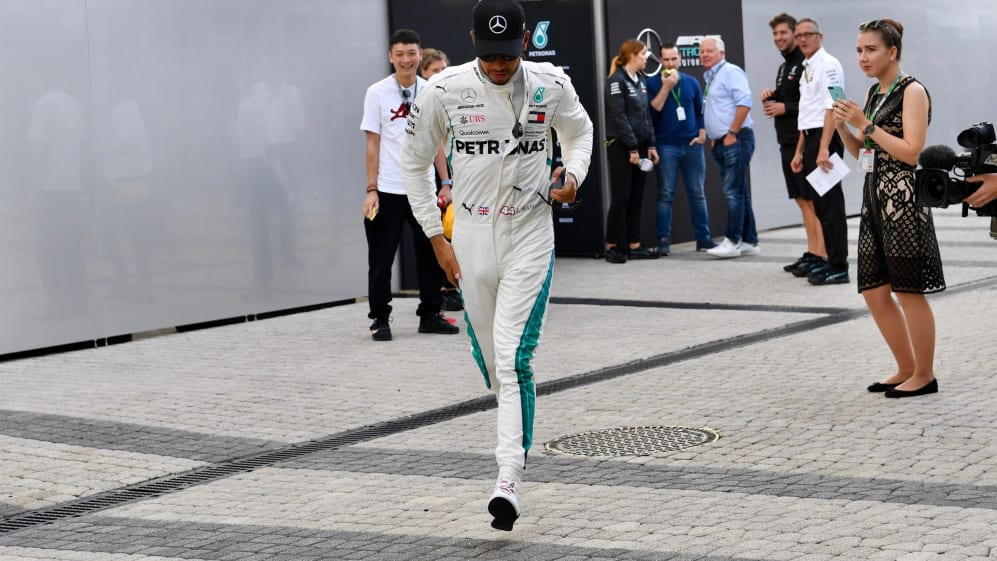 ONE-LAP PACE
The Mercedes W09 in the hands of Lewis Hamilton has looked like an ominously potent package at the two most recent races in Monza and Singapore. But it's arguably not been the car to have in qualifying at either of those tracks. Kimi Raikkonen claimed pole in Monza, while both Vettel and Max Verstappen reckoned they could have poached P1 off Hamilton in Singapore if they'd managed to string issue-free laps together (not to take anything away from Hamilton's 'stardust' pole lap there).
From Friday's running in Russia, however – and especially the qualifying simulations the teams performed in FP2 – Hamilton looked to be the man to beat on outright pace in Sochi. The British driver trailed Vettel in FP1 by 0.3s, but that in itself was a statement of intent, Hamilton setting his quickest time on the slowest, yellow-walled soft tyre, as Vettel headed the field on the quickest pink-walled hypersoft.
Then in the FP2 quali runs, Hamilton was over half a second to the good over Vettel, and 0.2s clear of his second-placed team mate Bottas – a man who goes like a Tasmanian devil around Sochi.
"Surprising," was Hamilton's reflection on his hot day-one pace. "This is a weak circuit for me, probably one of the weakest, if not the weakest, particularly in the last year" – (this presumably said to the sound of Sebastian Vettel banging his head on a wall) – "so I have really done a lot of work to try to rectify, understand the balance and understand where I can improve. Today has been good in that sense."
See… ominous right? Part of Mercedes' pace may be down to the upgraded rear wing they've brought to Sochi. Over on the other side of the garage, Bottas was clearly happy with the improvement to the car.
"We brought some aerodynamic updates to the car that worked well and added more grip," he said. "We'll see if that's going to be enough for the weekend. It seemed like Ferrari weren't really showing everything they have, so they will probably be stronger tomorrow. I think it's going to be very close, so we'll have to keep pushing."
So were Ferrari, who finished FP2 as the third quickest team behind Mercedes and Red Bull, sandbagging? Not according to a dispirited-sounding Sebastian Vettel when asked how his Friday had gone.
"We looked quite far away from the rest of the [front-runners] so not ideal," he said. "Struggling a bit for one lap but also in the long run. I think we went through our tyres a bit harder and quicker than the rest.
"It wasn't a good day in terms of feel for the car. I think there's more that we need to get to."
With a spin for Vettel in FP2 to boot, on the face of it at least, it looks like it could be a long night of the soul for the man who trails Lewis Hamilton in the championship race by a full 40 points.
Best single lap (combined sessions, all hypersoft)
1 Mercedes (Lewis Hamilton) 1:33.385s
2 Red Bull (Max Verstappen) 1:33.827s +0.442s
3 Ferrari (Sebastian Vettel) 1:33.928s +0.543s
4 Force India (Sergio Perez) 1:35.122s +1.737s
5 Toro Rosso (Pierre Gasly) 1:35.137s +1.752s
6 Sauber (Marcus Ericsson) 1:35.295s +1.910s
7 Haas (Kevin Magnussen) 1:35.331s +1.946s
8 Renault (Carlos Sainz) 1:35.341s +1.956s
9 McLaren (Fernando Alonso) 1:36.074s +2.689s
10 Williams (Sergey Sirotkin) 1:36.861s +3.476s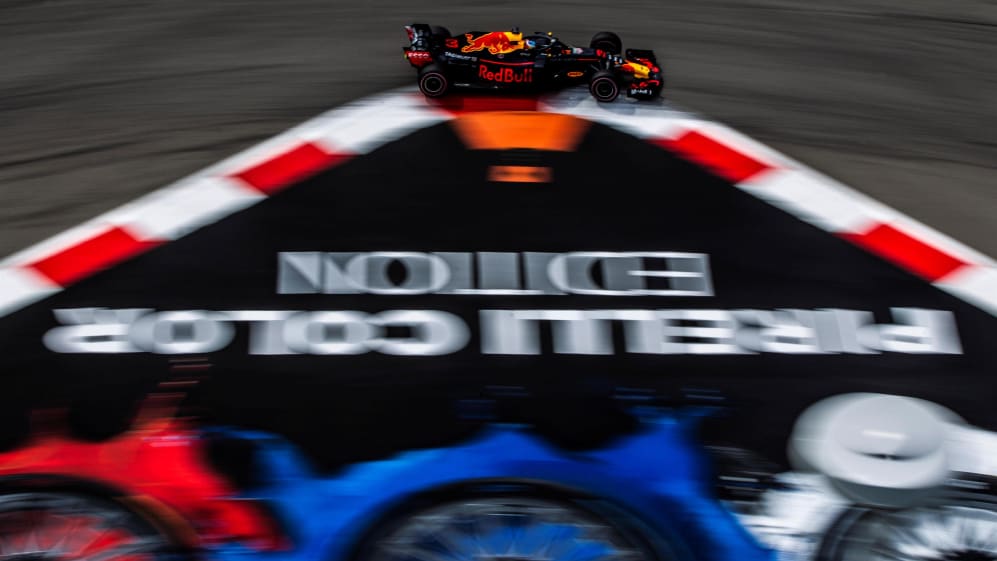 It was an encouraging day for Red Bull at the only track on the current F1 calendar where they've never had a podium. Max Verstappen and Daniel Ricciardo ended Free Practice 2 third and fourth respectively, with both drivers having reverted back to Renault's more tried and tested – but less grunty – Spec B engine. That pace will count for nought in qualifying, with both drivers likely to call it a day after Q1, given that they'll both be starting from the back of the grid thanks to penalties for those engine changes. But they were chuffed nonetheless.
"It was a good Friday for us," said a cheery Verstappen. "It's better than expected to be third in FP2. Straight away the car was working well, the long runs were good and we seem to be in good shape. Overall, the performance of the car is pleasing, we just need to understand the tyres better and work out the plan for the race."
Force India had looked to be the strongest midfield package in Singapore. That was until Lap 1, Turn 3 of the race, when Esteban Ocon got squeezed into the wall by team mate Sergio Perez, putting Ocon out and leaving Perez to trail home P16. Both drivers will be looking to make amends in Russia, and being best of the rest on Friday was a good start.
"It has been a solid day, ending both sessions in the top 10," said Ocon. "I'm pleased with the work we've done. We are still testing new parts and it's easier to do that here compared to Singapore, and the feelings are still positive. We are definitely moving in a good direction with the car."
The top 10 isn't somewhere Toro Rosso having been finding themselves very much recently. But with Honda gearing up to power front-runners Red Bull as well as Toro Rosso next year, the Japanese firm has brought now power unit elements to Sochi for the Red Bull junior team to try – and judging by the pace of Pierre Gasly, it looks to be a significant update, with the Frenchman winding up in the lofty position of P8 in FP2, a mere 0.015s off Perez's time.
"It's been a while since we were that good on a Friday, so it feels good," said Gasly. "Today we were second best of the rest so I think it was positive." Gasly must be getting more and more excited about the prospect of driving next year's Red Bull chassis married to the ever-improving Japanese powerplant…
And just take a look at Marcus Ericsson's performance. Fresh from the sting of being ousted from his race seat at Sauber for next year, and with no FP1 running after his C37 was made available for the team's newly-announced 2019 driver Antonio Giovinazzi, the Swede outperformed his headline-grabbing team mate Charles Leclerc, rounding out the top 10 in FP2 with some decent pace.
In truth, it was tight between Sauber, Haas and Renault, with all three teams' fastest times covered by just 0.036s, while Renault and Haas at least seemed confident that there was more performance to come from their package on Saturday. McLaren then found themselves a further step back from those three teams, with Fernando Alonso's quickest time in FP2 some seven-tenths off Sainz.
"We knew coming here that this weekend could be quite difficult for us, so today's performance was pretty much expected," said Alonso, who gave up his car in FP1 to Lando Norris. "After Monza and Spa, this track has the highest power sensitivity of the whole season – and we know that's usually a bad sign for our performance. It's something we're trying to understand, so we've been trying different set-ups to reduce the drag on the car."
In FP2, he and Stoffel Vandoorne were seen to experiment with slipstreaming to reduce their speed deficit to the rest of the pack, as they did at Monza, but it didn't appear to have much of an effect.
Right at the back of the order were Williams, with Sergey Sirotkin's leading time for the team on his home track some 3.4s off the front-running pace. Both drivers flat-spotted tyres in FP1, which reduced their running, but Chief Technical Officer Paddy Lowe managed to remain buoyant, revealing that the team had discovered a way for the drivers to switch on their tyres better, which they hoped would pull them closer to McLaren in tomorrow's qualifying session.
They'll be boosted up the grid anyway given the host of grid penalties for power unit changes set to be dished out, with Alonso, Gasly and Hartley joining Verstappen and Ricciardo at the rear of the field.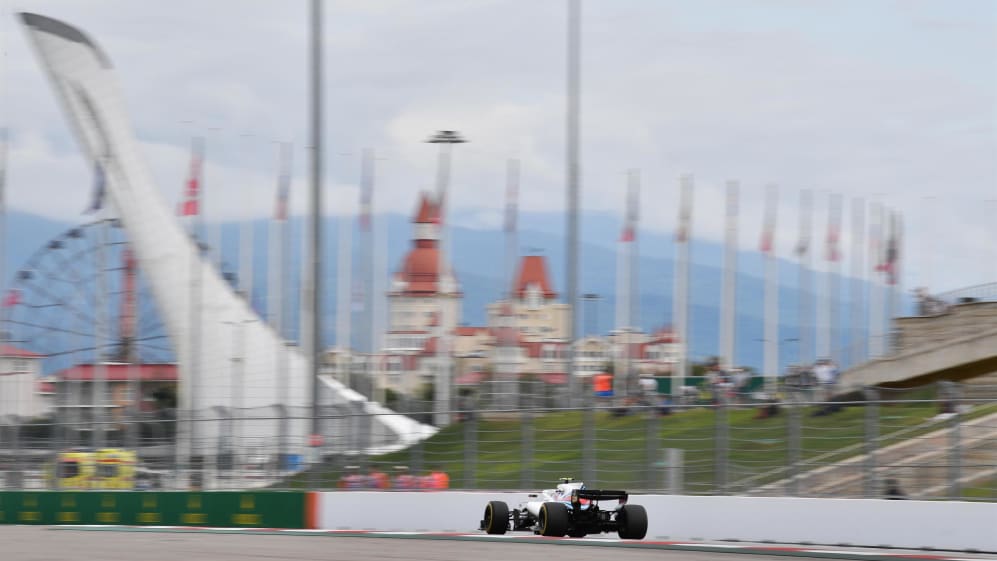 ULTIMATE LAP
Ever wondered what a driver's true pace would be if he managed to hook up his best three sectors? Well we've crunched the numbers for Sochi – and all but three drivers could have improved...
1 Lewis Hamilton 1:33.265s +0.120s
2 Valtteri Bottas 1:33.356s +0.228s
3 Max Verstappen 1:33.676s +0.151s
4 Sebastian Vettel 1:33.741s +0.187s
5 Daniel Ricciardo 1:33.827s +0.017s
6 Kimi Raikkonen 1:34.301s +0.087s
7 Marcus Ericsson 1:35.012s +0.283s
8 Pierre Gasly 1:35.032s +0.105s
9 Esteban Ocon 1:35.071s +0.0760s
10 Sergio Perez 1:35.122s +0
11 Charles Leclerc 1:35.169s +0.263s
12 Kevin Magnussen 1:35.238s +0.093s
13 Carlos Sainz 1:35.341s +0
14 Nico Hulkenberg 1:35.478s +0.090s
15 Romain Grosjean 1:35.770s +0.141s
16 Fernando Alonso 1:35.950s + 0.124s
17 Brendon Hartley 1:36.024s +0
18 Lance Stroll 1:37.001s +0.561s
19 Stoffel Vandoorne 1:36.509s +0.108s
20 Sergey Sirotkin 1:36.575s +0.286s
THE PERFECT LAP – 1:32.969s
Worryingly for his rivals, Lewis Hamilton could have gone even quicker around Sochi if he'd strung his best sectors together, while a perfect lap for Bottas would have put him a mere 0.091s back from Hamilton.
Nico Hulkenberg was the only runner who posted any sector time in Free Practice 1 that was better than they could manage in their qualifying simulations in FP2. Of all the drivers, Lance Stroll had the most amount of time to find, with the Canadian having left a full half a second on the table over the 5.8km lap.
Incidentally, to get that perfect lap of 1:32.969s you'd need the first sector of Hamilton, the second sector of Bottas and the third sector of Verstappen – the Red Bull RB14 predictably performing at its best around the twisting and technical final part of the lap from Turn 13 onwards.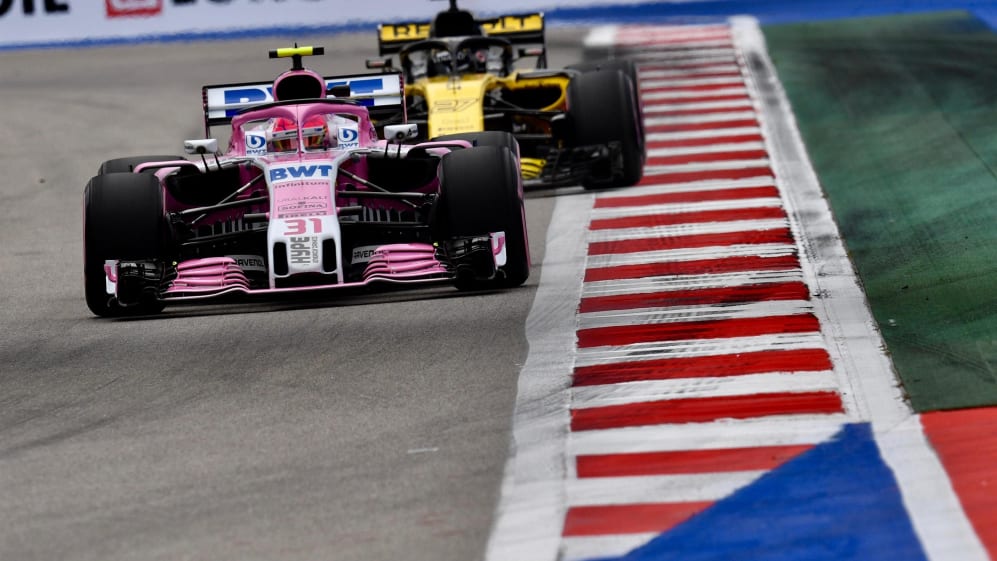 RACE PACE
As ever, you need to keep your wits about you when looking at race pace data, as we're not privy to the fuel loads the teams run. In spite of that, from the figures, Ferrari and Mercedes look to be neck-and-neck on their long-run pace, with a chunky cushion of 0.4s over Red Bull – who, remember, probably won't be a factor at the front anyway, given their grid penalties.
That will make qualifying all the more important for Mercedes and Ferrari. If one of them can manoeuvre both of their drivers onto the front row of the grid – newly resurfaced in Sochi this year for good measure – that will make their lives much easier in Sunday's race. That's providing that the team mate is willing to play the rear-gunner role that is…
Long-run pace deficit (seconds per lap)
1= Ferrari
1= Mercedes
3 Red Bull +0.4
4 Toro Rosso +0.9
5= Renault +1.3
5= Force India +1.3
7 Sauber +1.5
8 McLaren +1.8
9 Williams +2.3
10 Haas +2.9
Toro Rosso's eye-catching speed over one lap was mirrored in their long-run pace, with estimates putting them just 0.9s off Ferrari and Mercedes per lap. That would make them comfortably the fastest of the midfield runners, some 0.4s quicker than the evenly-matched Renault and Force India. Could points still be on the cards for Gasly or Hartley?
Perhaps the most surprising result came from Haas, however, with analysis of the team's long-run pace putting the American squad the slowest of all the runners, 0.6s down on Williams over a lap.
"The balance was actually alright, almost too easy to drive, and that's never the sign of a really fast car," was Romain Grosjean's insight into the team's deficit. "We're going to work to make it a bit more challenging and faster over one lap. So there's some work to be done tonight. Tomorrow should be a much better day."
So, if the data is to be believed, there is more to come from Ferrari than we saw on Friday. Could there still be a sting in the tail for Mercedes this weekend?
VERDICT
Lewis Hamilton's momentum needs to be arrested by Sebastian Vettel pretty quickly if he's going to keep the championship fight bubbling along nicely till Abu Dhabi in November. A decent qualifying in Russia would be a good start, while topping it off with his first race win since Belgium in August would be even better. And while Vettel looked downcast after his opening day's efforts, his team mate Kimi Raikkonen perhaps gave a clue to Ferrari's mentality heading into the rest of the weekend…
"I don't understand why people make such a fuss about Friday," he huffed. "I guess you have nothing else to do… If you look at all the Fridays, you'll probably see that it's not always the truth what shows on Friday. For us it's a very normal thing. We try things and see what happens. [Then we save] the normal work for tomorrow. In qualifying we will see."
Mercedes and Hamilton definitely came away from day one in Russia with the upper hand – but as we've seen so many times this year, count Ferrari out at your peril. One thing's for sure though: we're heading into what may prove to be the pivotal weekend of the 2018 championship. Exciting times lie ahead…