Feature
FEATURE: Who is in the best shape after testing?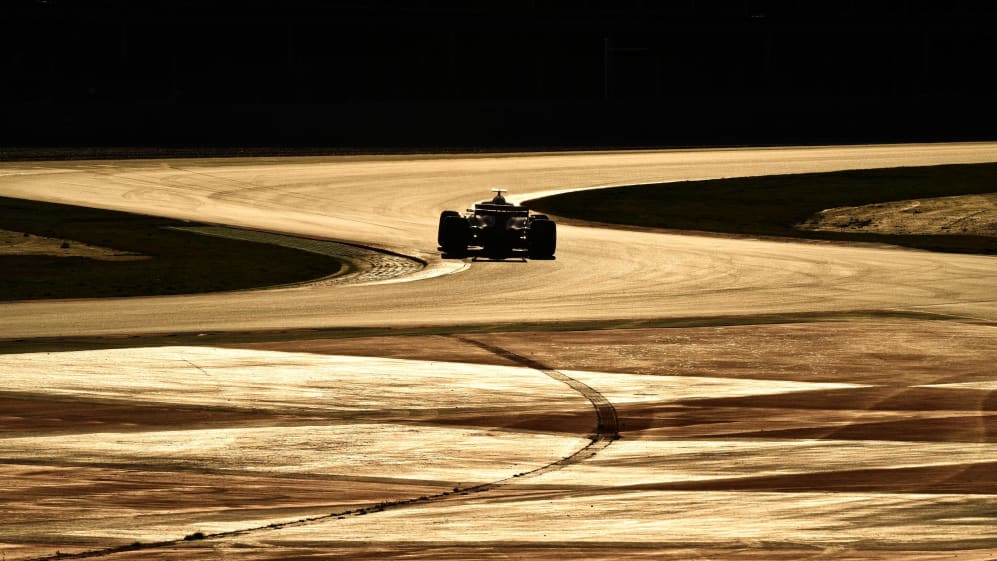 The time for testing is over. Teams are now busy analysing the data gathered in Barcelona and preparing their 2018 F1 machines for battle in Australia on March 25. While they are doing that, we crunch the numbers in an attempt to answer that most pertinent of questions: who is in the best shape heading to Melbourne?
Who was quickest?
Taken at face value, the timing charts make good reading for Ferrari, with Sebastian Vettel and Kimi Raikkonen around six tenths of a second clear of the rest of the field.
Vettel's leading time of 1m17.182s - set on Pirelli's new hypersoft compound - was one-and-a-half seconds quicker than the best time in testing last year, suggesting the Prancing Horse have produced another flyer.
However, it is dangerous to read too much into the classfication, given it is unclear what fuel loads, aero specifications and car set-ups each team were running at the time of their best lap.
A case in point are McLaren, who were second quickest, with Fernando Alonso bolting on the hypersofts late on the final day of testing.
While the McLaren package, complete with new Renault power, looks stronger than last year, it is very unlikely they will be ahead of Mercedes and Red Bull come Australia.
McLaren did 99 on the hypersoft - the softest compound in Pirelli's range - whereas Mercedes did not do any running on that rubber.
While McLaren are unusually high up the classification, Mercedes are well down. The reigning world champions didn't do any running on the hypersoft but they did enough on other compounds to suggest they will once again be the team to beat.
Williams are somewhat surprisingly at the other end of the list. Admittedly, the team is fielding a young and inexperienced line-up in Sergey Sirotkin and Lance Stroll. But it should be noted their best laps were completed on the soft tyre - three steps harder than the hypersoft.
Haas are another team that look out of place, with Kevin Magnussen up in sixth on the supersofts. The American outfit finished eighth out of 10 in the constructors' championship last year, but the early signs are they have made a step forward in all areas.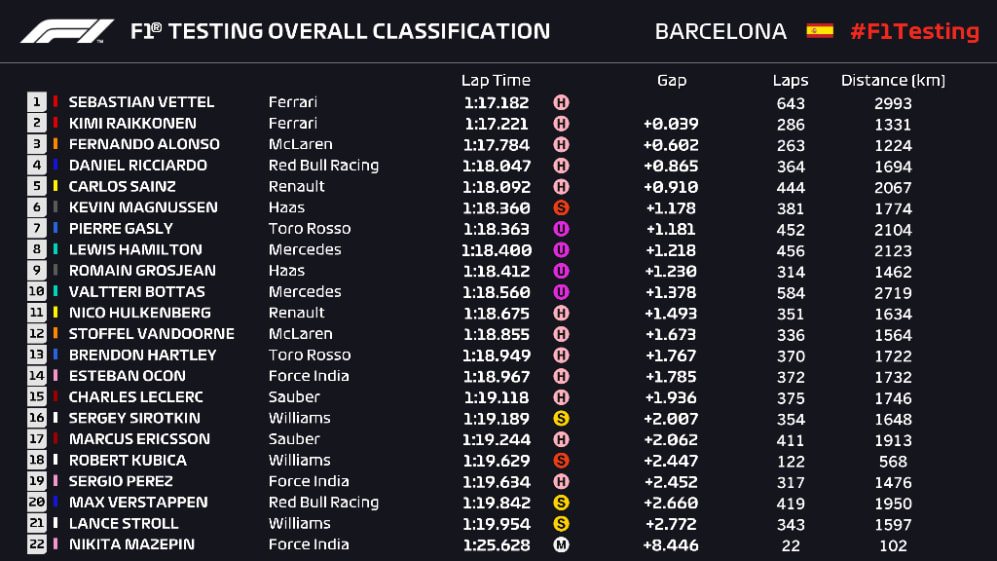 Who covered the most miles?
Bad weather in the first week of testing restricted mileage, but teams made up for it in the second week.
Mercedes finished top of the pile with 1040 laps, which remarkably was just 56 short of their leading tally from last year, with Ferrari in second, 113 adrift.
Perhaps the most surprising was Toro Rosso with their new engine supplier Honda putting the nightmares of past pre-season testing to bed with an impressively smooth eight days that yielded the third-best tally.
It's unwise to read too much into these figures given they are a combination of installation laps, short runs and race simulations. Equally, the way teams have selected compounds varied dramatically.
Mercedes and Red Bull did a large chunk of their running on the medium tyres. Mercedes completed 525 of their 1040 laps on the rubber, while Red Bull leaned even more heavilly on that compound as they 575 laps of their 783 tally on that tyre.
Together with Ferrari, which came close to clocking 1000 laps over eight days, Mercedes and Red Bull look likely to form the top three again.
Toro Rosso, Haas and McLaren favoured the supersoft over the medium while Williams did most of their running (644 of 819 laps) on the softs.
The mileage charts are, however, a strong indicator for reliability. McLaren encountered a string of technical issues throughout testing this year, and though the team managed 174 more laps than last year, they still finished bottom of the pile. Fernando Alonso may not be worried - but should he be?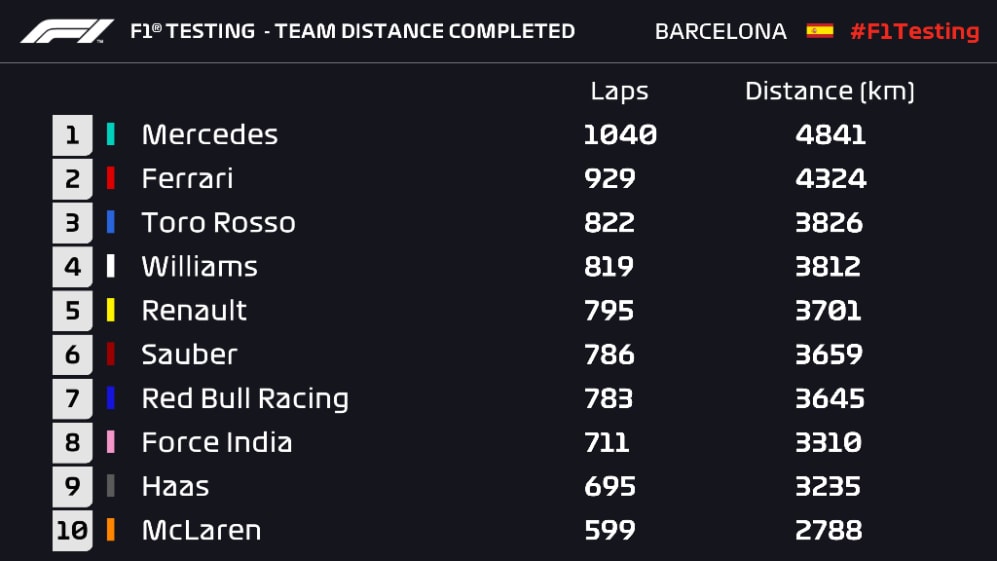 Who are the most improved teams?
Given McLaren's miserable pre-season last year, it's perhaps unsurprising to see them make the biggest jump into terms of pure performance from last year to this.
Sauber, who ran an old-spec Ferrari engine last year, were second on the charts with a 2.552s gain, ahead of Haas. Interestingly, those three teams finished in the bottom three of the constructors' championship.
At the other end of the spectrum, Mercedes improved by 0.910s, which ranked it nine out of 10. But as the class leader in a formula where the regulations remained relatively stable over the winter, the relative gains they can make are smaller than the rest of the field.
Williams finished bottom of the pile, with just a 0.231s improvement. However, the team traditionally do not chase lap times in testing or practice sessions. On top of that, they will have been keen to get their young drivers, one of which is a rookie, up to speed and comfortable with the car rather than search for performance.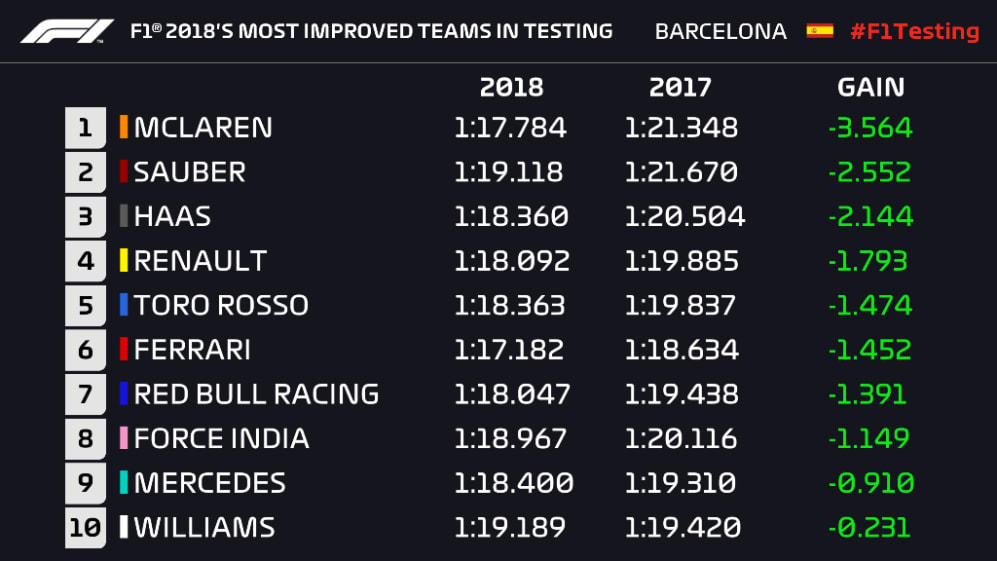 Which engine supplier gathered the most data?
Mercedes, Ferrari and Renault all benefit from having three teams – and six engines – which they can use to gather data, while Toro Rosso is Honda's sole supplier. Therefore it's unsurprising to see the Japanese manufacturer at the bottom of this list for laps completed.
However, whilst the gap between Mercedes and Ferrari is small, Renault logged considerably fewer miles than their rivals as reliability issues - so often an issue last year - reared their ugly head once more.
By contrast it is worth noting that Honda nearly doubled the amount of laps they achieved in pre-season testing this year compared to last with 822 on the board compared to 425 in 2017.
Hypothetically, if you were to multiply Honda's tally with Toro Rosso by three to match the number of teams Mercedes, Ferrari and Renault supply, they would be up in the Mercedes ballpark with 2466 laps.
What was the 'ultimate' lap?
As was the case last year, Ferrari had a clean sweep when comparing the fastest sector times around Barcelona.
If you combine Raikkonen's leading sector one time with Vettel's pace-setting times in the final two, the lap time would have been 1m16.889s, which is just shy of two tenths quicker than Vettel's actual time.
But while Ferrari completed 45 laps on the hypersoft, rivals Mercedes didn't bother doing any laps on the softest rubber, which means a fair comparison is not possible.
It's also worth noting that Ferrari had the pace in testing last year, but it was Mercedes which proved to be the stronger package over the course of the season.
However, it is encouraging that Ferrari appears to be close to Mercedes for the second year running, a feat it has been unable to achieve in the V6 era, which began in 2014.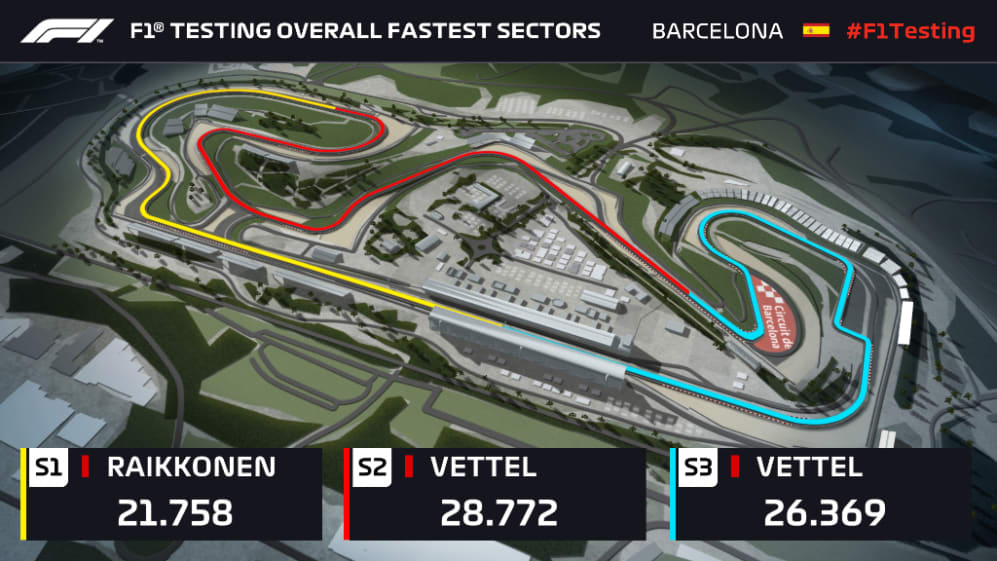 Who hit the top speed?
Again, these figures should be taken with a pinch of salt, as teams will be running varying fuel loads, aerodynamic set-ups and tyre compounds.
For example, despite Red Bull and McLaren running the same Renault engine and being renowned for producing top-end chassis, there is a 7km/h difference in the speed traps.
Honda was fourth and last in the engine pecking order last season and while there is a belief they have made gains over the winter, particularly in terms of reliability, fourth in the speed traps is unlikely to be the true picture.
Equally, the chances of Haas fighting at the sharp end are low despite Kevin Magnussen's clocking the best figures through the speed trap.
That said, the American team, in only their third season in F1, are showing signs of having the performance to fight at the front end of what could be a very competitive midfield.
Taken on face value, it is an enticing prospect that Ferrari and Mercedes are evenly-matched in the speed traps but perhaps concerning for Red Bull, who are 3km/h off the pace.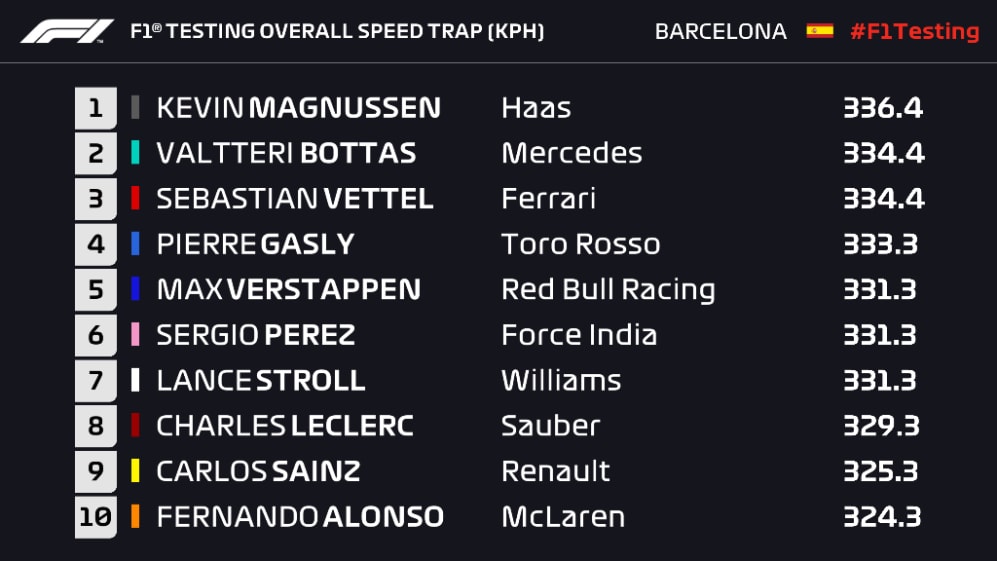 Conclusions
We've said it once and we'll say it again, it is notoriously difficult to get a reading of form from testing. However, both data and trackside evaluations indicate Mercedes are still the team to beat.
Ferrari and Red Bull - the Silver Arrows' closest competitors last year - look set to challenge, with the trio of teams looking a step away from what looks like a very competitive midfield pack.
Renault, Haas, Toro Rosso, Force India and McLaren are the prime contenders of that second group, with Williams just about hanging in there and Sauber off the back, albeit it not as far off as last year.
However, we won't know what's really going on until qualifying in Australia. Or, as team bosses are so fond of saying, until the four flyaway races are out of the way...