Feature
Who were the Rodriguez brothers - Mexico's first F1 superstars?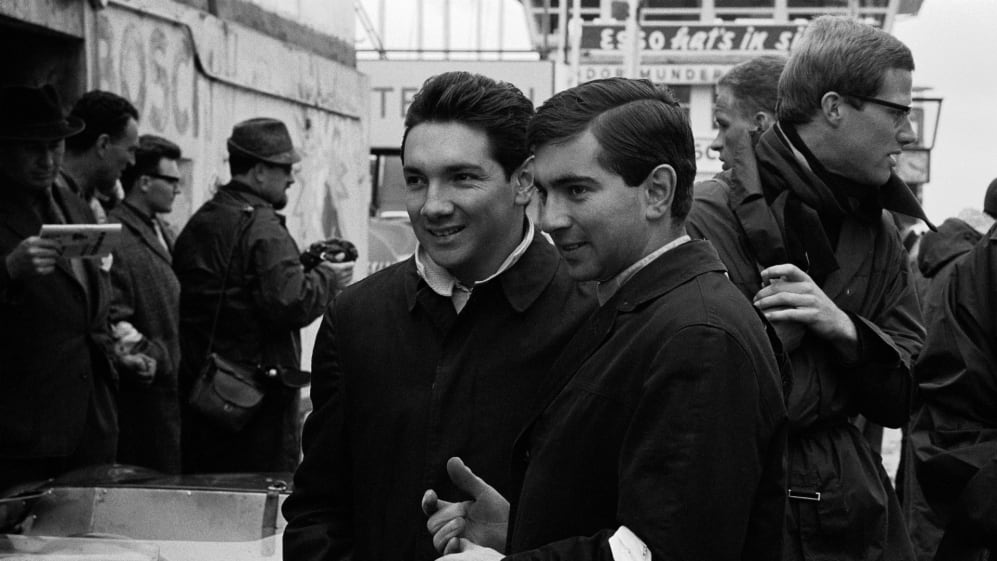 Mexico's Grand Prix circuit is named after Los Hermanos Rodriguez, but who were the Rodriguez brothers and why do they remain such revered characters in Mexican motorsport? We explain all…
Who were they?
Pedro and his younger brother Ricardo were Mexico's first motor racing superstars. Born in 1940 and '42 respectively in Mexico City, the precociously talented duo both took national titles on motorcycles before - with the full backing of their wealthy father - turning their attention to four wheels in their early teens. Despite being slightly later to cars than his older sibling, it was Ricardo who made the bigger waves initially, dumbfounding his rivals by winning his first international event - a sportscar race at Riverside in 1957 - at the tender age of just 15.
Wow, that's Max Verstappen-esque. So was Ricardo regarded as the more talented driver?
Yes, Ricardo was regarded by most as the faster, more naturally gifted of the two brothers, and often outshone his sibling when they were paired together in sportscars. It must be said though that Pedro, whilst enormously talented, was more of a late bloomer, and it wasn't until he committed to racing full-time in 1967 that he blossomed into one of the world's very best drivers. Sadly, however, Ricardo and Pedro never raced against each other at the height of their respective powers - but more on that later…
So who got to F1 first, Ricardo or Pedro?
Ricardo, thanks largely to his outstanding efforts in sportscar racing. Aged 16, the disarmingly capable youngster had been refused entry to the Le Mans 24 Hours, but two years later, driving a Ferrari for Luigi Chinetti's North American Racing Team (NART), he finished second in the legendary endurance race alongside Belgian racer Andre Pilette. That success helped earn Ricardo an invitation to drive for the Scuderia in the 1961 Italian Grand Prix at Monza - an opportunity he grabbed with both hands.
Then the youngest man to ever set foot in an F1 car, Ricardo qualified an incredible second on his debut, just one-tenth back from doomed polesitter Wolfgang von Trips and eight-tenths ahead of that year's eventual champion Phil Hill, both in identical machinery. That he retired from the race with a fuel pump issue after 13 laps was irrelevant - talent proved, Ferrari signed him to a full race deal for 1962.
Wow, it sounds like the world was at his feet…
Many, including Ricardo's friend - and future McLaren team coordinator - Jo Ramirez believed it was, but sadly his career was to be cut short before it had ever really started. 1962 proved to be a terribly uncompetitive year for Ferrari, and as a result the Italian team elected not to send any cars to the season-ending races in the USA and South Africa, nor to the inaugural non-championship Mexican Grand Prix.
Desperate to appear on home soil, Ricardo (whose season-best result was a fourth place in Belgium) agreed a deal to race a Rob Walker-run Lotus at the new Magdalena-Mixhuca track, but it was a decision that would ultimately lead to his demise. Having witnessed John Surtees eclipse his table-topping time in practice, Ricardo, perhaps with pride at stake, went back out to try and undercut the Englishman. He'd never return. Doubts remain over the cause of the accident at the daunting Peraltada turn - some say he was going too fast in an unfamiliar car, some say he experienced a mechanical failure - but what is undisputable is that the world of motorsport had lost one of its brightest racing talents at the age of just 20. "I may be biased, but I think he would have become another Prost or Senna," Ramirez has said. "He was very, very special."
What effect did Ricardo's death have on Pedro?
Pedro, who'd continued to ply his trade with considerable success in sportscars, often alongside his vaunted sibling, was due to make his F1 debut on that fateful weekend in Mexico, but after his brother's death he scaled back his own racing commitments and opened a car import business in his homeland. However, like Ricardo, Pedro always seemed destined to race at the highest level, and soon returned to front-line sportscar action.
When did Pedro make it to F1?
Pedro finally made his long-awaited Grand Prix racing bow at the tail-end of 1963, competing in the USA and Mexico for Lotus, but on both occasions he qualified down the order before retiring. Further so-so outings in a NART-run Ferrari and with Lotus followed over the next three years as Pedro continued to compete in sportscars, but it wasn't until 1967 when the little Mexican was offered a seat at Cooper for the season-opening South African Grand Prix that his F1 career really took off. On the flowing Kyalami track, Pedro qualified a splendid fourth before taking a surprise win in the race.
If truth be told, his triumph owed more than a little to good fortune, but it earned him a full-time drive with the increasingly uncompetitive Cooper team for the rest of the season. Pedro would be a mainstay in F1 for the next four seasons, driving predominantly for BRM, but also for Ferrari. Often to be seen wearing his trademark deerstalker hat, Pedro was quiet, mildly eccentric and immensely popular with his mechanics, though his fatalistic philosophy - and belief that only God could tell you when your time was up - often drew the ire of safety pioneer Jackie Stewart.
Did Pedro win any other races in F1?
He did, he won the 1970 Belgian Grand Prix on the old, flat-out 14.1km Spa-Francorchamps and the 1971 non-championship International Spring Trophy at Oulton Park, and might have won the 1970 US Grand Prix too were it not for a fuel pump problem. In the former race the rapid Mexican, always at his best on high-speed circuits, defeated Chris Amon by just 1.1s as he won at a then record average of 241.3km/h (149.9 mph). "Pedro's precision was fabulous," Amon said of his rival. "I knew that I would get past him only if he made a mistake somewhere - and he never did."
In total Pedro claimed seven F1 podiums (and a personal best of fourth on home soil in 1968), but the triumph Pedro always held above all others was not in F1, but at Le Mans, where he tasted overall victory in 1968 driving a Ford GT40 alongside Lucien Bianchi.
So how did Pedro's F1 career end?
Sadly, like his brother, in tragic circumstances. Throughout his F1 career, Pedro had continued to race sportscars - and with increasing success. In 1970 the Mexican teamed up with John Wyer Automotive to race the fearsome Porsche 917 in the world sportscar championship. It was at the wheel of this monstrous machine that Pedro not only demonstrated his speed and deft car-handling, but also his sublime wet-weather abilities.
Pedro's irrepressible come-from-behind victory at a rain soaked Brands Hatch in 1970 - one of four triumphs in a championship-winning year - remains arguably the defining performance of his career. But the Mexican's relentless appetite for racing would eventually prove his undoing, and so it was that he was killed in a relatively minor sportscar race in Germany in July 1971, mere days after setting the fastest time at the pre-British Grand Prix test at Silverstone. He was 31.
What was the brothers' legacy?
Where do you start? Immediately after Ricardo's death the Mexico City track was renamed in his honour, but this was changed to the current Autodromo Hermanos Rodriguez after Pedro's sad demise. But the brothers did more than just give their name to a track - they helped put motorsport on the map in their homeland, inspiring a new generation of Mexican racers and creating an appetite for F1 that remains to this day.
More than 44 years after his death, Pedro is still regarded as one of the greatest wet-weather drivers of all-time; Ricardo as one of the sport's greatest lost talents. It's also worth noting that all these years later, Ricardo remains the seventh-youngest driver in F1 history to have finished in the points, behind only Max Verstappen, Lance Stroll, Daniil Kvyat, Sebastian Vettel, Jaime Alguersuari and Jenson Button (who broke the Mexican's long-held record in 2000).
Ricardo was back in the news this year after it was announced that Charles Leclerc will be moving to Ferrari next year. The young Monegasque - currently 21 - will be the youngest driver to race for the Scuderia since the Mexican.
What's the current Mexican superstar's take on the Rodriguez brothers?
Force India's Sergio Perez, one of just six Mexicans to have raced in F1, has always spoken in reverential terms about the Rodriguez brothers and their place in Mexican motor racing history. "Pedro and Ricardo Rodriguez are idols for everybody who is interested in motorsport in Mexico," Perez told Formula1.com.
"It is an honour to follow in the footsteps of these fantastic drivers and to show the world that they are far from forgotten. Racing in Mexico City, at a track that carries their name, is a dream come true. Whenever drivers were asked about what it's like to race in their home country I always had to step aside as there was no Mexican Grand Prix. Now there is, and I will do my upmost to please my home crowd and to be a worthy successor of the iconic Rodriguez brothers."
Main image © Rainer W. Schlegelmilch/Getty Images