Podcast
Who's the most aggressive driver behind the Safety Car? Bernd Maylander reveals all in Beyond The Grid
Bernd Maylander has fulfilled an important duty for nearly every Formula 1 Grand Prix since 2000 – he's in charge of driving the Safety Car. In the latest episode of Beyond The Grid, the former DTM driver reveals all about his job, including which F1 star is the most difficult to lead during a race...
Maylander has led more than 700 laps in his role as the Safety Car driver when he is called upon to head the train of F1 cars behind him to allow marshals to clear the track of crashed cars or debris, or when conditions are too bad to allow full throttle racing. He's driven ahead of such stars as Sebastian Vettel, Michael Schumacher and Max Verstappen, But as he explains in this week's podcast, it's Lewis Hamilton who is most challenging to have following him on track.
READ MORE: A Hamilton-Verstappen super team at Mercedes? Toto Wolff has his say on the likelihood...
"Michael was quite calm; quite tough I have to say," he explains. "Valtteri Bottas, he's really cool behind. He's always using the same distance behind the Safety Car. Max, he's not really hard pushing me.
"Nico Rosberg, he was also very quiet behind me, always in the right distance. Sebastian [Vettel], yeah, also hard. Quite close to Lewis, but Lewis is definitely the toughest."
It's Hamilton's manner behind the Safety Car, his constant dipping and diving to get the brakes and tyres in the right temperature for the upcoming restart, that make him disappear from Maylander's mirrors, he adds.
"I have to say sometimes it's quite difficult with Lewis behind me because he's always pushing, he's accelerating, he's braking, he's driving really zig-zag. Sometimes he's getting very close to the car.
WATCH: Top 10 moments of Safety Car chaos
"I'm not sure if he wants to push me, because he knows it. That's his driving style. He'll try to do everything to keep his tyre in the right temperature window [so] he's in the right moment back again.
"So he's quite strange to [have] following because sometimes I've lost him in the mirror – is he on the left side or the right side? – because he's in the blind spot," he says.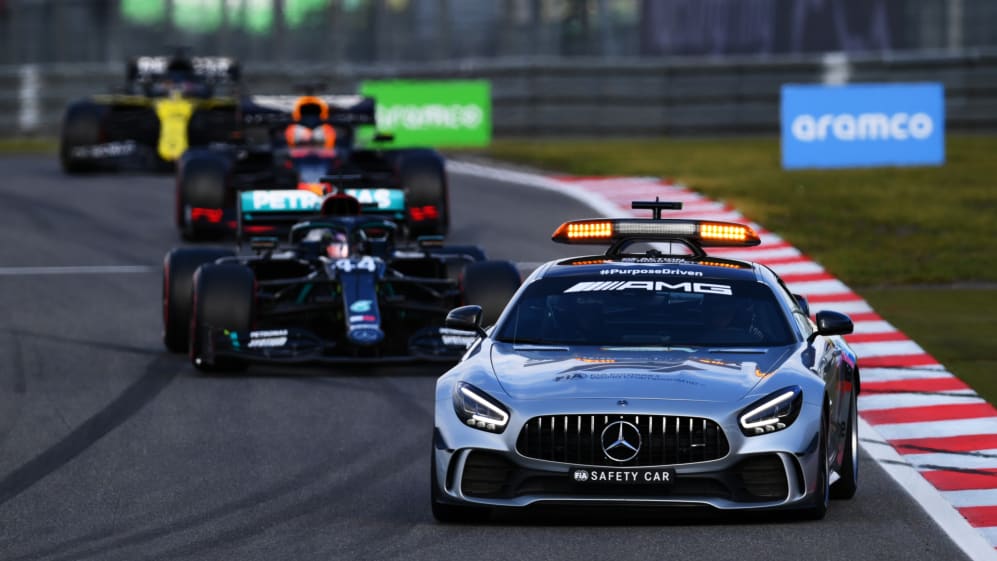 Maylander also reveals just how fast Formula 1 cars are compared to his Mercedes AMG GT R Safety Car, with a comparison from the latest Grand Prix at Portimao.
"If I'm right, [F1 cars lap at] about one minute 17 seconds, is that correct? They're doing a 1m14 or 1m15 in qualifying or something like this? My quickest lap also with new tyres is about 1m58s [around Portimao]. That's the difference.
WATCH: Heroics from Raikkonen, Russell and Magnussen – we present the best onboards from Portugal
"We always counting it per kilometre. That's much easier. Between eight and nine-and-a-half seconds [difference] per kilometre. It's a different world, Formula 1. I tell you, it's like if you compare it to airplanes: it's like a nice private jet against a Starfighter. Both are flying, but at a different speed," he said.
Listen to the full, fascinating episode of Beyond The Grid in the player above, on Spotify, Apple Podcasts or your preferred podcast provider.