Why did Schumacher struggle at Mercedes? Tech guru John Barnard shares his theory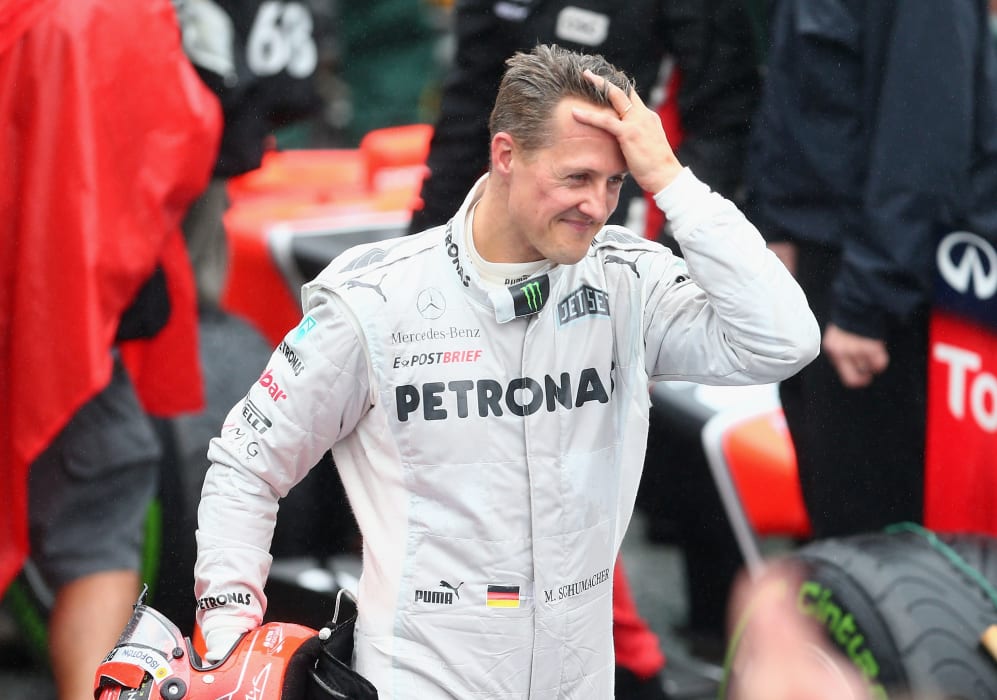 He claimed seven world championships and 91 wins over a glittering career but when Michael Schumacher made his comeback with Mercedes in 2010, the wins failed to materialise and he never outscored team mate Nico Rosberg over a season – so had the magic simply gone by then?
Legendary F1 designer John Barnard, the guest on this week's Beyond The Grid podcast, has a theory as to why the super-quick German struggled after joining the Silver Arrows.
When asked who was the best driver he'd worked with, the former McLaren and Ferrari technical chief did not immediately choose Schumacher.
F1 CLASSICS: Watch Schumacher's first Ferrari win, the 1996 Spanish GP
"Oh, for me the best driver was Alain Prost without a shadow. Nigel [Mansell] was quick but he was quick because he'd got big cojones basically," said Barnard.
"Michael was quick but… I didn't like the way he had the car set up. For me it wasn't the way to go. And I would love to have been the fly on the wall when he drove for Mercedes in 2010 alongside Rosberg," explained the ex-Ferrari engineer, who was working for the Scuderia when Michael arrived at the beginning of 1996.
It was then, when Schumacher tested both a V10 mule car and V12 Ferrari 412 T2, that Bernard understood his driving style, as the German preferred the V12, which had more engine braking – a feature which Gerhard Berger and Jean Alesi disliked as it would unsettle the car during off-throttle periods.
"I tried to speak to Michael and put across my viewpoint," explained Bernard. "'For me, the way the car is quick is if you can plant the back end, if I can give you maximum traction at the back at all times, you can open the throttle sooner and you will be quicker.'
WATCH: Top 10 Cheeky technical innovations in F1
"Now, Michael didn't didn't drive like that. Michael drove what I call 'off the front of the car'. He wanted a front end [where he could] absolutely just turn the wheel and bang, into the corner and he would kind of look after the back.
"All the other guys said: 'we don't like that, because when we do that the back end comes out'."
Schumacher spent three seasons with Mercedes and took one podium in that time in an all-German line-up alongside Nico Rosberg – but this was before the turbo-hybrid era in which they've dominated with all six constructors' and drivers' championships since 2014.
TECH TUESDAY: Under the skin of Schumacher's first Ferrari winner
Barnard continued: "He [Schumacher], quite often, was nowhere near as quick as Rosberg then and I thought: 'This is strange, there's something going on here.'
"My theory, and this is only my theory, is that Rosberg was like most of the guys who wants a car that's nicely planted at the back and will then find a way to get as best he can around the understeer.
"Michael didn't like that, and when they did set the car up for Michael he was quicker than Rosberg, but he wasn't overall quick."
READ MORE: Schumacher a 'founding father' of Mercedes success – Wolff
Schumacher was outscored 142-72 by Rosberg in their first season at Mercedes, and while he got closer to his team mate's points total in 2011 and 2012, the seven-time champion never beat him over the course of the season, and was a long way off the crushing form of his Ferrari days.
"I just think Michael's approach to it [was the issue]," Barnard added. "It was good when he was young because his reactions were phenomenal but as he got a bit older, I'm not sure that that system worked so well."
To make sure you never miss an episode, subscribe to Beyond The Grid via Apple Podcasts, Spotify or your favourite podcast app and you'll have a new episode delivered to your device every Wednesday.