Technical
TECH TUESDAY: Under the skin of Schumacher's first Ferrari winner
Next up in our series of classic Formula 1 races is Michael Schumacher's sensational wet-weather win in the 1996 Spanish Grand Prix, which you can watch in full here on F1.com on Wednesday, April 15 at 1800 UTC.
In this piece, F1 technical expert Mark Hughes takes an in-depth look at Schumacher's machinery that day, the Ferrari F310 – and you can also hear first hand from John Barnard, the man who designed the car, in this week's episode of our Beyond The Grid podcast, which is out on Wednesday.
Ferrari's first V10-engined car, the 1996 F310 (Ferrari 3-litre, 10-cylinder), with design overseen by John Barnard, was also the first Ferrari to be raced by Michael Schumacher, the opening chapter in what would be an astonishing 11-year partnership that would encompass five drivers' and six constructors' titles.
It proved to be a difficult car, and no match overall for Damon Hill's Williams FW18, but Schumacher took it to three victories and a matching trio of pole positions. It was the foundation of the glories that were to follow.
READ MORE: F1's Best Drives #10 – Schumacher walks on water in Spain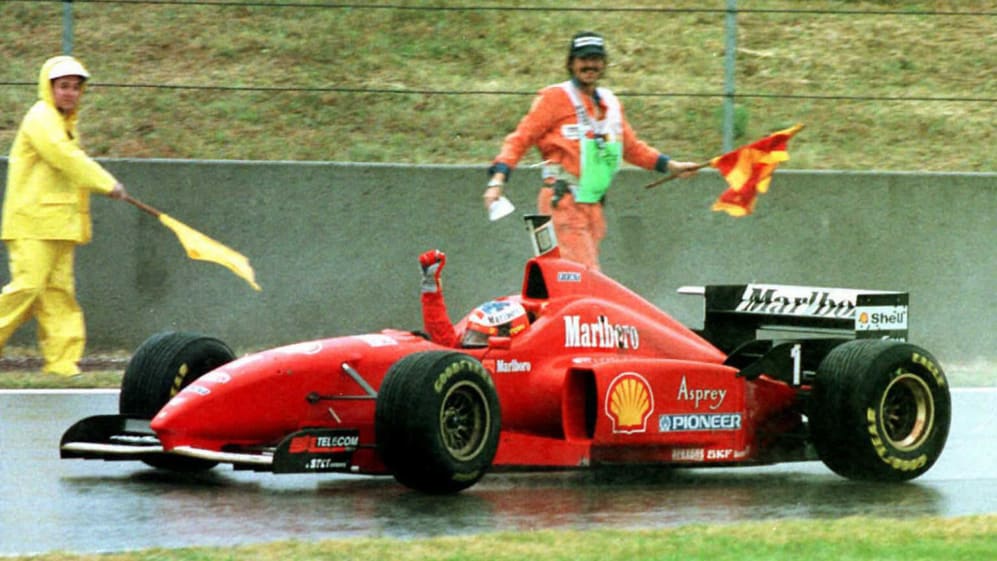 Ferrari's switch to a V10 after seven years of V12s was in response to advances in materials technology making it feasible for a V10 to have close to V12 levels of friction resistance, despite the necessarily bigger cylinders.
In this way it could take fuller advantage of a V10's smaller dimensions, lighter weight and better fuel economy. Renault and Honda had shown the way with their original V10s in 1989, but now technology was only making that direction even more certain.
Although the engine design was overseen by Paulo Martinelli, he was assisted by Osamu Goto, who had been instrumental in creating the Honda V10.
The engine was adapted from the preceding V12 in terms of cylinder head design in order to make a quick and reliable transition. Although virtually the same in power (around 700bhp at a slightly lower 16,000rpm) it had a better torque curve. Its cooling demands were 10% lower, enabling smaller radiators. It was less smooth than the silky V12, though, and this caused problems with the titanium gearbox casing, requiring it to be modified.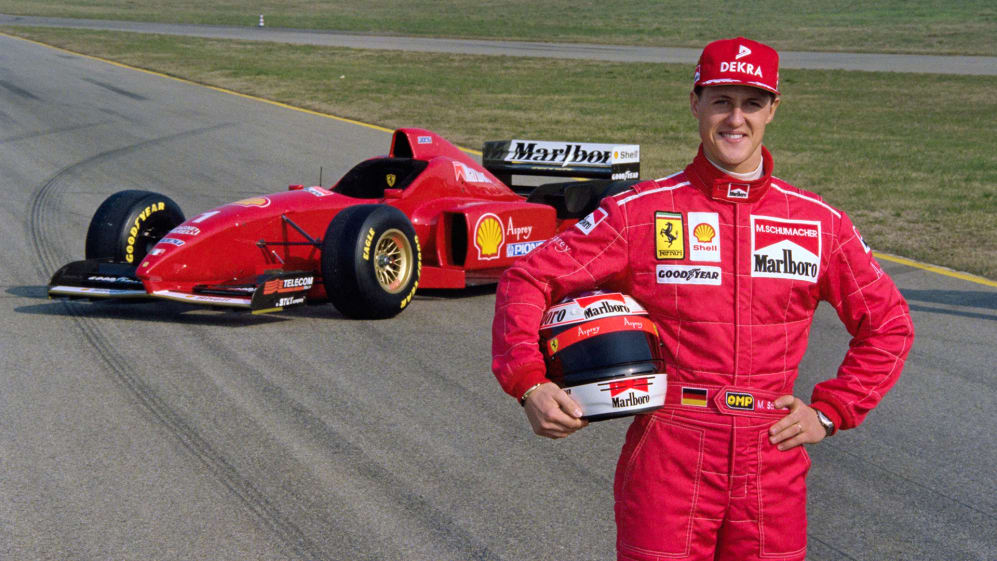 A prototype of the engine was first tried out during the 1995 season, installed in a '95 chassis for back-to-back tests at Fiorano with that and the V12-engined car. Test driver Nicola Larini lapped the V10 car faster and it was 6km/h faster through the speed trap at the end of the straight.
The gearbox of the F310 was mounted transversely, a layout that had been in and out of fashion ever since Ferrari first introduced it to F1 in 1975, but which Barnard had reintroduced on the '95 car.
READ MORE: 10 moments of Michael Schumacher brilliance
It was initially a six-speed box, but a seven-speed was eventually produced in response to Schumacher feeling he needed higher revs on the corner entries, to give him greater engine braking - something that allowed him to fully exploit his driving style.
The car was designed at Barnard's GTO facility in the UK and was a very different-looking beast to its elegant predecessor.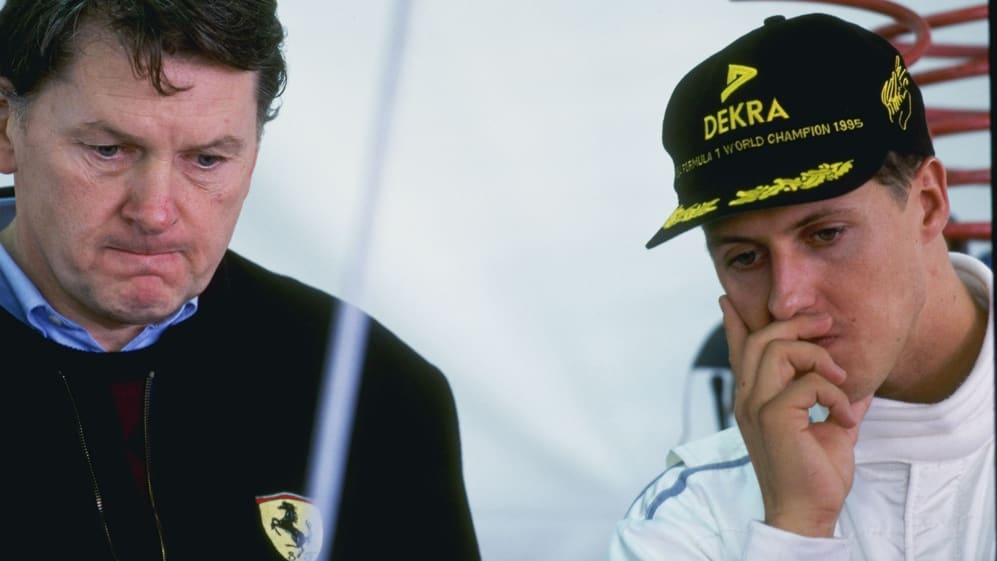 The ungainly visuals were dominated by the design team's response to the new-for-'96 cockpit surround regulations, brought in to give greater protection to the driver's head. Whereas other teams took advantage of a regulation loophole to minimise the increase in surface area, Ferrari took it more literally.
In fact, they even extended the cockpit surround higher than demanded by the regulations, attempting to sweep the airflow better to the rear wing. However, it was later found that this upsweep interfered with the engine airbox acoustics, compromising the power – and Schumacher could often be seen driving with his head tilted, so as to minimise the problem.
Another unusual feature was the sidepod layout adopted by chief aerodynamicist Tony Tyler. They were tall and narrow, set aft of the driver and did not join up with the floor, as on more conventional designs.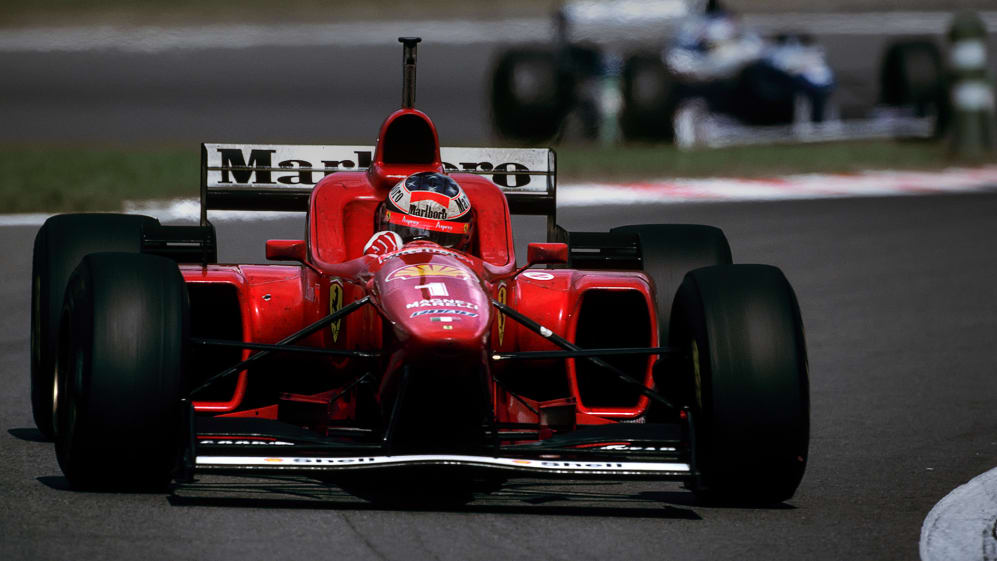 TECH TUESDAY: How Ferrari were just one step behind Mercedes on DAS
Initially the car did not feature the high nose that had been in fashion ever since the 1990 Tyrrell showed the way, and when Schumacher took the car's dramatic first victory at a rainy Barcelona it still had the original low nose, with its underside almost touching the front wing elements. But from Canada onwards it had a more conventional high nose.
It had several innovative details, very much Barnard signature flourishes. It was, for example, the first car to do without a separate panel for the dashboard, all the dials and switches being incorporated into the steering wheel itself.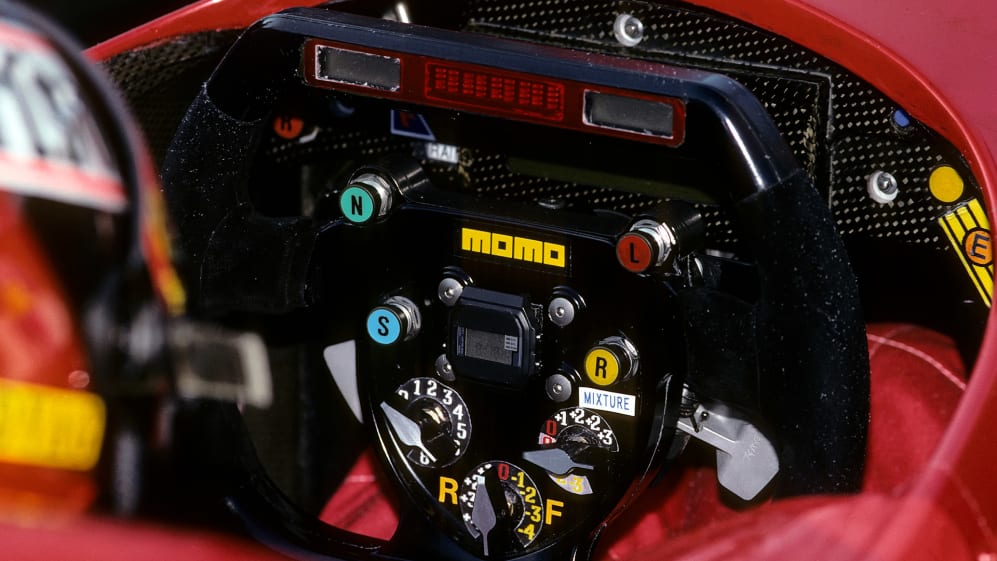 It would quickly become the standard way of doing it, vastly improving the visibility of information for the driver. It was also the first car to use a rotary hydraulic actuator (rather than separate pistons and selector rods) for the paddle shift, meaning far fewer parts and faster gearchanges.
It wasn't a disastrous car and in winning three races with it, Schumacher had won more times than Gerhard Berger and Jean Alesi combined had managed in 1994-5. But it wasn't a great car and was cajoled into such performances by the genius of its driver, who after testing the '95 V12 car had reported to Barnard that he much preferred it and that he felt he could more comfortably have won the '95 championship in it than in the Benetton he used.
In looking at its shortfall to the pace-setting car of that year – the Williams FW18 – that car's designer Adrian Newey later revealed the crucial difference.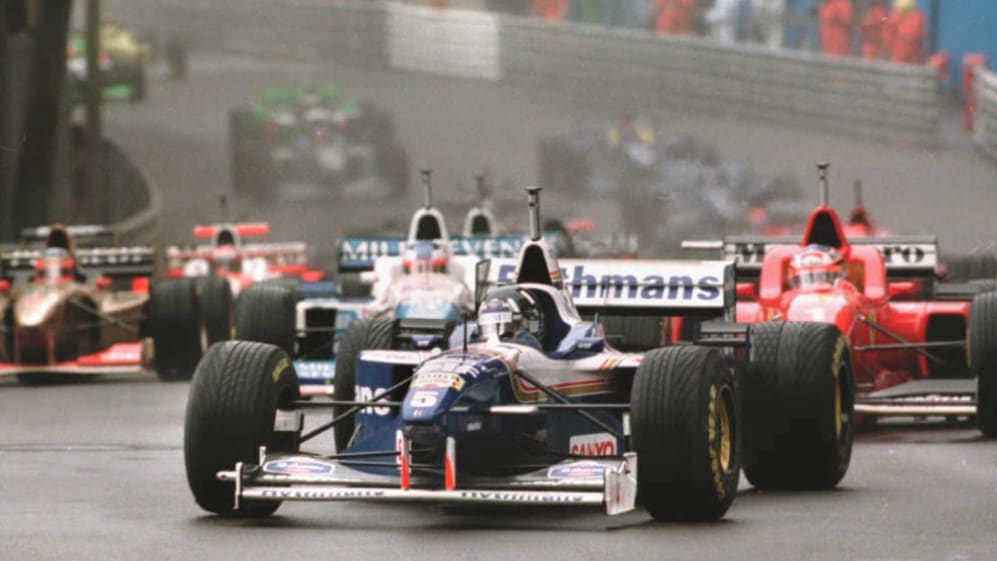 "We needed a very narrow gearbox," he said. "There was a loophole in the regulations where we could effectively take the diffuser over the top of the plank and therefore get more diffuser exit area. But the standard Williams transverse gearbox was too high for that solution. So the '95 car came out with that to start with. There was a lot of debate about how we should then do a narrow gearbox.
"I was pushing for a longitudinal box, Patrick [Head] didn't like that idea and wanted to do a stepped geared transverse 'box and that's one of the very few disagreements we had technically. He prevailed on that – which was his prerogative. So we did this step-up on the transverse, raising it up out the way. That was the 17B which was first raced in Estoril '95. It was a very quick car and didn't win nearly as many races as it should have.
"I was worried that over the winter with everyone having seen the pace of the 17B that we'd lose our benefit. But remarkably very few people did - particularly our main rivals Ferrari and McLaren, who missed what we'd done completely."
Don't forget you can watch the Ferrari F310's finest hour in a full re-run of the 1996 Spanish Grand Prix here on Wednesday, April 15 at 1800 UTC.