Why Ricciardo reckons his McLaren struggles can give replacement Piastri a 'head start' in his maiden season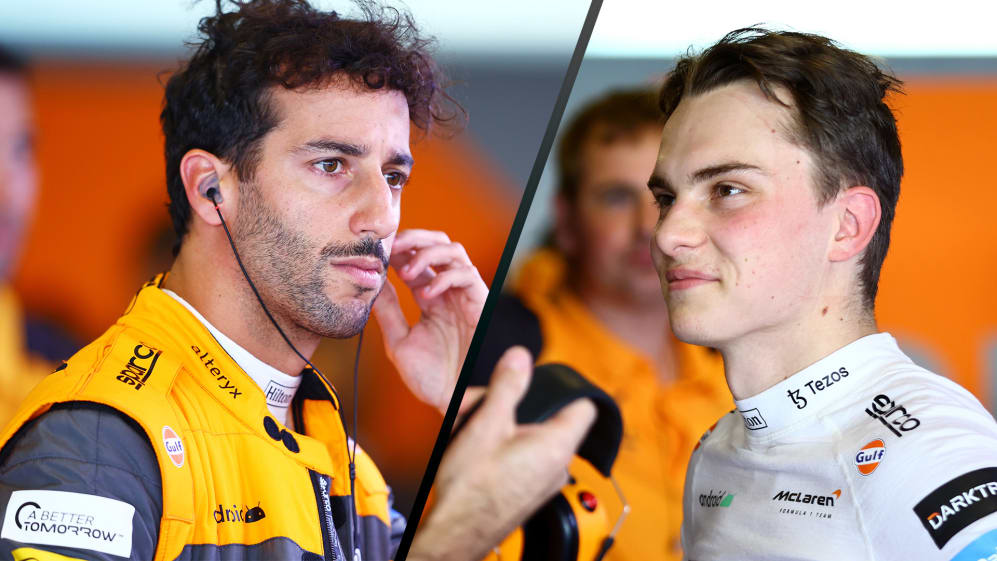 Ahead of his debut Formula 1 season, rookie Oscar Piastri has received some words of wisdom from his McLaren predecessor Daniel Ricciardo – who reckons that his young compatriot will benefit from lessons the team learned from his own struggles in the car.
Ricciardo spent two years at McLaren – after joining from Renault in 2021 – but struggled to match team mate Lando Norris during that time, with the team from Woking announcing in August that the eight-time race winner would be departing at the end of the 2022 season, one year earlier than planned.
McLaren later revealed that F2 champion Piastri would be replacing Ricciardo in 2023 – only after the Contract Recognition Board ruled in favour of the papaya team in their dispute with Alpine regarding who had the right to the young Australian's services in 2023.
READ MORE: Ricciardo reveals surprising talks with one team over his future – and why he turned down a race seat chance for 2023
On the F1 Beyond the Grid podcast, host Tom Clarkson asked Ricciardo what advice he would give to Piastri ahead of his maiden season, to which he replied: "I think just go out and drive. I know that sounds like a really lazy response but it's just go and drive.
"Learn, be a sponge, but drive. Don't see the bar too high for yourself, if you end up doing better than maybe what you thought, awesome, but just take it race by race. But as long as you are learning and you feel like you are improving every race, I think that is all you can kind of ask for yourself."
Over the course of their time as team mates, Norris outscored Ricciardo by 130 points, but the Australian does not expect his struggles to be in vain, believing that McLaren will use the information gathered from his time with them to help Piastri get a "head start".
READ MORE: McLaren announce launch date for 2023 Formula 1 car in cryptic style
"I think also even if we didn't quite get it right from my side, with McLaren I think they still would've learnt a bunch from our two years, and maybe things where we deviated, went a little wrong or sideways," said Ricciardo.
"So, I think all that, that knowledge can be passed on to Oscar and I think they will. I would like to think they will have a little bit of a head start from that point of view."