Feature
Why we love... the Bahrain Grand Prix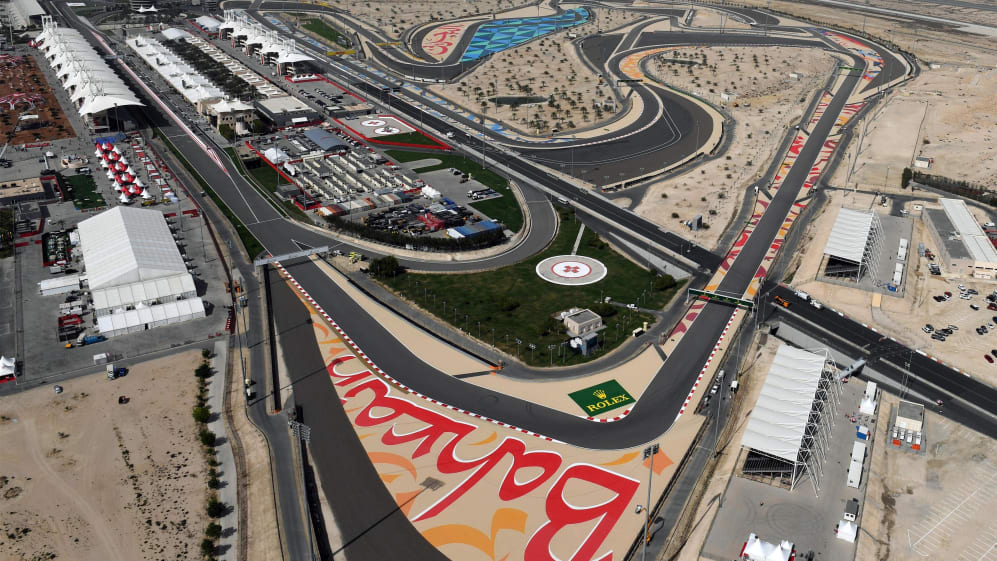 One down, 20 to go. After the season-opener in Australia, it's time to see more from F1 in 2019 as we head to the Middle East for the Bahrain Grand Prix. Here's why we love going racing at the Bahrain International Circuit...
1. It's a wheel-to-wheel racing paradise
Fresh from one venue that is not renowned for its overtaking opportunities, we head to a track that really encourages not only passing but side-by-side fighting. Bahrain's whole first sector is perfect for overtaking, with the long pit straight giving way to a big braking zone for Turn 1.
Everything you need to know about the 2019 Bahrain Grand Prix
Even getting a move done there isn't always the end of it, though, with Turn 2 and Turn 3 immediately following and allowing a car that has been overtaken to stay close, then pick up a slipstream to fight back on the run to Turn 4. Once again, that's a long straight followed by a big braking zone, and with a wide exit to the corner it's possible to still head wheel-to-wheel through the next high-speed section of corners.
Does that all sound a bit too simplistic? Just check out the Mercedes pair of Lewis Hamilton vs Nico Rosberg in their fierce battle for the lead in the 2014 edition of this race and you'll see what I mean...
2. Turn 10 might be the calendar's toughest-to-get-right
A little further down the road from that exciting start to the lap comes a corner that catches many drivers out throughout the race weekend in Bahrain.
Turn 10 is a low-speed left hander that looks fairly innocuous from the outside – but its approach makes it extremely tricky. Drivers accelerate out of Turn 8 and go over a brow before dropping down and turning left through Turn 9 – more of kink than a true corner. But while still turning left through 9, they have to be on the brakes to slow down enough for Turn 10 – and with the front-left wheel un-loaded, it's so easy to lock a brake.
If that happens, you either end up with a flat spot on your tyre, or you ease off the brakes again and risk not making the corner, so you're likely to pay the price regardless. In the worst cases, a big lock-up will see a driver heading straight on when they need to be turning left as they slow the car – and with a DRS zone following Turn 10, it's a corner that can prove costly when you don't get it right.
3. The cars look great under floodlights (and everyone loves a sunset, right?)
The battle between Hamilton and Rosberg looked all the more spectacular in 2014 because that was the year the Bahrain Grand Prix first became a night race. Well, more specifically, a race held under floodlights as the sun sets, starting less than 20 minutes after the sun goes down and finishing in full darkness.
The floodlights create a different atmosphere and provide stunning shots of the cars, with the bright lights reflecting off the various liveries. And who doesn't love seeing a shower of sparks as a car heads flat-out towards the next corner?!
But the timing doesn't just have a visual impact. From a race strategy point of view, teams are limited in their track time during race conditions. Only FP2 takes place at a similar time to qualifying and the race, meaning the teams have just one 90-minute session to reliably test their set-ups. The other two practice sessions take place in full desert sunshine, which often leads to much higher temperatures in those two sessions compared to the race.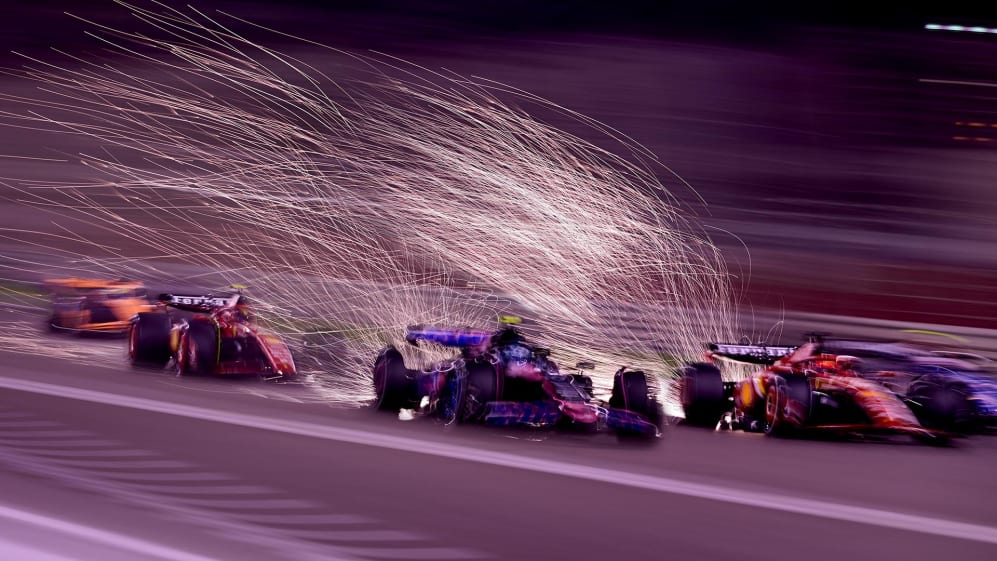 4. It has a habit of breaking front-running cars
As just mentioned, this is a race held in the desert. And unsurprisingly, the conditions are a real test for teams when it comes to their machinery. The heat is one problem, but there is also the matter of sand that can blow onto the track and find its way into various cooling areas, causing further problems.
Recent history highlights just how much of a challenge the location can be, with a number of front-running cars suffering problems in the past. Last year, both Red Bull drivers retired early on in Bahrain, while Kimi Raikkonen's botched pit stop – which unfortunately saw a mechanic suffer a broken leg – shows the heat can get to the team as well.
Problems are not just isolated to when the cars are being pushed to their limits during the race, either. In 2016, Sebastian Vettel failed to even make the start as his car failed on the formation lap, ruling him out completely.
Vettel might have won last year's edition, but he hasn't had the greatest luck in Bahrain, with a spark plug failure preventing him from taking what looked set to be a comfortable victory in 2010, dropping him back to fourth place.
5. Formula 2 is back
Want some more racing? Well, you're going to get it this weekend because Formula 2 joins the Formula 1 race programme in Bahrain.
Off the back of pre-season testing for the F2 teams in Europe, their new season gets underway with two races in Sakhir. After qualifying on the Friday, the feature race takes place on the Saturday and is worth the most points – with 25 for the winner and one mandatory pit stop – before a sprint race on the Sunday that carries 18 points for the winner and no mandatory stop.
With the F2 races taking place in daytime, the heat and track temperatures make tyre management extremely difficult, and Charles Leclerc actually won the sprint race back in 2017 by boldly opting to pit and then carve his way back through the field.
F2 is where many future F1 drivers cut their teeth, and last year's top three in the championship – George Russell, Lando Norris and Alexander Albon – have all been promoted this season with Williams, McLaren and Toro Rosso respectively.
In fact, Bahrain proved to be a strong indicator of form last season, with qualifying seeing Norris pip Russell and Albon to pole position.
This year, there's the name of Mick Schumacher to look out for as he will race for Prema – the team that guided Charles Leclerc to the 2017 championship – while Nyck de Vries set the pace during pre-season testing for Russell's title-winning outfit ART.
F1 Fantasy – get in the game!
Have you picked your F1 Fantasy team yet? Head here to choose your dream line-up.