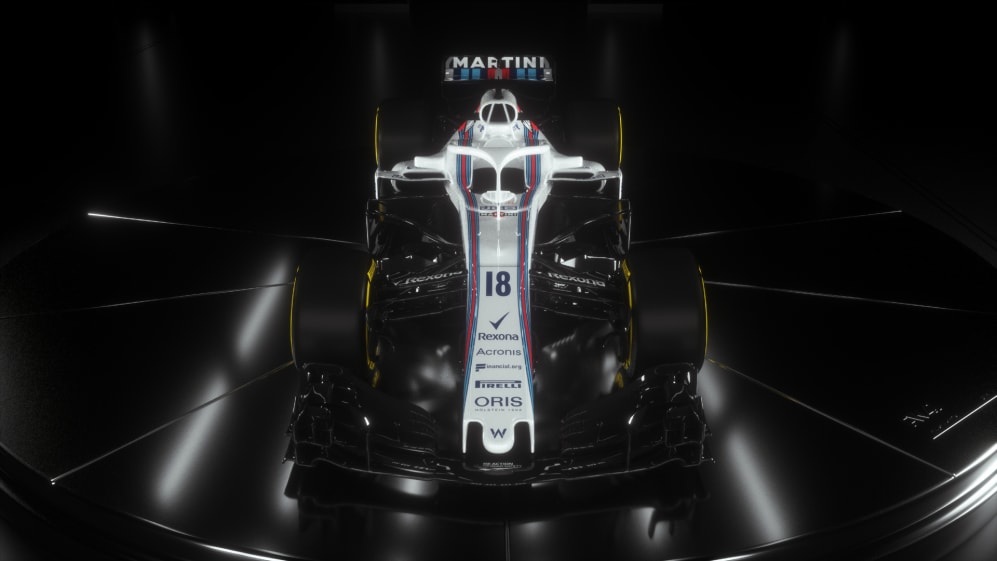 Williams have become the second team to reveal their 2018 F1 challenger, with the new FW41 being shown off at a London press event on Thursday evening.
The car, which will be raced by Lance Stroll and new team mate Sergey Sirotkin, is the first Williams to be designed fully under the watch of technical chief Paddy Lowe since his return to the British team last year.
The car has many new features, most of which are not all that obvious
With Williams adopting a new aero philosophy for the FW41, the Mercedes-powered machine looks significantly different to its predecessor, thanks not only to its obligatory halo cockpit protection device, but also the distinct fin running along the centre of its engine cover.
Williams, who have also employed the services of Grand Prix winner Robert Kubica as reserve driver this season, hope the car will lift them up the order after a disappointing 2017 campaign in which they finished a distant fifth behind Force India in the constructors' standings.
"It is very exciting to be giving everyone the first look at the FW41," said Lowe. "The car has many new features, most of which are not all that obvious, but externally the team has pursued a very different aerodynamic concept which has allowed us some significant progress in aerodynamic performance."
Lowe also revealed that a number of radical changes had been made to the car's packaging compared to its predecessor in order to incorporate further developments from power unit suppliers Mercedes.
"All Formula 1 cars are an evolution of what has gone before to some extent, but the FW41 does involve a number of departures from the directions that have been pursued in the past," he continued. "Overall, the philosophy we are starting to see emerge is a new approach to the collaboration between aerodynamics and design to achieve the optimum working result."
The car will make its official track debut when pre-season testing begins in Spain on February 26 – and both Stroll and F1 rookie Sirotkin are eager to get going.
"With a season under my belt with the team, I can't wait to get back on track and see what the new car is like," said Stroll, who last year became the youngest rookie podium finisher and the youngest front-row starter in F1 history.
"Until we are on track we will not know what the competition has been doing, but I am very excited and optimistic about the car the team has built. Last year was a steep learning curve for me and now I can't wait to see what 2018 has in store."
Russian newcomer Sirotkin, previously an F1 test driver for Renault, added: "I've been in the simulator regularly, going through different set-ups with the car, different tracks, seat fittings and also a lot of engineering meetings and factory tours to meet everyone.
"I've been having fun with all the guys from different departments. It's busy times, but I am really enjoying it. I'm getting ready for the season in the best possible way."