Feature
WINNERS AND LOSERS – Belgian Grand Prix edition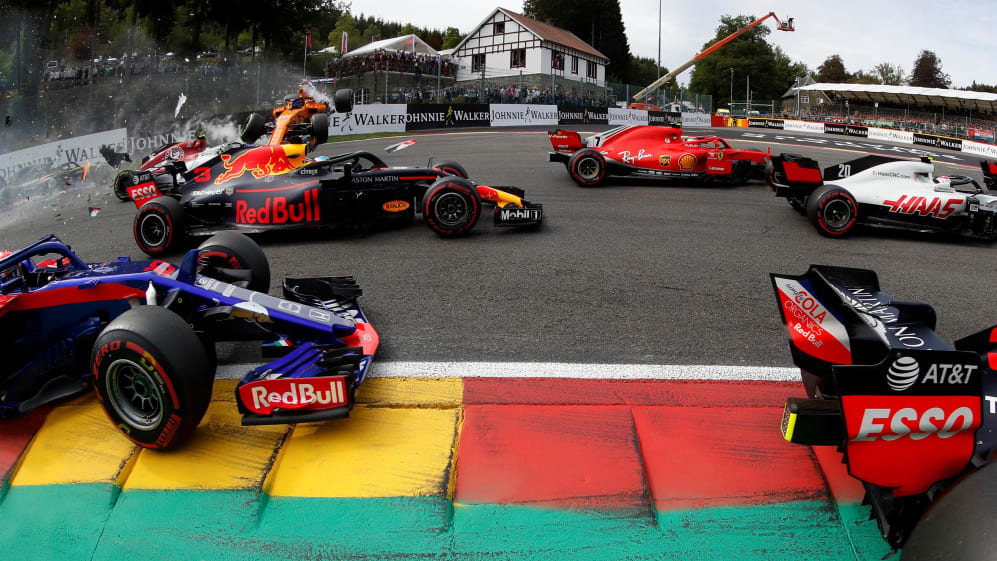 Who doesn't like having a good first day back at school? F1 regrouped in Spa-Francorchamps, and while the likes of Sebastian Vettel, the 'new' Force India team and Haas all hit the ground running, there were those who still had a case of holiday blues. We pick out the winners and losers from the Belgian Grand Prix.
THE WINNERS
Vettel strikes back
Sebastian Vettel headed into the summer break on a bit of a downer. He should have won in Germany. He should have won in Hungary. But instead it was his chief title rival Lewis Hamilton who took the spoils and a healthy 24-point lead.
Undeterred, Vettel hit back in style at Spa. His former team boss Franz Tost told Formula1.com that one of the German's strongest assets is his mental strength – and that shone through on Sunday.
Fighting back from missing out on pole when a rain shower hit late on in qualifying, Vettel judged his start perfectly. Utilising Ferrari's latest spec engine and a team decision to run less wing at the high-speed circuit, the German passed Hamilton on the Kemmel Straight to snatch the lead on lap one.
That lead was threatened when the Safety Car was called into action, but Vettel kept his cool, recovered from what he described as a poor restart to pull out a gap – 0.9s he reckoned after Turn 1, courtesy of a great exit – and from there never looked back.
His reward was a 52nd career victory and 107th podium, both of which surpass fellow four-time world champion Alain Prost's tally in the all-time lists. He also smashed the 1000-point barrier in a Ferrari. But most importantly, he cut the deficit to Hamilton to 17 points.
Next up is Ferrari's home race at Monza, where the Italian squad's engine gains will be an asset. There's still plenty of life in this title fight yet...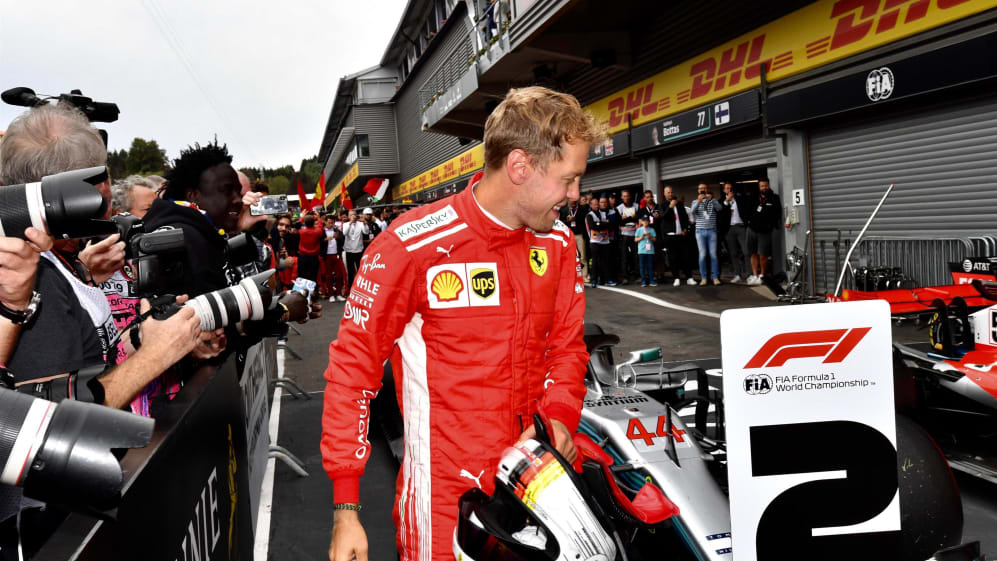 Force India score big on 'debut'
The 405 people who work for Force India have had a rough time of late. But at Spa, they were reborn as a new entity – Racing Point Force India. It mean their constructors' championship points were wiped out, as they were starting afresh, but they hit back straight away.
The pink cars looked quick all weekend, the team continuing the trend of having performed well at the high-speed track for the last decade. Then when the rain came in qualifying, Esteban Ocon and Sergio Perez came into their own, locking out the second row in third and fourth.
On race day, Ocon had a sniff at the lead, after picking up a slipstream from Hamilton and Vettel on the Kemmel Straight on lap one, but had to back out of it and ultimately lost a place to team mate Perez.
They couldn't hold off Red Bull's Max Verstappen and the Mercedes of Valtteri Bottas but showed great pace to end up best of the rest in fifth and sixth respectively. That gave them 18 points and moved them up into ninth in the constructors' championship, one point behind Sauber and 12 adrift of McLaren. Not bad for their 'first' race, eh?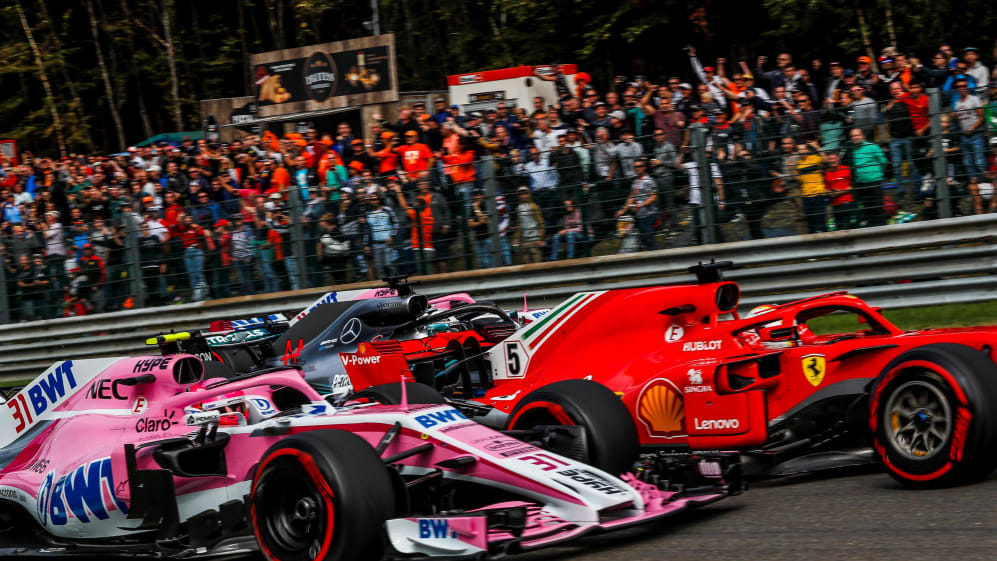 Halo earns praise
There were those that loved it and those that hated it but the halo cockpit protection device was still introduced by the FIA for this season in a bid to improve driver safety – and it did just that at Spa.
When Nico Hulkenberg messed up his braking, the Renault driver thumped into Fernando Alonso, pitching the McLaren up and over Charles Leclerc. As replays and markings to the Sauber's halo showed, the device played a key role in ensuring the Monegasque escaped unscathed.
"I have never been a fan of the halo but I have to say that I was very happy to have it over my head today," tweeted Leclerc. The 2016 F1 champion Nico Rosberg said on Twitter: "We can end the Halo discussion now. It will save lives. #thanksFIA". Well said.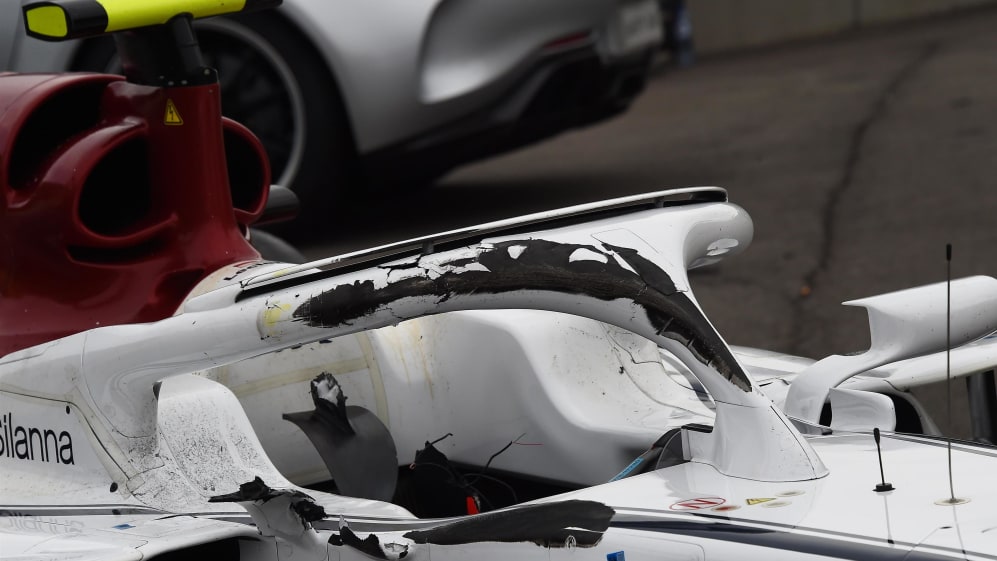 Haas find some consistency
After two eighth place finishes in the constructors' championship to open their F1 account, fifth place at this point in the season could be seen as a positive performance for Haas. But the American team want more, and they have proved they have a car capable of achieving it in 2018.
This weekend was a big step towards that. Yes, they were outperformed by Force India, but Romain Grosjean and Kevin Magnussen still delivered strong performances to secure the team's third double points finish in five races.
It was the second successive time Grosjean has finished seventh in Belgium, continuing a strong run that has seen him score points in four of the last five races, having failed to finish in the top 10 once in the opening eight races of the season. Meanwhile, Magnussen scored for the first time at Spa.
Crucially for Haas, chief rivals for fourth in the constructors' championship Renault failed to score. That means they have slashed the gap to just six points while moving 24 clear of McLaren, who also failed to score.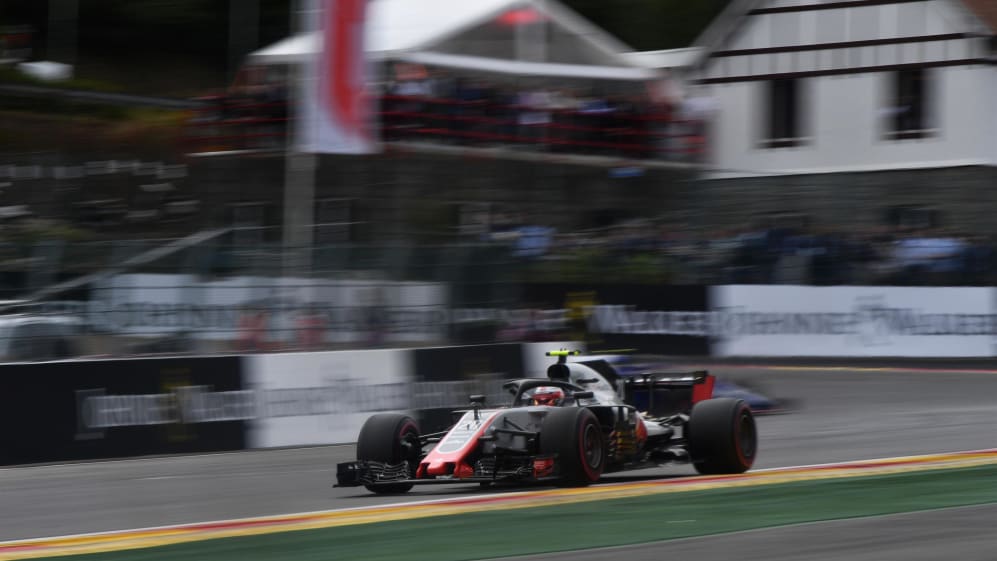 Ericsson stars for Sauber
Charles Leclerc has been the star of the show for Sauber for much of this season, with many tipping him for a promotion to Ferrari next season alongside Sebastian Vettel. However, in recent races, it has been his team mate Marcus Ericsson who has been delivering the goods.
He was close to his team mate in qualifying, then kept his nose clean at Turn 1 following the start of the race to gain four places. From there, he pulled off a good move on Sergey Sirotkin and showed persistence in his attack of Brendon Hartley, ultimately coming out on top.
He has now scored points in three of the last five races. That compares to Leclerc's record of one points finish and three retirements in the same period. While you could argue Ericsson is still not setting the world alight, given that his car is capable of scoring regularly, it's a welcome improvement at a time when he is fighting to retain his seat next year.
Bottas fights back after penalties
This was always going to be a difficult weekend for Bottas once Mercedes gave him a fresh, upgraded power unit that incurred penalties. He didn't set a lap time in the second part of qualifying, as he knew a back of the grid start beckoned.
Starting 17th, things didn't start off so well when he clattered into the back of Sirotkin on the approach to Turn 1, as the field bunched up. For that, he was awarded a five-second time penalty - the second race in a row he has been dinged by the stewards. But it was the only mistake he made in a solid recovery drive.
The highlight? His gutsy move on Brendon Hartley through Eau Rouge. Not necessarily renowned for his wheel-to-wheel racecraft, Bottas demonstrated his skills as he hung on around the outside of Brendon Hartley up one of F1's most iconic corners to make the move stick. It was stunning.
Fourth was a pretty good effort, with Mercedes Team Principal Toto Wolff saying it was "the maximum to be achieved today without a Safety Car mid-race". Combined with Lewis Hamilton's second place and Kimi Raikkonen's failure to finish, Mercedes marginally extended their lead in the constructors' championship, too.
THE LOSERS
Alonso's Spa hopes end early doors
This was always going to be a difficult race for McLaren, given their package, but Fernando Alonso will have expected it to have lasted longer than just a few seconds.
"There were a couple of possibilities of overtaking in Turn 1 – you play it cautious, you brake at the same point, then you look in the mirrors and see the guys behind you behaving as if this was the last corner of the championship," said Alonso, referring to Nico Hulkenberg hitting him at the start.
"I saw Nico in the mirrors coming with all four wheels locked, at a very high speed. He completely missed the braking point by a long way, not just a couple of metres."
His exit, through no fault of his own, was his third retirement of the season. He escaped unscathed, after going up and over the Sauber of Leclerc. But he admitted he might be feeling pretty sore come Monday morning.
Hulkenberg makes another mistake
In Baku this year, when Nico Hulkenberg crashed out when running fifth, Renault's Cyril Abiteboul joked it was okay because the German "makes one [mistake] a year!" And while there have been real highs this year, including a superb fifth on home soil in Germany, there was a big low at Spa.
As Alonso mentioned, Hulkenberg got his braking all wrong, locking up and skating into the McLaren driver. The stewards took a dim view of his driving, saying he "completely misjudged the situation", and handed him a 10-place grid penalty for Italy.
It completed a disappointing weekend for Renault, with Sainz failing to score points too. They now face intense pressure from Haas for fourth in the constructors' championship, with the American team now just six points behind.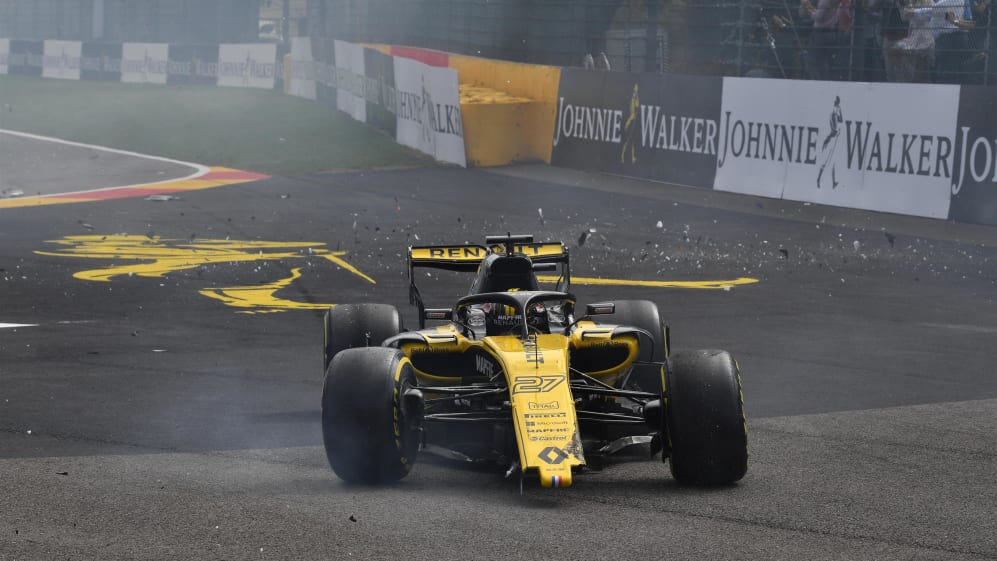 Leclerc's bad run continues
Leclerc is, of course, a winner, given that he emerged unscathed from the spectacular first corner accident at Spa, But he's in this section because his retirement extended a poor recent run of results, even if he was an innocent victim in the melee.
The Ferrari junior has been one of the stars of the year. But ever since Sauber failed to put a wheel on properly at Silverstone, when he was on course to score points for the fourth time in a row, the wheels have come off his charge.
He has retired from three of the last four races and failed to score in the other. In contrast, his team mate has scored twice in four. Worse still, Leclerc hasn't made it past lap one at two successive races now. Can the Monegasque turn things around?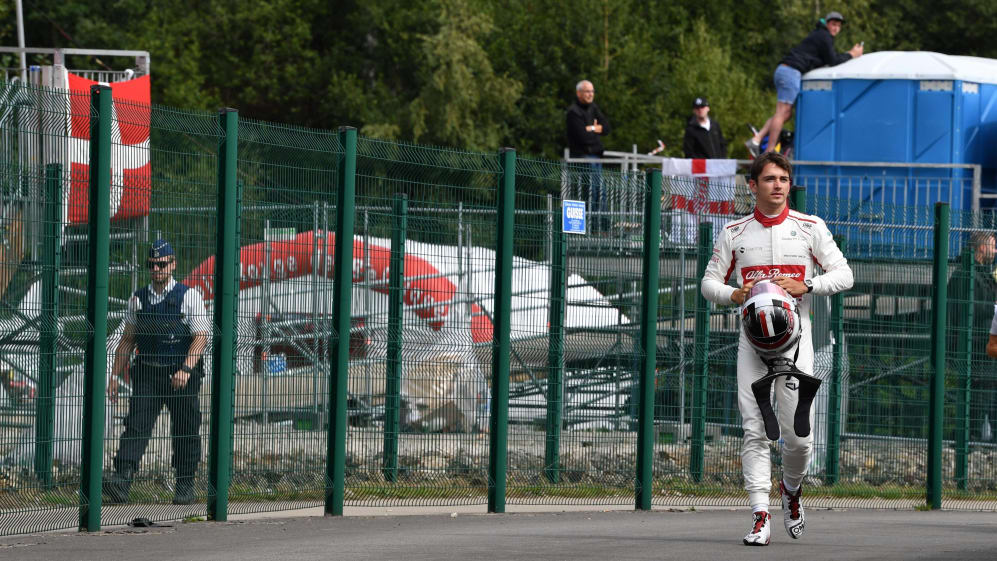 Ricciardo gets caught up in the mess
When it comes to victories in 2018, Daniel Ricciardo has outshone team mate Max Verstappen by two to one. But in qualifying, the Honey Badger has now been defeated eight times on the 10 occasions they have both made Q3.
The Red Bulls lacked the pace when the rain came in qualifying, with Ricciardo starting eighth. When you're in the pack, the risk of something unfortunate happening increases and so it transpired. An out-of-control Alonso's front wing tagged Ricciardo's rear. That pitched him into Kimi Raikkonen. The result was front and rear wing damage.
Red Bull got him back out, albeit two laps down, but he ultimately retired the car with 14 laps to go. While Verstappen has scored two podiums in the last five races – including taking Red Bull's breakthrough win at their home track in Austria – Ricciardo has three retirements, a fourth and fifth to show for his efforts. Once considered an outside contender for the title, Ricciardo is now facing the prospect of finishing last of the top six contenders.
Raikkonen's podium run terminated
Spa is one of Kimi Raikkonen's favourites. But he won't have any fond memories of this year's edition. He was arguably the quickest Ferrari driver over one lap in the run up to qualifying, but yep, you guessed it, things unravelled when it mattered in the one-hour shoot-out.
As the rain eased in Q3, Raikkonen was forced to pit because he didn't have enough fuel –and there wasn't enough time to get back out. Raikkonen blamed a fuel miscalculation and ultimately ended up sixth on the grid.
That left him in the thick of it at the start. As the field concertinaed up, Raikkonen had to hit the brakes to avoid hitting Kevin Magnussen's Haas. That led to Ricciardo hitting him, puncturing his right rear tyre and causing damage to his rear wing.
He recovered to the pits and rejoined, but the damage was such that the DRS started opening itself. Ultimately, he was forced to retire the car, ending a run of five consecutive podiums, which incidentally was his longest streak since 2007 when he won his one and only F1 title.
He's now 85 points – more than three race wins – behind championship leader Hamilton with eight races to go. Has his title challenge now taken a vital blow?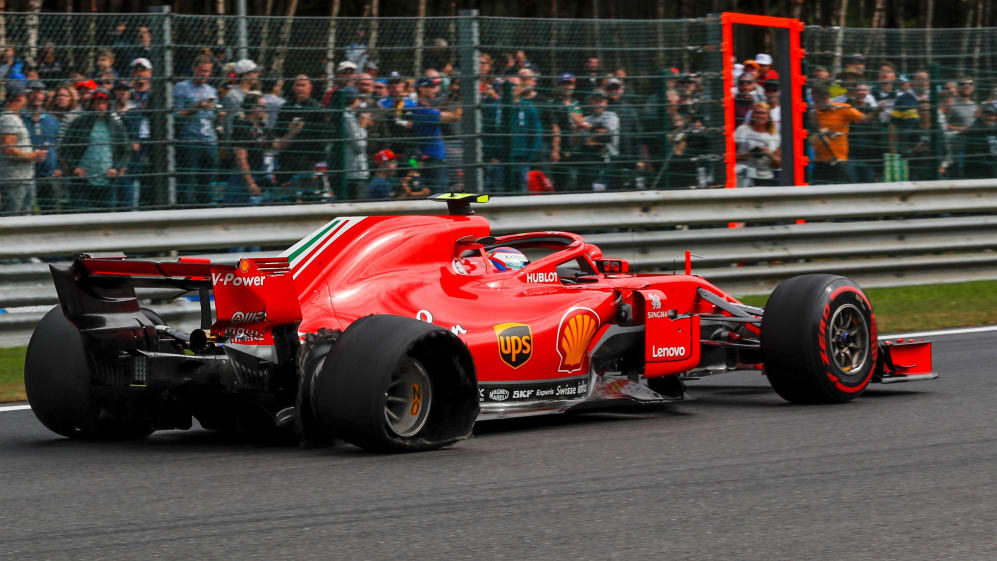 Vandoorne's miserable home race
This was not a good weekend for Stoffel Vandoorne. Keen to deliver a strong result on home soil, given he has yet to sign a deal for a race seat next year, things didn't go to plan.
He was last in all three practice sessions at Spa-Francorchamps and lucky to walk away unscathed after a misunderstanding with Valtteri Bottas in FP3. Things didn't get much better in qualifying as he ended up dead last. And he completed the set with last in the race.
McLaren knew this weekend would be hard, admittedly, but Vandoorne will have expected to have at least beaten the Williams. The pressure mounts as we head to Monza.