Feature
WINNERS AND LOSERS - Chinese GP edition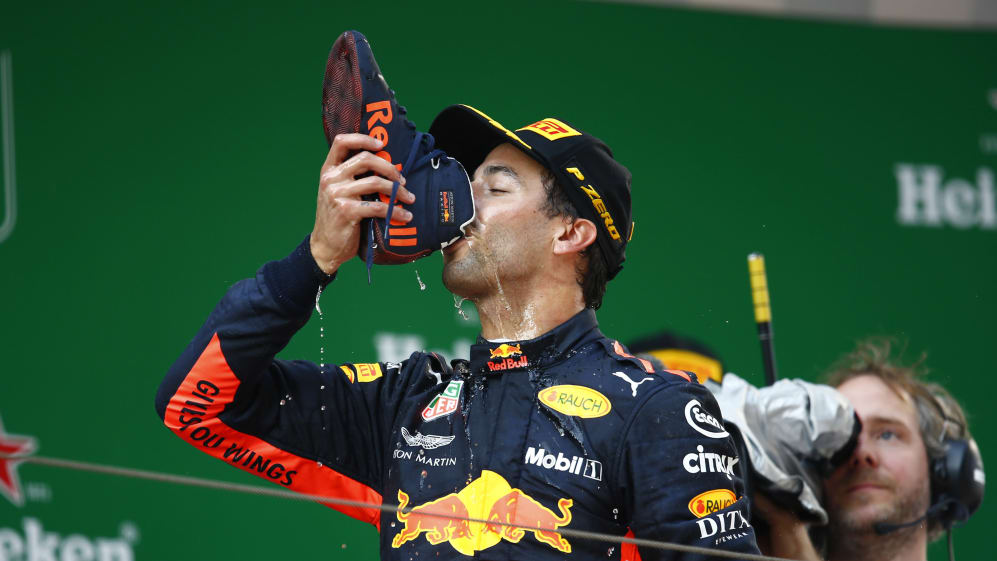 Sensational passing, a Safety Car and a shoey. The Chinese Grand Prix took a while to get going, but when it did we were treated to a F1 race of the very highest quality…
THE WINNERS
The tenacious Honey Badger
Daniel Ricciardo is almost always smiling. But that sunny demeanour has been put to the test of late. Heading to China, he had retired from four of the last six races he has entered.
An engine problem meant his Bahrain Grand Prix was over pretty much as soon as it started. Then in China, a turbo failure in final practice meant he almost missed qualifying.
And even in the race, his prospects looked bleak. He lay sixth after the first round of pit stops, the last of the leading pack, while his team mate Verstappen was starring in third.
But then everything changed when the Safety Car was deployed. Ricciardo fitted fresher tyres, took advantage of Verstappen's mistake and then delivered an overtaking masterclass (above).
Ricciardo had said if he were Bottas in Bahrain, he would have had a stab at passing Vettel, whatever the consequences. In China, he proved he was being genuine.
His passes on Hamilton and Bottas were brilliant and victory – the sixth of his career – was thoroughly deserved. "I don't win boring races," he joked afterwards, and indeed he doesn't – in fact all of his wins have come from starting slots outside the top three.
Clearly, he likes to do it the hard way, which provides quite the spectacle for the viewers.
Red Bull's strategists and pit crew
There has been a feeling so far this season that while Red Bull may not quite have the car to challenge in qualifying, they have a race day package that can win Grands Prix. In the first two races of the year they couldn't put it all together, and for much of the race in China, it looked like they would finish third best again.
But then their strategists came into their own, rolling the dice and opening the door for a stunning result.
First they managed to double-stop both cars at the first round of pit stops (above). Then they reacted to the Safety Car by doing it again, bringing both drivers in on the same lap for fresh tyres.
That gave Ricciardo and Verstappen an overwhelming performance advantage over their rivals and ultimately provided the conditions for the team's first win of the season.
"There was a quote from Lewis that he didn't think we were operating at the same level as Mercedes and Ferrari," said Red Bull boss Christian Horner. "I think we've demonstrated this team is clearly capable of operating at this level."
It was Red Bull's second win in China, but their first since Sebastian Vettel gave them their debut victory in 2009. Moreover, it keeps them firmly in touch in both the drivers' and constructors' championships.
Nico Hulkenberg – Mr Consistency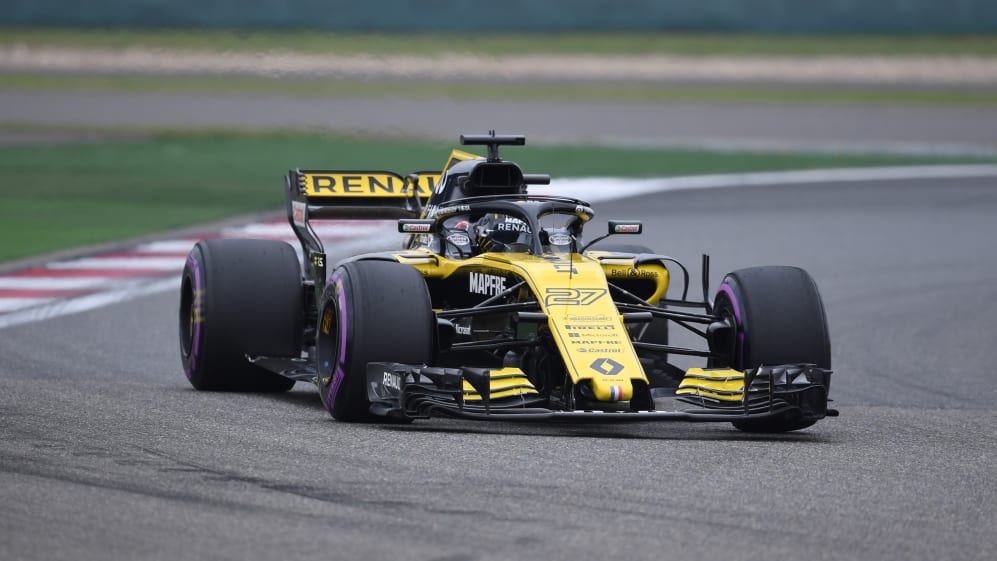 Nico Hulkenberg is arguably driving at his highest level right now. The German has outperformed his highly-rated team mate Carlos Sainz in every race this season.
The Renault project is still a work in progress, but in Hulkenberg's hands, they are getting the most out of the car, as he proved once again in China.
Having started best of the rest in seventh (for the sixth race running no less!), he managed his tyres well throughout and then made the most of the Safety Car to get a fresh set of soft tyres to guide the car to sixth.
Hulkenberg has now finished seventh or better at every race this season and now has 77 career points' finishes without ever taking to the rostrum. With form like that, though, that first F1 trophy may not be that far away if the circumstances are right.
McLaren's fighting Spaniard
McLaren have been solid but not spectacular so far this season. In China, Racing Director Eric Boullier admitted the team may not have been as ambitious as they could have been with targets for the 2018 car.
But while they battle to add more performance to the MCL33, at least they are scoring points, with Fernando Alonso, slightly under the radar, continuing to deliver at a tremendously high level.
The Spaniard made up for another poor qualifying with a bullish race that saw him gain six places from his grid slot – including three on a typically charging opening lap (above) and another with a bold pass on a struggling Vettel to snatch seventh late on. That's even more impressive when you consider all but one car reached the flag.
It means Alonso has now scored in every race this season. His tally of 22 points is more than the 17 he managed to score throughout all of last season. He sits sixth in the drivers' standings, McLaren are fourth in the constructors'.
There is no denying McLaren have work to do if they are to challenge for podiums and ultimately victories and the world championship, but consistent points scoring is a pretty good start – and they couldn't have a better driver to do it than Alonso.
China's passionate fans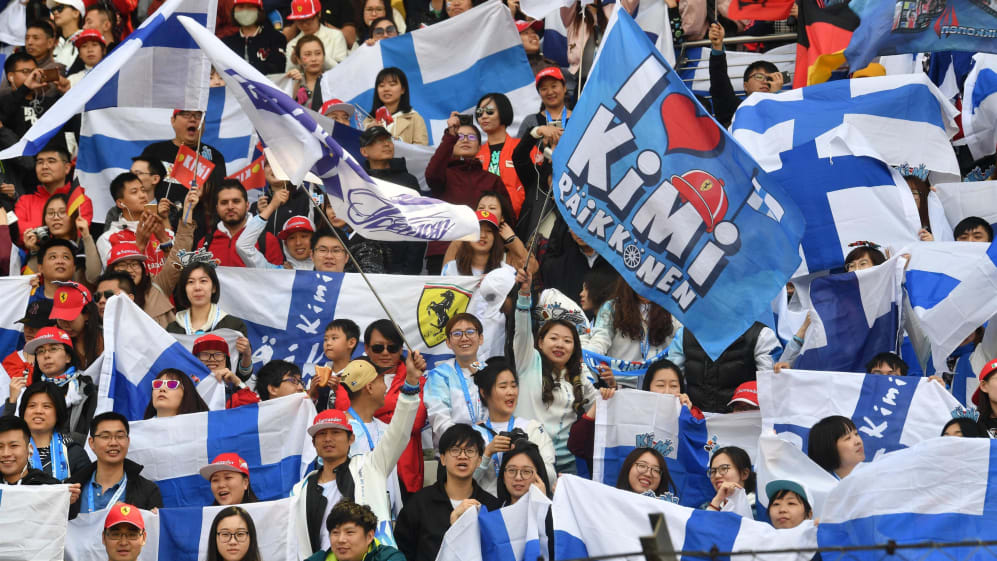 Attendance in China has been growing and growing in recent years, and there was a real buzz on race day at the Shanghai International Circuit.
The two-tiered main grandstand was packed, with flags draped all the way across and enthusiastic fans - grouped for the most part according to driver fan club - cheering the cars each time they drove past during the 56-lap race.
Having created an atmosphere to rival any track in the world, they were rewarded with a race that came alive when the Safety Car was deployed and featured four different leaders as well as a wealth of overtaking moves.
They were also treated to the rarity of a race with no classified retirements. There have only been eight in F1 history and this was the second in China, following on from the 2016 event.
The reigning world champion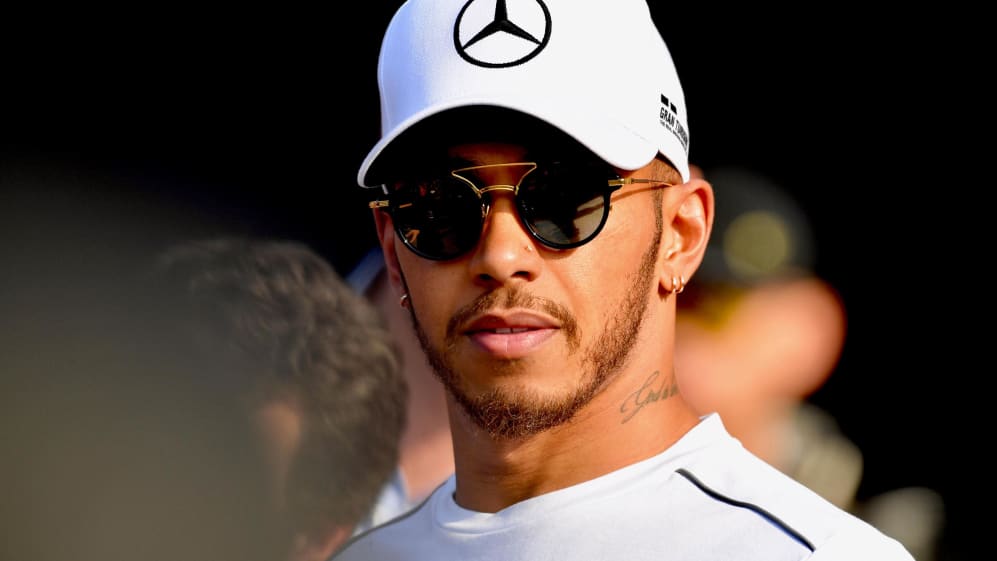 'Lewis Hamilton? Are you quite sure he belongs in the winners' section?' - we can hear you all asking. The answer is yes – just hear us out. Ok, so the world champion was off-colour most of the weekend - uncharacteristically spinning off in practice, beaten by his team mate again in qualifying, unable to make any headway in the race.
But – and it's a big but – he emerged from Shanghai having taken more points out of Sebastian Vettel's championship lead – eight – than he would have done had he been victorious and the Ferrari driver finished second. In the circumstances a BIG win.
THE LOSERS
Sebastian Vettel and Ferrari
Sebastian Vettel delivered a staggering qualifying lap to snatch pole from his team mate Kimi Raikkonen at the death and then at the start made a solid getaway before quietly building a gap at the front.
But then he and Ferrari got caught out and what looked like being a great day unravelled. Valtteri Bottas pitted and while Vettel responded the next lap, it was too late. The lead was lost. Vettel admitted the team don't yet understand what happened, although a slower (and safer) pit stop than usual looked to have played its part.
Vettel was then stung by the Safety Car as, like Bottas, he had already passed the pit lane entry when it was deployed. Forced to stay out on older tyres, it became a battle of survival, and even when trying to keep out of trouble, it became clear Ferrari were having one of those days when Max Verstappen unceremoniously turned the German around at the hairpin (above).
With his floor badly damaged, Vettel did well to limp home in P8. But his championship lead took a battering – from 17 points in front, the Ferrari man is now just nine clear of Lewis Hamilton. And on a weekend when the Briton really struggled, the Prancing Horse may rue not taking advantage further down the line.
Toro Rosso's communication
What a difference a week makes. Last Sunday, Toro Rosso were ecstatic as they celebrated a brilliant weekend for the team in Bahrain that culminated in a deserved fourth place for Pierre Gasly.
But they came crashing down to earth on arrival in China. All weekend, the team were hunting pace. The STR13 was tricky to handle. Come race day, things didn't get much better.
Both drivers lost positions at the start. Then when running 18th and 19th, Gasly and Hartley got their wires crossed. Hartley was instructed to let Gasly through as they were running different strategies.
But while Hartley planned to do so after the Turn 14 hairpin, Gasly was under the impression it would be before the corner – and a clumsy coming together ensued.
Gasly limped to 18th and though Hartley continued, he ultimately retired when the team spotted a gearbox problem.
It was a stark reminder that Toro Rosso and Honda still have some way to go to prove they are a team capable of fighting at the sharp end of the midfield.
The not-so-sparkling Silver Arrows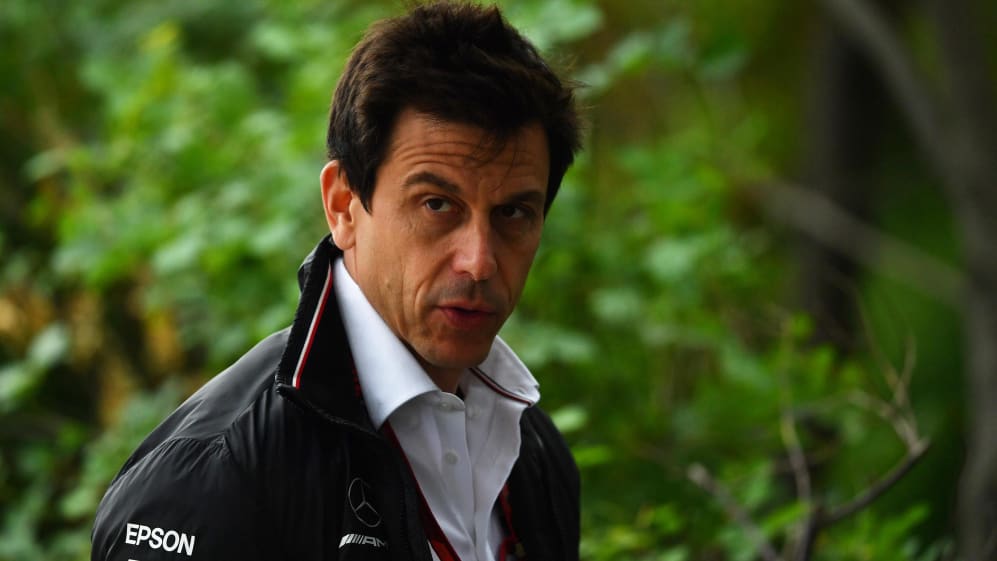 Shanghai had previously belonged to Mercedes. Heading to the venue, they had four straight wins and six straight poles. And that dominance looked set to continue after their form in Friday practice.
But it all went downhill on Saturday as Ferrari romped to a front-row lockout. Mercedes just couldn't understand the tyres when it was clear there was only a narrow window to hit the sweet spot.
"We are not in a good place," said Mercedes Team Principal Toto Wolff (above). "We are bouncing between freezing and overheating."
In the warmer conditions of Sunday, things improved – and they might even have won with Bottas were it not for the Safety Car. Even with it they might have seen Hamilton win, if the team had opted to pit the Briton under the Safety Car and not, wrongly as it turned out, hedged their bets on track position.
"We just need to get our act together," added Wolff post-race. They've been the incredible standard setters in the turbo-hybrid era, but for the first time since its arrival - in 2014 - Mercedes have gone three straight races without victory. Who would have predicted that after testing?
Unlucky Bottas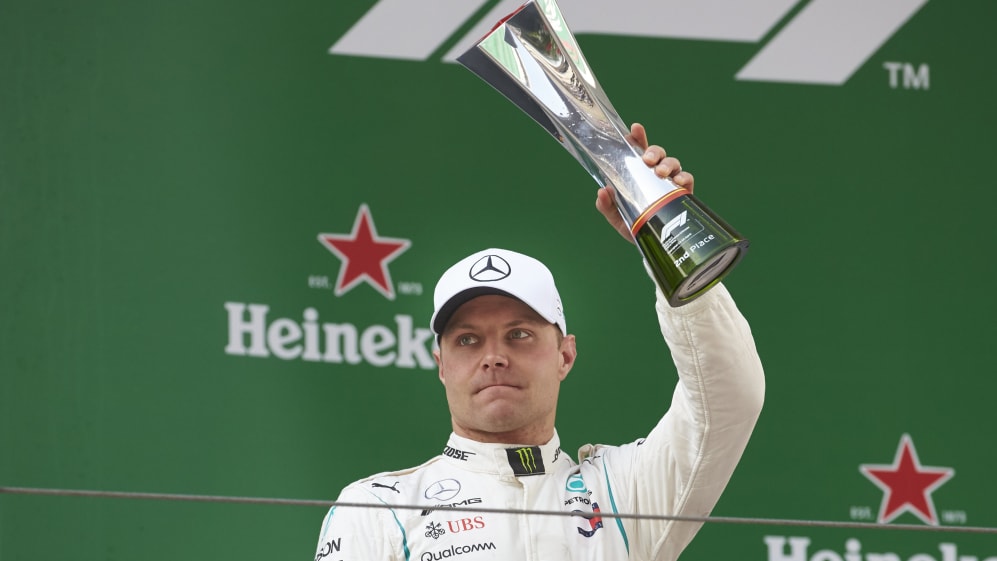 Valtteri Bottas was agonisingly close to making an appearance in the other half of this feature – but then the Safety Car was deployed and an improbable victory was snatched from his grasp.
Once again, the Finn had the edge on Hamilton when it mattered. An impressive feat given his team mate's outstanding credentials in Shanghai. Third on the grid, Bottas pounced brilliantly at the start to take second as Vettel focused on defending from team mate Kimi Raikkonen. From there, he stayed in touch with the leader.
Bottas and Mercedes then executed the undercut to absolute perfection, pitting a lap before the championship leader and using an extra lap on fresher tyres to jump the German.
He then responded to criticism, following his failure to launch a genuine move on Vettel for the lead in Bahrain, with a decisive pass on Raikkonen to take lead.
Victory looked to be his. But when the Safety Car was called into action to clear up the mess caused by the Toro Rossos, Bottas had already passed the pit lane entry. How's that for luck?
On aging tyres, he couldn't resist Ricciardo, no matter how hard he squeezed. Thus his 100th Grand Prix start ended with second place. But on the plus side, he's now just 14 points off the championship lead…
Max Verstappen
Max Verstappen should have won the Chinese Grand Prix. It's that simple. The Safety Car came at the perfect time for the Dutchman, as he was just approaching the pit lane exit.
Smooth work from the Red Bull pit crew put him back out in fourth and ahead of Ricciardo who mirrored the Dutchman's strategy.
But as his boss Christian Horner admitted later, Verstappen was too impatient. Rather than wait until the hairpin to pass Hamilton, he tried around the outside at Turn 7 and paid the price (above).
In an attempt to fight back, Verstappen then got clumsy trying a move on Vettel at the hairpin when, again, patience would have been the better virtue, the Ferrari driver even admitting later he wouldn't have resisted strongly.
With a 10-second time penalty, the 20-year-old salvaged fifth. But having run third, after a strong start, and having had the chance to win, that will be scant reward for a racer who has been guilty of overdriving in every race so far this season.