Feature
WINNERS AND LOSERS – German Grand Prix edition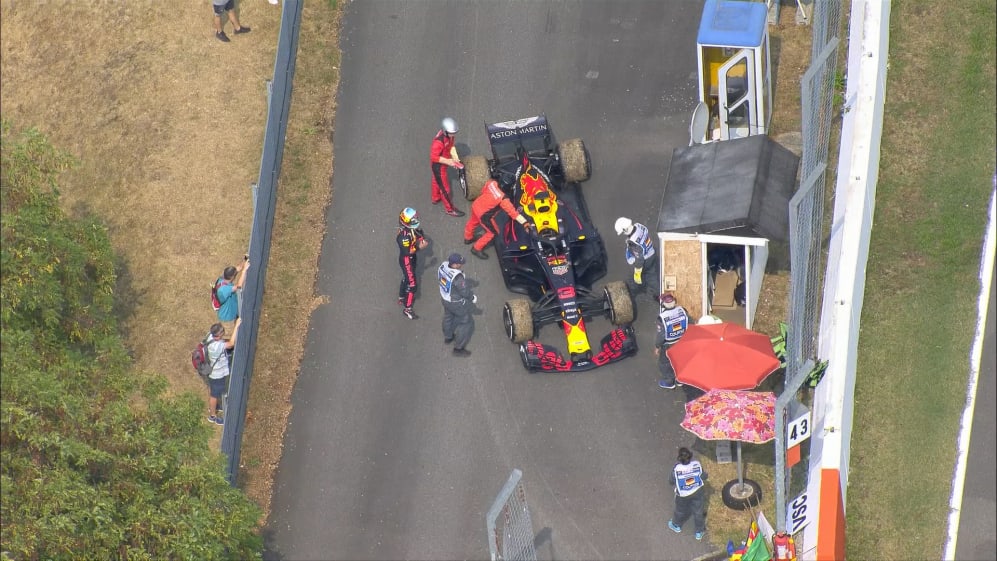 It was Sebastian Vettel's turn to suffer disappointment on home soil in Germany, as the Ferrari star crashed out the lead while title rival Lewis Hamilton picked up the pieces to secure the most unlikely of victories. As rain hit Hockenheim, some navigated the conditions brilliantly, while others looked like Bambi on ice…
THE WINNERS
Hamilton proves his worth again
On the tough days, the greats make the difference. Sunday was one of those days.
Starting 14th on the grid, following an hydraulics failure in qualifying, Lewis Hamilton carved his way through the field with relative ease. Most impressive, though, was that he managed to do so while looking after his tyres, allowing him to run an impressive 42 laps on the softs.
There was a moment of confusion when he was told to pit before being given a late call to stay out, leading him to cut across the grass at the pit entry to return to the track in a move that led to a reprimand. By staying out, he inherited a lead he would never relinquish.
It was Hamilton's fourth win of the season and 44th triumph driving car number 44. It was the first time he had won a Grand Prix from outside of the top six and with team mate Valtteri Bottas finishing second - for the fifth time this year - Mercedes secured their first-ever one-two in Germany.
Ahead of the race, Hamilton was looking at damage limitation. It was likely his deficit to Sebastian Vettel in the drivers' championship would grow. But instead, he leaves with a 17-point advantage and the momentum.
Not a bad way to round off a weekend that also featured the news Hamilton would extend his stay with the Silver Arrows until at least the end of 2020, eh?
Hulkenberg delights home fans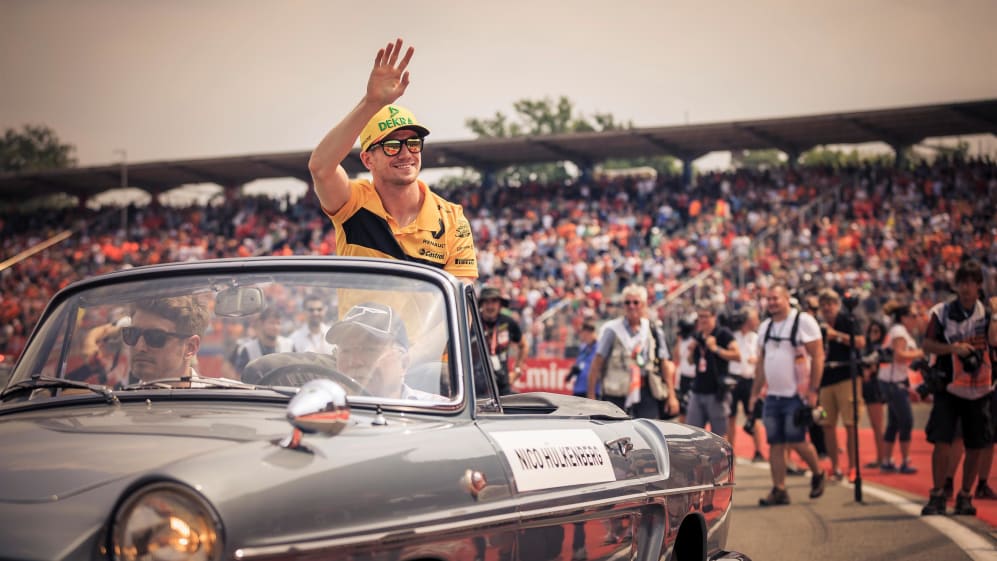 Nico Hulkenberg said he was "very happy" after finishing fifth in the German Grand Prix - and rightly so. It was his best-ever finish for Renault, having joined the team at the start of last year.
It was also his best result since the 2016 Belgian Grand Prix, where he finished fourth. That's now eight points finishes in 10 attempts – only title contenders Hamilton and Vettel have a better record.
Hulkenberg has form at impressing in races hit by changeable conditions – see his fifth-place finish in the 2012 Brazilian Grand Prix – and he replicated those skills once more at Hockenheim. With his engineer Mark Slade and the rest of the team, Hulkenberg made the right decisions at the right time - and that proved crucial.
Add that to some pretty impressive driving on a slippery track, as others struggled to keep it pointing in the right direction, and the result was a brilliant result that strengthens his position in the 'best of the rest' seventh spot in the drivers' championship.
Germans fans rewarded with thriller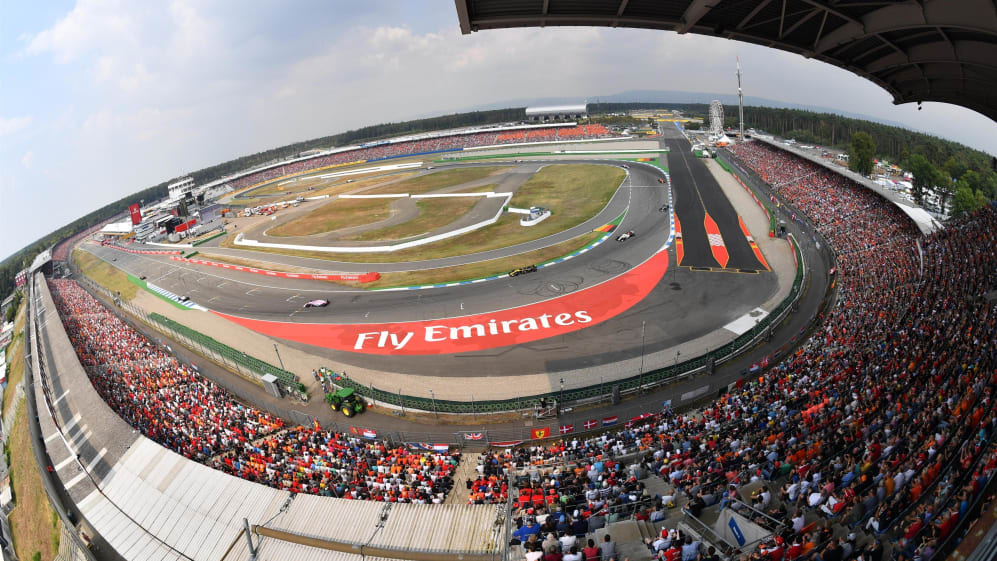 OK, so the thousands of fans who packed out Hockenheim on Sunday afternoon left soaked head to foot. But before the post-race thunderstorm hit, they got to enjoy a thrilling rain-hit Grand Prix.
We've been treated to a series of exciting races this year and the German Grand Prix, returning after a one-year hiatus, was right up there. It had rain, a safety car and multiple pit stops.
Hockenheim hasn't rocked since the Michael Schumacher days, but this year's event – which drew 165,000 and included a mass of Dutch fans supporting Max Verstappen – harked back to those glory days.
The noise on race day was deafening. It was certainly good to be back in Germany.
Grosjean delivers grandstand finish
This has not been Romain Grosjean's finest campaign. In fact, it's been one of his most challenging. But the Frenchman is showing glimpses of turning his fortunes around of late.
First there was a masterful fourth place in Austria. Then there was his drive in Germany. Starting sixth on the grid, in arguably the fourth-best car, solid points were the minimum requirement.
That didn't look too likely as he dropped back in the opening phase of the race and then his team rolled the dice when the rain came, putting him on the intermediate tyres. It proved to be the wrong decision and he was forced back into the pits, leaving him down in 10th.
But then came the show-stopping performance. Over the course of 10 laps, Grosjean made use of his fresh ultrasoft tyres to begin a fightback that culminated in a last-gasp pass on Sergio Perez. Chapeau, Romain!
Ocon recovers after qualifying woe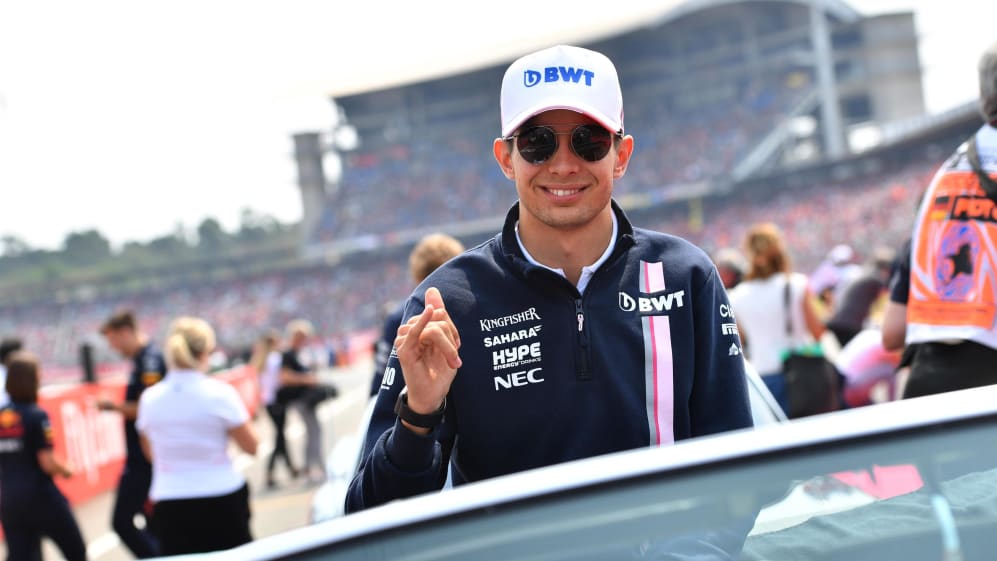 Esteban Ocon was not too happy after qualifying, but he responded with the sort of determination that highlights why he has been picked out as a star of the future.
The Frenchman gained a couple of places to run 13th in the opening phase of the race and then excelled when the rain came, picking off a number of his rivals with ease despite being on slicks.
Force India opted not to pit for intermediates – and that proved inspired as it opened up the chance to score points with both cars.
Ocon couldn't hold off Grosjean on fresher tyres at the end, but eighth was fine reward. With team mate Sergio Perez seventh, Force India scored points with both cars for the third consecutive race.
THE LOSERS
When it rains, it pours for Vettel
It was all looking so good. Vettel was on pole in front of his home crowd, with title rival Hamilton down in 14th. The German kept the lead at the start and rarely looked like he would relinquish it.
But then the rain came. Vettel was cautious, but he got caught out at Sachskurve. The Ferrari slid into the barrier, beached in the gravel. His day was over.
Vettel banged the steering wheel in frustration. He knew what this meant for his title hopes. Worse still, the safety car his incident created opened the door for what led to an unlikely victory for Hamilton.
He should have left Hockenheim with a lead double that with which he arrived. Instead, he departs with a 17-point deficit, having retired from the lead for the fifth time in his F1 career.
Last time he failed to see the chequered flag was last year's Japanese Grand Prix. That failure all but ended his hopes of the title. Vettel will hope this DNF is not as significant.
More pain of the engine variety for Ricciardo
At one stage this season, there was talk of Daniel Ricciardo being an outside contender for the title. But two mechanical retirements in three races has considerably hurt his chances.
He hasn't had much luck on the engine front. Failures earlier in the season pushed him to the brink of his allocation. Red Bull opted to tactically change components in Germany, with an eye on a penalty-free weekend in Hungary where the Hungaroring should suit their car.
However, Ricciardo suffered yet more engine pain in the race. "I don't know the specifics but it was some sort of engine failure which is obviously pretty frustrating after taking the penalties," he said.
"Anyway, would have, could have, that's racing and I feel like I have been in this position too often this season. It hurts, it always does."
His fourth retirement of the year coincided with a fourth place for team mate Max Verstappen, which allowed the Dutchman to close to within a point in the drivers' standings. Ouch.
Magnussen uncharacteristically off colour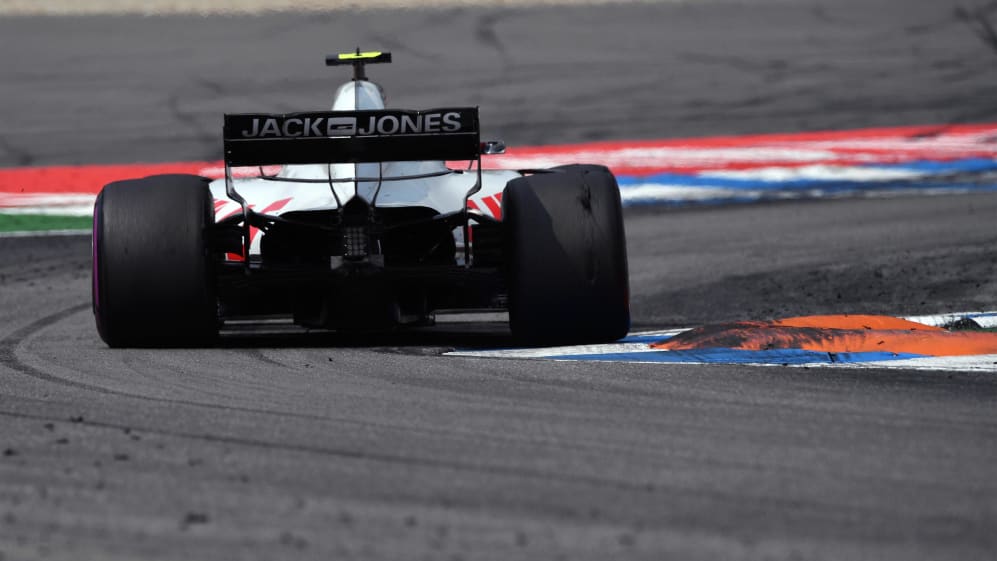 Kevin Magnussen has been Haas' rock this season. The American team haven't scored anywhere near as many points as their car warrants – but Magnussen has stepped up his game and delivered pretty consistently.
But his run of three consecutive races in the points came to a shuddering halt in Germany, which was particularly frustrating for the Dane considering he ran in the top six for two-thirds of the race.
Onboard footage reveals he came unstuck when the rain came, first sliding off at Turn 2 and then struggling to deal with the slippery conditions. A flurry of cars, including team mate Grosjean, passed him in the space of just one lap.
Suddenly, he found himself outside of the points in 12th, which became 11th after Carlos Sainz's time penalty. Disappointing considering Haas should have had both cars solidly in the points again.
More heartbreak for Williams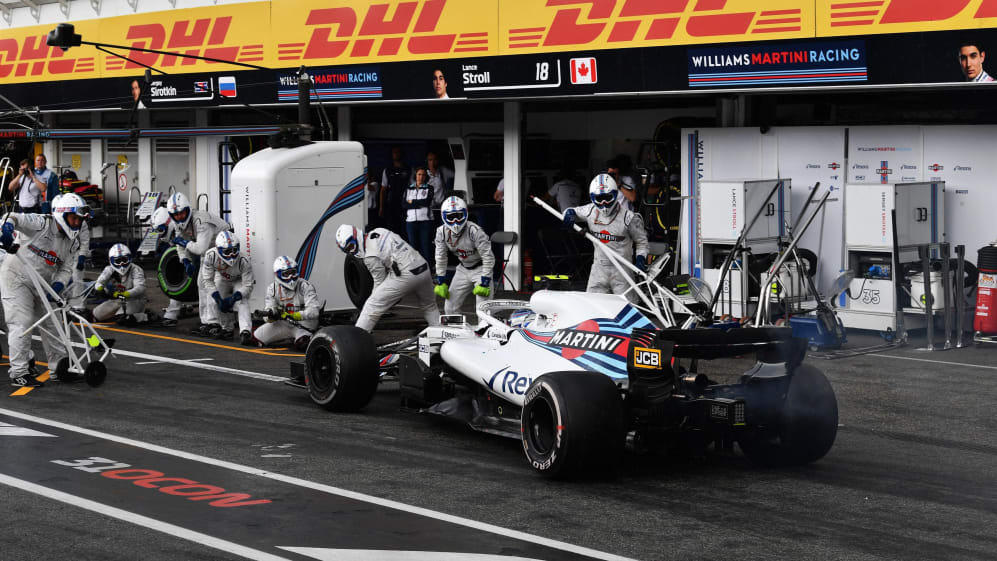 It was Deputy Team Principal Claire Williams' birthday during the German Grand Prix weekend, but unfortunately she had little to celebrate on track as her team's struggles continued.
Rooted to the bottom of the constructors' championship, Williams showed signs of having made some progress with a frustrating car early in the Hockenheim weekend.
But on race day, they suffered what was only their second and third mechanical retirements of the season, which was particularly frustrating given the opportunity the rain had presented.
Sirotkin was hit by an engine oil leak, while Stroll had a brake issue. The double retirement was Williams' first since the 2015 United States Grand Prix, which incidentally was the longest streak of any team.
Leclerc hits the skids at Hockenheim
It can't go right every weekend and so was the case for Charles Leclerc in Germany. The Ferrari junior has been one of the revelations this season, but Sunday's race will be one to forget for the Monegasque.
His strong qualifying form continued, with a third Q3 appearance in four races, but he dropped out of the points after the first handful of laps and had a scrappy afternoon, including a 360-degree spin, thereafter.
Sauber opted to pit him for intermediates, while team mate Marcus Ericsson stayed out. The latter direction proved to be the right one, with Leclerc forced to pit again, ending all hopes of points.
"Unfortunately, we made a risky call when it started to rain," said Sauber Team Principal Fred Vasseur. "We brought him [Leclerc] in and put him on intermediate tyres. That compromised his race."