Feature
WINNERS AND LOSERS – Mexican Grand Prix edition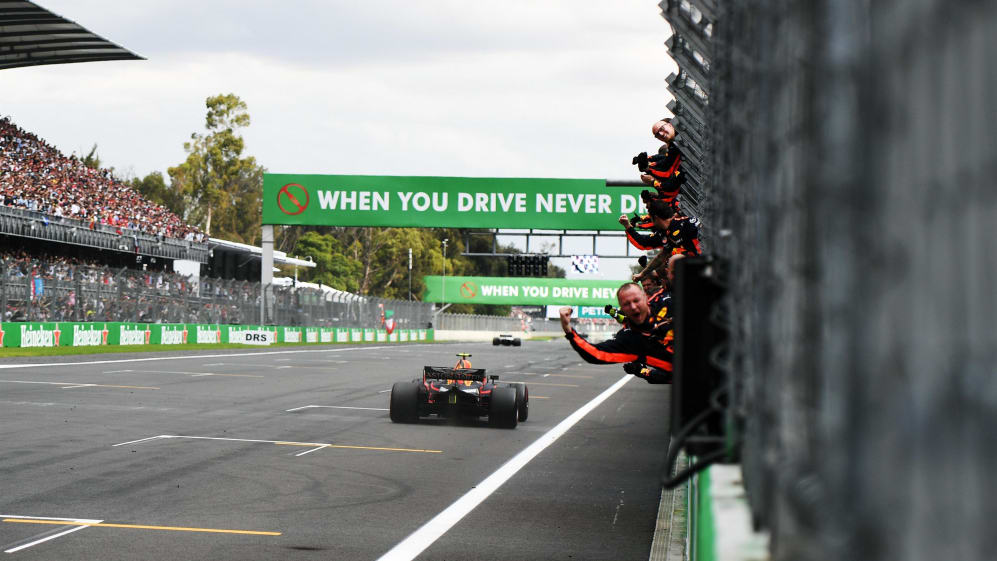 There was ecstasy for one driver, who clinched his fifth world title, but heartache for another as his slim championship hopes were finally extinguished. This year's Mexican Grand Prix was kind to some – such as race winner Max Verstappen – but brutal for others – like the other Red Bull of Daniel Ricciardo...
WINNERS
Hamilton joins an elite club
It was coming. Lewis Hamilton missed out on securing the title last weekend in Austin, but he made no mistake in Mexico. It wasn't his finest drive, with the Mercedes looking distinctly third-best behind Red Bull and Ferrari at the Autodromo Hermanos Rodriguez, but it was enough.
Fourth at the chequered flag, ending a run of 10 successive podium finishes, gave Hamilton his fifth world championship – and fourth in five years – elevating him up into the echelons where only the great Michael Schumacher and Juan Manuel Fangio reside.
The Briton made an electric getaway at the start and came close to taking the lead before slipping back down the field. But you always felt he had enough in his pocket to do what was required – finish seventh. And that he did, revealing after the race that just days before, his paternal grandfather Davidson Augustine Hamilton had passed away.
Hamilton said it was too early to talk about whether he could match Schumacher, who is two titles clear at the top. But if he keeps driving like this – nine wins and 15 podiums in 19 races this season – it's going to take an impressive performance from a rival to stop him inching closer.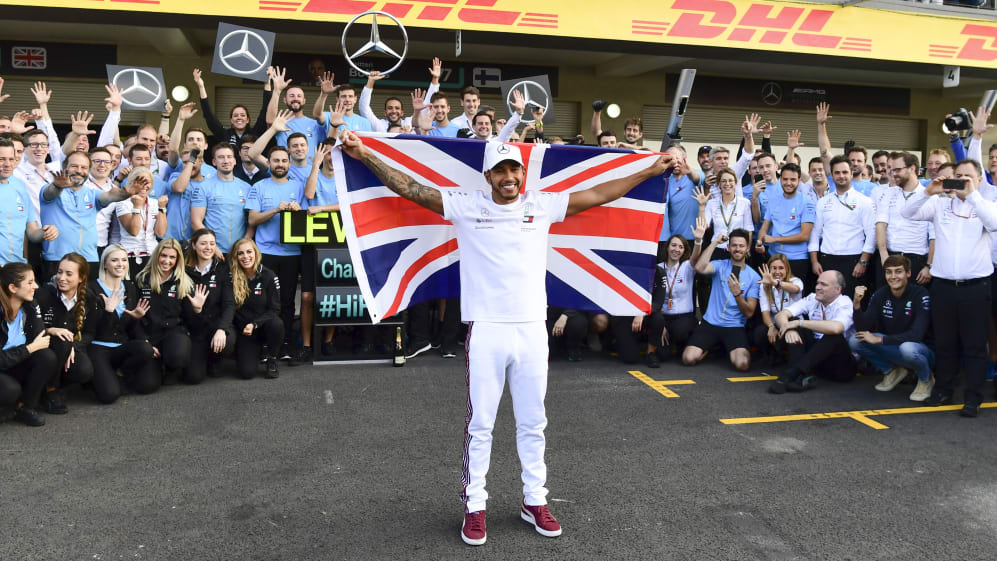 Verstappen keeps on delivering
Third at Suzuka, second in Austin and now first in Mexico. This has been quite some run for Max Verstappen of late. In fact, in the last five races, he has amassed 86 points – only champion Hamilton has scored more.
The Dutchman was furious on Saturday when he missed out on pole, having topped all three practice sessions. He blamed the engine. But he made up for it on Sunday when he snatched the lead at the start from team mate Daniel Ricciardo and from there, he never looked back.
Even when victory was assured, he continued to pump in fast laps – much to his team's dismay as they had asked him to take it easy, especially given Ricciardo had retired with an engine-related issue.
But Verstappen only knows one way – to drive quickly, all-out for victory. It was his second successive Mexican Grand Prix win and the fifth F1 triumph of his career. He lies just 11 points shy of fourth-placed Valtteri Bottas in the drivers' standings. With two races to go, it's hard to bet against him snatching that, too.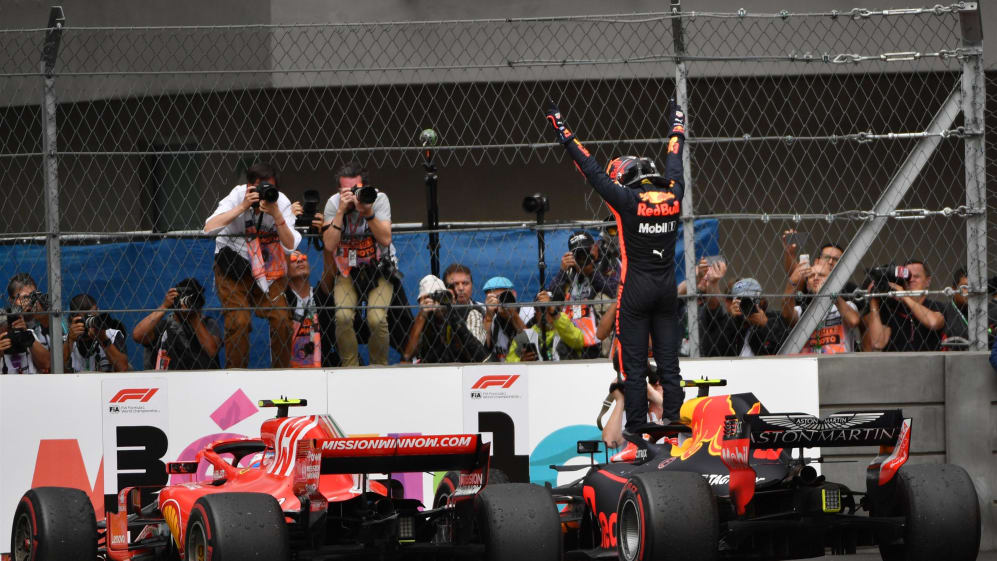 Vandoorne scores rare points finish
This has not been a good year for Stoffel Vandoorne, so much so that he has failed to land a seat on the F1 grid next season. But he showed he still has speed and racecraft with a battling drive to eighth in Mexico.
The start wasn't too good, with the Belgian dropping to 19th, but he recovered well with some strong overtakes while also maintaining a consistent pace throughout.
Helped by his good tyre management – he did 59 laps on the supersoft tyre - he was able to make McLaren's aggressive one-stop strategy work as he fought his way up to eighth.
Those four points were his first since the Azerbaijan Grand Prix in April, ending what was the longest active pointless streak in the process.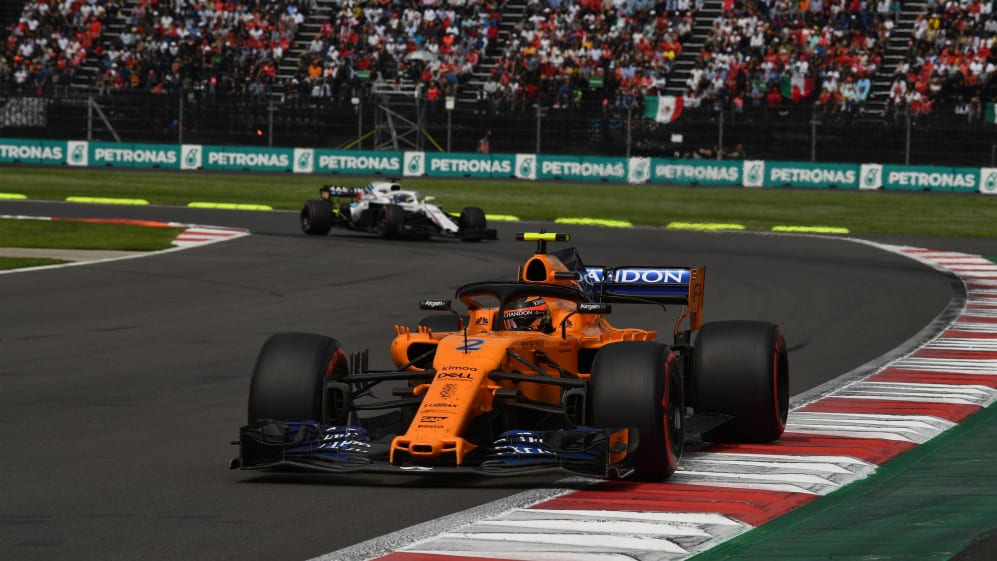 Gasly secures impressive recovery
Engine-related grid penalties have hit hard for Toro Rosso of late and there were more for Pierre Gasly in Mexico this weekend, with the Frenchman starting from 20th and last.
But that didn't stop Verstappen's 2019 Red Bull team mate trying to rescue something from Sunday afternoon and he was rewarded with a point for finishing 10th and ending a run of five races without a top-10 finish.
"It wasn't an easy race; tyre management was a key factor so you needed to be smart and push at the right time, staying focused and disciplined with your driving for the whole race to make these tyres last," said Gasly.
His fightback also meant Toro Rosso scored points in Mexico for the first time since 2015, but Sauber's double-points score means the Italian team drop behind their Swiss rivals into ninth in the constructors' championship. But it's still all to play for with two races to go.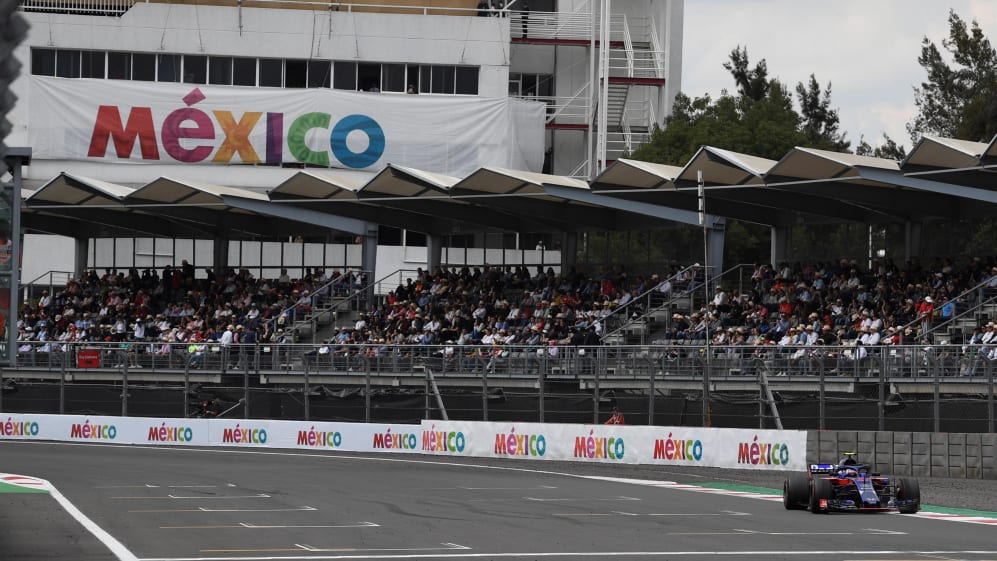 Mexican GP fans deliver festival atmosphere
If you attend the Mexican Grand Prix, it's not hard to see why the event has been named the best race of the season for the last three years. Over the three days this year, 334,946 spectators who attended created a fantastic atmosphere and they were treated to a feast of entertainment both on and off the track.
DJ Armin Van Buuren hit the decks on the podium post-race, while the Grand Prix was preceded by a festival of colour, resembling something similar to an opening ceremony, to promote Mexico's cultural heritage.
On track, F1 enjoyed one of its most exciting qualifying sessions of 2018, while the race featured plenty of overtaking, an unlikely winner and the formalising of a new world champion. The one disappointment was that they didn't see their home hero Sergio Perez score points – but he'll be back with Force India next year.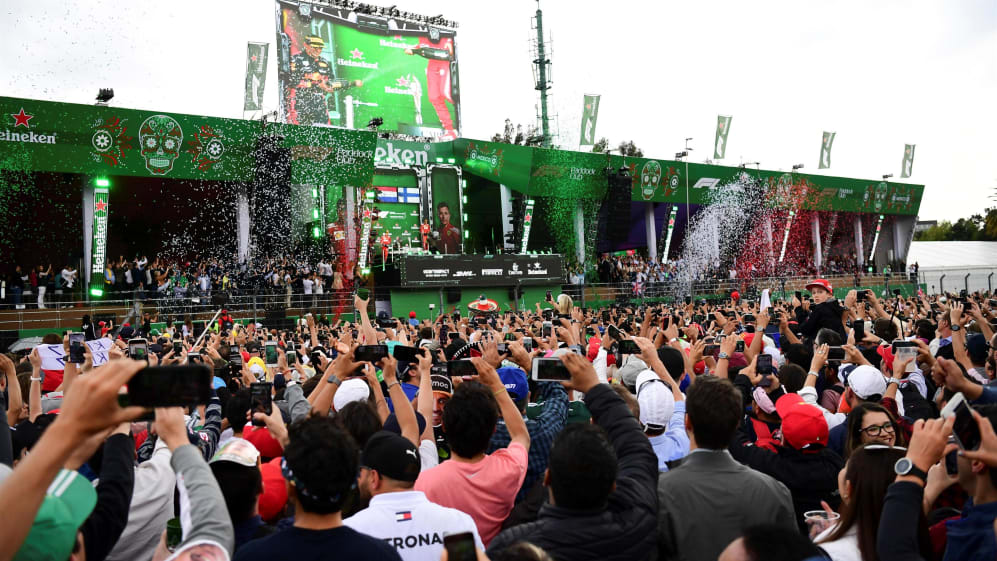 LOSERS
Vettel challenge ends valiantly
If Sebastian Vettel had delivered the kind of performance that saw him take second in the Mexican Grand Prix in each of the last five races, the battle for the world championship would almost certainly still be alive.
But a combination of mistakes made by himself and Ferrari meant second was his best result since clinching victory at the Belgian Grand Prix, six races ago.
He has scored just 68 points in the last five races. That matches Valtteri Bottas' total, but is 34 shy of champion Hamilton's tally and also less than both his Ferrari team mate Kimi Raikkonen and Verstappen.
Vettel was right when he said after the race that the title wasn't lost in Mexico, but rather in Singapore and the races that followed. To his credit, he was gracious in defeat, embracing and congratulating Hamilton on his victory and heading to Mercedes to shake hands with team members.
It was a classy display on what was a painful day for the four-time world champion.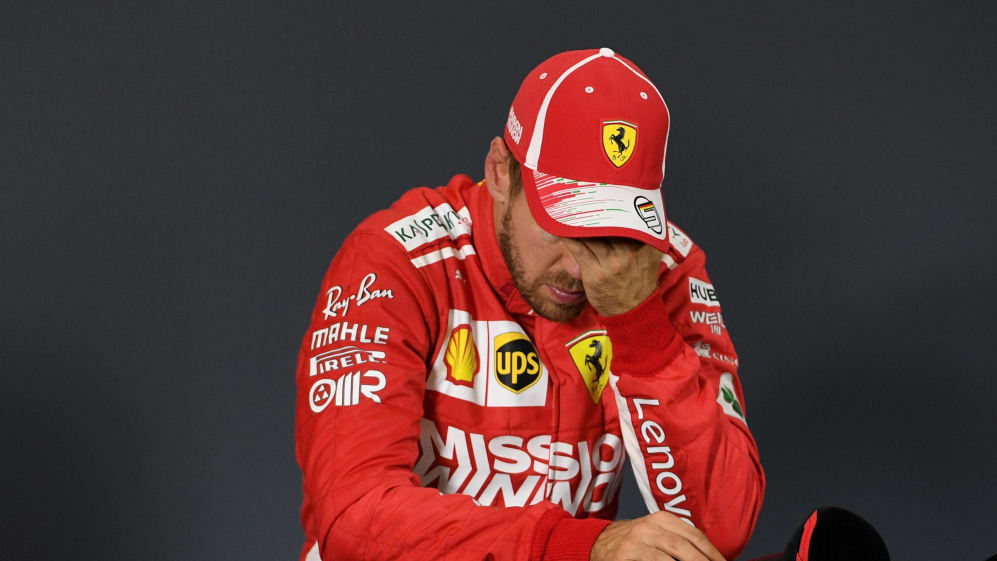 Ricciardo frustrated with 'cursed' car
Daniel Ricciardo's pole lap came out of nowhere, but that was fine reward after a miserable run of reliability.
And there was yet more pain on Sunday. First, he bogged down at the start, dropping two places to third. Then after a fine recovery to second, he suffered his seventh mechanically-related DNF of the season.
"Everything just feels hopeless," he said. "I honestly… don't see the point coming on Sunday. I don't see the point doing the next two races. I haven't had a clean race all weekend in so long. I'm not superstitious or any of that bull***, but the car is cursed."
It's amazing how luck can change. After the first six races of this season, he had two wins under his belt and was considered an outside contender for the title. But not since his victory in Monaco in May has he stepped on the podium.
He now stands on eight retirements – the most of any man in the field – and is guaranteed to finish as the sixth and lowest runner of the top three teams in the drivers' standings.
No wonder he said he's "done with it" and can't wait to start his next chapter with Renault in 2019.
Ocon laments "worst race" of his career
It was all looking rather good for Esteban Ocon after qualifying. The Frenchman had qualified 11th, giving him free choice of tyres for the race. With the four cars in front of him on hypersofts, hopes were high.
And things kicked off well, with the Force India man passing both Saubers on the run down to Turn 1. But then he collided with Nico Hulkenberg, breaking his front wing. He was forced to pit, dropping him to the back of the pack and ultimately finished 11th, two laps down.
"This has been probably the worst race of my whole Formula 1 career so far," he said. "Nothing went our way and it's just been a terrible afternoon.
"It's a shame because we had a good strategy and a fast car, but today was not our day. Let's just forget about this race and come back stronger in Brazil."
Perez suffers on home soil
Sergio Perez's schedule in Mexico makes for exhausting reading. The Mexican is a man in demand. At one point, he looked on course to deliver a strong result for his home faithful, before a brake issue ended his race.
That was the first time he had retired from his home race and only the third time in the last 68 Grands Prix that he has failed to see the chequered flag.
The result has consequences for his hopes of finishing best of the rest in seventh in the drivers' standings, too. He now trails Nico Hulkenberg by 12 points – the equivalent of a fourth place – with only two races remaining.
"We had at least seventh place in our pocket and the great strategy that we started planning yesterday [in qualifying] was really paying off," he said. "Sometimes in racing you have these big disappointments when there is an issue with the car."
Wrong place, wrong time for Alonso
Three laps. That's how long Fernando Alonso's Mexican Grand Prix lasted. And it means he has missed the chance to equal Michael Schumacher's F1 record of 16,825 laps completed before he leaves F1 at the end of the season.
As the field bunched up at the start, Alonso hit debris from Ocon's Force India that unfortunately became lodged in his car's bodywork. Two laps later, water pressure loss from a leak ended his race.
It marked his second successive retirement and extended his run to four races without points. "I've been unlucky today, and it's OK as long as it's not your mistake, in which case you take more time to get over it," he said. "These things happen, so let's see if in the two last races we can have a bit more luck and see the chequered flag."