Feature
WINNERS AND LOSERS - Spanish Grand Prix edition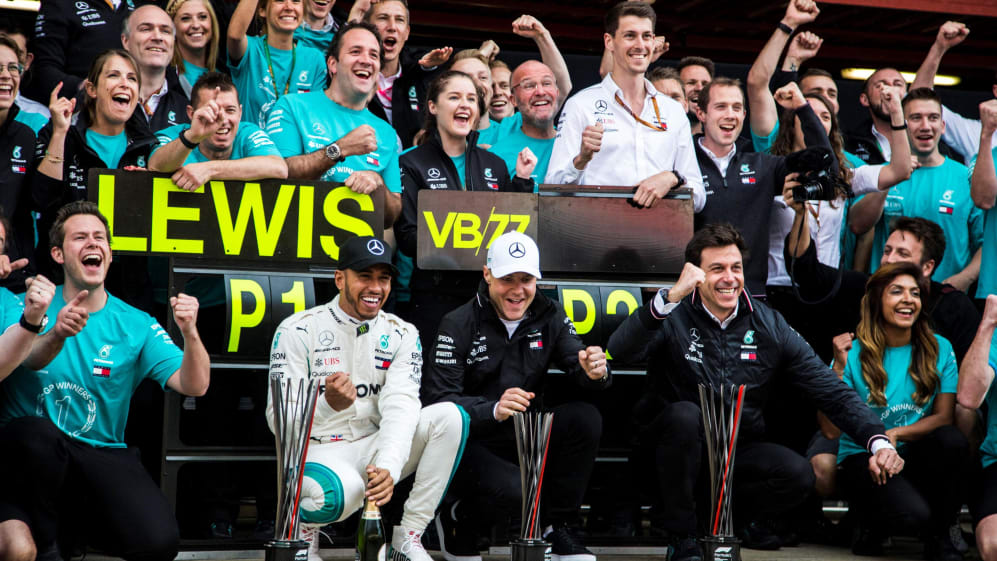 A Mercedes revival, the rampant return of Max Verstappen and appearance of a mini Fernando Alonso. But while that trio leave Barcelona smiling, the Spanish Grand Prix wasn't so kind to others…
THE WINNERS
Rejuvenated Silver Arrows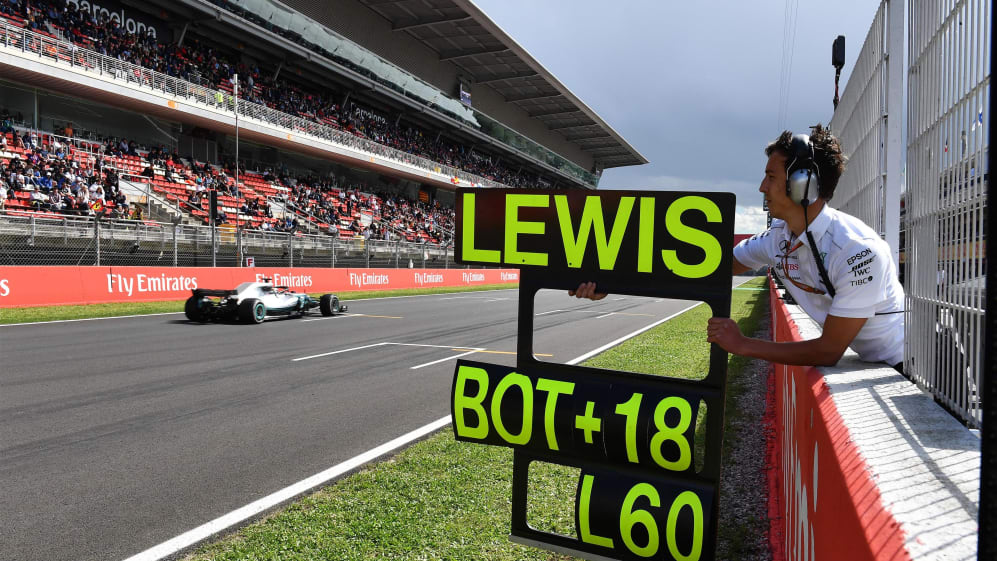 Ever since qualifying in Australia, Mercedes have struggled to repeat the dominance that has characterised the last four seasons in F1.
But on returning to Barcelona, where they had shown such convincing pace in pre-season testing, the tide appeared to have turned. Mercedes, as their non-executive chairman Niki Lauda put it after qualifying, seem to be back.
A first front-row lockout of 2018 was swiftly followed by a first one-two finish in the same period. A four-point deficit to Ferrari in the constructors' standings was transformed into a 27-point lead. And all after an opening quarter of a season where the silver that has shone so brightly since 2014 looked a little off colour.
Key to the Barcelona success was the drivers. Lewis Hamilton reckons he's turned a corner in form and described a synergy between himself and the car that has been ominously absent so far in 2018.
Hamilton was back towards his best in Spain and thoroughly deserved his second successive victory. His team mate Valtteri Bottas is the man in form, with three second places in the last four races and a victory robbed at the death in Baku.
It is a potent combination and one that, when firing on all cylinders, can deliver yet more success to the Silver Arrows.
The real Verstappen steps up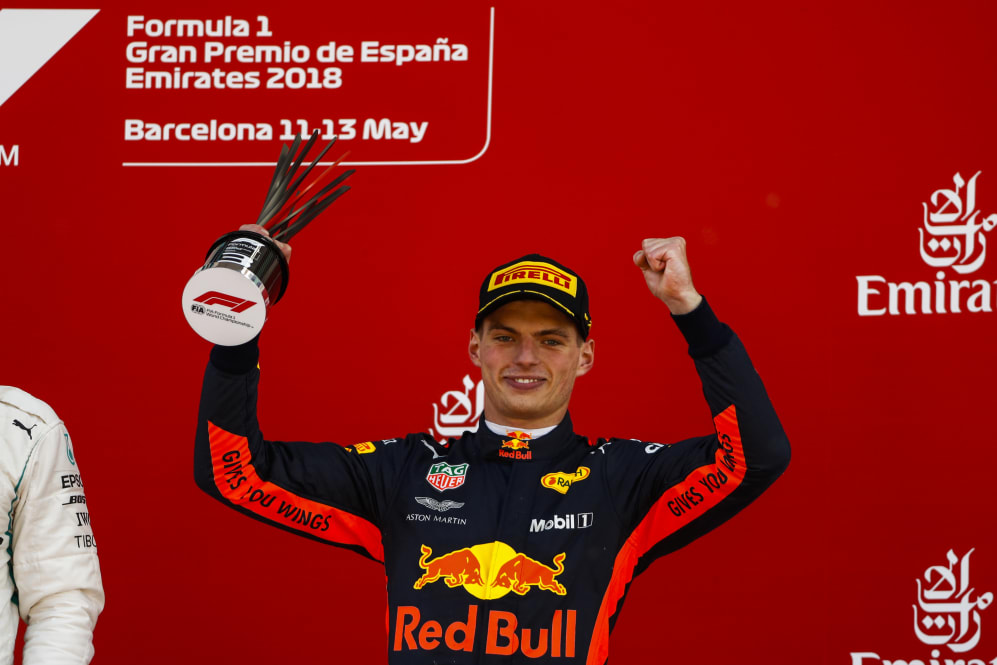 The 2018 F1 season was in danger of unravelling for Max Verstappen, as the highly-rated Red Bull protege emerged as a magnet for incident and contact.
But he cleaned up his act in Barcelona, going someway to vindicating his insistence that he is unwilling to change his driving style and aggressive approach to racing, despite leaking points at an alarming rate.
There were no staggering passes, no grandstanding for fastest laps, just a mature and consistent performance that made the most of an impressive upgrade package Red Bull had brought to the European season opener.
The race didn't pass without incident, though, the Red Bull driver clipping the rear of Lance Stroll's car when the Williams slowed unexpectedly as the Virtual Safety Car (VSC) restart approached. But Verstappen brilliantly drove around the problem of a broken front wing, keeping a gap to Sebastian Vettel to ensure an opening podium of the season would be his.
His whole performance showed a maturity that has been distinctly lacking in 2018, but which must continue if he and Red Bull are to have any say in either of the championships this season. But at least it's a start…
Shock Sauber start continues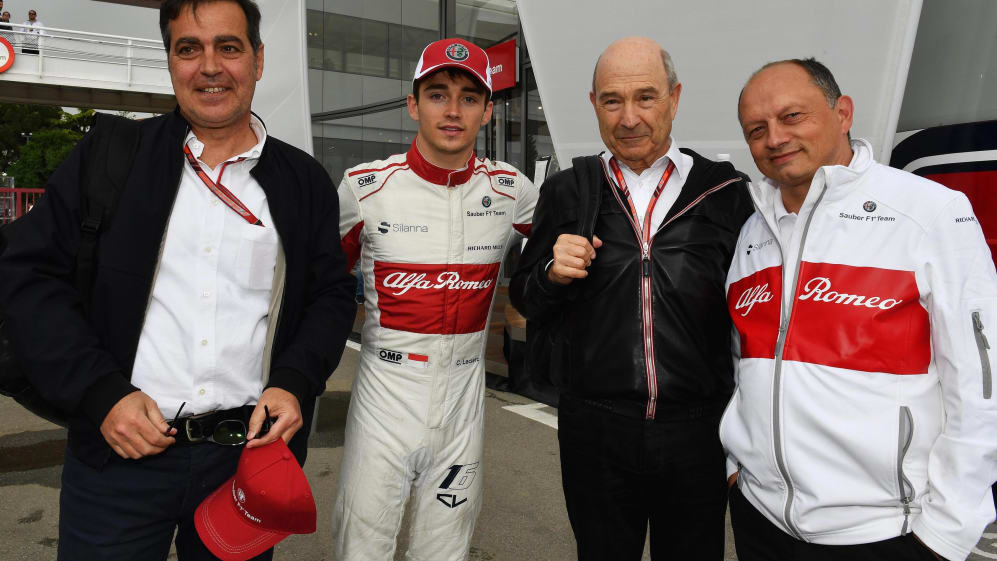 Off the back of the pack, with points a pipe dream, last season couldn't end soon enough for Sauber.
But buoyed by a new Alfa Romeo partnership, an aggressive new concept and the latest Ferrari engine plugged in the back, the Swiss team have hauled themselves back into the game and now appear to be in the midfield mix.
Points in three out of the first five races is impressive, matching the achievements of Haas and Force India, and bettering that of Toro Rosso and Williams. They already have more points than they scored in total last year.
Charles Leclerc has been key to this form, the Ferrari protege putting together two successive drives of the very highest quality to score points, while Marcus Ericsson has been stronger, albeit if not as quick, too.
Sauber didn't bring any new parts to Spain so they can take great hope from that performance, considering most of their rivals added new bits.
Keeping up in the development race will be a challenge, but for now they can revel in a job well done, particularly on a weekend where the team's popular owner Peter Sauber made a rare appearance in the F1 paddock.
Sainz wins battle of the Spaniards. Again.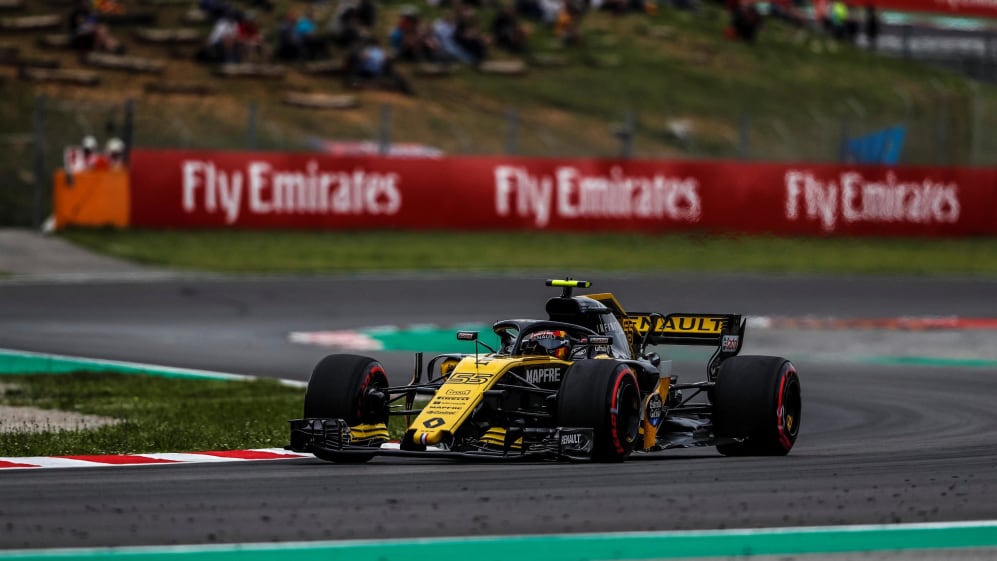 Carlos Sainz's love affair with his home track – the Circuit de Barcelona-Catalunya – continues with the Spaniard maintaining his perfect point-scoring record at the venue.
In front of an expectant home crowd that included a Sainz grandstand filled to the brim with his own fans, the Renault driver finished seventh in his fourth Spanish GP.
He has struggled to get comfortable in the car and couldn't replicate team mate Nico Hulkenberg's strong start to the year – but he has kept his head down, worked hard and the rewards are starting to come.
Four top-ten finishes in five and he's never finished lower than 11th either. What's more, he finished ahead of double world champion Alonso, meaning his more decorated countryman has yet to beat Sainz in a Spanish GP.
Alonso makes little fan's day
Rarely do we get to meet our heroes. But on Sunday, in Spain, little Joaquin Flores managed to achieve the feat at just five years old.
The cameras picked up his explosion of excitement when Alonso made it into Q3 for the first time in 2018. When Alonso himself saw it, he called on F1 to find Flores and bring him and his parents into the paddock.
Together with McLaren, he was tracked down and given exclusive access, which included meeting Alonso. It came on an encouraging weekend for McLaren, as their upgrade package – including a dramatic-looking new nose – showed promise.
Alonso is the only driver other than Hamilton and Vettel to score points at every race in 2018. The podium or victory he craves still alludes him.
But with Monaco just around the corner, that wait might not go on for much longer if the stars align. His gesture in Spain won't have hurt his karma either.
THE LOSERS
Romain Grosjean
The smokescreen Grosjean created on the opening lap of the Barcelona race did little to shield him from the pressure that is piling up on his shoulders this season.
The Haas man is a peaky driver anyway, so it's not unusual for him to have off weekends. But a run of five races without a point, a streak that extends to nine if you consider his results from late last year, is not up to the standards expected given his experience.
His poor run is magnified by the fact he finally has a car that is not only capable of scoring points at every race but which is arguably the best package on the grid behind the big three – Mercedes, Ferrari and Red Bull.
And while he appears all at sea, his team mate Kevin Magnussen is riding a wave that has already gone a long way to rebuilding a reputation badly bruised by short stints at Renault and McLaren.
Grosjean needs to find a way to stop this downward spiral and quick, because his future at Haas and indeed F1 may depend on it.
Hartley error creates lasting pain
On paper, Brendon Hartley finished just two places away from the points in Spain. But he was also only two places higher than the last classified finisher.
His race was reasonable, but the damage to his weekend – and his season – had been done before he even took to the grid.
A big crash in final practice caused significant damage and forced engine-part changes that will come back to bite hard later in the season.
His team mate Pierre Gasly didn't make it past the opening lap, having started 12th on the grid, but his pace all weekend suggested the team could have scored points on Sunday – which makes Hartley's performance disappointing.
Williams' woes continue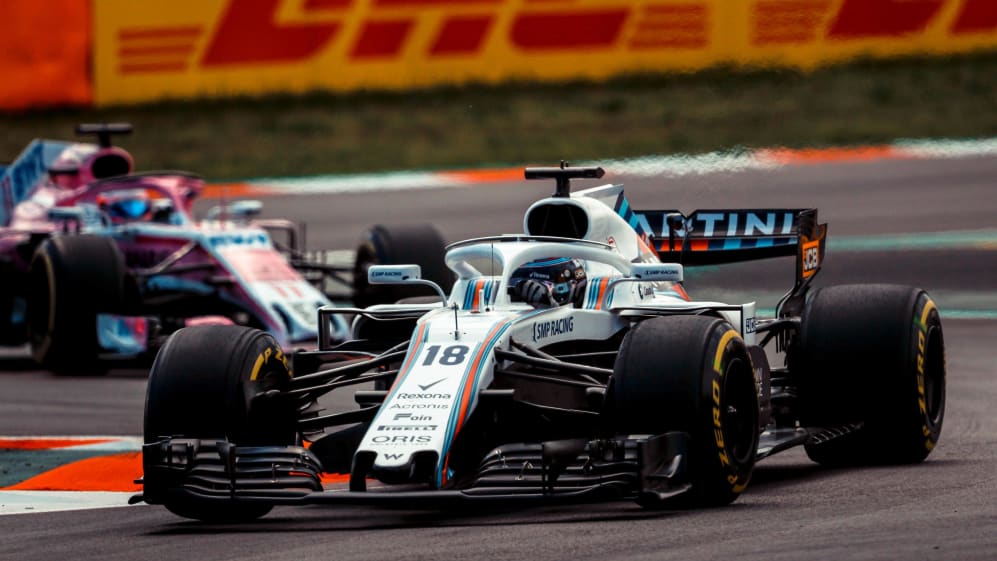 Williams have been through difficult times before and come out the other side, but that won't make their current pain any easier to take.
Lance Stroll finished one place outside the points in Spain, but he was two laps down. His team mate Sergey Sirotkin was a further lap back.
It was a scrappy weekend for both drivers, as they struggled to get to grips with a car that reserve driver Robert Kubica suggested was close to undriveable.
Chief Technical Officer Paddy Lowe admitted at the weekend that Williams simply haven't done a good enough job this year and plans are being put in place to try and rescue a season that already looks over before it has started.
They can take hope from getting both cars to the finish, but it's scant consolation for a team that expects to be in the points at every race as a bare minimum.
Hulkenberg struck by bad luck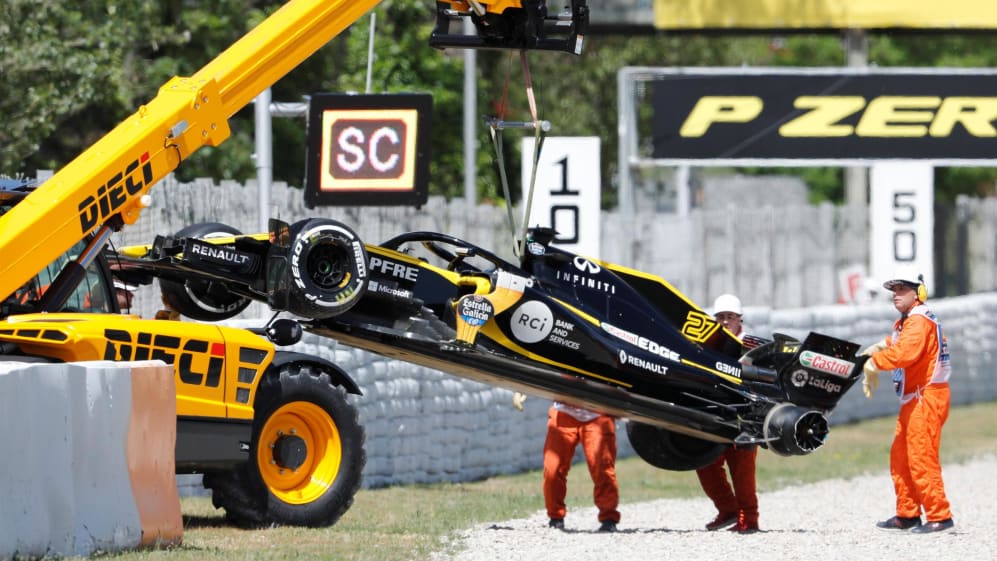 Hulkenberg could make a case for being one of the more consistent drivers in the opening three races. He maximised his ever-improving Renault package in both qualifying and the race, putting his young team mate in the shade.
But a crash in Baku – his second successive when running fifth in Azerbaijan – halted the momentum. In Spain, a fuel system issue ruined his qualifying. Then his race lasted just a few corners as he was collected by a spinning Grosjean.
Baku was his fault. Spain wasn't. But whatever the reasons, he's now had two successive DNFs with a car that is capable of scoring good points. His team mate is now just three points adrift. How will Hulk respond in Monaco?
Ferrari challenge hits the skids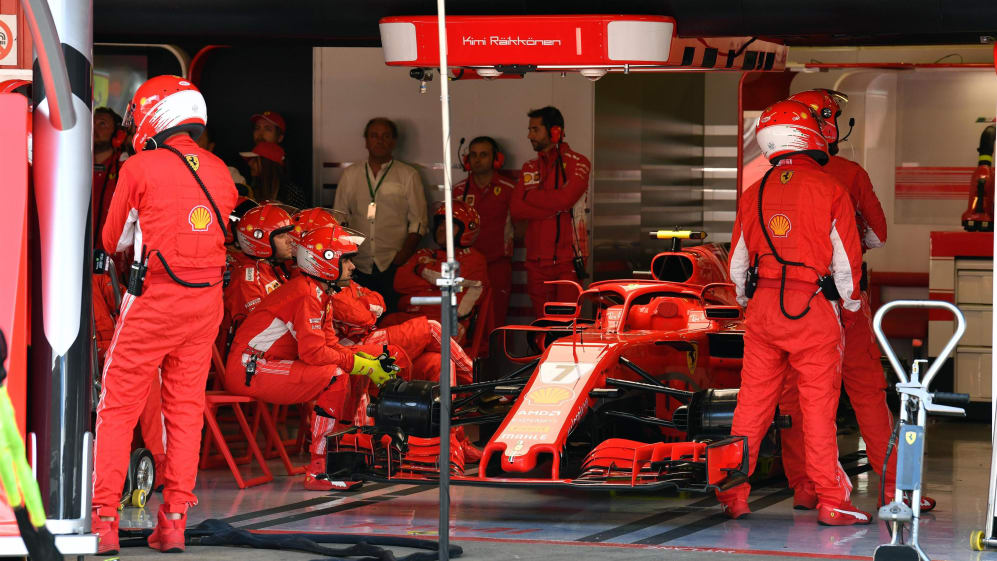 Ferrari can argue that they could have won all four of the opening Grands Prix this season (they converted two), but the same could not be said in Spain.
Vettel didn't hide behind any excuses when pressed in his post-race briefing. Instead, he admitted Ferrari simply weren't quick enough and as yet, it appears they have no real idea why.
Vettel said the Scuderia struggled with the tyres, modified for this specific race, but admitted the tweak affected everyone. He also highlighted reliability had been poor, with Kimi Raikkonen having problems that forced a power unit change for the race.
He even suggested Ferrari's upgrade may not have been as impressive as those of their rivals. It feels like we have been here before, like last year, for example. And the year before. And the year before.
The Prancing Horse need to find their stride – and quickly – otherwise their championship ambitions could be in tatters for another year…