Feature
WINNERS AND LOSERS – United States Grand Prix edition
There was a feel-good win for the oldest driver on the grid, a three-driver, three-team fight for victory and a title race that is not over yet. This year's United States Grand Prix had a bit of everything, and while some will head to Mexico on the crest of a wave, others were left ruing a frustrating afternoon…
WINNERS
Raikkonen rolls back the years
Since rejoining Ferrari, Kimi Raikkonen has fallen short when the top honour has been handed out on Sunday afternoon. But his 50th podium for Ferrari was to be a special one, as the Finn secured victory in a thrilling United States Grand Prix in Austin.
The Finn managed his ultrasoft tyres brilliantly in the first stint and absorbed pressure from Lewis Hamilton before he dived into the pits. He then did the same, this time from Max Verstappen, in the closing stages to secure his 21st career victory.
It makes the Sauber-bound driver the oldest race winner, at 39, since Nigel Mansell triumphed for Williams in the season-ending 1994 Australian Grand Prix, with Raikkonen's first-lap pass on Hamilton – the first time he has gained a place on lap one since the 2016 Abu Dhabi Grand Prix – key.
It may not make up for all of his previous missed opportunities, but it was a fine reward for his perseverance, and a timely reminder that he still has the speed and racecraft to mix it with the very best.
Find this level of performance again and there's no reason he can't add to that tally in the final three races of the season – and indeed his Ferrari career.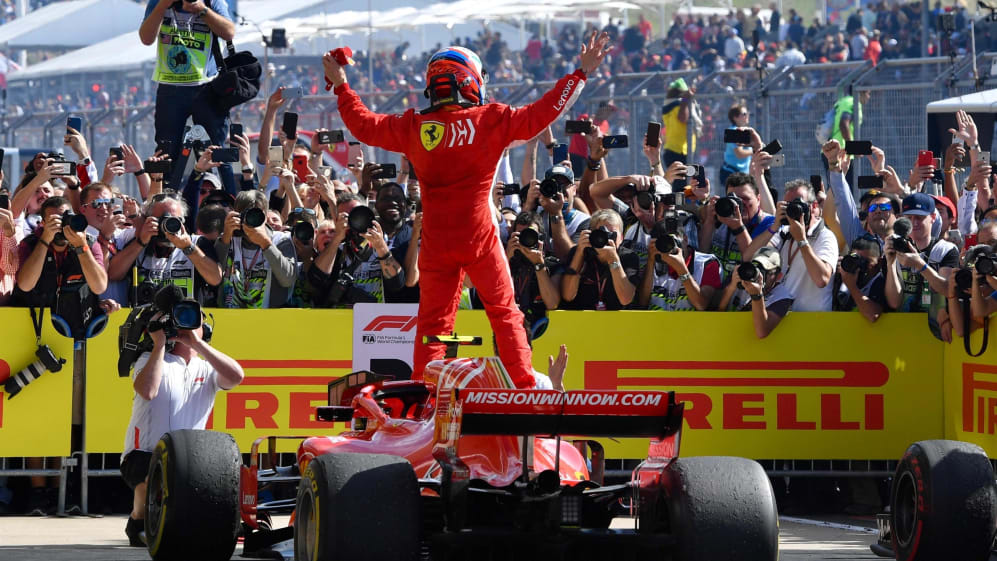 Verstappen shines once again
"Vintage." That's how Max Verstappen's boss Christian Horner described the Dutch driver's scintillating charge from 18th on the grid to second in Austin, his lowest-ever start where he's gone on to finish on the podium.
By running over the kerbs in qualifying, he broke his Red Bull's suspension, ending his session early and forcing a gearbox change that led to his lowly grid spot. But that created the conditions for a stunning drive through the field on Sunday afternoon.
The Red Bull driver was ninth by the end of lap one and up into fourth by lap nine. His ability to manage the tyres effectively meant he could do a one-stop strategy and therefore get ahead of Hamilton.
He pressured Raikkonen for the lead, but ran out of tyres in the closing laps before defending brilliantly from Hamilton, the duo going side-by-side through four corners as they squabbled over second, with Verstappen coming out on top for his third podium in four races.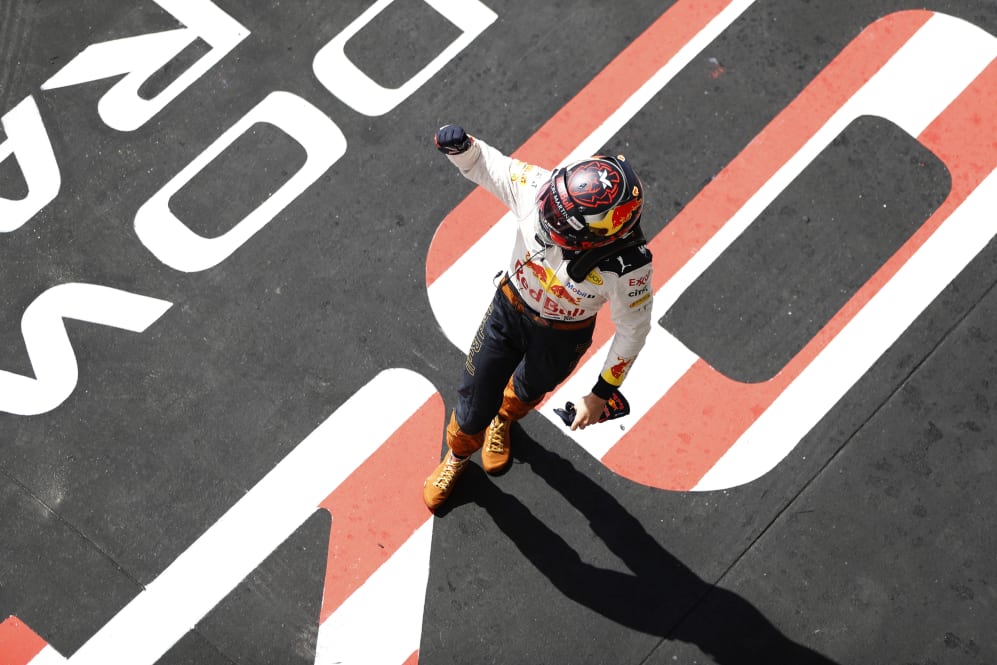 Renault score best result of the year
Renault have gone off the boil since F1 returned from the summer break, with Haas heaping on the pressure in the battle for the coveted fourth place in the constructors' championship.
But they showed a remarkable turn of pace in Austin, with Nico Hulkenberg crossing the line sixth for only his second points finish in seven races, with team mate Carlos Sainz seventh as Renault delivered their best points haul of the season.
Sainz has now finished all four of his United States Grand Prix starts inside the top seven, while Hulkenberg ended a run of three successive retirements in Austin.
With Haas failing to score, courtesy of Romain Grosjean's retirement and Kevin Magnussen's disqualification, Renault extended their advantage over their American rivals to 22 points with only three races to go. Could that be the killer blow in their constructors' championship fight?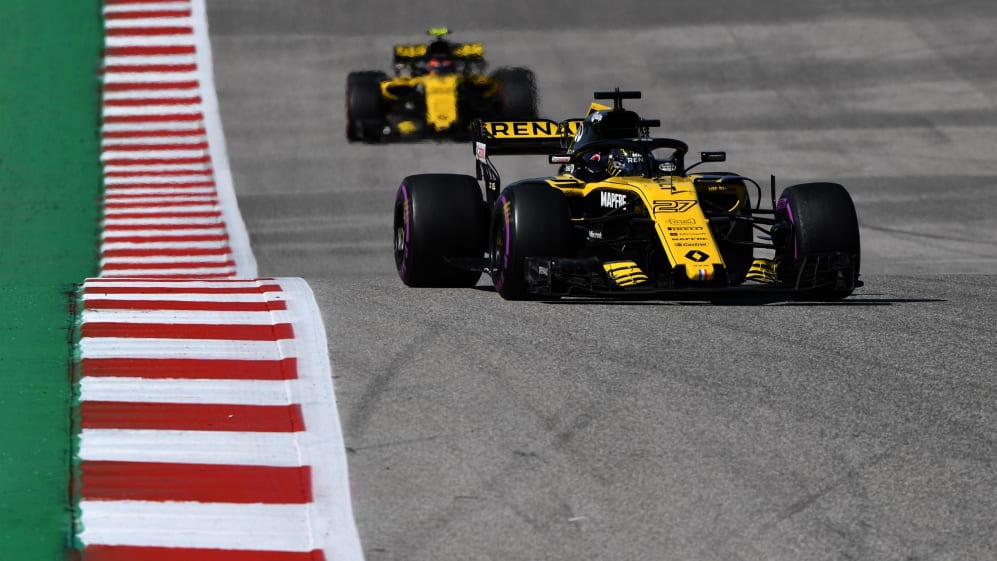 Fans rewarded with thriller
The wet stuff has caused chaos for the Circuit of The Americas in the past, and it returned to haunt the venue this year, with Friday practice essentially a washout.
But conditions improved as the weekend progressed, with the sun breaking through on Sunday, and the fans were rewarded for their commitment with a race of the very highest quality.
How often in F1 have we seen a genuine battle for the lead in the closing stages? This time, we were treated to a three-car battle, each from different teams, with Verstappen and Hamilton's duel particularly impressive.
There may not have been any passes, but it was unclear who would take victory until the chequered flag fell. That's the kind of tension that makes sport so enthralling.
Hamilton faces title wait but extends lead
It may seem strange to include Hamilton in the winners' section given that he failed to wrap up victory or a fifth world title with three races to go in Austin. But he still finished ahead of rival Vettel on the road, which means he heads to Mexico holding a 70-point lead and only 75 points left available.
Vettel essentially needs to win the final three races of the season, something he has not done since 2013. And even then, he must hope Hamilton doesn't score more than five points.
Of course, anything can happen. But Hamilton has finished all but one race this season, and has never been lower than fifth (worth 10 points) when he's reached a chequered flag. So while he may be disappointed with failing to win and clinch the title in Austin, the odds are still massively stacked in his favour.
LOSERS
Vettel's title hopes hang by a thread
In some respects, Vettel deserves to be in our list of winners, for were it not for a sterling fightback drive to fourth place, Lewis Hamilton would have clinched a fifth world title with third in Austin. But that's by the by. The fact that Vettel had to stage such a comeback says it all – were it not for a three-place grid drop for speeding under reds in practice, it could have been him beating Hamilton into Turn 1.
As it was, he found himself squabbling with Daniel Ricciardo for fourth and, just as in Italy, coming off worse in a wheel-to-wheel battle. "I imagine if Sebastian had not spun out in lap one then he probably would have won the race easy," said Mercedes' Toto Wolff, the pertinent word there being 'if'. With his championship hopes still mathematically alive, it will be fascinating to see which Vettel turns up in Mexico.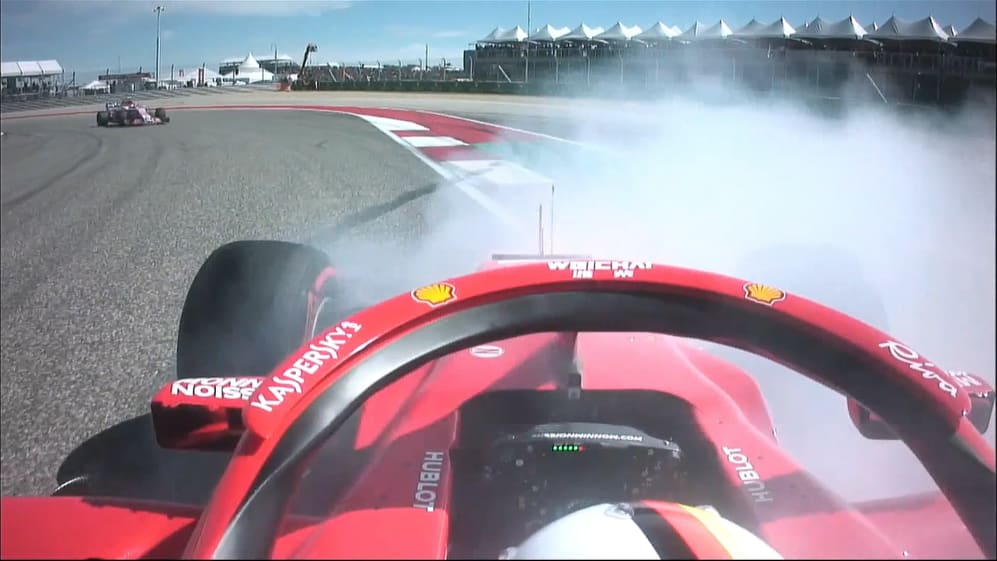 Mercedes' Austin winning streak ends
Many expected Mercedes to be popping champagne corks and celebrating another world title success on Sunday night in Austin. Instead, the team were, according to Lewis Hamilton, going to have to go back to the drawing board after losing both the race victory and ground in the constructors' championship battle to rivals Ferrari.
Hamilton may have scored pole position, but according to the Brit, the Silver Arrows' race prospects were somewhat fixed on Saturday when the team opted to run supersoft tyres in Q2.
That, he said, compromised his getaway, dropping him behind the ultrasoft-shod Kimi Raikkonen at the start and forcing the team's hand from a strategy perspective. But regardless of that, Mercedes just didn't have the pace advantage over Ferrari in Austin that they have had in recent races, or indeed in recent years at the American venue, with Sunday's defeat ending a four-year winning streak there.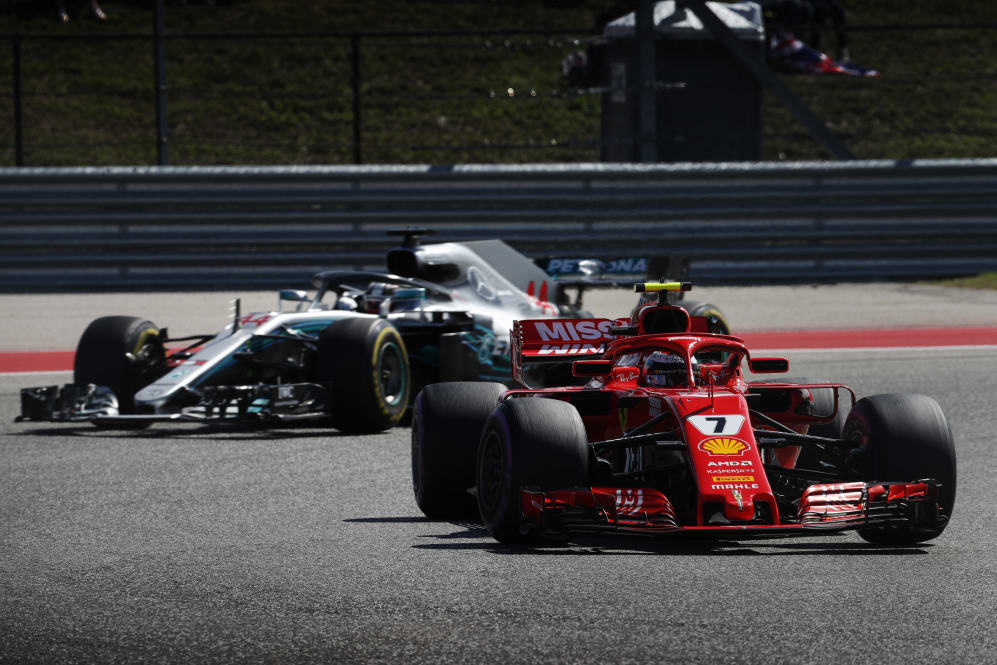 Ricciardo's bad luck continues
One can only imagine what was going through Daniel Ricciardo's mind as his Red Bull ground to a halt on Lap 9 in Austin – but his body language after getting out of the car told you all you needed to know about how he was feeling. The Renault-bound Australian has now retired from seven of the 18 races this year, including four technical DNFs in the last 10 – and that's not even counting the other issues he's suffered in practice and qualifying recently.
That he hasn't stood on the podium since winning in Monaco in May is remarkable considering team mate Max Verstappen's contrasting purple patch during the same period, and Ricciardo is understandably desperate for a reversal of fortunes. "A lot of times this year, there have been things out of my control but I can only keep trying," he said on Sunday.
"The biggest shame is that I only have a handful of races left with Red Bull and I want to have more highs than we've had. I want to be able to celebrate with the team at least one more time and be on the podium to enjoy that feeling, but we're running out of races, which is pretty tough to take at the moment…"
Alonso suffers early exit
It was somewhat ironic that Lance Stroll was given a drive-through penalty for his opening lap contact with Fernando Alonso, given that the Canadian had practically driven through the side of the Spaniard's McLaren as he barrelled into him at the Esses. Alonso was quick to chastise the Williams man's driving, which capped another disappointing weekend for the double world champion and McLaren in what is turning out to be a far from fairy-tale swansong as he heads for the F1 exit door.
It's easy to forget now that Alonso was a points scorer in seven of the first 10 races this year. Since then, he's only finished in the top 10 twice as McLaren's form has tailed off dramatically, and at the moment looks set to see out his F1 career fighting to make it out of Q1. With three races to go, both he and his fans will be hoping he can conjure some more magic.
Haas struggle on home soil
As home records go, Haas' in Austin is bordering on nightmarish. Coming into this year's race – their third at the Circuit of The Americas – the team had scored just one point, and once again they left the Texan capital feeling deflated.
Romain Grosjean's eighth place in qualifying promised a lot, but a mistake on lap one quickly left the Frenchman on the sidelines and counting his lucky stars he'd escaped a race ban.
Kevin Magnussen fared better, rising from P12 to ninth place – but before his mechanics even had a chance to pop the bottles off a few beers to celebrate a best-ever home result, Haas found themselves staring down the barrel of a second disqualification in five races, with the Dane excluded for using too much fuel. In a season where they've delivered so much, this was a forgettable race – and a real pity for the thousands watching on Haas Hill.