'With Ferrari, everything seems bigger' – Sainz defends Scuderia strategy team
Carlos Sainz has thrown his support around Ferrari's strategy team, insisting that too much is being of their mistakes this season, and that no other team in Formula 1 faces the same level of scrutiny.
Ferrari have faced criticism for some of their strategy calls this season that have seen them potentially miss out on victories or better results. However, Sainz believes that their mistakes are being overblown, while the positives go ignored.
"I think it's very difficult to generalise about where we should have been more brave or more cautious. I think you would need to pick one by one and analyse them independently," said Sainz.
"I'm pretty sure one by one, every result or every conclusion will be different. For me, it's all about continuous improvement and continuously finding ways to make the right calls at the right time.
READ MORE: McLaren confirm testing outings for IndyCar drivers O'Ward and Palou in 2021 car at Barcelona
"And there have been a lot of times during the year where we've done the right calls and no one has come to us to say, 'Oh, you did the right call' or congratulate us for that.
"But on the other hand, when there's been two or three – let's say call them bad calls with hindsight – there's been massive criticism about it."
He continued: "And I find that a bit tougher in Ferrari. I feel like when I was in McLaren, or in Toro Rosso or in Renault, when there was a big mistake on strategy no one would come and point it out and criticise you and put you down to earth like as much as they do in Ferrari. And this is a fact that I think everyone can agree with.
BEYOND THE GRID: Timo Glock discusses his time in F1, the aftermath of Brazil 2008 and much more
"While in Ferrari, everything seems bigger," Sainz added. "The victory is bigger; the mistake is bigger. And it's just like that, no? It's something I'm adapting myself to. And it's something I need to learn how to react better in the situations. We go back to a factory, and we try to improve it."
Ferrari are now in a battle for second place with Mercedes in the constructors' standings, with the Silver Arrows now just 35-points behind – and while Sainz admits he is wary of their rivals' Sunday pace, he remains confident his team can beat them.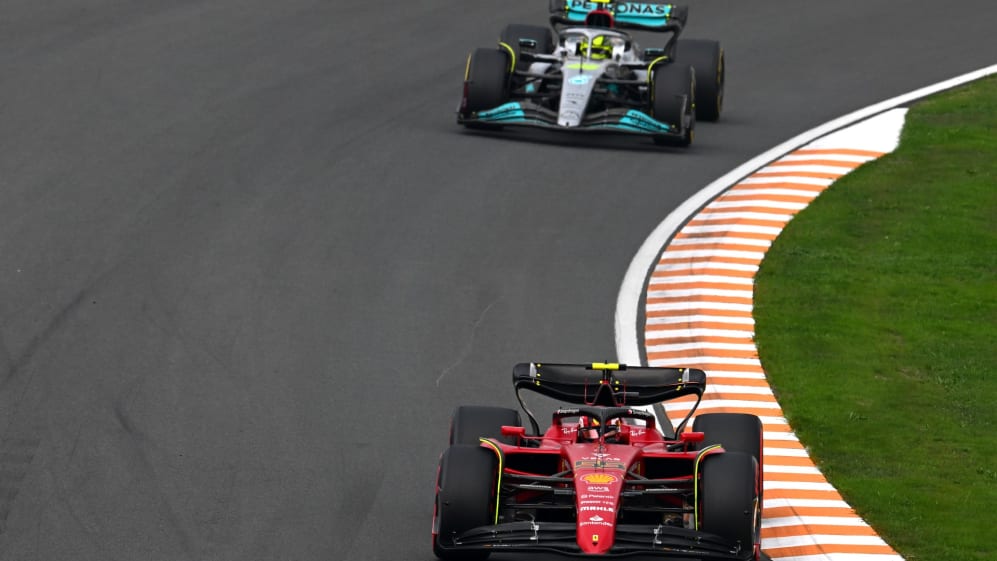 "Am I worried about Mercedes? Worried is not the right word," said Sainz. "I think we know they're going to be there pretty much in every Sunday, especially Sundays they seem to pick up a lot of pace compared to qualifying and they are always there.
"I'm always surprised how in qualifying they can be maybe one second off sometimes and suddenly come race day your engineer comes on the radio, and they tell you the lap times of Lewis and George and it's like sometimes they are even quicker so... we know they're going to be there but I think we can still beat them fair and square."
READ MORE: Ferrari to field Robert Shwartzman in FP1 at Austin