Wolff says DRS problem in Hungary cost 'unbelievable' Hamilton chance of first win of the year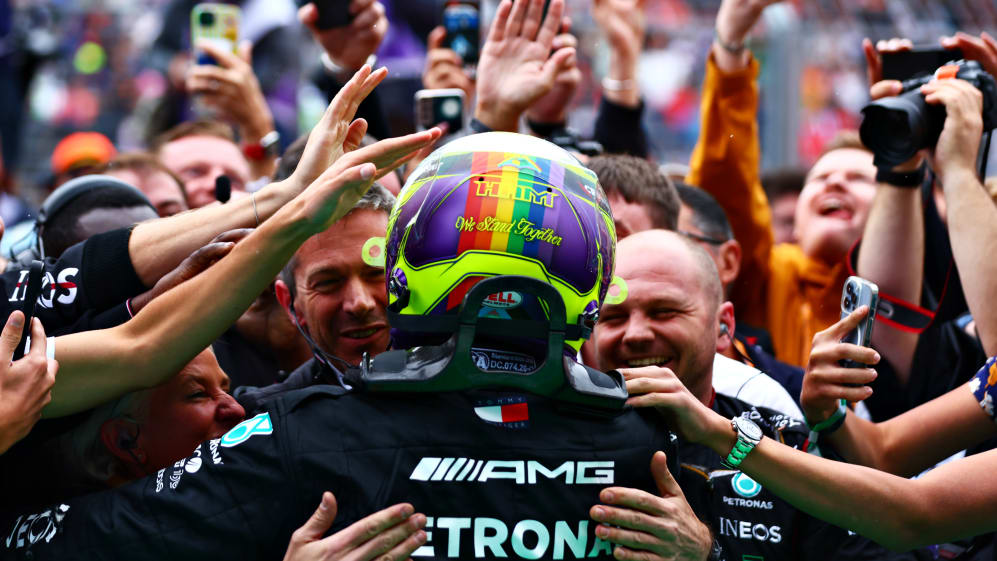 Mercedes scored their second double-podium finish in a row – as Lewis Hamilton and George Russell finished in second and third respectively – at this weekend's Hungarian Grand Prix. But despite the positive result, Team Principal Toto Wolff was left to ponder what might have been had a DRS issue not limited Hamilton in qualifying.
While qualifying saw Russell put in a stunning lap to seal his first pole position in Formula 1, Hamilton was forced to settle for seventh after the rear wing problem curtailed his final run in Q3.
But the seven-time world champion recovered brilliantly in the race, overtaking Ferrari's Carlos Sainz and then his team mate in the final stint, to seal second place – his fifth podium finish in a row – with Russell following him home in third, leaving Mercedes boss Wolff very impressed.
READ MORE: Hungary pole-sitter Russell left with 'mixed emotions' after P3 finish, as he reveals sympathy for Leclerc
"First of all, one must say that George had a great qualifying session with pole, and drove a super solid race," said Wolff. "And he was always in that fight, so he was utilising the tyres, leaning on it a lot and he ran out of tyres in the second stint. But where Lewis came from was unbelievable.
"He was a little bit in the shadow, no one really looked at him where he came from and suddenly, he was banging in times quicker than the leaders. If qualifying I think hadn't failed the DRS yesterday, who knows – I think we would have had a fun fight at the front for the victory."
In the last five races, Mercedes have scored 135 points – with only Red Bull's 139 points bettering the Silver Arrows' total. And when asked if Mercedes have now put themselves in a position to consistently challenge for victories after the summer break, Wolff said that while that is the aim, his team must "stay humble."
READ MORE: Hamilton says Mercedes have 'potential to win' after 'pretty epic' drive to second in Hungary
"I think we need to stay humble, look race weekend after race weekend and try to learn and do the experiments," said Wolff. "It's a long shot for a championship this year so in a way we are in a situation where we can try stuff which we've done on Friday as frustrating as it is sometimes and then see – to put us in a situation where we can fight for wins at the end of the season.
"We got used to the Spa weather now in Budapest! At least we have a result we can work with, we had a really bad Friday, so we know what not to do, we do the opposite, but Spa is really different. Let's not celebrate yet that we are there because we aren't yet."