Wolff says Mercedes can win first race of year in Hungary after stunning first pole for Russell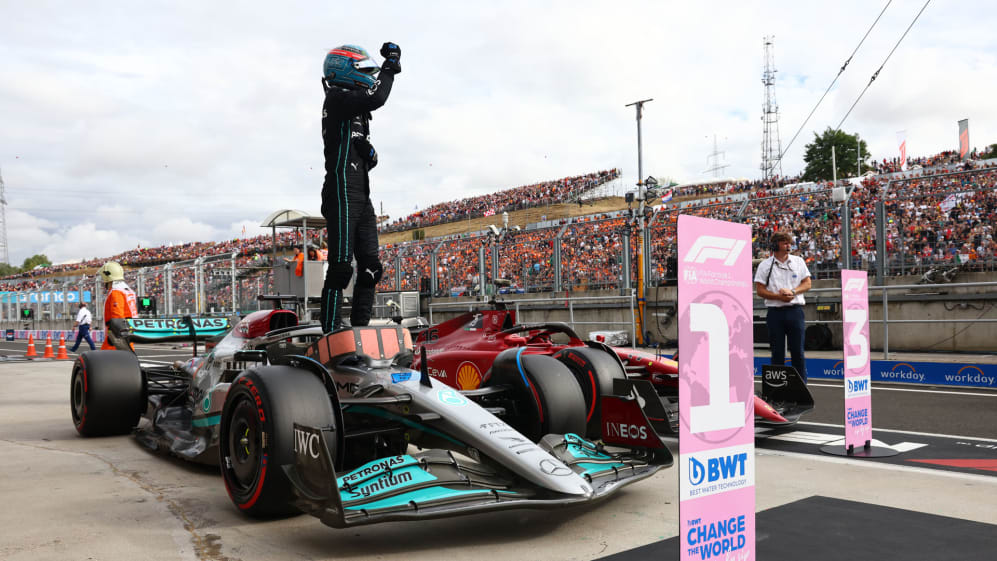 Mercedes boss Toto Wolff says his team can end a barren run of form and win their first race of the season after George Russell secured a shock pole position for the Hungarian Grand Prix…
The Silver Arrows have had a difficult season, with their qualifying pace traditionally worse than their race performance all year long.
But they made a huge step in performance from Friday through to Saturday in Hungary, having endured their worst opening day of a race weekend all season according to Russell, and were on the pace in cooler conditions throughout qualifying at the Hungaroring.
READ MORE: Russell beats Sainz to take shock maiden pole at Hungaroring as Red Bulls hit trouble
Russell snatched pole from Ferrari's Carlos Sainz, with the second red car of Charles Leclerc third, and that form has led Wolff to suggest they can convert pole into their first victory since last year's Saudi Arabian Grand Prix.
"The truth is, we saw it from the beginning of qualifying that our tyres were in the right window, the car was balanced, and everything kind of came together and then the two [drivers] drove it really well, gained confidence from run to run that the grip was actually there, and this is the result," he said.
"That's a solid result. We were always off the pace on a single lap; now we're on pole so let's see what we can do with that tomorrow in the race and if we're able to have the pace there, I believe that we are part of the fun and games in the front again.
"If we can maintain the position at the start, and be first coming out of the first lap, and drive a solid race, have some good stops – why not? We can win this."
READ MORE: Alpine duo elated with 'awesome' qualifying showing as they lock out third row in Hungary
Should they secure that victory, Wolff was asked if that puts Mercedes – who trail leaders Red Bull by 126 points in the constructors' championship, with Russell 90 behind in the drivers' – back in the title hunt, to which he replied: "So difficult to say because we are a very big point gap behind Max, like everybody else, but then you can see how quickly it changes today when we are out of the fight at the front, so we will never give up.
"We oscillate between depression and exuberance, and that's what makes the sport so tough and, on the other side, so exciting. I wouldn't discount anything if we are able to win tomorrow."
READ MORE: 'A lot of things can happen on Sunday' – Verstappen optimistic of fightback after power issue ruins Budapest qualifying
It wasn't all smooth sailing, though, with Russell's team mate Lewis Hamilton suffering a DRS issue which dropped him out of contention and leaves him seventh on the grid.
"In this moment you want to cry for joy for the pole position but equally you know the car was good enough for him [Hamilton] to be there as well, so very, very bittersweet," added Wolff.