Feature
Works team success, powering Senna and Red Bull triumphs – retracing Honda's F1 history ahead of their Aston Martin link-up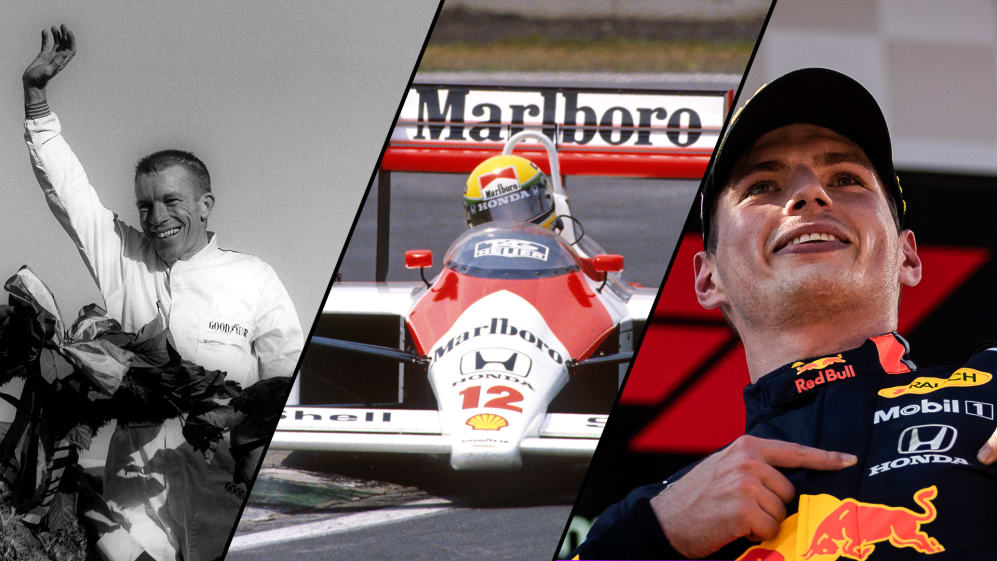 On Wednesday, it was announced that Honda will partner with Aston Martin and power the manufacturer's F1 team when new engine regulations come into play in 2026. As the dust settles on the breaking news, we thought it would be the ideal moment to look back at Honda's various stints in F1, which have included victories as a full factory team as well as providing engines for some of the sport's most famous names en route to championship glory...
Honda's first F1 adventure begins
Honda's F1 journey began all the way back in the 1960s, the company setting up a works squad and initially fielding just one car for American racer Ronnie Bucknum at selected rounds of the 1964 season – specifically the German, Italian and United States Grands Prix (a planned entry in Belgium being missed).
READ MORE: Honda to make full-scale F1 return in 2026 as they join forces with Aston Martin
It was an inauspicious start to life for the RA271, with Bucknum running towards the back during qualifying at the fearsome Nurburgring circuit, before a more encouraging performance in the race came undone through a crash at the Karussell, while respective brake and engine issues arose at Monza and Watkins Glen.
But for 1965, Honda introduced an improved RA272 package, featuring a lighter chassis and a more efficient V12 RA272E engine, while proven podium finisher Richie Ginther joined Bucknum in the manufacturer's line-up to give them an extra car to work with.
Just three rounds into the season, and during Honda's second outing of the campaign, Ginther converted a highly respectable fourth on the grid into sixth position on race day, a result he repeated in the Netherlands – marking the operation's maiden F1 points finishes.
The best was yet to come at that year's finale in Mexico, where Ginther took advantage of retirements for the season's top three contenders – Jim Clark, Graham Hill and Jackie Stewart – to emerge victorious ahead of Dan Gurney, with Bucknum adding to the celebrations in fifth.
A couple of years later, and with the Ginther/Bucknum combination replaced, new arrival John Surtees added another victory to Honda's tally by pipping Jack Brabham to the finish line at the 1967 Italian Grand Prix aboard the overhauled, Lola-designed RA300.
ANALYSIS: How and why Honda and Aston Martin got together for 2026
But that would be the high point for Honda from their initial spell in the sport, with the company's first withdrawal coming at the end of the 1968 season, during which Jo Schlesser died at the wheel of the newly-introduced RA302 in the French Grand Prix.
From works team to engine supplier
It was more than a decade before Honda appeared in F1 again, their name returning to the grid from 1983 as an engine supplier for Spirit, before embarking on a partnership with another British team in Williams, which kicked off at that year's final round.
As the 1984 season began, there was promise from the outset, with the Honda-powered FW09 of Keke Rosberg finishing second at the Brazil opener, before racking up several more solid points finishes. Then, just nine races into the partnership, the breakthrough win came at the Dallas Grand Prix, also with the Finn at the wheel.
In total, Williams and Honda won 23 races together, while clinching the 1986 and 1987 constructors' titles, as well as the 1987 drivers' crown with Nelson Piquet. The Honda/Williams supply arrangement crossed paths with a separate deal for Lotus, which covered the 1987 and 1988 seasons, bringing two more victories via Ayrton Senna.
However, that Senna/Honda pairing would reach a new level when the manufacturer linked up with McLaren ahead of the 1988 campaign, with chassis and engine combining to devastating effect over a five-year period that yielded all three of the Brazilian's F1 world titles.
READ MORE: Prost vs Senna, Mansell vs Piquet and more – F1's fiercest team mate rivalries
Indeed, a whopping 44 wins were achieved from 1988 to 1992, with McLaren and the MP4/4 almost going unbeaten in that first season by standing on the top step at 15 of the 16 rounds – toppled only at Monza when Alain Prost hit technical trouble and Senna got caught up in an incident with the Williams of backmarker Jean-Louis Schlesser.
After Senna's third and final championship triumph in 1991, the active suspension Williams FW14B proved to be the class of the field throughout the following season, and Honda's last win from this period in their history came at the 1992 finale in Adelaide with Gerhard Berger.
Having claimed two wins as a works team in the 1960s, Honda's tally was boosted to an enormous 71 thanks to their engine supply successes from 1984 to 1992, sitting alongside five drivers' championships and six constructors' championships.
Backing BAR and reclaiming works status
Honda made a second F1 comeback at the turn of the 21st century, partnering with the newly-launched British American Racing team who had used engines from Dutch company Supertec during their debut 1999 season, which they ended without a point.
Honda's arrival marked an immediate upturn in fortunes, with Jacques Villeneuve and Ricardo Zonta logging a double points finish at the Australia opener and adding enough to the squad's score over the course of the year to jump from last to fifth in the constructors' championship.
BEYOND THE GRID: Button on his 2009 title, his toughest team mate and more
Podiums followed for Villeneuve in Spain and Germany during the 2001 campaign, when Honda also struck a deal with Jordan, who had been supplied by the independent Mugen tuning group from 1998 to 2000, but the company decided to focus all their attentions on BAR from 2003.
Despite that decision to put their eggs in one basket, the tricky next step of joining the front-running pack did not arrive until 2004, when the 006 chassis transformed BAR from solid points scorers to regular podium finishes – Jenson Button and Takuma Sato racking up 11 podium finishes to secure second in the constructors' championship behind Ferrari.
Honda bought a 45% share of BAR in late 2004 and, despite a more challenging 2005 season with the stuttering 007, they took on the remaining 55% chunk prior to the 2006 campaign, which featured more podiums and their third win as a works team thanks to Button's wet/dry masterclass at the Hungarian Grand Prix.
But hopes of building on those flashes of pace were soon dashed, with Honda's next two offerings – the recalcitrant RA107 and RA108 packages – falling well short of expectations and leaving the team a lowly eighth and ninth in the respective 2007 and 2008 seasons.
Amid that poor run, and the global economic crisis taking hold, Honda withdrew from F1 once more. After a winter of uncertainty and discussions, existing chiefs Ross Brawn and Nick Fry eventually secured a takeover, with Honda offering up some cash to ease the transition.
READ MORE: From Brawn GP's fairytale to Aston Martin's super start – The biggest year-on-year performance jumps in F1 history
What followed was a Hollywood script in action, with the renamed Brawn GP – and their now Mercedes-powered, double diffuser BGP 001 – emerging as the class of the field. Button impressively won six of the first seven races to pave the way for the drivers' title, while the team fended off an attack from Red Bull for the constructors' crown.
A second, troubled stint with McLaren
Six years on from that sale, and thoughts of 'what might have been' had they powered the 2009 chassis they worked so hard on, Honda decided the time was right for another spell as an engine supplier, reviving their partnership with McLaren from the late-1980s and early-1990s.
But their dreams of replicating that previous success soon turned into a nightmare as Honda struggled to manufacture a potent and reliable engine under F1's new era of turbo-hybrid power units – the challenge made even harder by McLaren's preference for a tightly-packaged car.
Despite the combination of world champions Button and Fernando Alonso at the wheel, the pair had to settle for scraps in a 2015 season full of engine problems and grid penalties, meaning McLaren ended the year ninth in the standings – ahead of only Marussia – on 27 points.
Matters improved somewhat during the 2016 season, enabling a rise to sixth overall, but further troubles in 2017 put the relationship under too much strain and, with seemingly no light at the end of the tunnel, the two parties went their separate ways – McLaren taking up Renault power for 2018.
READ MORE: McLaren to run one-off 'Triple Crown' livery at Monaco Grand Prix as part of 60th anniversary celebrations
Having won four drivers' titles and four constructors' titles together across their first, ultra-successful partnership, McLaren and Honda did not have a podium to celebrate this time around, with question marks over where the Japanese company would go next.
Toro Rosso test the water, Red Bull join the party
After splitting from McLaren, Honda joined forces with Toro Rosso from the 2018 season in a move that would ultimately pave the way for the senior Red Bull team to take on the manufacturer's power units.
Working in a new environment with Toro Rosso, and following an internal reshuffle that defined their factory and trackside operations, Honda enjoyed a clear step forward in terms of reliability and performance, bringing the best result of their latest return – a fourth-place finish for Pierre Gasly – at round two in Bahrain.
A handful more points finishes were achieved as the campaign wore on, enough for Red Bull to be convinced of the power unit's progress and potential, with the team announcing that they too would swap Renault technology for Honda from 2019 onwards.
It would prove to be a celebration-filled season for Honda and their two supplied teams, with Max Verstappen taking the first podium of their return at the Australia opener, before giving them their first win in the turbo-hybrid era in Austria. Verstappen triumphed again in Germany and Brazil, with Gasly putting the icing on the cake by making it a Honda one-two at the latter event.
READ MORE: Horner explains why Red Bull opted to partner with Ford instead of 'incredible company' Honda for 2026
But just as performances and results were taking off – Red Bull emerging as Mercedes' main threat and Gasly taking a famous win at Monza for the rebranded AlphaTauri outfit in 2020 – Honda announced that they would again be leaving F1.
There was, though, time for one last hurrah during the 2021 season, which saw the brand return to title-winning ways when Verstappen came out on top at the end of a hard-fought battle against Lewis Hamilton and Mercedes to earn his first F1 championship.
A newly-formed Red Bull Powertrains division took on the Honda engine IP for 2022 – when the team won both world titles – and have since run units with their own 'RBPT' abbreviation, while announcing plans to work with American automotive giants Ford on a design for the revised regulations that will land in 2026.
Honda continued to assist Red Bull's efforts through a power unit support deal before reconsidering their future in the sport and, after much speculation, put pen to paper on an all-new collaboration a little further down the pit lane, marking the latest chapter in an F1 story that has featured success, struggles and everything in between…