'You learn more from the hard moments' – Norris on how he's getting over his Russian GP heartbreak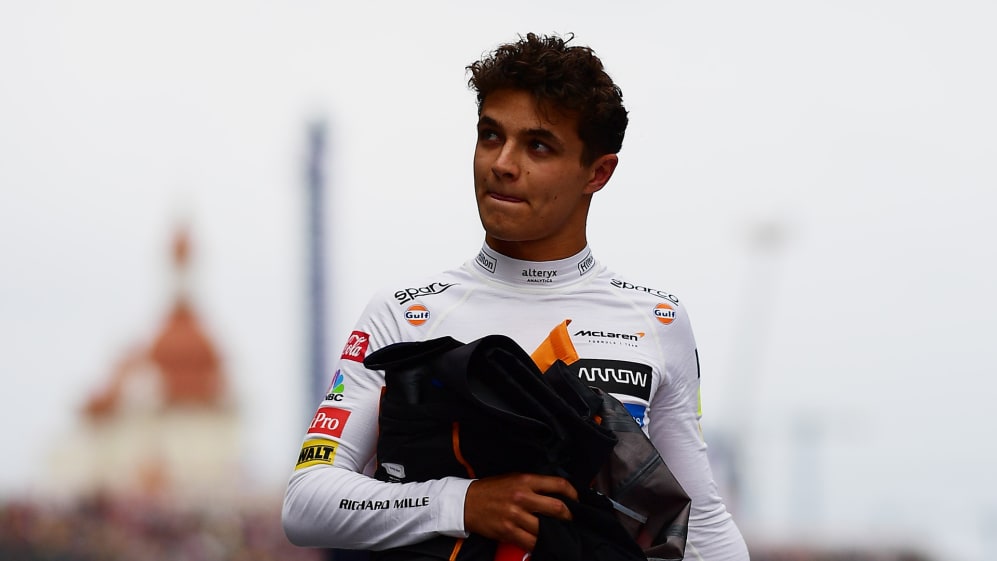 Lando Norris was, in his own words, "heartbroken" when the heavens opened in Sochi and a maiden Grand Prix victory slipped through his fingers. But days after that painful afternoon, he was able to see the positives and reckons he'll be able to react better when he finds himself in the position in the future…
"It has [eased]," said Norris of the heartbreak when speaking for the first time since the race to F1.com in Italy at the launch of his own kart team LN Racing Kart. "I had Monday off to get over it myself and then was already in McLaren on Tuesday and spent a lot of time with my engineers, our whole group, going through everything with a bit more clarity the decisions we made. I'm better now and ready for the next challenge."
TREMAYNE: Why Norris should take heart from former champs Hunt, Mansell and Hill after his Sochi woe
Norris was doing an impressive job holding off the chasing Lewis Hamilton, having lost and regained the lead as the Grand Prix got under way – but a decision to stay on slicks when the rain came – and then intensified – left him stranded, and he ultimately crossed the line down in seventh.
Up until that point, though, he had bossed the race at the front impressively considering he had led only one racing lap heading into Sochi, and reflecting on that afternoon now, he believes suffering such pain this early in career – this is his third F1 campaign – will only serve to make him stronger.
"It's not just something people say, it definitely is true [that tough experiences make you stronger]," said Norris. "You do learn probably more from the hard moments. You always learn things. Even if you win a race, you can learn things.
"Definitely when you have to make these split-second decisions, when it's not an easy decision, and you need so many different factors involved, there is a lot of things you can learn.
"I feel like I have a long career in F1, it's nice in a way to get it out early, so that when these things arise in the future, or in my future years in F1, I'll be able to react better."
Hamilton was full of praise for the job Norris had done in Russia – with a number of other drivers, including George Russell, sending the Briton messages of support.
WATCH: Hamilton vs Norris – Onboard with team radio for the dramatic final laps that decided the race in Russia
"I got quite a few messages and not necessarily from drivers," he said. "Obviously everyone within McLaren and a lot of people even from different sports. It was more of a time when people see it as an emotion-attached sport, rather than cars driving round in circles, as lot of people like to say.
"So I guess they saw the feelings we have as drivers, the passion we have for the sport, the desire to win. You want to do the best job you can for the team.
"I got a lot of messages from a lot of people which in some ways help. There were a lot of 'Your time will come!' But no matter what, they definitely helped."