Feature
TREMAYNE: Why Norris should take heart from former champs Hunt, Mansell and Hill after his Sochi woe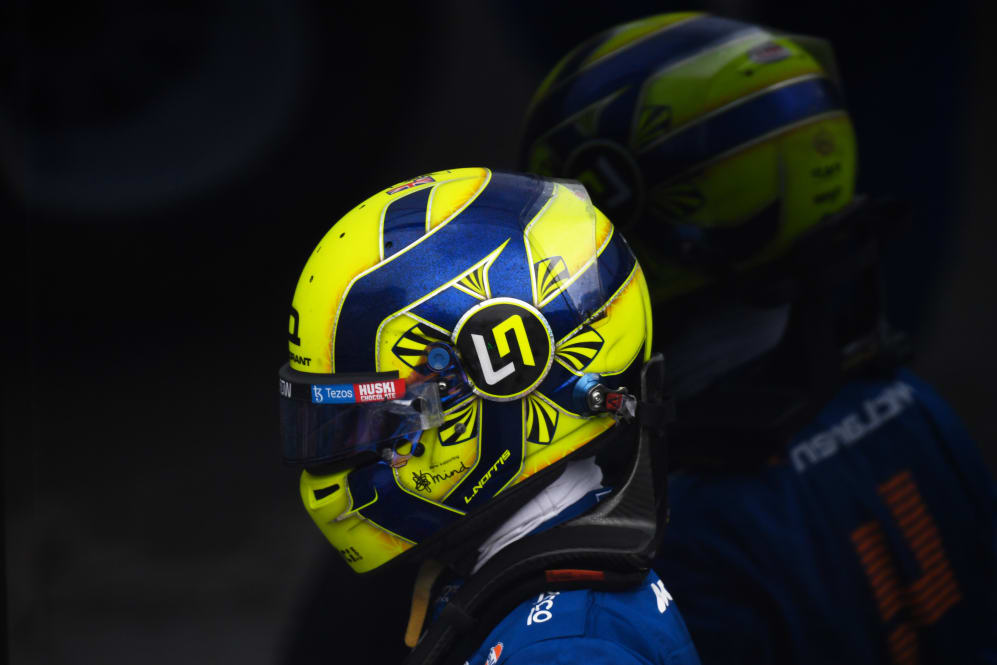 Poor Lando! I'm sure I was far from alone in feeling the same devastation that he did when things went so wrong so close to the end of a Russian Grand Prix that he had dominated.
So soon after his troubled team-mate Daniel Ricciardo had aced him to bring McLaren their first victory since late 2012 at Monza, even though he himself had been the man making all the team's headlines prior to that race, everyone's favourite 21 year-old Bristolian was a shoe-in for victory last Sunday.
READ MORE: Unpicking the six laps that turned the Russian GP upside down – and how Bottas played a key role in Hamilton's win
He knew he was bound to lose the advantage of his first pole position on the 900-metre run down to Turn 2, and when that duly happened and it was his old mucker Carlos Sainz slipstreaming his Ferrari to the front, he took it calmly and just sat back and awaited.
Sure enough, the red car ate its tyres faster than his orange McLaren, and he swiped the lead in a super little move that bristled with confidence and panache.
From then on, it was his race to lose.
If you believe in fate, Lewis Hamilton was destined to score his historic 100th Grand Prix triumph come what may. But that sort of thinking only firms up when you can truly be wise after the event.
While the race was running, Lando appeared to be a made man. For 50 of the 53 laps he was in complete control, even after Lewis had finally made good progress and closed what had been a 4.1s gap on the 35th lap to as little as 0.7s by the 47th.
F1 POWER RANKINGS: Where does Norris feature after his Russian GP near-miss?
But that MCL35M is a slippery car, and even Lewis said afterwards that he would have had his work cut out trying to overtake it. It was odds-on that Lando was about to take his first, and McLaren's 184th, victory in impressive style, withstanding huge pressure from a multiple champion.
Looking back, it's easy to be a Monday morning quarterback when dissecting just what went wrong thereafter.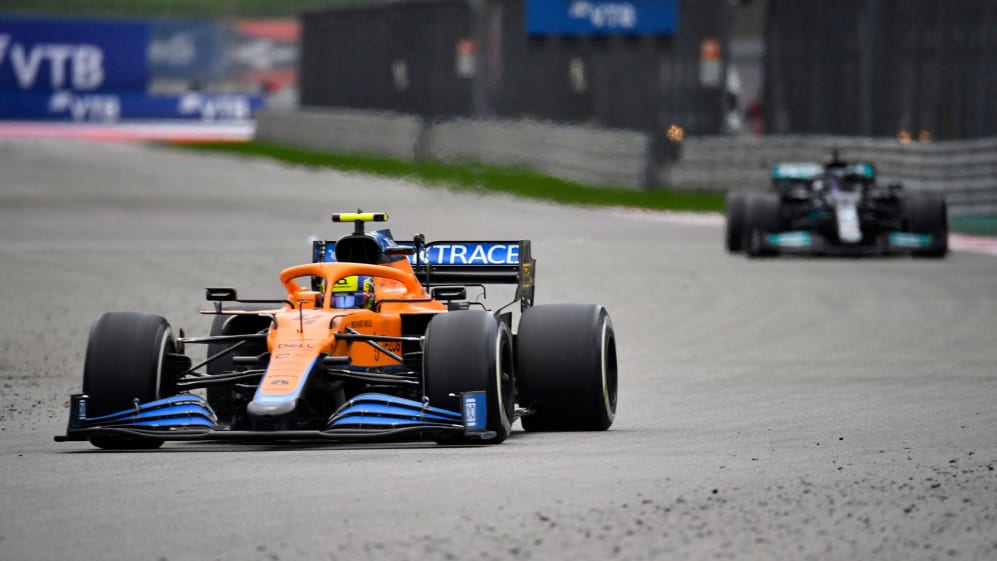 You might say that Lewis made the right call to pit on lap 49 for Pirelli's intermediate tyres when it began to rain on lap 46, while Lando mistakenly stayed out until lap 51, by which time it was too late, and thus made an error and doomed himself when the rain worsened.
But such hindsight is not 20/20 vision if you consider the full facts. As Lewis began the first of his many post-race interviews, with former World Champion Damon Hill, Lando walked over to give F1's only centurion a congratulatory hug.
READ MORE: Should McLaren have overruled Norris to ensure victory in Sochi?
It was clear that Lewis had some kind words for him, as he has had on more than one occasion this year, and it was one of those uplifting moments you sometimes see in sport where competitors reveal the great respect they have for one another.
Later, when both were in the media pen and Lewis was again being interviewed, he began a conversation with Lando which made things clear. Their radio transmissions during the race had indicated that neither of them was minded to pit (which you can hear in the clip below).
Lewis deliberately stayed out an extra lap when instructed to box by his race engineer Pete Bonnington on the 48th. McLaren, meanwhile, did not order their man in, but having told them "Just shut up!" when informed on lap 49 that the track was slippery – as if he didn't already know as he tried to keep his car pointed in the right direction – Lando then shouted "No!" over the radio when race engineer Will Joseph asked if he thought the intermediates were better.
In retrospect both remarks might seem a little harsh, but you have to remember that race engineers are drivers' agony aunts and father confessors, and that at the time he was rather busy trying to keep a 1,000 bhp F1 car pointing straight on an increasingly greasy surface…
LISTEN: The secrets of race strategy with Alfa Romeo's Ruth Buscombe
In the pen, Lewis confirmed that he had not wanted to pit. Both men agreed that the track was only really wet between Turns 5 and 7, and thus wanted to stay out. The pressure was on Lando since he was the leading car, and thus the man who had to make the decision first.
Had he yielded and pitted, what's to say that Mercedes couldn't have kept the adept Lewis out and scooped the win? He risked being damned if he did, damned if he didn't.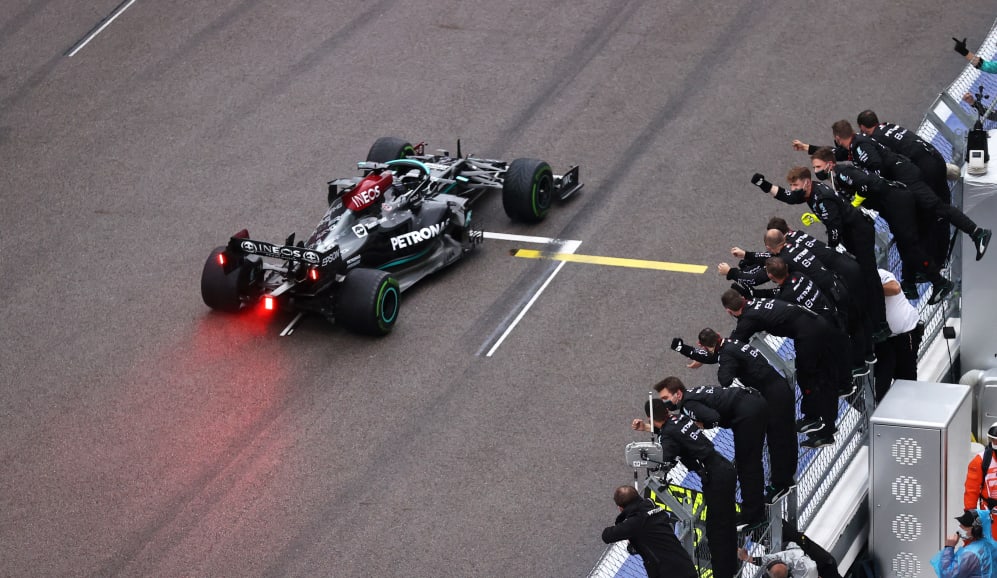 But on the information available to him at that precise time, Lando did just the right thing in sticking to his guns. He, after all, was the man assessing the level of grip, and at that point he was dealing very nicely with it, thank you.
But there was one crucial factor, which was unseen until it played its key role. From the outside McLaren's weather forecasting seemed to be as good as Michael Fish's when he missed the hurricane that struck the UK back in 1987. But both McLaren and Mercedes, in common with the other F1 teams and FOM, use Meteo France as their weather forecaster. So what went wrong there?
Hamilton vs Norris: Onboard with team radio for the dramatic final laps that decided the race in Russia
Later, Lando spoke of a difference in their weather 'intel' – intelligence – of Mercedes "knowing something that McLaren did not", and I take that to mean the manner in which each team interpreted the data available to them.
Bono was able to convince Lewis that heavier rain was coming immediately, while Lando reported that McLaren's intel crucially suggested that the conditions would not change, hence his decision to keep going.
It was a knife-edge thing, exacerbated by the changing conditions, and on such things can victories be lost, and you can be sure that the internal investigation into the affair which Team Principal Andreas Seidl will already have inaugurated will look as deeply into that aspect as it will into other influencing factors.
Meanwhile, loyal to a fault, Lando took full responsibility for his decision not to pit, while Andreas continued to stress that it was a joint error that ultimately denied them. They're a strong team, and they'll live and learn. The lessons you learn the hard way are the ones you never forget.
TECH TUESDAY: The wildly different ways teams tackled Sochi's set-up conundrum
Of course Lando was devastated in the immediate aftermath, that much was crystal clear from his mien in the paddock afterwards, though commendably he retained his habitual grace.
But he's far from the first young gun to lose his first GP win in the closing stages. Remember James Hunt leading convincingly in Argentina in his Hesketh back in 1975, before succumbing to pressure from Emerson Fittipaldi and momentarily running off the road? He went on to break his duck in Holland later that year.
Or Nigel Mansell opening up such a commanding lead for Lotus in the rain in Monaco in 1984, before sliding off the road on a white line at Massenet? He finally broke through for Williams at Brands Hatch the following year.
Or Damon Hill, who lost two likely victories for Williams in 1993 – in Britain because of engine failure and in Germany due to a puncture – before the third time proved the charm in Hungary?
Such adversity merely strengthened their resolve, as it undoubtedly will Lando's. He might like to reflect that all three of them went on to join the impressively long list of British World Champions…