Zhou ponders what might have been after 'lost gamble' at Suzuka, as Bottas eyes more Alfa Romeo updates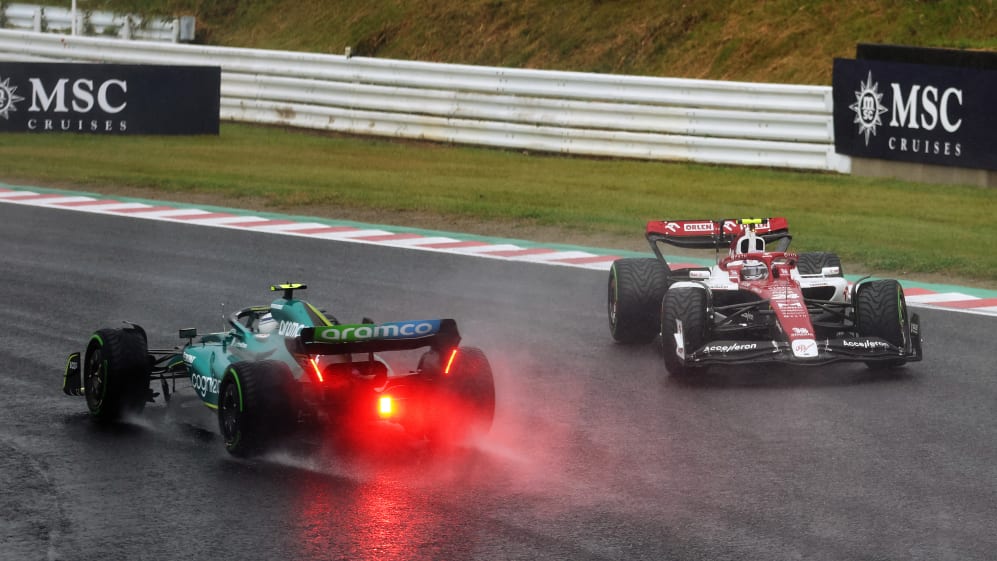 Zhou Guanyu felt more was possible for himself and Alfa Romeo during the Japanese Grand Prix after an alternate strategy amid the wet conditions failed to pay off.
Zhou was one of several drivers, along with Fernando Alonso, Daniel Ricciardo and Mick Schumacher, to extend an initial stint on wet tyres in the restarted, rain-shortened encounter at Suzuka – Zhou having spun on his own at the original start – while the rest of the field jumped into the pits for intermediates and instantly lapped quicker.
Eventually stopping four laps later than the first drivers who made the switch, Zhou dropped from a temporary top-three position to the foot of the order, before pitting again in the closing stages for a fresh set of intermediates, which saw him wind up as the 16th of 18 finishers.
READ MORE: 5 Winners and 5 Losers from the Japanese Grand Prix – Who mastered the wet conditions in Suzuka?
Reflecting on his strategy, which did at least bring the consolation of the fastest lap, Zhou said: "There were only two ways, either pit on Lap 1 [of the restart] for intermediates, or stay out hoping for more rain. Unfortunately, on my side, I was quite far behind and there was a lot of spray, so for me I feel like it was correct to stay out with the wets, so we did.
"When we saw the inter was clearly faster, I knew the gamble was lost, but we gave it a try. It was overall a quite difficult Sunday with the weather changes, and the visibility was very low."
Zhou's team mate, Valtteri Bottas, fared little better, as he crossed the line in 15th position after struggling in the spray behind Haas rival Kevin Magnussen.
"From where I was at the start, [I had] zero visibility, so [it was] quite sketchy. But then overtaking was just really, really difficult; I think everyone struggled, except if you had a tyre delta, to overtake – that was ultimately the biggest issue, being stuck behind Kevin," explained Bottas.
F1 NATION: Inside Max Verstappen's title-winning celebrations in Suzuka
But the Finn took some optimism from his run to 12th in qualifying, a couple of tenths off a spot in the final Q3 phase, with Alfa Romeo bringing a new front wing to Japan – and more updates set to follow.
"We were super close to Q3, so that's kind of good. [In the race] I think we did have pace, but again, being outside the top 10 on the grid makes it more tricky when it's so close. Hopefully we can have a decent qualifying in Austin in a couple of weeks with some new bits again on the car," he commented.