Neither seat confirmed...
 
Williams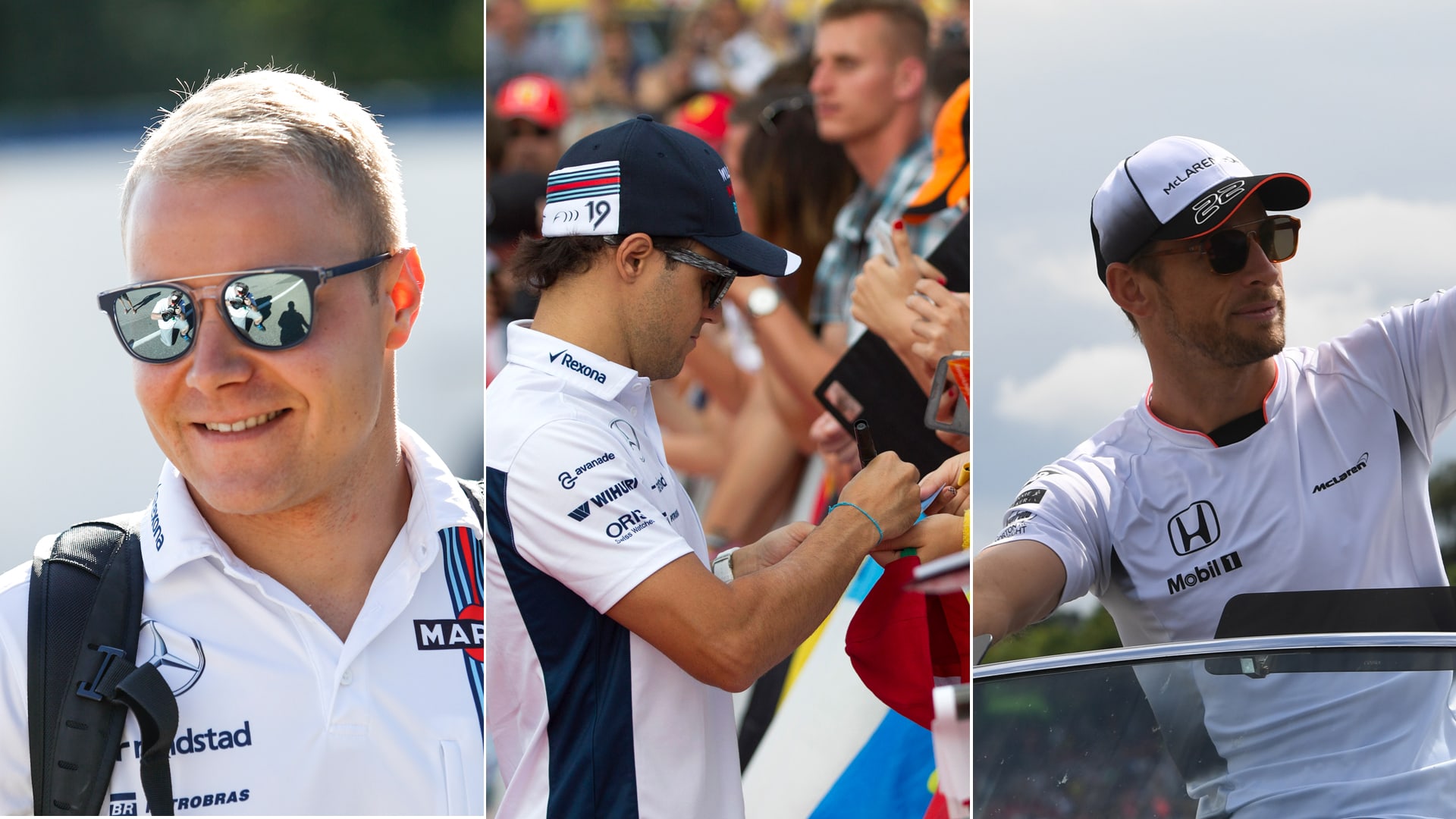 With both Valtteri Bottas and Felipe Massa's contracts expiring at the end of the season, Williams are in the driver's seat (if you'll pardon the pun) when it comes to their 2017 line-up. If they change things up, test and reserve drivers Paul di Resta and GP2 ace Alex Lynn might be considered, as might ex-tester (and current Sauber man) Felipe Nasr, but the name that keeps coming up is Jenson Button's, particularly since Williams openly admitted their admiration for the Briton. 
But, if a Button deal goes ahead, who would make way? Bottas has talked of having 'unfinished' business with the team, and the Finn's form presents a strong case: nine podiums in three years (Massa has five) and a 10-2 qualifying record against his team mate so far in 2016. Bottas has also finished ahead of Massa in the championship in 2014 and '15, and has the upper hand again this year. Massa though - at 35 - insists his hunger is undiminished, and that he still has plenty to offer Williams - or a rival team...

Renault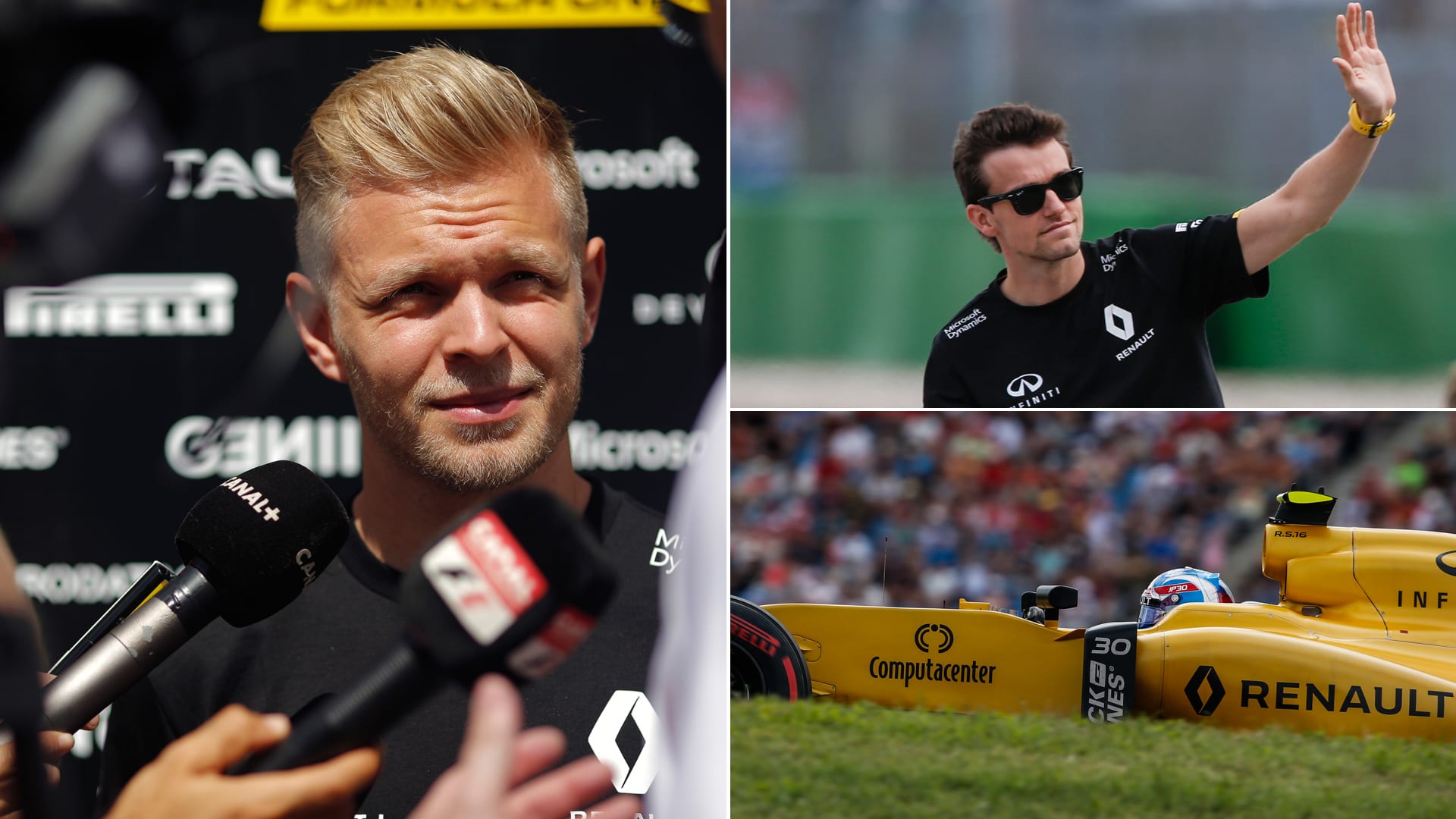 Renault have been open about their desire to secure someone they can build a team around - but it's not clear whether that means current drivers Kevin Magnussen and Jolyon Palmer are in their future plans, especially as the likes of Sergio Perez, Carlos Sainz, Felipe Massa and Valtteri Bottas have all been linked to the French squad. Esteban Ocon is another in the frame, and having already impressed the team in his limited Friday outings, the Frenchman could do his prospects no end of good with a strong showing for Manor in the last nine races of the season.
Of the list of potential candidates, Perez is perhaps worth watching most. Force India are determined to hold onto the Mexican, who has been in a rich vein of form this year and comes with significant backing. He and his sponsors appear to be seriously considering their options though - with Perez quoted as saying his next move is 'key' if he is to move up the order in the coming years.
As for Renault's current incumbents, Palmer will be almost used to the speculation by now - the Briton even had to answer rumours that he would lose his seat, potentially to Ocon, during the current season. Magnussen, meanwhile, has said he is not looking beyond Renault for next year. It is not difficult to see why - they may have struggled for form this year, but with full manufacturer backing and a revamped technical structure, Renault are putting in place all they need to return to the front of the F1 grid.
Don't expect any breaking news, however - Renault have said they won't reveal plans until September at the earliest.
 
Haas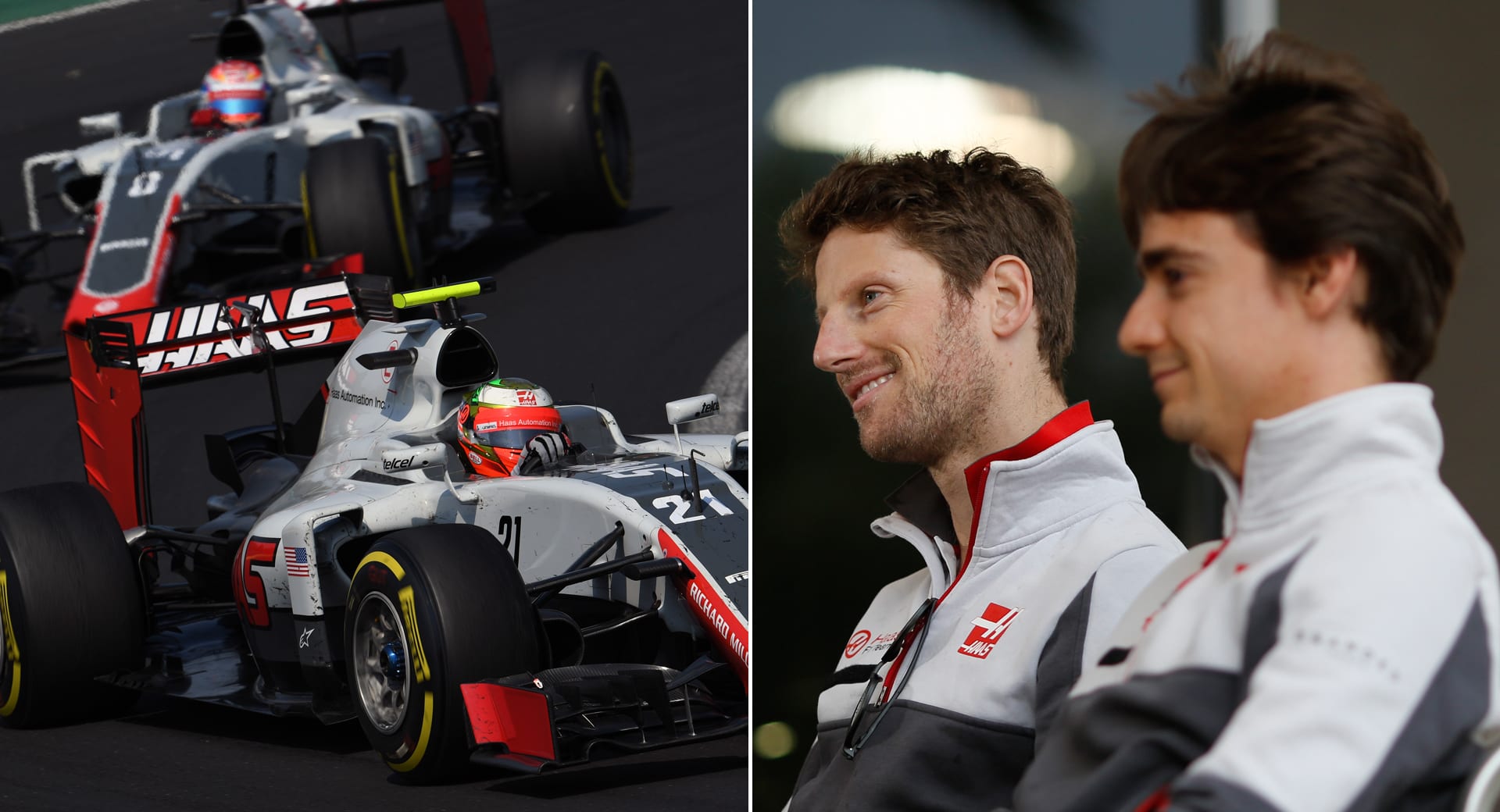 Romain Grosjean has played the starring role so far for Haas, who lit up the first two Grands Prix of the season and have showed strongly throughout the opening 12 races of their fledgling F1 campaign. The Frenchman's name was therefore widely mentioned when Kimi Raikkonen's future at Ferrari was subjected to its apparently annual scrutiny. The Prancing Horse's subsequent decision to extend Raikkonen's deal took that option off the table, suggesting Grosjean will remain at Haas - a situation the man himself has openly welcomed.
Esteban Gutierrez's season has been compromised by several technical issues, but he too has shown good turns of pace, coming close to the points with four 11th-place finishes. Retaining both drivers could make good sense for Haas too, giving them stability in their formative years - but GP3 championship leader Charles Leclerc - who like Gutierrez is one of technical partner Ferrari's stable of drivers - could be an outside bet.

Sauber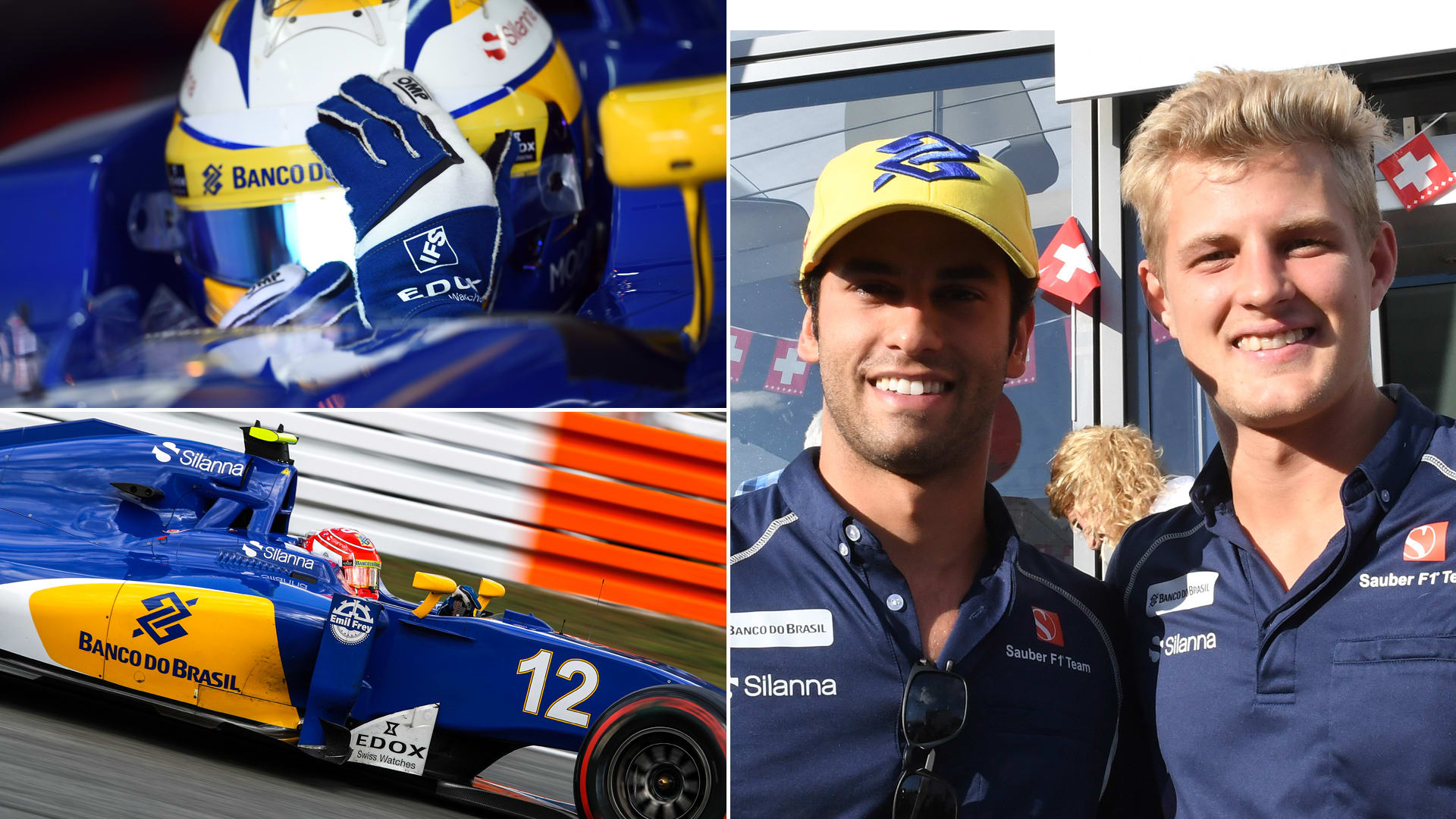 Their future secured by the arrival of new owners, Sauber's attention now turns to improving their fortunes on track - and therefore inevitably to their driver line-up. Marcus Ericsson's backers reportedly have links with the new owners, but team principal Monisha Kaltenborn insists that won't be a factor when it comes to deciding which men the team take on.

Manor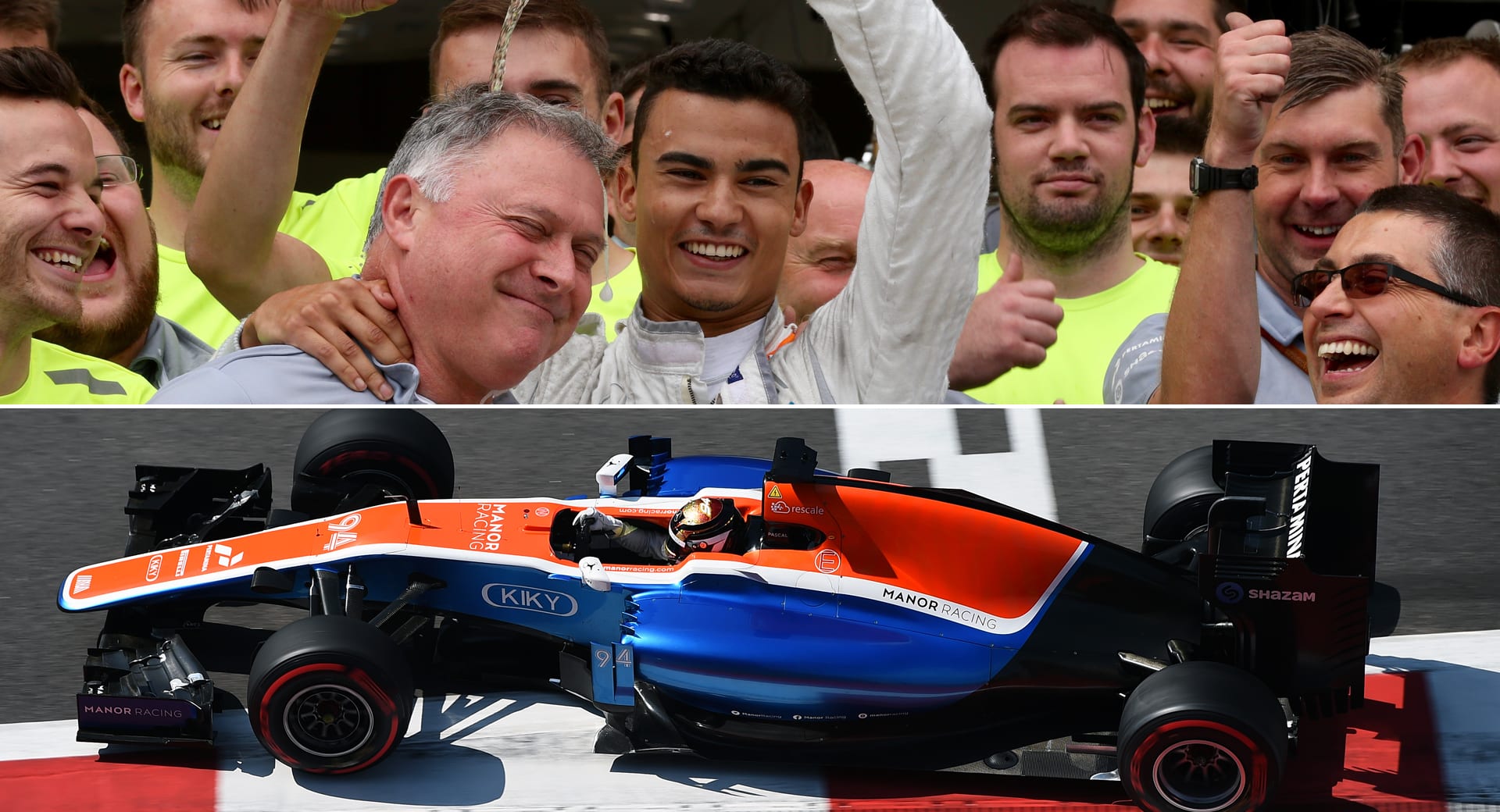 Manor came into 2016 with an all-new driver pairing in Pascal Wehrlein and Rio Haryanto, and made a further change in the summer when the latter's funds ran out, drafting in the promising Esteban Ocon for the final nine races of the season. Both current drivers are seen to have a bright future in the sport, and both are affiliated with engine partner Mercedes. Wehrlein, 21, scored Manor's only point of the year in Austria, whilst his qualifying performance at the same venue prompted Silver Arrows chief Toto Wolff to describe him as 'special'. Ocon, 19, has shown well in practice outings for Renault, and has a stellar CV that includes beating Max Verstappen to the FIA European F3 title in 2014.
With a spot at Mercedes not open until 2019 at the earliest, both men could yet make a switch to another team - Wehrlein, for example, could be in contention at Force India should Sergio Perez decide his future lies elsewhere. Ocon, meanwhile, has been strongly linked to a drive with Renault in 2017, the Frenchman recently insisting he would be ready and willing to take any opportunity that arises.
Should a seat open up, Haryanto and the likes of Alex Rossi - who drove for the team in 2015 and is excelling in IndyCar - will be in the frame, although Manor also have a strong history of bringing new faces into the sport.

One seat still available

McLaren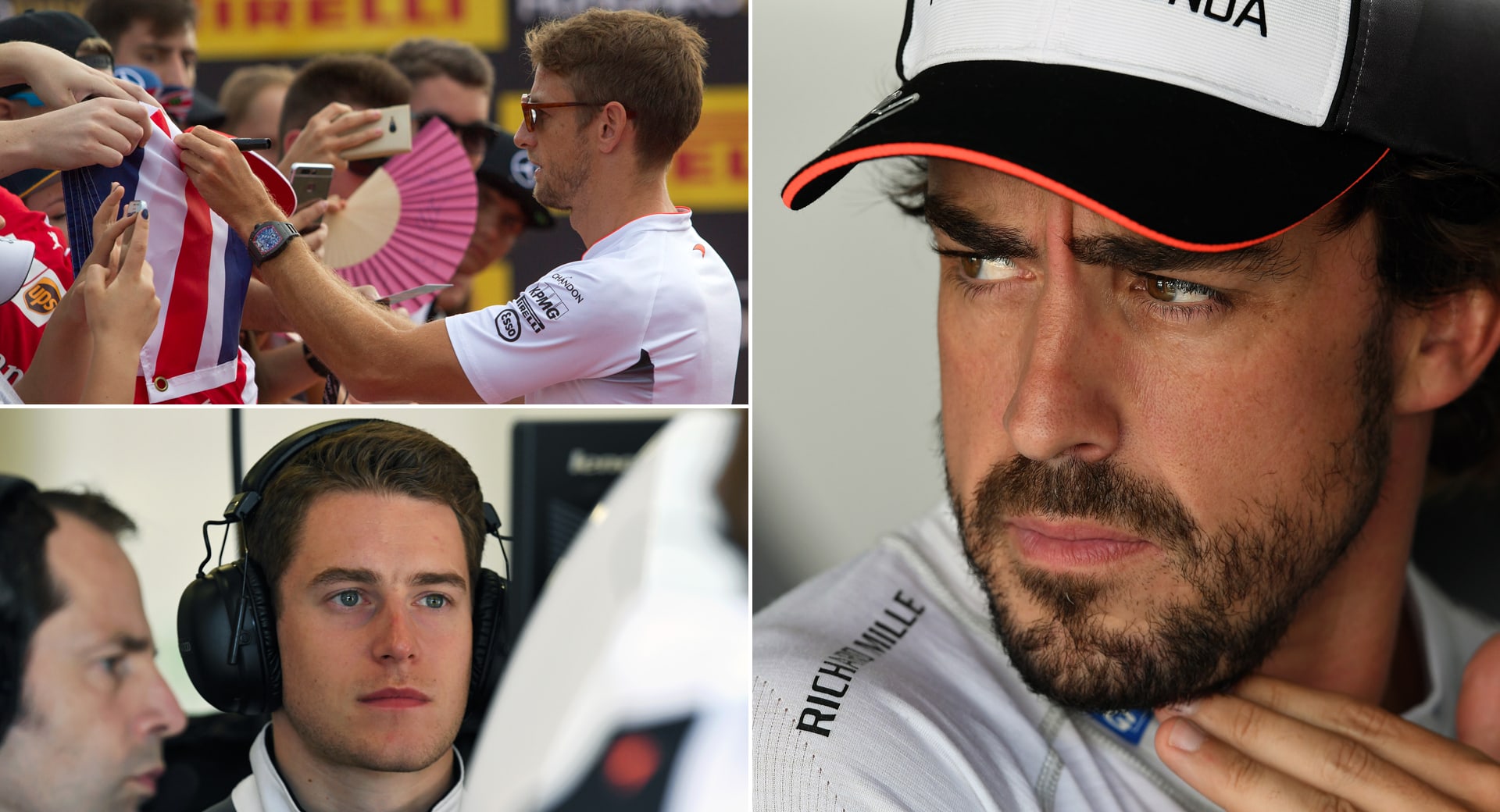 One of the big questions of the silly season is who McLaren decide to place alongside the already signed Fernando Alonso in 2017. Two men are in contention: Jenson Button and Stoffel Vandoorne.
Button's quality hardly needs stating: the 2009 world champion is the third most experienced driver in F1 history, has a strong working relationship with Alonso, and has been a fundamental part of the team's ceaseless drive to make up ground over the past two seasons. He is also on form this year, scoring points on five separate occasions (Alonso has scored in three races). Little wonder that Williams have spoken of their interest in Button, should he depart.
Reserve driver Vandoorne, meanwhile, is pushing hard. McLaren do not want to lose the classy 24-year-old Belgian, who demonstrated his potential by scoring a point on debut when filling in for the injured Alonso in Bahrain this year. Rival teams have admitted their admiration for Vandoorne, with the runaway 2015 GP2 champion suggesting he could look at options away from McLaren in order to secure a race seat in 2017. 
Two into one doesn't go, leaving McLaren with a very tough choice...

Force India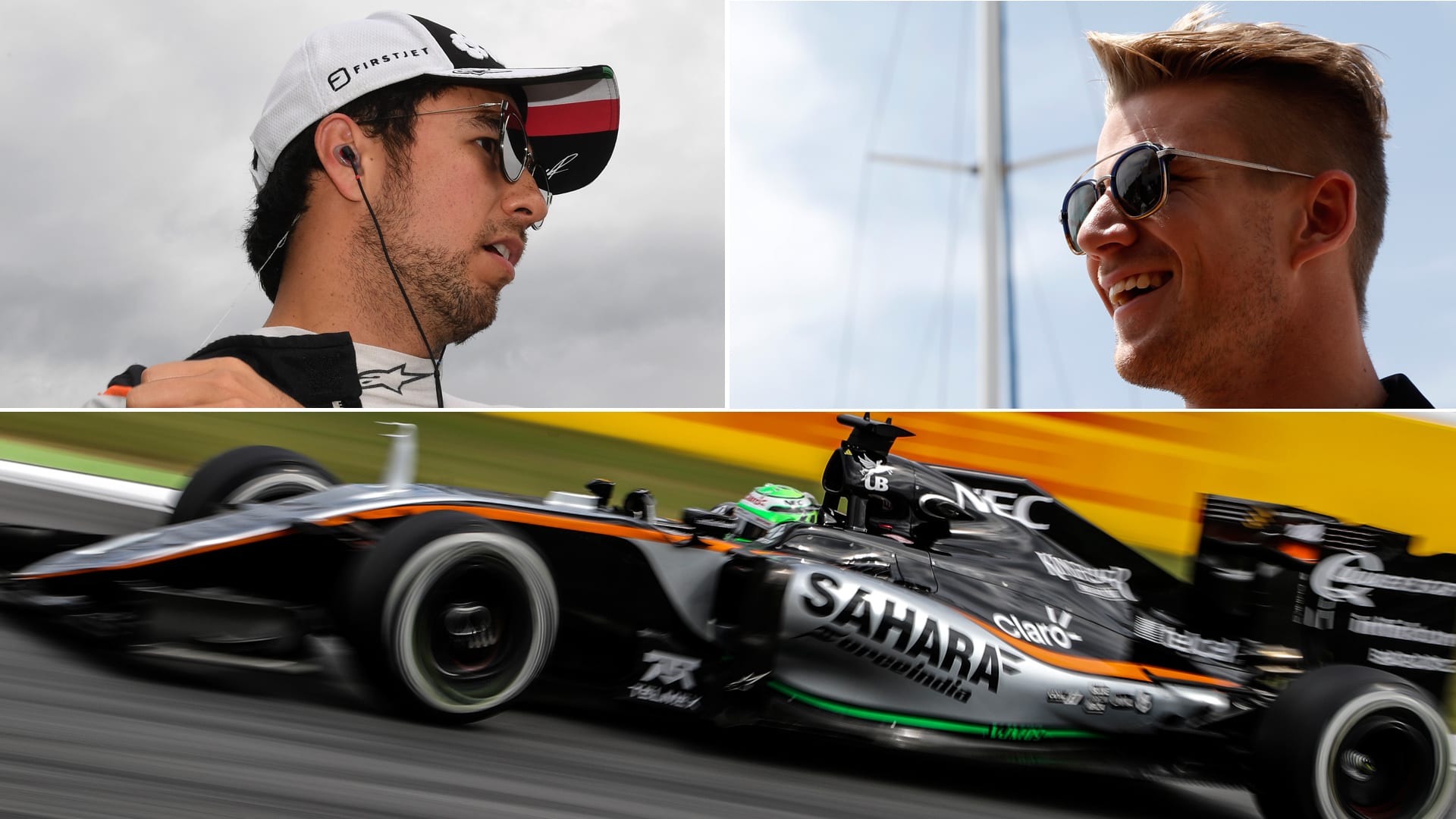 While Nico Hulkenberg is confirmed, team mate Sergio Perez has become one of the key figures in the silly season. Force India want to keep the Mexican, who has scored podiums in all of the last three seasons (and has two already this year). 
That form has not gone unnoticed. Renault and Williams are believed to be interested in a move for Perez, who has the added attraction of a strong set of personal sponsors and backers. Perez has said any decision will be made in conjunction with those backers, and in the knowledge that his next move could be 'key' if he is to step up in the coming years. Still only 26, the ball is firmly in his court.

Toro Rosso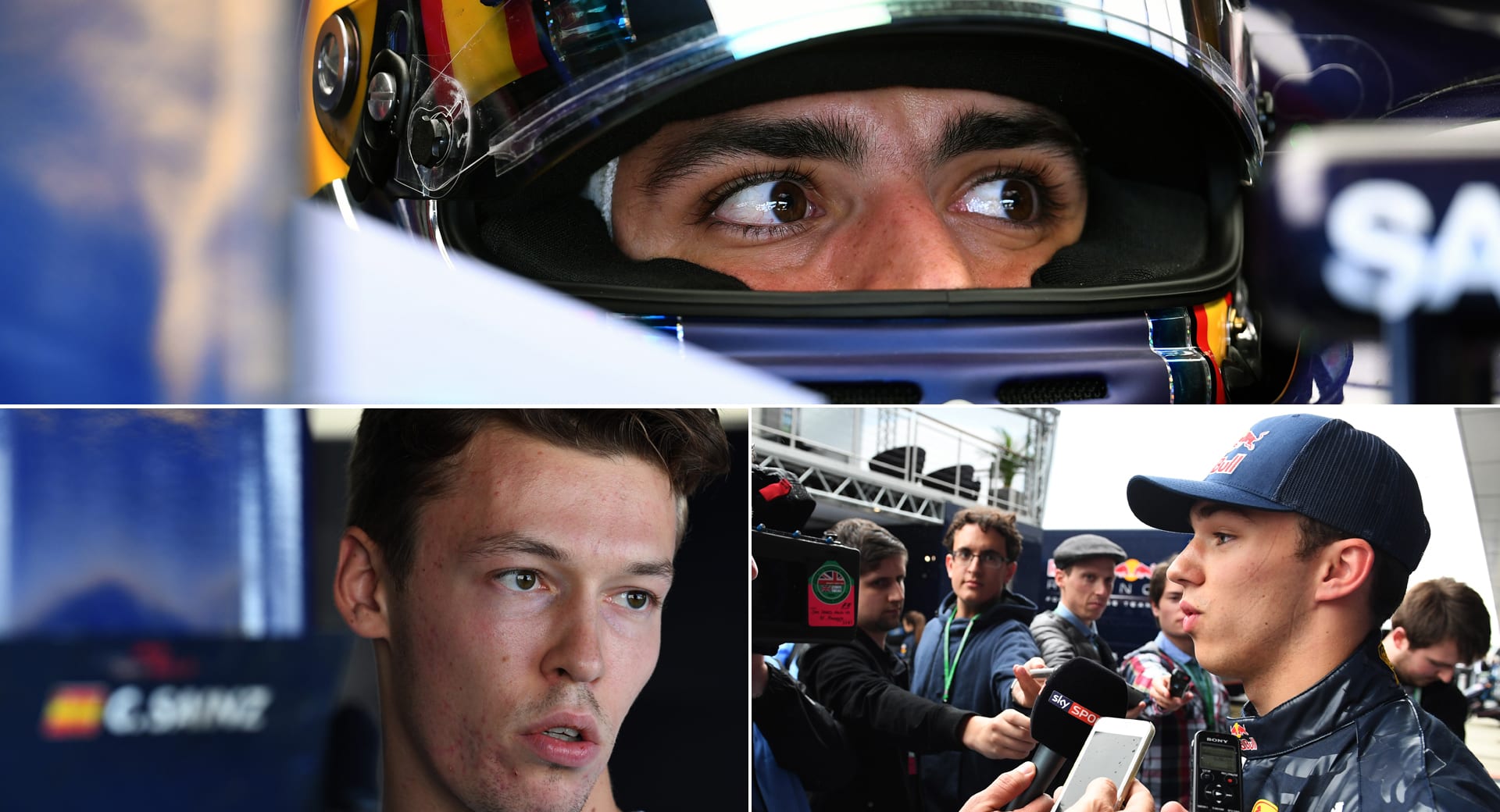 Despite the somewhat bizarre rumours that Carlos Sainz could be traded to Renault, the Spaniard will stay at Toro Rosso for a third consecutive season. The Red Bull junior team doesn't make a habit of keeping the same driver for a such a long period, but Sainz's form has been exceptional, and his case irresisitble. At 21, the Spaniard is a coming force in F1, so it's no wonder his option was picked up.
Who partners him in 2017 is less certain. Daniil Kvyat has struggled for form since his 'demotion' from Red Bull, trailing Sainz 6-2 in qualifying and 5-0 in races where both men have finished. Red Bull have so far pledged patience, confident that the 22-year-old Russian can rediscover the sort of form that lifted him to a seat at the senior team after just one year in the sport. But they do have other options, most notably in the shape of 20-year-old Pierre Gasly, who currently sits second in GP2.

No room at the inn
Mercedes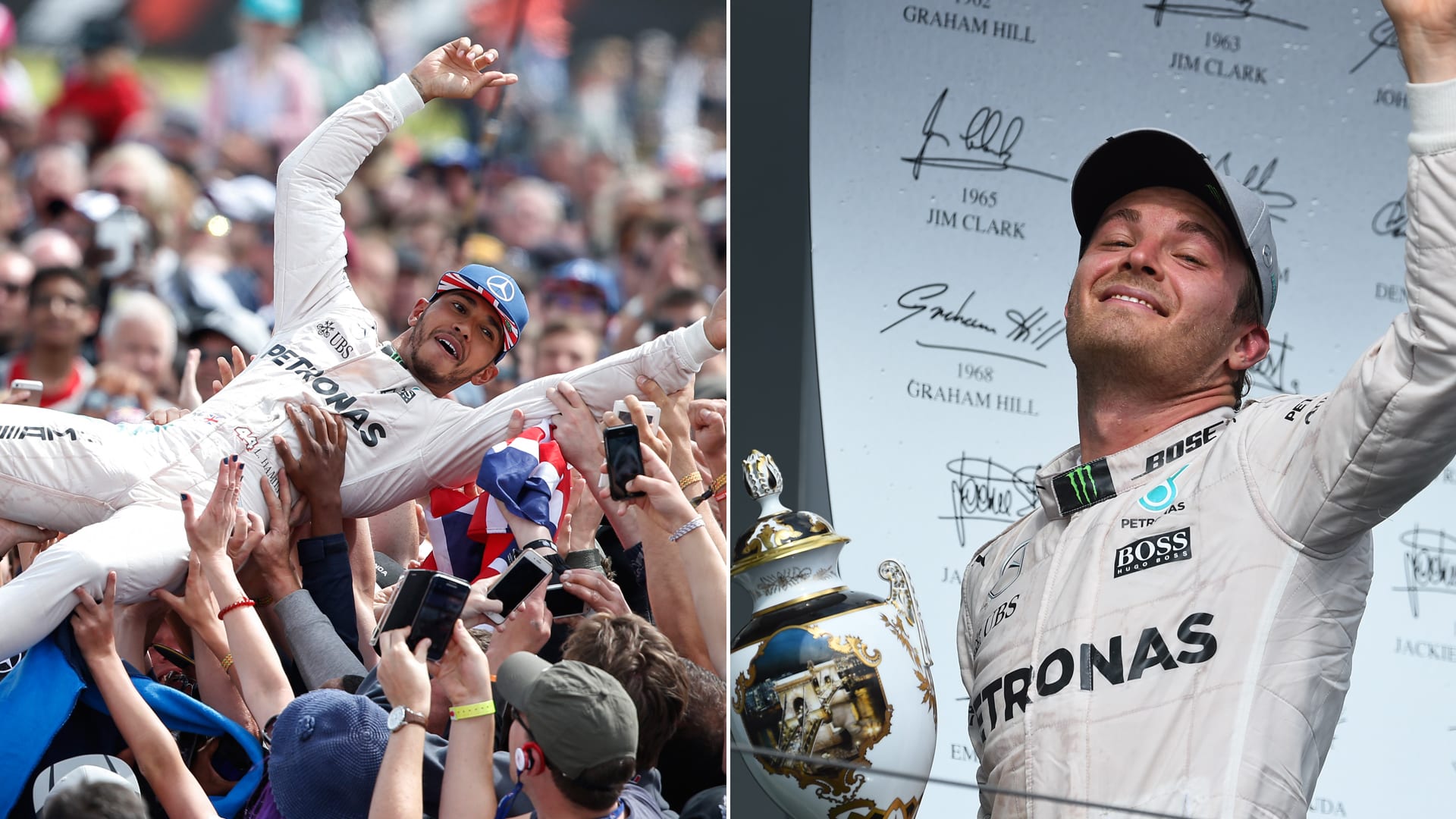 Lewis Hamilton signed a deal to be at Mercedes through to 2018 last year. Nico Rosberg had more scrutiny, given that his contract expired at the end of the current season, but negotiations began early and despite rumoured interest from Ferrari both parties confirmed a two-year extension in July, shortly before Rosberg's home race.

Ferrari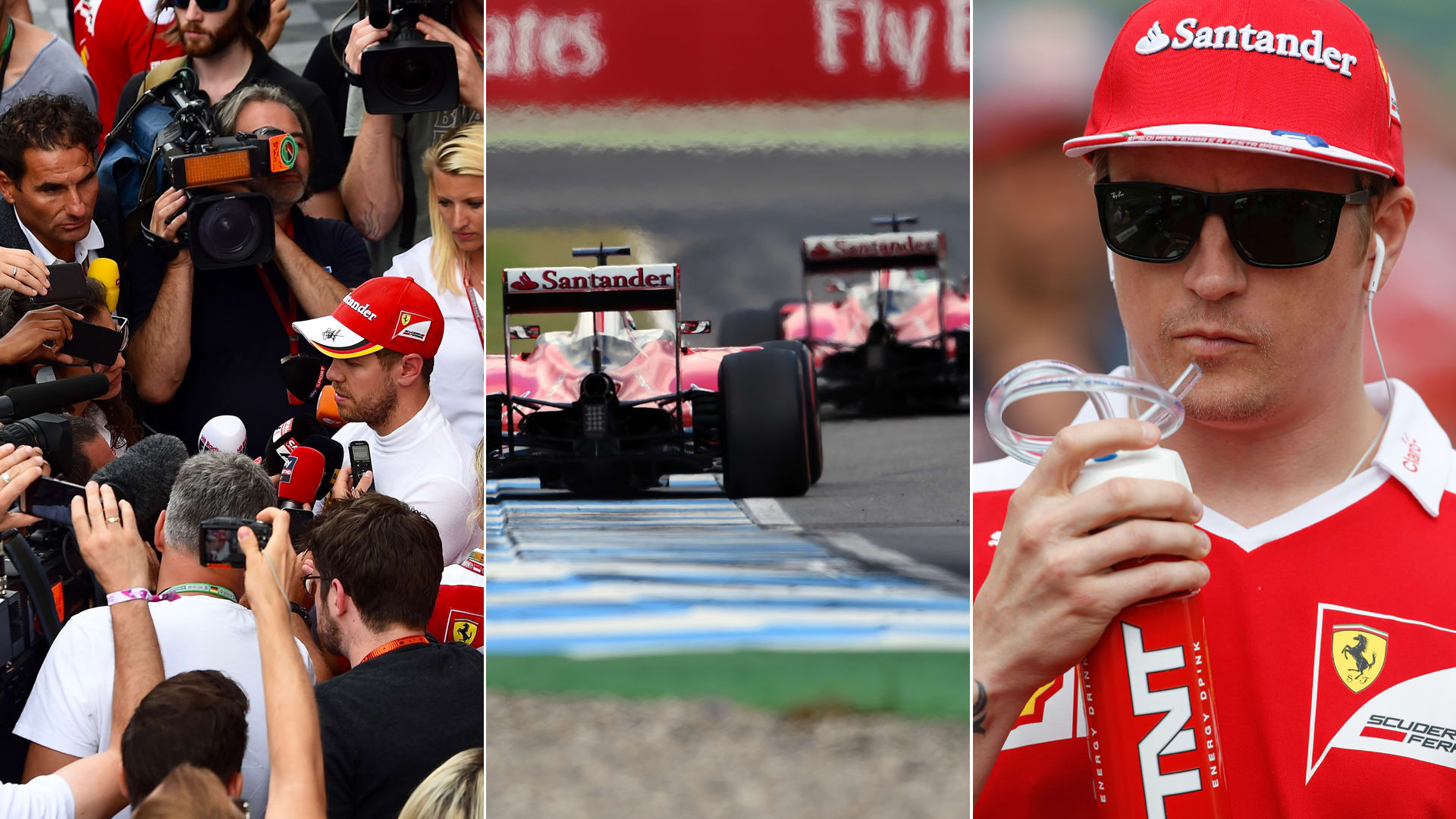 The now annual speculation about Kimi Raikkonen's future at the Scuderia hadn't even reached full swing when Ferrari announced the Finn would be retained for 2017. Team principal Maurizio Arrivabene said the early deal would take pressure off Raikkonen, who will therefore partner Sebastian Vettel for the third straight season.

Red Bull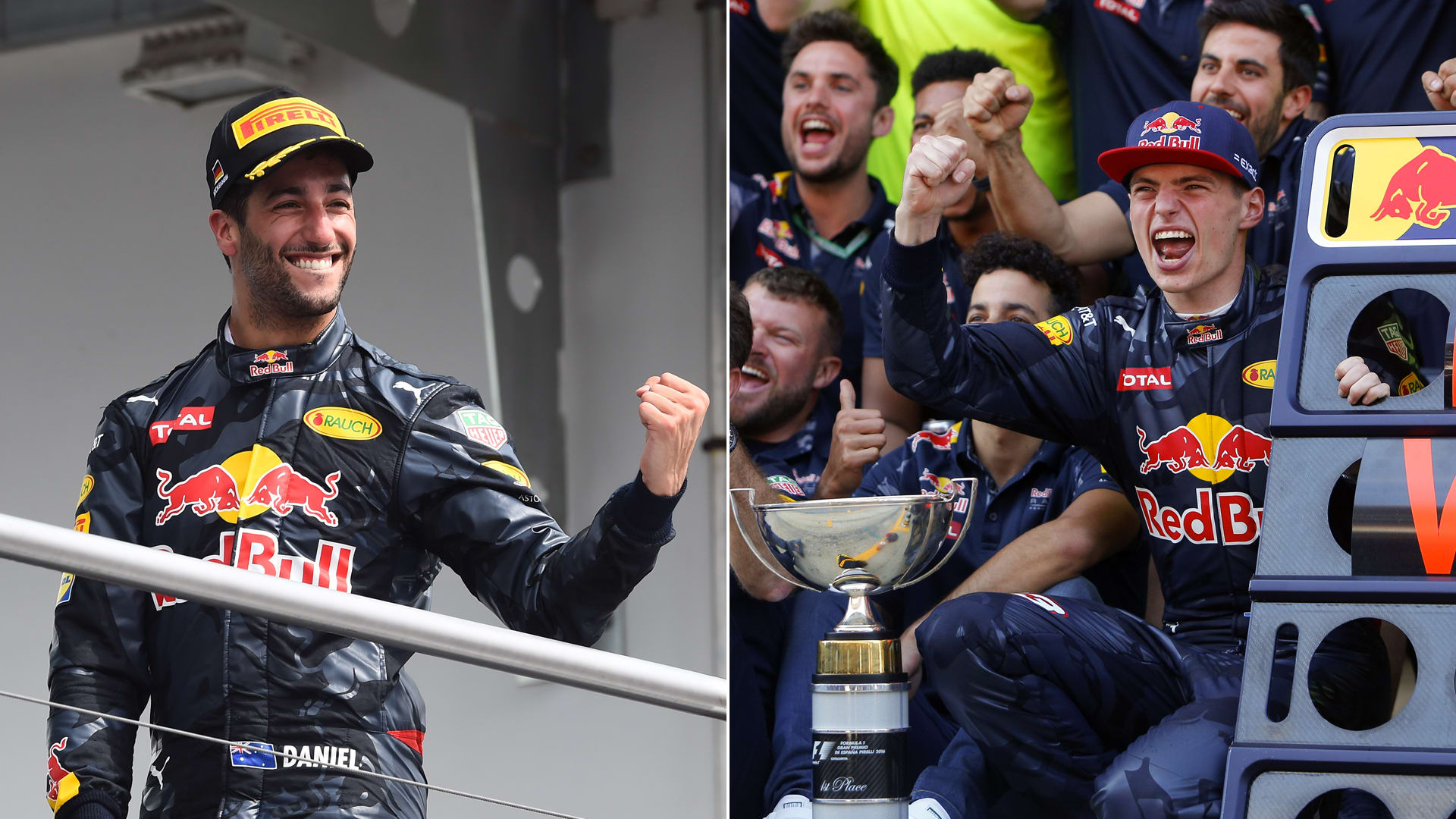 In Daniel Ricciardo and Max Verstappen, Red Bull have one of the most dynamic, aggressive and talented pairings on the grid - little wonder they opted against changes for 2017. So far Ricciardo has had the best of qualifying, with honours on Sunday far more evenly matched. Perhaps most encouraging is the manner in which both men are pushing each other on while also working collaboratively - leading team principal Christian Horner to hail them as 'fantastic' after they shared a podium for the first time in Germany.