Why go?
It's hard to find a more spectacular setting for a Grand Prix than Yas Island, on the eastern side of Abu Dhabi. It's home to numerous 5-star hotels and the Ferrari World theme park, and the 5.55-kilometre (3.45-mile) Yas Marina Circuit is a suitably glamorous part of the FIA Formula One World Championship. The track has many unique touches. It runs alongside the island's spectacular marina; it passes under the 5-star Yas Viceroy Abu Dhabi hotel and alongside a 60-metre sun tower. The exit of the pit lane even crosses under the circuit.

"It's a very impressive facility and the track layout is fun, so it's a great place," says F1 veteran Felipe Massa. "With Ferrari World just around the corner, the race has a strong Ferrari flavour."
Away from Yas Island, Abu Dhabi has lots to offer. It's the largest and wealthiest of the seven United Arab Emirates, with a crude oil supply that isn't expected to run out until the 22nd century. Unlike some of its neighbours in the Gulf, Abu Dhabi has retained its local traditions and charms, making it an enjoyable and interesting stop-off. 
Did you know?
Abu Dhabi is the world's richest city. The average net worth of the 420,000 permanent citizens is US$17 million.
Transport
Abu Dhabi International Airport has recently undergone a US$6.8 billion redevelopment. It has many connections around the world and Etihad Airways - the national carrier and title sponsor of the Grand Prix - recently added its 50th international destination.
The airport lies adjacent to Yas Island, making the track easily accessible by taxi. It's a 30-minute drive to Abu Dhabi city and while taxis are inexpensive, all the major hire car companies can be found in the arrivals terminal. A third option for getting around is a new and heavily subsidised bus service.
Useful tips
With the Abu Dhabi Grand Prix being at the end of the season, the weather conditions are not too extreme. Midday temperatures of between 25-30 degrees can be expected, but the grandstands are all covered - a first for a circuit anywhere in the world - so shade is easy to come by.
Where to go?
Abu Dhabi has a very cosmopolitan feel and there is something for everyone. There's an eclectic mix of international cuisine to suit all budgets, starting at the Emirates Palace (for a time the world's most expensive hotel) down to the cafe culture that prevails throughout the Middle East. For traditional Abu Dhabi cuisine, head to the area surrounding the fish market in Abu Dhabi city.
There are plenty of other tourist attractions. If you want local culture, why not head to the camel market in Al Ain or the Abu Dhabi falcon hospital.
And, of course, there is the aforementioned Ferrari World theme park, covering 250,000 square metres and featuring a G-Force Tower, driving schools for children and adults, high-tech theatres and lots of cars on display.
And since 2017 there has been even more of an international flavour in Abu Dhabi, with the opening of the Louvre Abu Dhabi, the first Louvre museum outside France.
Where to stay?
All the best hotel chains are in Abu Dhabi - and many of them on Yas Island - so you can expect to be looked after wherever you go. Most of the F1 luminaries stay in the 5-star Yas Viceroy Abu Dhabi hotel, which is just a short walk from the F1 paddock. But for those looking for more modest surroundings, there are cheaper options available in Abu Dhabi city.

Extended stay
Once you've checked out Abu Dhabi city, why not head out into the Rub Al Khali desert, which is known locally as 'The Empty Quarter'. Only a short distance from the city limits, you'll find yourself surrounded by sand dunes.
The town of Al Ain is another popular tourist destination. It's regarded as the spiritual heart of Abu Dhabi, having been built on seven oases and inhabited for more than 3,000 years. It's on the Tentative List of World Heritage Sites of UNESCO.
And from October 2020, nearby Dubai has a very special attraction on offer...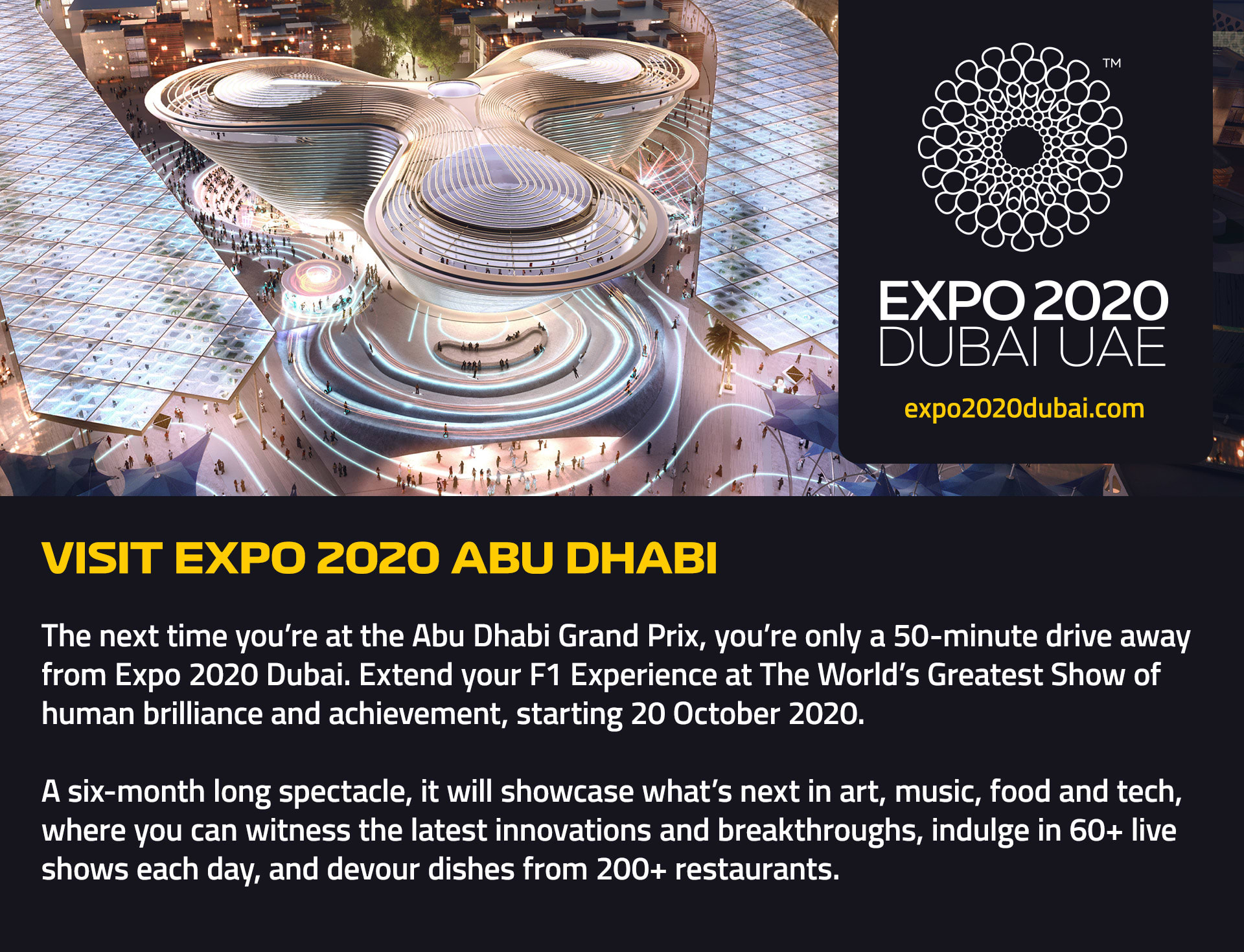 Enthusiasts only
There's plenty to see at Yas Marina Circuit, aside from watching Formula 1 cars. There's drag racing and an off-road driving centre, and you can test your own skills at a state-of-the-art kart centre. If you think your technique needs some work, there's even a driving school for you to attend.
Circuit Address
Yas Marina Circuit
P.O. Box 130001
Abu Dhabi
UAE