'I had to be on my game all the time' – Ricciardo praises ex-Red Bull team mate Verstappen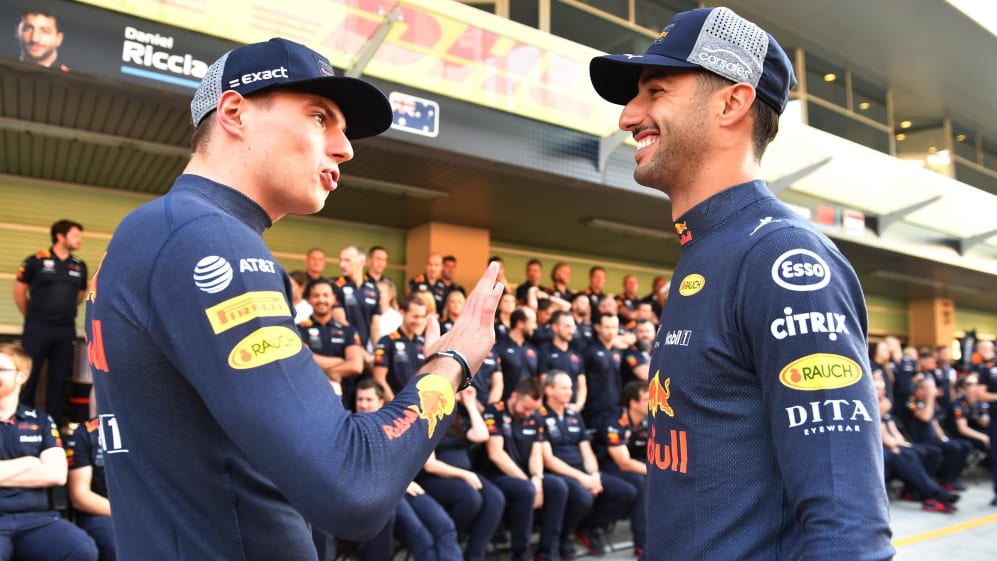 They were dynamite on the track and bantersome off it – but Red Bull's pairing of Max Verstappen and Daniel Ricciardo parted company at the end of the 2018 Abu Dhabi Grand Prix, Ricciardo heading off to Renault while Verstappen prepares to lead Red Bull's Honda-powered attack in 2019. But both drivers were full of praise for each other and their time together as team mates as they prepared to go their separate ways.
Verstappen originally joined Ricciardo at Red Bull ahead of the 2016 Spanish Grand Prix, straight-swapping with the out-of-sorts Daniil Kvyat, who was demoted back to the Toro Rosso team that he'll rejoin once again in 2019.
In their 58 Grand Prix-stint together, Ricciardo and Verstappen shared nine wins between them, including a one-two finish at the 2016 Malaysian Grand Prix. And speaking at their final race together, Ricciardo revealed that the presence of the prodigious Dutchman in the team had helped raise his game to new levels.
"I think the competitive rivalry, it's probably the first team mate… well, I don't want to say that because I don't want to disrespect anyone else, obviously Seb [Vettel] was class, but one of the first team mates [where] you can't afford to have a bad day," Ricciardo told Sky Sports' The F1 Show.
"That competition – I feel we're so often closely matched that if you have a bad day, you're getting beat, where in the past, you could get away with it a few times and still end up in front. So just having to be on your game all the time – I think that's brought out the best in us."
Like most team mates, the two drivers also endured harder moments too, Verstappen taking Ricciardo out of the 2017 Hungarian Grand Prix – which led to the Australian giving his team mate the finger as he trudged back to the pits – while at 2018 Azerbaijan Grand Prix, the pair dramatically crashed out of fourth and fifth positions, having spent the race ducking and diving aggressively around each other. Still, as Ricciardo revealed, despite what was at stake, the two drivers' relationship managed to remain remarkably harmonious.
"To be honest, considering how competitive we are, we actually get on surprisingly well," he said. "Normally I feel people like us would clash a lot but, I don't know, we've always got on pretty well and only crashed twice, so that's not too bad in three years."
Verstappen, who out-scored Ricciardo for the first time over a season in 2018, believed that it was the open culture that existed between the two of them that helped to keep things friendly.
"In my career so far, I've never had a team mate where you just [straight away] get on," he said. "Daniel's very open. I think we have a lot of respect for each other and I think we can also honestly say to each other when someone does a better job."
There's no doubting the credentials of Pierre Gasly, the driver who's been promoted from Toro Rosso to race alongside Verstappen in 2019, and who's enjoyed an impressive first full season with the Italian squad this year. But whether harmony can reign at Red Bull the way it has done for the past three seasons with Ricciardo and Verstappen in the team's cars remains to be seen…