Feature
5 things we learned from Friday practice at the Azerbaijan Grand Prix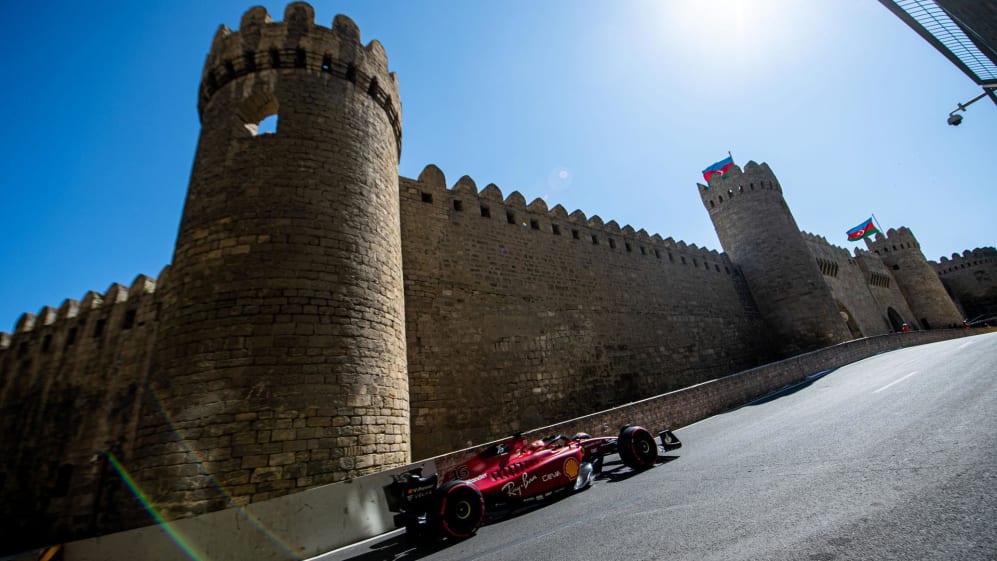 There's always going to be a compromise when it comes to set-up in Azerbaijan as the Baku City Circuit is effectively two different tracks stuck together – a tight and twisty section and then some long straights with 90-degree corners. So how did the teams cope? Here are five things we learned from the two sessions…
1. Ferrari in the fight for pole and win
While Red Bull have more straight-line speed, Ferrari are stronger in the corners. You can see on the data that in qualifying trim, the red cars are around two tenths of a second quicker in the tight and narrow sector two.
And it seems there's nothing to choose between the two approaches. Ferrari are on top in both qualifying and race metrics (below), but it's very fine margins.
FP2: Leclerc heads Red Bulls by over 0.2s in second Baku practice session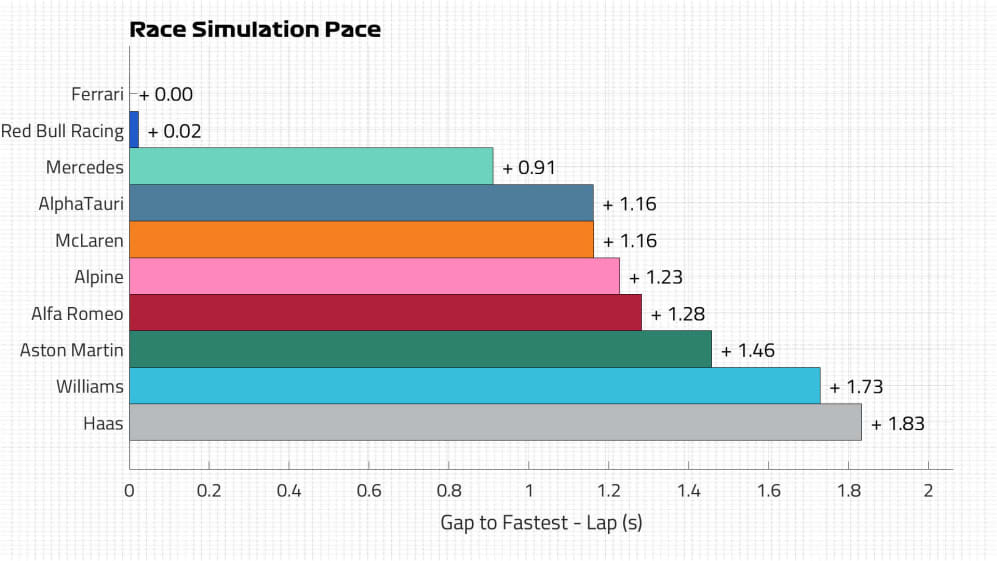 Ultimately, it's going to come down to which driver out of the top two teams does the best job on the day as to whether you'll be on pole or down in fourth. And then it's going to be down to good strategy and being operationally on point to convert that grid slot into victory on Sunday.
Had Carlos Sainz hooked up all his best mini sectors, the Spaniard would have ended second in our ideal lap rankings (below), three places higher than he was classified, the Spaniard leaving more than a second out on track.
His team mate Charles Leclerc has around half a second in his pocket, too, and could have been even further ahead in qualifying trim. These two could be very strong here this weekend.
READ MORE: Leclerc ends Friday on top but hopes for 'another step' as he braces for Verstappen challenge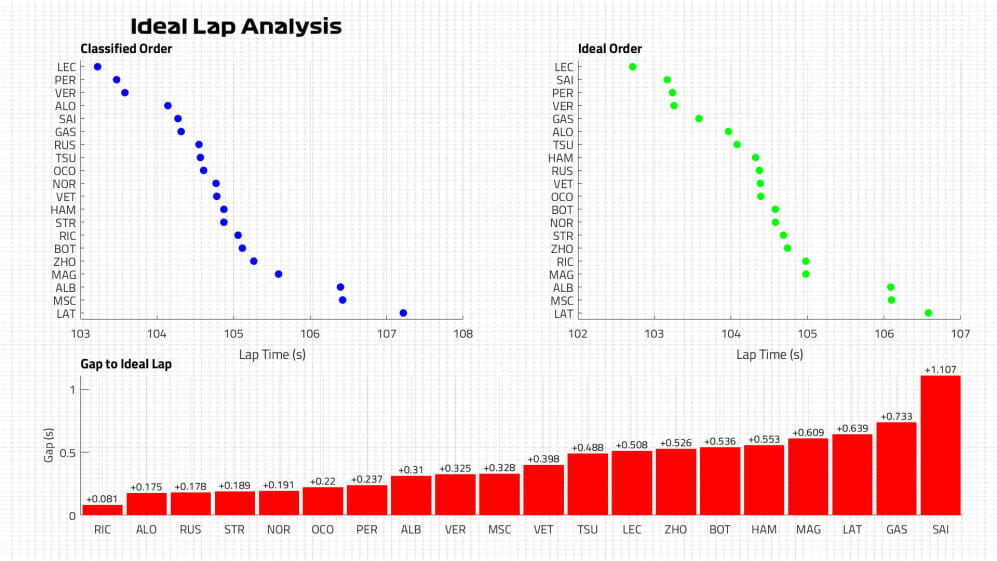 2. Red Bull look strong, but DRS an issue again
Red Bull arrived in Baku as favourites and while it wasn't the smoothest of days for the four-time world champions, they are still very much in the fight for both pole position and the win on Sunday, based on their Friday.
Sergio Perez, buoyed by his epic performance in Monaco and a fresh deal with Red Bull, was on fire from the off in first practice – but changes between sessions had a negative impact, so there's a bit of work to go through tonight.
READ MORE: Red Bull pair confident they can close up to Ferrari in Baku despite 'tricky' Friday
For Max Verstappen, we don't know his ultimate pace because yellow flags prevented him from doing clean soft-tyre, low-fuel runs. He also lost track time in FP2 while Red Bull worked to fix a DRS issue that hampered him in the first session.
Nonetheless, there's nothing to choose between them and Ferrari when it comes to qualifying pace (below). And it's even closer in race pace, just 0.02s separate them.
Breaking it down more, they are further adrift in the first two sectors but nearly a tenth clear in the final sector, which is essentially full throttle.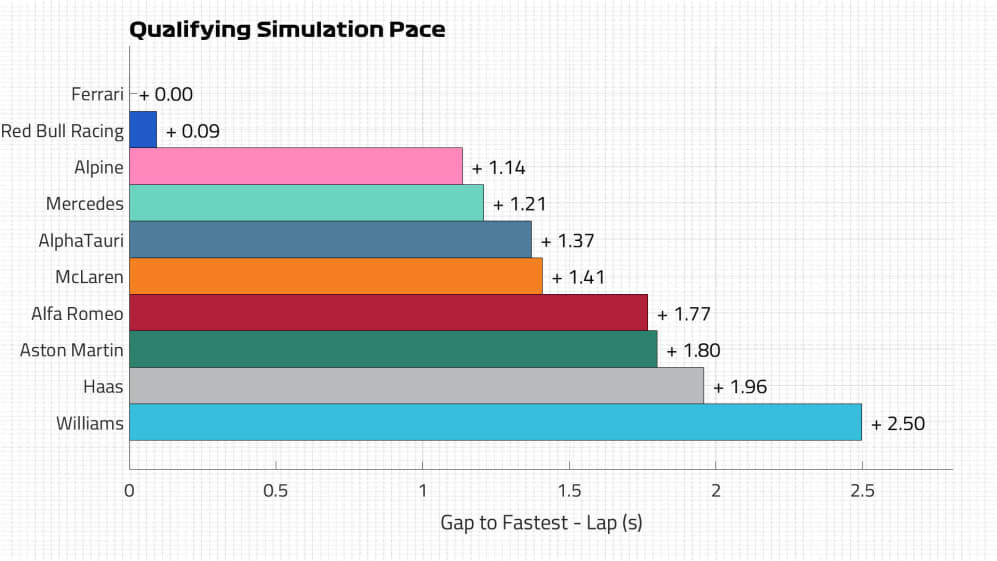 3. Alpine look sharp as AlphaTauri bounce back
Fernando Alonso ensured Alpine were in the top-five in both practice sessions on Friday. The team brought a hefty upgrade to Baku and, as Alonso said, they "seem fast", particularly on the straights, which is helped in part by their very skinny rear wing.
Their qualifying pace – which has been their strength all season – looked very good. They're third in that ranking, albeit just over a second adrift of Ferrari and Red Bull. It looks less good in terms of race pace, they drop to sixth overall behind Mercedes, AlphaTauri and McLaren – but their advantage on the straights (below) will make them tricky to overtake.
READ MORE: 'We seem fast' – Alonso pleased with Friday performance in Baku after set-up choice helps him to P4 in FP2
Their biggest threat for the 'best of the rest' accolade look like AlphaTauri, who had one of their cleanest Fridays of the year, with both Pierre Gasly and Yuki Tsunoda solidly in the top 10. They may be fifth in qualifying trim, but it's very close with those around them – and providing they continue that momentum into the weekend, points should be on the cards.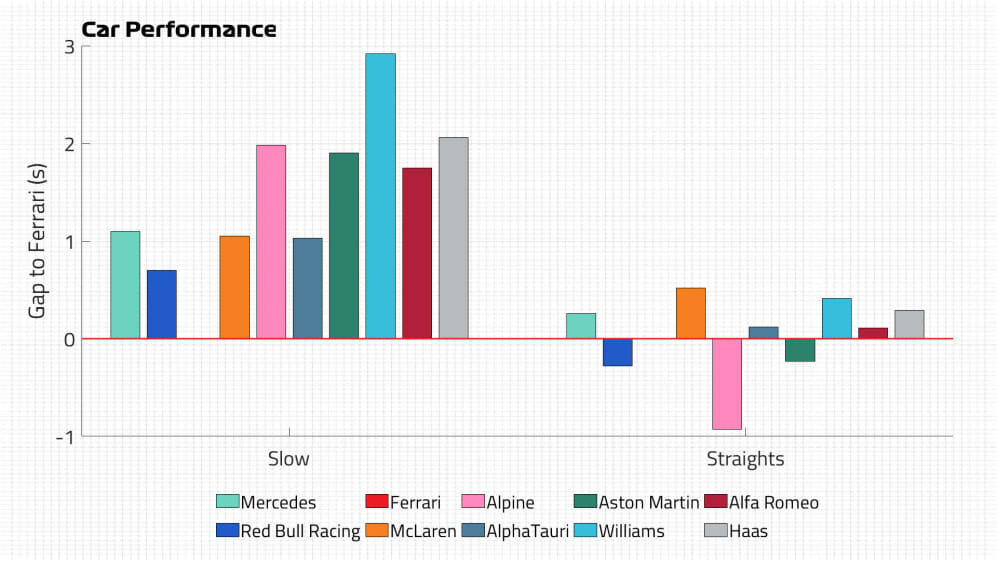 4. Mercedes in a spot of bother
This is going to be a challenging weekend for Mercedes after they endured a chastening Friday practice which their trackside chief Andrew Shovlin says has left them "looking for some fundamental improvements" overnight.
Both Lewis Hamilton and George Russell were left disheartened with how the car felt, the ride on the straights particularly uncomfortable. The W13's straight-line speed was disappointing, but Shovlin believes some of that loss was due to the car "hitting the ground" on the straights.
READ MORE: Red Bull and Ferrari are 'too far ahead' says Russell as Mercedes end Friday practice looking for pace
They were stronger in the warmer conditions of FP1, but lost ground and struggled more for grip when it cooled for the second session. On one-lap pace, they're fourth behind Alpine and a fraction ahead of AlphaTauri and McLaren.
In terms of race trim, they are up to third but they are still nearly a second per lap slower than Ferrari and Red Bull, meaning challenging for a podium in a conventional race looks difficult at the moment.
5. The City of Winds lives up to its name
As Lando Norris said, "Baku is hard enough normally" without the extra challenge of some pretty hefty winds. In FP1, there were gusts of 35-40km/h, which Norris said felt "nasty" and meant it was difficult to be consistent and find a good balance.
His team mate Daniel Ricciardo said the wind was so bad "it looked like we couldn't drive straight!" and he was "getting thrown around a lot".
It was a problem for everyone, several getting caught out by gusts which frequently changed directions, and that sent them into the run-off areas.
While the wind died down in second practice and is expected to ease as the weekend goes on, it'll still be a factor.