Feature
5 things we learned from Friday practice at the Qatar Grand Prix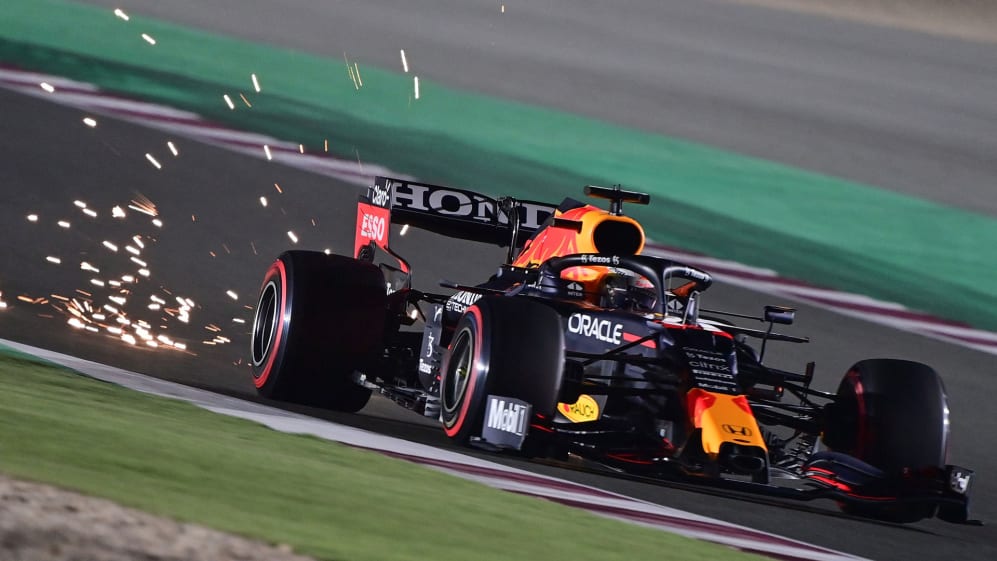 Cool. Awesome. Fun. That's how the Losail International Circuit was described by the drivers after they sampled it for the first time in opening practice for the Qatar Grand Prix. Here are five things we learned from Friday's running…
1. Mercedes have the edge after opening salvos
They may have had their request for a right to review of the Sao Paulo GP's incident between Max Verstappen and Lewis Hamilton rejected, but Mercedes will still be heading into the Qatari evening with a spring in their step after their efforts on Friday.
Across both the warmer first practice session and cooler second session, when conditions were more representative of qualifying and the race, it was the Mercedes who started off on the stronger foot. The team started both cars with different set-ups as they weren't sure what to expect from the new track – and it was the one on Bottas' car that emerged the stronger.
READ MORE: Stewards deny Mercedes request for 'Right of Review' over Verstappen-Hamilton clash in Brazil
They held the edge over one-lap pace and in race simulations (below), based on our data, and were quicker than Red Bull in slow, medium and high-speed turns. Valtteri Bottas, who topped the times on Friday, was the happier of the two silver cars – and the Finn has the most to gain if he can hook up all his best mini sectors, having left 0.462s on the table.
The 10-time race winner, bound for Alfa Romeo next year, said the balance "felt good" and he reckons they are "not far off the sweet spot". Hamilton, running what turned out to be the less impressive set-up, felt he has more work to do – but with a huge haul of laps on the board and Bottas' data to work off, too, the reigning world champion is looking in good shape.
WATCH: Ride onboard with Valtteri Bottas in Free Practice 2 as he sets the fastest lap at Qatar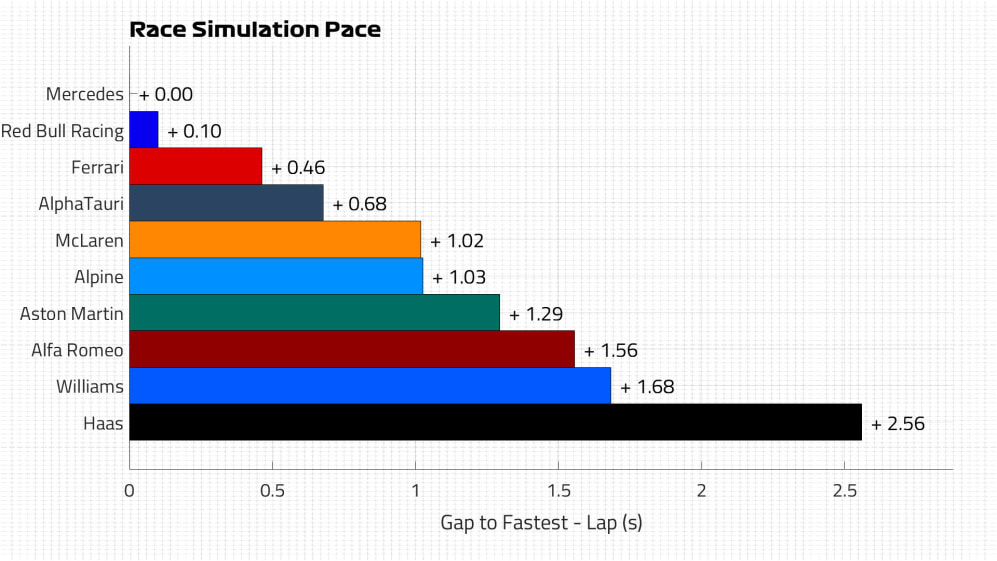 2. Red Bull are in the fight for pole and victory
Of the two title-contending teams, it's Red Bull who appear to have more to do on Friday evening, with both Verstappen and Sergio Perez saying that while the car felt decent on the medium, they have a lot of work to do on the soft.
That said, Perez – who is one of only two drivers on the grid to have raced four wheels around Qatar's Losail track (Nikita Mazepin is the other) – reckons the "margins are very small" so he is hopeful the team can come back strong in both qualifying and the race.
And it's not just wishful thinking. They are just 0.07s behind Mercedes in qualifying trim (below) and a fraction more – 0.1s – adrift in race pace – but they have healthy advantage over the rest of the field. Those are certainly the kind of margins which can be overcome over Friday night.
READ MORE: Verstappen says Qatar is a 'lot of fun' – and addresses Brazil Lap 48 fallout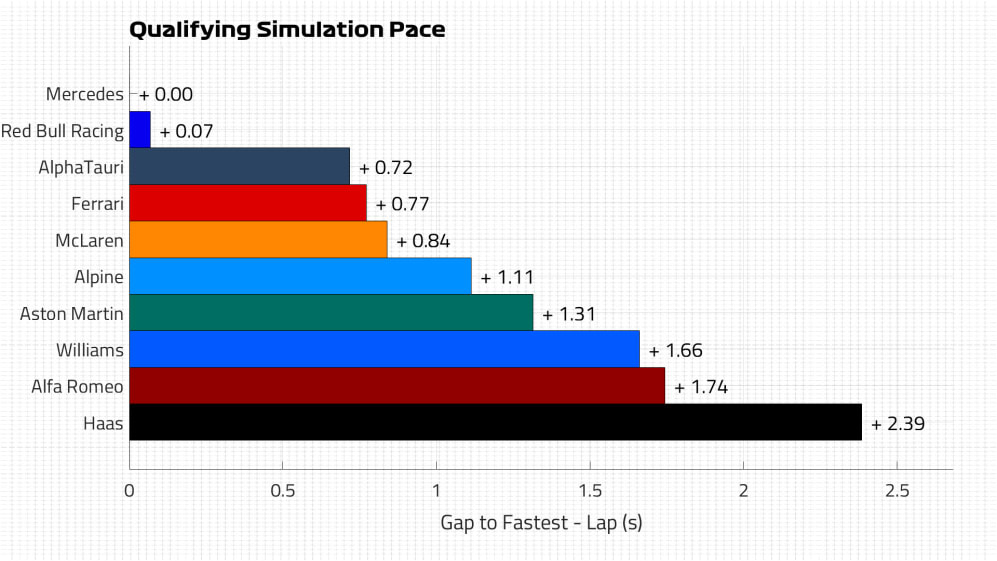 3. AlphaTauri raise eyebrows with strong pace
Franz Tost was in a confident mood when we chatted on Friday, the AlphaTauri boss saying the AT02 is the best car his Faenza factory has ever produced and that he believes it is a fast enough package to beat Alpine to secure fifth in the constructors' championship – and achieve his long-time dream.
And that confidence was rewarded as Pierre Gasly set the second fastest time of the day. Our simulations say they have the third best car, a fraction ahead of Ferrari, in qualifying trim (above). And while they fall behind their Italian rivals in the race simulation metric, they have a healthy three-tenths advantage over Alpine.
In our ideal lap data collection (below), Yuki Tsunoda would have finished fifth had he got all his best mini sectors together – which would have put both AlphaTauris inside the top five. It's early days still, but Tost's team have hit the ground running and are in the box seat to take a chunky haul of points away with them from Doha.
READ MORE: Gasly hails 'best Friday of the season' after finishing P2 in both Friday practice sessions in Qatar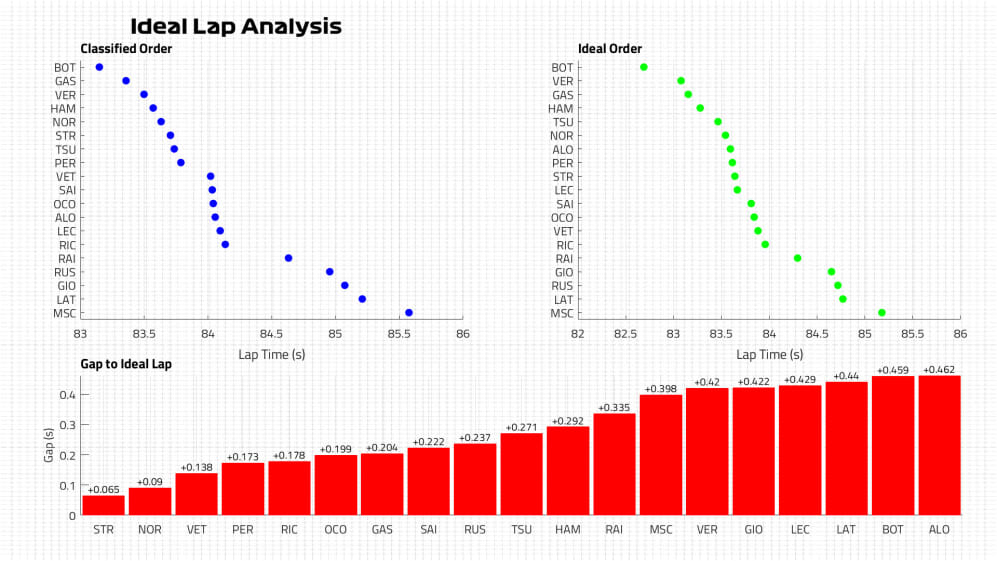 4. Ferrari edging McLaren in battle for P3
Lando Norris put McLaren on top in their private fight for P3 with Ferrari, the Briton surprising himself with the speed he demonstrated in Friday practice, ending up sixth overall. His quickest time was only 0.09s slower than what our data says was his ultimate lap time (above).
However, our data suggests it is Ferrari who are in the best shape across both qualifying and race pace. It's small margins on low fuel, Ferrari edging it by 0.07s, but the Prancing Horses stretch their legs when the fuel is piled in, extending that advantage to more than half a second.
They are evenly matched in the slow-speed turns, with McLaren having the edge in the medium-speed corners and Ferrari ahead in the faster stuff. Once again, this should be a fascinating battle come Sunday afternoon.
READ MORE: Ferrari drivers say they have to claw back qualifying pace after tricky opening day in Qatar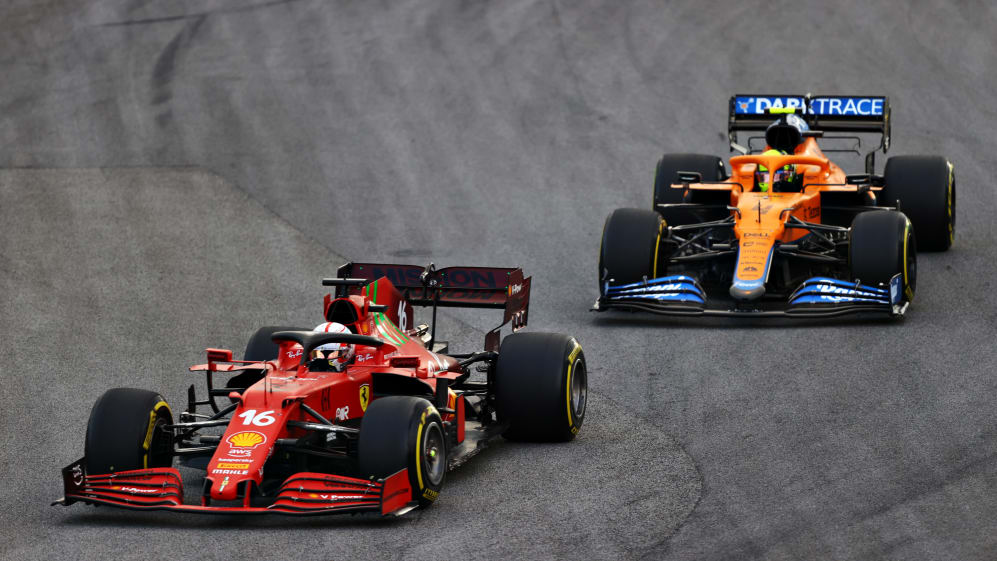 5. Losail circuit gets the thumbs up from drivers
With Qatar at the end of a triple-header, there wasn't the time or opportunity for some drivers to experience the track on the simulator. And that put extra emphasis on their Thursday track walks. But for some, like Sebastian Vettel (below), it was all about turning a wheel to really get a feel for the newest addition to the calendar.
Haas driver Nikita Mazepin said it usually only takes 10-15 laps to learn a new track – and as expected, the times tumbled as the day went on, with drivers quickly getting used to the new fast-and-flowing 16-turn track, which reminded many of Turkey's Istanbul Park.
READ MORE: Mazepin frustrated by chassis damage that ruled him out of FP2 in Qatar
There was plenty to contend with beyond learning the track, with the wind playing a big factor and leading to several drivers getting caught out and skating off track, either through the run-off or the gravel traps.
The track was also very dirty and dusty, owing to being in the desert, and that combined with plenty of high energy corners meant as expected, there was high wear on the left front, particularly the soft.
But when speaking to media after two hours of track running, the driver reaction to the circuit was overwhelmingly positive, with the high-speed nature of the layout – which included a multi-apex trio of corners – going down a treat. It should deliver quite the spectacle in qualifying and hopefully the race on Sunday.
QATAR GRAND PRIX – Read the all-new digital race programme here