'A day he'll never forget' – Alonso lauds team mate Ocon, 18 years after own maiden win in Budapest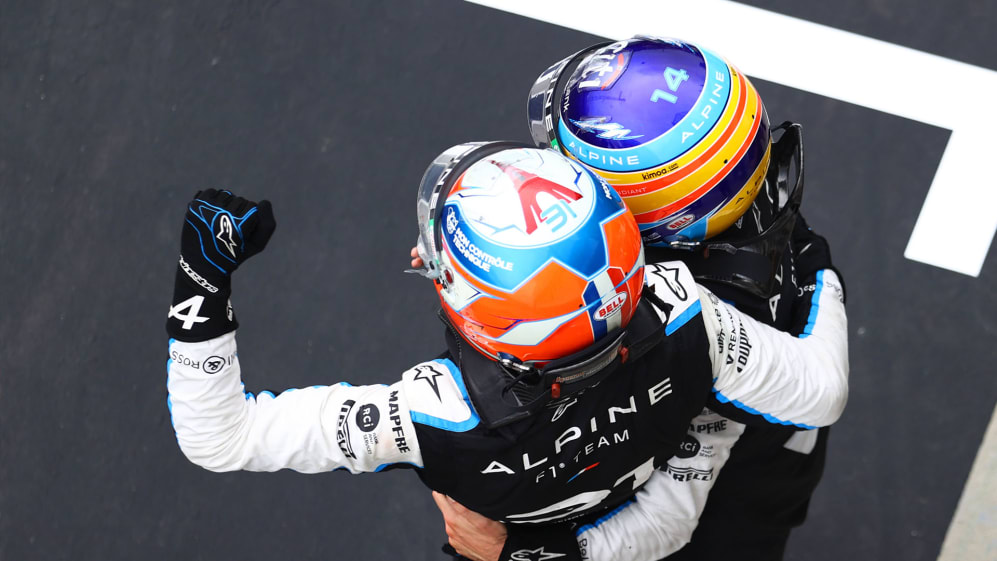 Eighteen years on from taking his own maiden victory at the same Hungaroring track – and with the same Enstone squad – Fernando Alonso was full of praise for his Alpine team mate Esteban Ocon, after the Frenchman claimed his own first Formula 1 win at the 2021 Hungarian Grand Prix.
Ocon was the luckier of the two Alpine drivers at the start of the race, emerging in P2 after a chaotic opening corner, as Alonso took P7 – while Ocon then inherited the lead after a Mercedes strategy error forced Lewis Hamilton to pit.
But with Alonso able to climb to fifth at the flag, which became fourth after Sebastian Vettel was disqualified, and having valiantly held off the attack of Hamilton in the closing stages, a factor which may have prevented Hamilton challenging Ocon for victory – Alonso lauded the work of both his team mate, and his Alpine team.
READ MORE: Ocon beats Vettel to claim shock maiden victory in action-packed Hungarian Grand Prix
"I'm super, super happy," said Alonso, who held his team mate aloft in an emotional parc ferme moment. "Not only for Esteban, because it is a day that he will never forget, the first victory. But for the guys, all the people in Enstone, in Viry, they're working flat-out and the results are not easy to come by.
"We're in a very, very tough and competitive environment in Formula 1, so to have this kind of result is a motivation for everybody.
"It's a lucky place for Renault and now Alpine, so thanks Budapest, thanks Hungary," added Alonso, who also earned the Driver of the Day plaudits from F1 fans. "We have some kind of history in this track. Winning with Renault in 2003 and now winning as Alpine in 2021… We'll take it. Sometimes we've been lucky, sometimes unlucky, today was a lucky one, and we have to maximise these days."
READ MORE: 'Esteban made the difference' - Vettel heaps praise on Ocon after being forced to settle for second in Hungary
Alonso might have been gracious towards Ocon – but he admitted that he'd felt a pang of regret at not being able to take a podium himself, believing that the start had ultimately ruined his chances of making the rostrum, which Ocon shared with Sebastian Vettel and Hamilton.
"It was a tough, a very long race, fighting all the way through," said Alonso. "Unlucky at the first start… I was on the outside, today that was the wrong choice. I saw cars crossing from the inside to the outside… everything was a mess in that moment, and I was there on the outside.
"When I tried to re-join the track, another three cars collided, with [Lance] Stroll and [Charles] Leclerc. So that unlucky moment dictated the rest of the afternoon, because I was seventh and you cannot fight for the podium anymore.
WATCH: Huge drama on Lap 1 in Hungary as five cars are knocked out at first corner and race is red flagged
"But nevertheless, top five is the best result of the year for me, and [Esteban] winning the race for the team is the best result ever! We tried. But I would one day love to be lucky enough to be on the podium."