Report
Ocon claims shock maiden victory in action-packed Hungarian Grand Prix, as Vettel disqualified from P2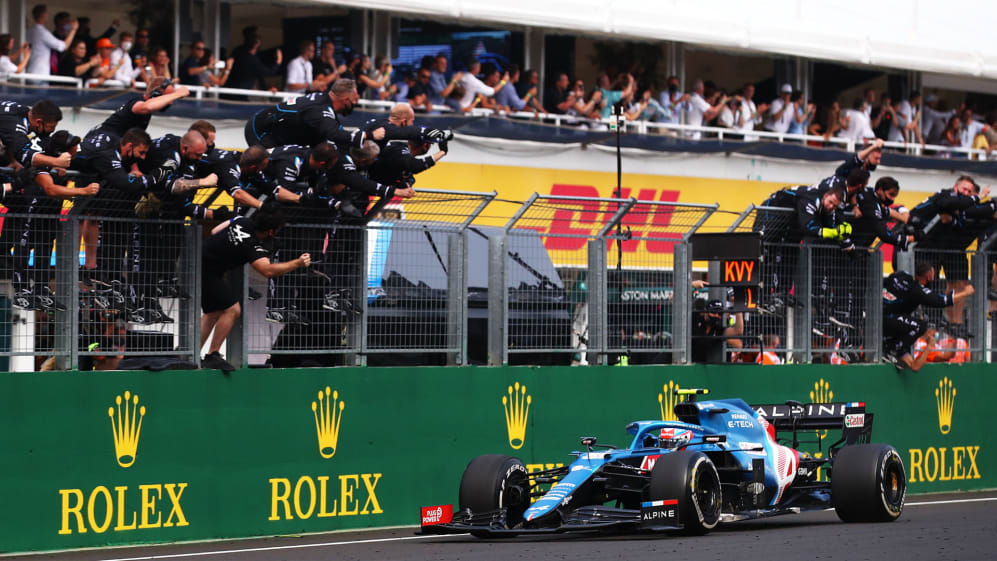 Alpine's Esteban Ocon has claimed his maiden Formula 1 victory in what was without doubt one of the most thrilling Hungarian Grands Prix of all time, ahead of Aston Martin's Sebastian Vettel – while Lewis Hamilton recovered from being last at one point to claim P3, as Max Verstappen could only take 10th after Lap 1 contact in a crash that triggered a red flag.
However, there was drama late in the day after the race as Vettel was disqualified when race officials could not extract the necessary fuel sample from his car, promoting Carlos Sainz to the podium and bumping the rest of the field up one spot each.
A wild and wet start to the Hungarian Grand Prix saw five drivers eliminated on the first lap, as Valtteri Bottas locked up and wiped out Lando Norris and Sergio Perez – as well as hitting Verstappen – while Lance Stroll also locked up and hit Charles Leclerc, who spun around Daniel Ricciardo, with Bottas, Perez, Norris, Stroll and Leclerc all forced into retirement as the race was red flagged.
READ MORE: Bottas handed five-place grid drop for Belgian GP for triggering Turn 1 crash in Hungary
Polesitter Hamilton had made it through unscathed, but Mercedes misjudged track conditions at the race restart, keeping Hamilton out for the standing start on intermediates as the entire rest of the field pitted for mediums, Hamilton forced to pit a lap later and dropping to the back of the pack.
That allowed Ocon to take a lead that he'd hold for almost all the 70 laps at the Hungaroring, holding off the race-long advances of Vettel to take his first single seater win since 2015, as Vettel secured his second P2 of the season after a fine drive.
FORMULA 1 ROLEX MAGYAR NAGYDÍJ 2021
Hungary
2021
Race results
POSITION
TIME
POINTS

1

Esteban

Ocon OCO

Alpine

2:04:43.199

25

DQ

Sebastian

Vettel VET

Aston Martin

+1.859s

0

2

Lewis

Hamilton HAM

Mercedes

+2.736s

18

3

Carlos

Sainz SAI

Ferrari

+15.018s

15

4

Fernando

Alonso ALO

Alpine

+15.651s

12
A fantastic comeback from Hamilton saw him make what was effectively a two-stop race work to recover from P14 to third by the chequered flag, while Verstappen could only take P10, with damage from that Lap 1 collision hobbling his recovery, and allowing Hamilton to take the lead in the title race heading into the summer break.
Carlos Sainz had held P3 for much of the race but was forced to succumb to Hamilton three laps from the end, as he took fourth for Ferrari, ahead of Fernando Alonso in P5 to cap an incredible day for Alpine.
Pierre Gasly was sixth for AlphaTauri, ahead of team mate Yuki Tsunoda – while in a day of heart-warming stories, Williams claimed their first points since the 2019 German Grand Prix, Nicholas Latifi having enjoyed an awesome Lap 1 before taking P8 ahead of George Russell in P9, with Verstappen rounding out the order, at the end of one of the most epic Grands Prix in recent memory.
AS IT HAPPENED
Much was made after qualifying of how the tyre strategies of the Mercedes and Red Bulls might play out at the start, with both polesitter Lewis Hamilton and P2 man Valtteri Bottas set to start on the durable mediums, while behind Max Verstappen and Sergio Perez were set to go on the fast-starting, but less robust, softs.
Ultimately, that was all rendered moot by rainclouds that moved in over the Hungaroring in the build-up to the race, forcing the whole field to switch to intermediate tyres to start – and making for a thrilling beginning to the race.
Hamilton led the pack into Turn 1, but Lando Norris from P6 on the grid made a fantastic getaway, making his way past Bottas' Mercedes on the drag down to the first corner. The Finn, though, locked up as he tried to get his W12 slowed down, running into the back of Norris, who then cannoned into Verstappen's second-placed Red Bull, as Bottas slid into Perez's sister Red Bull, with Pierre Gasly having to take avoiding action.
READ MORE: 'Apologies don't change anything' – Norris hits out at Bottas as Finn admits he created 'a mess'
Further back, Lance Stroll took to the inside grass at Turn 1, but couldn't avoid running into Charles Leclerc's Ferrari, who then spun around Daniel Ricciardo's McLaren – with Bottas, Leclerc, Stroll, Perez and Norris all forced to retire as first a Safety Car then a full red flag was pulled, and with Bottas later handed a five-place grid drop for Belgium.
The start hadn't worked out for those drivers, but it made for an incredible top 10 at the Lap 4 restart (which took place 25 minutes after the red flag was flown): Hamilton from Ocon, Vettel, Sainz (who'd started P15), Tsunoda (who'd started P16), Williams' Latifi in sixth, Alpine's Alonso P7, the second Williams of Russell in P8, Alfa Romeo's Kimi Raikkonen P9 while Mick Schumacher found himself 10th for Haas.
Verstappen was now P13, having been forced to pit after his contact with Bottas – and with major damage to his right-hand barge board – with Gasly P11 and Ricciardo P12.
Hamilton led the field round on the warm-up lap – but warm was the word, the track having dried dramatically in the intervening time. Hamilton opted not to pit ahead of the restart, but the other 14 drivers still in the race all stopped for mediums.
LIVE COVERAGE: All the reaction to Ocon's maiden win in a drama-filled Hungarian Grand Prix
That created the bizarre sight of Hamilton alone on the grid as the five lights went out, as the rest of the field changed tyres and waited at the end of the pit lane. But it soon dawned on Hamilton and Mercedes that they'd made a huge mistake, as the field charged after the inter-shod seven-time champion at a rate of knots on the practically dry track.
That field was led by Russell, who'd jumped to P2 in the pits, but was then ordered to give the places back and fell back to P7. So as Hamilton dejectedly pitted at the end of Lap 4, it was Ocon who took over the lead from Vettel and Latifi, the Williams driver up to an incredible P3, ahead of Tsunoda in P4 and Sainz P5, as Hamilton rejoined 14th and last.
Nikita Mazepin, meanwhile, had retired after making contact with Raikkonen in the pits, for which Raikkonen was handed a 10-second penalty.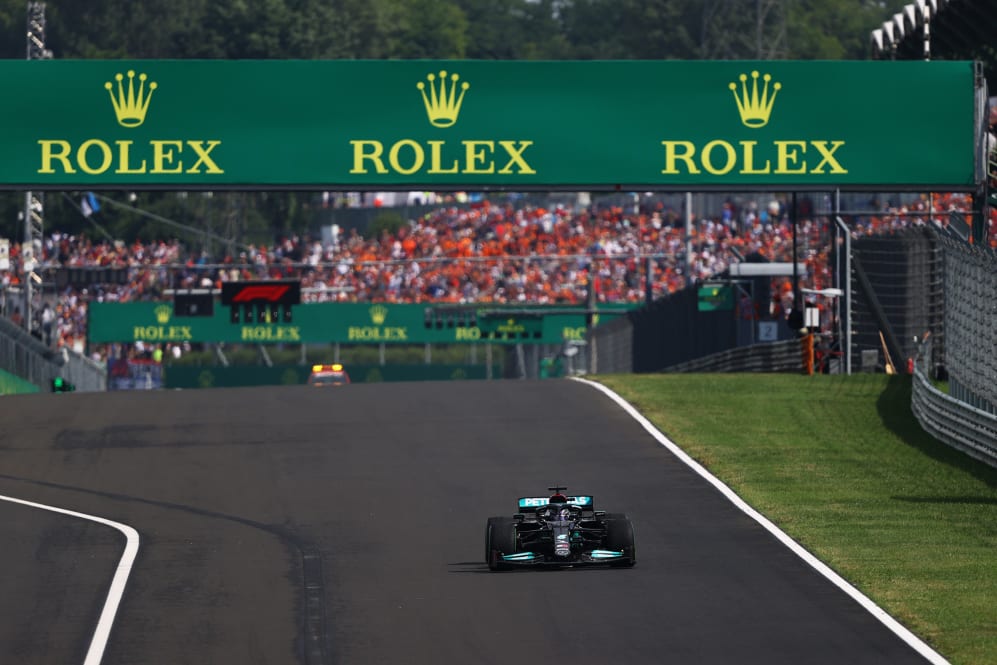 Verstappen was past Gasly for P11 on Lap 7, while Hamilton took Giovinazzi for P13 three laps later, but the going through the backmarkers was slower than either of the title rivals would have liked.
Mercedes decided to roll the dice with Hamilton, pulling him in for hard tyres on Lap 19. Red Bull covered the move a lap later with Verstappen, but the undercut from Hamilton meant that Verstappen emerged behind his rival, and stuck behind Ricciardo's McLaren to boot in P12.
Hamilton was told by Mercedes to put the hammer down, and quickly saw off Schumacher and Latifi to work his was up to P7 by Lap 28 of 70, while four laps later, he passed Tsunoda for P5 with a sublime move around the outside of Turn 4.
WATCH: Charging Hamilton overtakes Tsunoda at Turn 4
Verstappen was unable to make such progress with his hobbled Red Bull, the Dutchman stuck in a train behind Schumacher, Russell and Ricciardo. Up at the front, meanwhile, leader Ocon was doing a sterling job to hold off the advances of Vettel, the gap between the Alpine and Aston Martin yo-yoing between 0.3s and 2.0s throughout the opening stint.
After a breathless beginning to the Hungarian Grand Prix, by the halfway point on Lap 35 the order was Ocon from Vettel from Alonso – the front three yet to carry out their first major pit stops – with Sainz fourth having done his stop, ahead of Hamilton, Tsunoda, Latifi, Gasly, Russell and Ricciardo, with Verstappen 11th and 35 seconds behind Hamilton, Schumacher having been demoted to P12.
Second-placed man Vettel was pulled in by Aston on Lap 36 for hard tyres but was stopped for 3.3s and emerged P3. Leader Ocon pitted a lap later, his stop exactly a second faster, as he retained his net lead over Vettel in a crucial moment for the Alpine team. Down the order, Verstappen was pulled in for new mediums on Lap 40, but sounded listless on team radio as he complained of being able to do nothing with his "broken" Red Bull, as he emerged P12 before quickly passing Kimi Raikkonen for 11th.
ONBOARD: Latifi gains 12 places with incredible race start at Hungarian Grand Prix
Having climbed to P4, meanwhile, Hamilton made his second stop proper on Lap 47 for mediums, dropping to fifth before being instructed by engineer Pete Bonnington to give it "hammer time all the way" to the end of the race, while Toto Wolff even took to the radio to assure his driver that he could still win this race.
Nine laps to go, and the order was still Ocon from Vettel, Sainz, Alonso and Hamilton – Hamilton having tried and failed on successive laps to pass the Spaniard in a titanic battle between the pair. Behind, the AlphaTauris of Gasly and Tsunoda were sixth and seventh, ahead of the Williams pairing of Latifi and Russell – both cars running in the points in P8 and P9 – while Verstappen had finally made it up to 10th after passing Ricciardo.
Hamilton's assails on Alonso ultimately yielded P4 on Lap 65 after Alonso locked up at Turn 1, while the Mercedes driver was past Sainz two laps later, as he moved up into a podium position that had looked very unlikely at points on Sunday afternoon.
He would go no further than third, however, with emotional scenes as Ocon burst across the line for his first single seater victory since the first round of the 2015 GP3 season, the Frenchman running through the pit lane after stopping out on track, before being held touchingly held aloft in parc ferme by team mate Alonso – who by holding up Hamilton for so many laps may have played a crucial part in allowing Ocon that maiden triumph.
READ MORE: Ocon thanks Alpine team mate Alonso for 'fighting like a lion' to help him to maiden win in Hungary
Vettel finished a frustrated second, having been unable to get close enough all race to launch a proper move on Ocon for the lead – although worse was to come when the German was disqualified after the race for a fuel infringement, an unfortunate end to a great performance from Vettel. Hamilton's impressive recovery drive, meanwhile, allowed him to move to the head of the drivers' standings, with an eight-point lead over Verstappen heading into the break.
Sainz was initially annoyed to not take his second podium of the year, as he finished ahead of Alonso – before being promoted to the P3 after Vettel's disqualification – with the AlphaTauri pair of Gasly and Tsunoda moved up to fifth and sixth, Gasly having been allowed past the Japanese driver on Lap 49.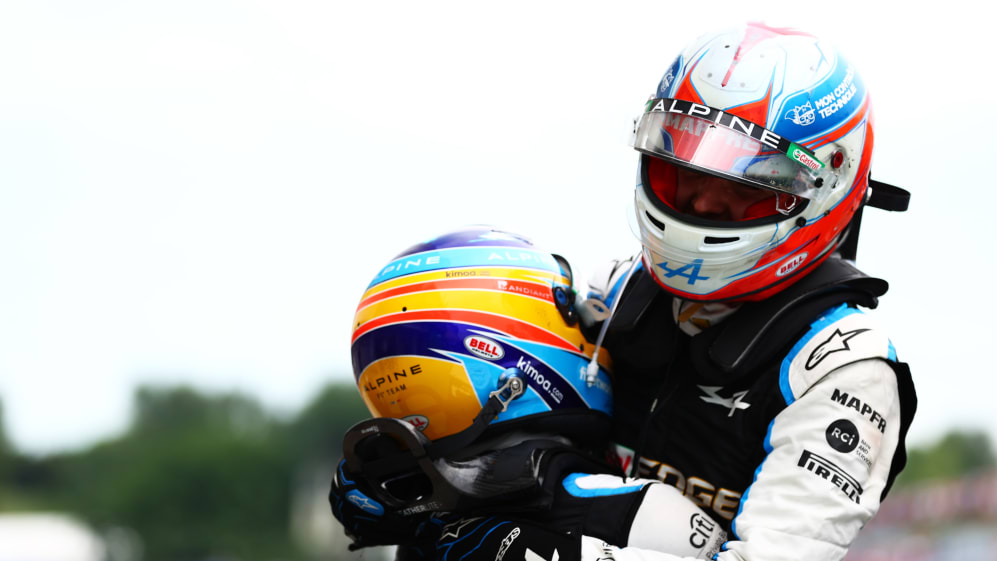 It was a fantastic day for Williams too, who having failed to score since Hockenheim 2019 claimed a double points finish, despite neither driver having made it out of Q1 on Saturday – Latifi the driver who claimed seventh ahead of Russell, as the pair scored their respective first ever points for the Grove team, and Latifi his first points in F1.
READ MORE: Vettel loses second-place finish in Hungary after disqualification for fuel sample issue
And then came Verstappen, who had been powerless to do better than P10 on the road (later bumped to P9) following his Lap 1 contact – although he at least had Gasly to thank for claiming fastest lap to prevent Hamilton outscoring him more – as Raikkonen, Ricciardo, Schumacher and Antonio Giovinazzi rounded out the order, Raikkonen promoted into the points after former team mate Vettel's DSQ.
So, there were dramatic movements in both the drivers' and constructors' standings in Hungary – Mercedes too taking a 12-point lead from Red Bull going into the summer break. But the day belonged to Esteban Ocon, who took an assured first win of his career, three years after being out of a drive in F1 completely.
The key quote
"What a moment. It feels so good. It's the first victory since the Renault group came back into Formula 1. We had some difficult moments this season that we overcame together with the team, we've come back to a fantastic pace in Silverstone and victory today.
"What can I say? It's fantastic, so congrats to Fernando as well because I think the win is also thanks to him with the fight that he did, his teamwork, all that. I think it's been a fantastic day" – Esteban Ocon, Alpine
What's next
After all that excitement, it's time for Formula 1 to put its feet up for a month or so, as we enter the enforced summer shutdown period. We'll be back for round 12, the Belgian Grand Prix at the iconic Spa-Francorchamps circuit on August 27-29.