Feature
What To Watch For in the Emilia Romagna GP: A Mercedes power struggle & a midfield dark horse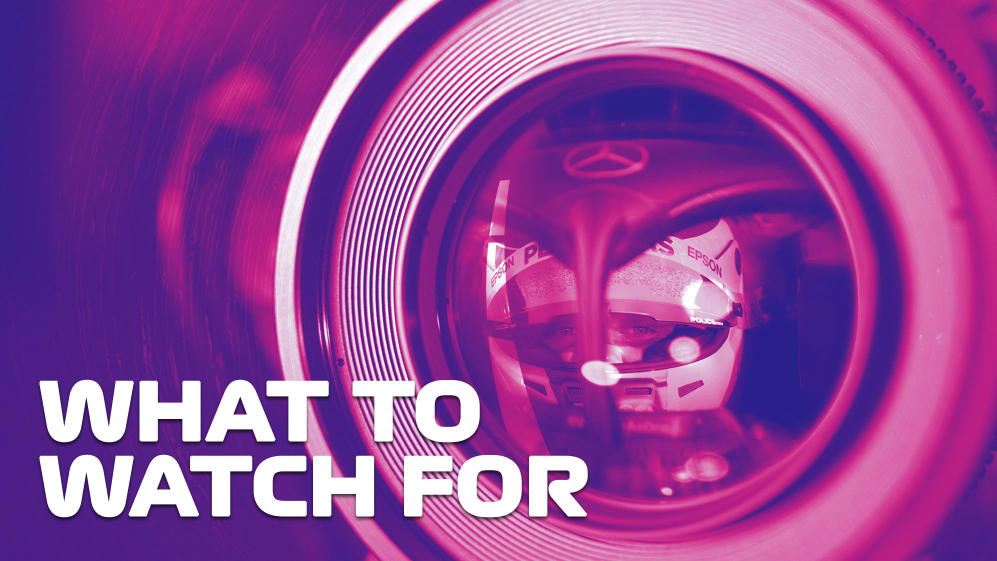 From Valtteri Bottas turning the tables on Lewis Hamilton to a Honda-powered fight, and dark horse Sergio Perez to a major chance of in-race penalties, we highlight five key points to keep an eye on in Sunday's race at Imola…
Can Bottas hold off Hamilton?
The Finn delivered when it counted in qualifying
Valtteri Bottas has found himself on the receiving end of a demoralising defeat a few times this season, particularly when he has looked good throughout practice and qualifying only to be pipped at the death by Lewis Hamilton. But in Imola, he was the one to turn things around late on.
With Hamilton on provisional pole, Bottas found the time he needed on his final attempt to take the 15th pole of his career, and it could prove to be a particularly crucial one.
READ MORE: Bottas beats Hamilton to take pole at Imola as Verstappen survives Q2 scare to take 3rd
Overtaking is expected to be difficult at Imola, where a long DRS zone towards the Tamburello chicane might help things, but the narrow track makes trying to pass even more tricky. So Bottas knows if he can retain the lead at the start it won't be an easy task for Hamilton to find a way by. But he might have to withstand a lot of pressure.
Verstappen vs Gasly on row two
The Frenchman equalled the best qualifying result of his career
Seeing Pierre Gasly lining up alongside Max Verstappen was not the most regular occurrence last season, and is one of the reasons why Gasly ended up losing his Red Bull drive. But he has turned his form around brilliantly and is one of the standout performers of 2020.
Gasly has finished in the top six in each of the last two races and celebrated (if we can call it that) confirmation of his future at AlphaTauri by equalling the best qualifying performance of his career. That means he will start alongside his former team mate in the Red Bull, and has a big opportunity to make a statement.
READ MORE: Gasly dedicates P4 at Imola to Senna after equalling best ever qualifying performance
Red Bull weren't convinced enough to promote Gasly again for next year, but the Frenchman does have the chance to go wheel-to-wheel with Verstappen in a fight for the final podium position this weekend.
Of course, Verstappen's focus is much more forward-thinking, as he showed strong race pace in practice on Saturday morning and will hope to threaten Mercedes rather than worry about Gasly. But a lot of that will hinge on the start, and it's a fascinating dynamic.
Even if Gasly doesn't get involved in a fight against Verstappen, he starts two positions ahead of the second Red Bull – and knows he will move ahead of Alex Albon in the drivers' championship if he outscores him.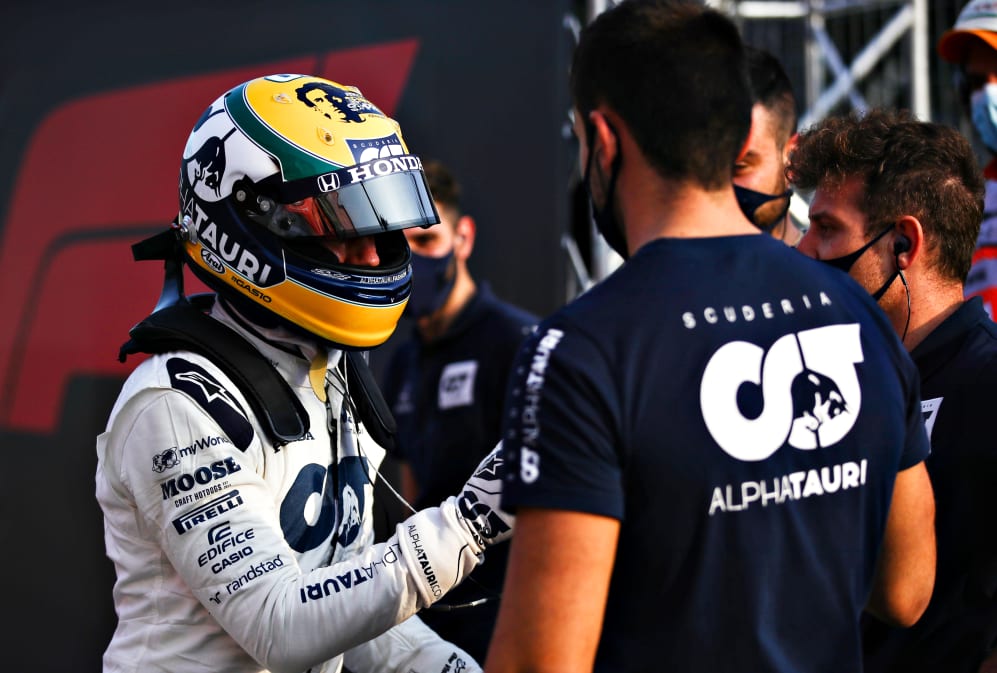 Perez in an unexpected but strong position
Racing Point lost both cars in Q2 but get a free choice on strategy
The midfield battle is fierce this year, and one of the knock-on impacts of a particularly strong weekend for AlphaTauri – with Gasly fourth and Daniil Kvyat eighth in qualifying – is that both Racing Point drivers ended up dropping out in Q2.
Given the raw pace the Racing Points have shown through much of this season, that was a surprise, but all is not lost for Otmar Szafnauer's team. Sergio Perez has the honour of being the first driver with a free tyre choice as he starts in 11th place, and he's likely to go for the medium. Just how important that could prove to be can be deduced from the fact that Mercedes, Red Bull and Ferrari all tried to advance out of Q2 on the medium to start on that tyre.
READ MORE: Perez hoping set-up compromise pays off in race as he makes rare Q2 exit in Imola
In the end, Albon and the two Ferraris had to switch to softs to advance, but Verstappen stuck with the mediums despite his own Q2 dramas leaving him with just one flying lap to advance, highlighting how important he felt it was to start on that compound.
If Perez can get a good start, you can expect to see him running much higher up the order once many of the top 10 make their first pit stops, and track position could be key.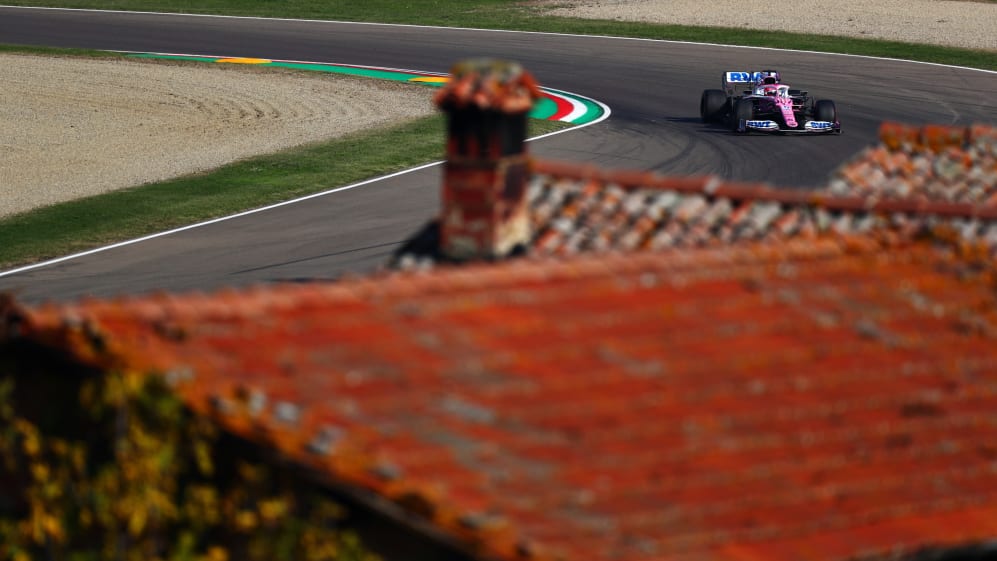 Costly penalties
Track limits have been another major talking point
Just when we thought we'd moved on from track limits controversies in Portimao, Imola has offered up a similar scenario. With just one practice session, drivers could only voice their displeasure about certain parts of the circuit ahead of qualifying, and that led to a change.
Turn 9 – Piratella – remains the most challenging spot for the drivers, where the white line denotes the track limit. If all four wheels leave the track here then a lap time is deleted, and like in Portimao, multiple deletions in the race will lead to a warning (in the form of the black and white flag) and then a time penalty.
READ MORE: Leclerc hails Gasly's 'amazing' qualifying lap as he's left a disappointed P7 at Imola
The exit of Turn 15 – Variante Alta – became more manageable after the track limit was moved to the outside of the exit kerb, but there's still a chance drivers could get penalised here too. And on top of all that, the corners where track limits aren't being enforced are left alone because the track will hand out the punishment.
Throughout Saturday we saw plenty of drivers running wide into the gravel at the final corner, and this is a crucial spot as you want to carry as much momentum as possible into the pit straight. Even if overtaking proves difficult, mistakes will be punished at Imola.
A race-defining start
Overtaking could be tough once the race settles down
You might have heard Lewis Hamilton's quotes after qualifying, with the championship leader full of praise for Imola as a circuit to drive, but worried it will not deliver an exciting race. That's because the speed of the corners and the width of the track in many sections make it tough to try and overtake.
Tyre degradation can play a big part so all hope is not lost, plus there will be penalties for drivers running wide, with those penalties coming in multiple forms. But the likelihood is the start will have a big say in how the race pans out for each driver.
READ MORE: Ricciardo sets sights on Gasly's P4 in critical start at Imola
It's a long run down to what is officially Turn 2, with the Tamburello chicane offering the first braking point. There's enough of a run to get a slipstream or to lose a lot of ground with a poor start, but it's still a fairly quick chicane that opens the lap, so it will be tricky for the field to get through cleanly. When drivers know how crucial track position is and are desperate to not give places up on the opening lap, then we've got the right ingredients for plenty of drama.