'A nice surprise!' – Norris pleased with unexpected Sprint Shootout pole as he voices confidence for race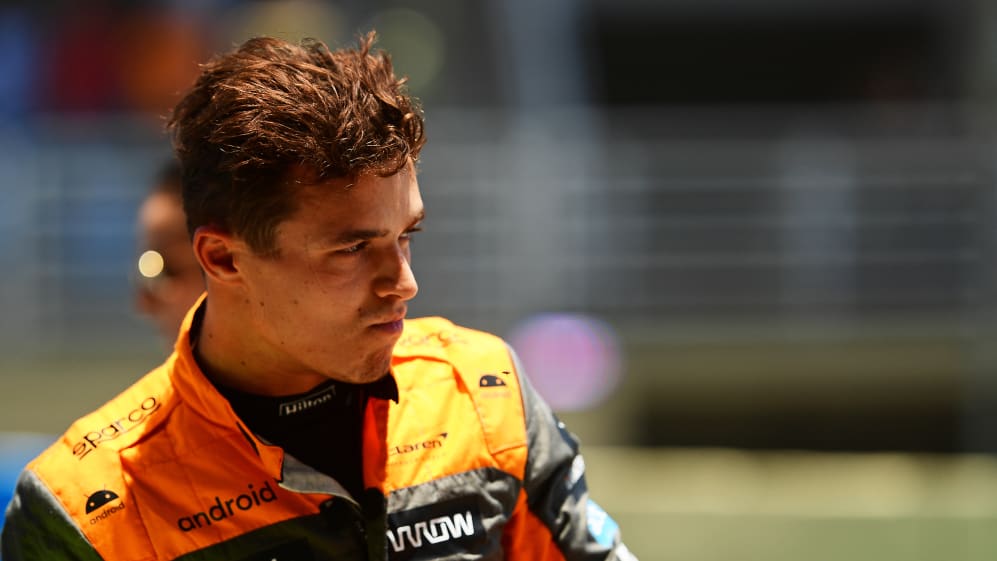 Lando Norris was left surprised to claim P1 in the Sprint Shootout at the Sao Paulo Grand Prix, but is hopeful for what he can achieve in the event after bouncing back from a disappointing Friday.
The McLaren driver had showed good pace on the opening day of action at Interlagos but got unlucky in qualifying, having been amongst the drivers at the back of the queue in the final segment of the session. With Q3 being red-flagged due to the increasingly stormy weather, Norris was unable to improve on his lap time and ended up in P7.
READ MORE: Norris claims P1 in Sao Paulo Sprint Shootout as he triumphs over Verstappen and Perez
However, it was a different story in Saturday's Sprint Shootout, which took place in warm and dry conditions. Norris set the pace in SQ2 before topping the timesheets in SQ3, with his lap of 1m 10.622s putting him 0.061s clear of Max Verstappen in second.
While the Briton had felt positive about the pace in the car throughout the weekend so far, he was still taken aback to take pole for the Sprint after struggling in some corners on the track.
When asked after the session how his lap was, Norris said with a laugh: "Not good! I just messed up Turn 1, I think that was the only real thing, the rest of it was not bad. Didn't feel amazing but just not bad.
"Turn 1 and Turn 2 have been like my nemesis corners all weekend, and I probably did my worst in Turn 1 and Turn 2 today in SQ3. I don't care, it was a good surprise, a nice surprise to be on top. Kind of where we should have been yesterday. It's a shame but we knew the pace was there, so I'm happy to put it together finally."
In terms of what he can achieve in the sixth and final Sprint of the 2023 season, Norris is bringing a sense of confidence into the event but remains wary of the challenge posed by Verstappen and third-placed Sergio Perez.
HIGHLIGHTS: Relive the best action from the Sprint Shootout in Sao Paulo as Norris claims P1
"I have two Red Bulls behind me who are always quick in the long runs," he explained. "Tough one but the pace is obviously there, the pace has been there all weekend which has been a good surprise for us, so we'll find out soon. It's just that no one's done any long running, or we haven't done any long-running stuff, so we have some questions to answer today and therefore for tomorrow, but I'm confident we can have a good race."
It was a more difficult session for Norris's team mate Oscar Piastri, who ended SQ3 in 10th place. The Australian had hit the track early and experienced a bit of a moment coming out of Turn 12.
Quizzed on his lap afterwards, Piastri commented: "It was very ordinary. Not a great lap really, the pace in the car was good, I just haven't been able to get it together but we'll see what we can do this afternoon."
Still in his rookie season in the sport, Piastri is racing at Interlagos for the first time in his Formula 1 career, meaning that having only one hour of practice in a Sprint weekend was adding to the challenge of learning a new venue.
MUST-SEE: Ocon and Alonso make contact in bizarre Sao Paulo Sprint Shootout shunt
"It makes life tough, especially in these kind of sessions where you're changing grip levels, changing tyres and, yeah, doesn't make life easy but it's not been that much of an issue previously, so it is down to me today," the 22-year-old conceded.
Looking ahead to the Sprint, Piastri hopes that the 100-kilometre dash can provide him with an opportunity to prepare for Sunday's race: "I think that will be the aim of this afternoon, to learn as much as I can for tomorrow. But yeah, definitely not going to be the easiest of weekends from here."