'A star is born' says Wolff, as he reveals cause of 'colossal **** up' that robbed Russell of victory on Mercedes debut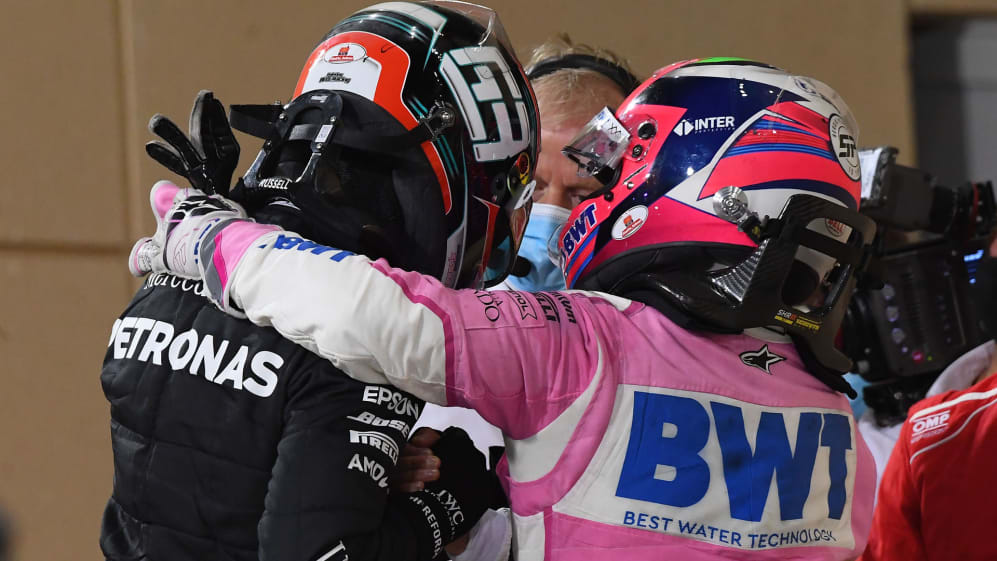 It could well have been George Russell rather than Sergio Perez who took his maiden victory at the Sakhir Grand Prix, had a not been for a radio issue that led, in Mercedes Team Principal Toto Wolff's colourful words – to a "colossal **** up" in the Silver Arrows garage.
Making his debut Mercedes appearance in place of the sick Lewis Hamilton, Russell had done sensationally well to beat pole-sitter Valtteri Bottas off the line, leading the Finn comfortably for the majority of the race and seemingly set to score a remarkable first win in the sport.
READ MORE: Russell expresses disbelief that maiden win was 'taken away from us twice' after Mercedes pit drama in Sakhir
But a decision to pit Russell and Bottas under a late Safety Car led to disaster, as Russell's Mercedes W11 was fitted with Bottas' front tyres due to a radio miscommunication and sent back out, forcing Russell to stop again for the right tyres a lap later. The Briton might then have salvaged victory, as he executed a string of brilliant overtakes to jump from P5 at the Safety Car restart to P2 – only for a puncture and pit stop to leave Russell P9 at the flag.
"For us, it was just a colossal f*** up," said an anguished Wolff after the race. "I'm not allowed to say that but it was. Simply one of the tyre crews didn't hear the call. We had a radio failure in the garage and when the car came in, then they didn't know that we had to change the tyres, or the wrong tyres and this is why we exited with the wrong set of tyres.
"I think we overall did a good job," Wolff added. "Technical failures happen, that wasn't any human error. We need to find out. We've checked it now, [the radio] is not functioning, but we don't know why. So these things happen and we have to learn from it."
In the aftermath of the race, Wolff radioed to Williams regular Russell – a Mercedes protégé who's been on the Silver Arrows' books since 2017 – to both apologise and to praise the Briton for a "brilliant drive".
READ MORE: Sergio Perez takes sensational maiden win in Sakhir GP as tyre issues ruin Russell's charge
And speaking after the race, Wolff commended the efforts of Russell – who finished just behind eighth-placed team mate Bottas, who in the pit stop confusion had been left defenceless on his used hard tyres – while appearing to suggest that the future for Mercedes could be bright in 22-year-old Russell's hands.
"Of course, it was very emotional because if you're in your first race in a Mercedes and you should have won it, actually, driving a monumental race, then there is not a lot you can say," said Wolff. "But it's not going to be his last attempt to win a race; it's just the beginning of a fairy-tale that didn't work out today, and I would say that a new star is born.
"I think Lewis is the absolute benchmark," he added, of the driver who Wolff is yet to sign a contract with for 2021. "That is what his record says and nobody's anywhere near him I believe. But today we've seen that there is a new generation coming up that can be really strong. They're very young, they're in their early 20s, so the sky is the limit."
READ MORE: Wolff says Hamilton contract negotiations on hold until 7-time champ returns to full health
Meanwhile, Wolff confirmed that, should Hamilton remain positive for Covid-19 in the days leading up to the Abu Dhabi Grand Prix season finale, Russell would once again be called in as his replacement, saying: "If the test is negative, then it's [Lewis'] car and then he will for sure drive a brilliant race. And if the test is [positive] then George is in the car."