Russell expresses disbelief that maiden win was 'taken away from us twice' after Mercedes pit drama in Sakhir
For the majority of the Sakhir Grand Prix, everything went right for George Russell, with the 22-year-old en course for a famous fairy-tale victory in his maiden Mercedes start. But then everything unravelled in heart-breaking circumstances for the Briton, leaving an inconsolable Russell 'absolutely gutted'.
Russell, standing in for Lewis Hamilton this weekend, dropped jaws around the world as he put his Mercedes second on the grid on Saturday and passed team mate Valtteri Bottas into Turn 1 as the lights went out on Sunday.
He then led the race with the composure of a veteran before in ironic circumstances on lap 63, the man driving Russell's Williams this weekend - Jack Aitken - tagged the barriers coming out of the final corner, triggering a Safety Car. Russell pitted as instructed, but was given Bottas's front tyres by mistake, forcing him to stop again a lap later to rectify the error.
READ MORE: Sergio Perez takes sensational maiden win in Sakhir GP as tyre issues ruin Russell's charge
Having dropped to fifth, Russell then charged up to P2 and homed in on Sergio Perez looking to regain his lead, only to suffer a puncture that left him ninth at the chequered flag.
"I don't know what to say, that was taken away from us twice," said Russell over team radio as he appeared to wipe away tears on his in lap. "It's been a pleasure and I've ****** loved it. And honestly, I'm gutted, I'm absolutely gutted..."
Russell was still smarting as he faced the media shortly afterwards.
"Yeah I can't really put it into words to be honest," he said. "Jumping out of the car, it wasn't a nice feeling to be honest. I've had races where I've had some victories taken away from me, but twice? I just couldn't believe that.
"I gave it everything I had. I was managing the race at the start, I was confident, comfortable in the opening laps just managing the gap to Valtteri then obviously we had the muddle up in the pitstop. That put us on the back foot – I had to overtake him."
Even more painful for Russell was that even after the initial pit stop drama, he still felt he could beat eventual winner Perez before the puncture dashed his hopes and put him down in P16 after his final pit stop.
"I still think we could've caught Sergio," he said. "We had a tyre advantage; car was so quick. [I'm] Gutted, but incredibly proud of what we've achieved and happy to have had the opportunity," he said.
The 22-year-old, who is more used to scrapping in the lower midfield with Williams, displayed maturity beyond his years with a pragmatic assessment of Mercedes' pit mistake.
"Yeah, that's racing. It's a team sport, we're all in it together," he said.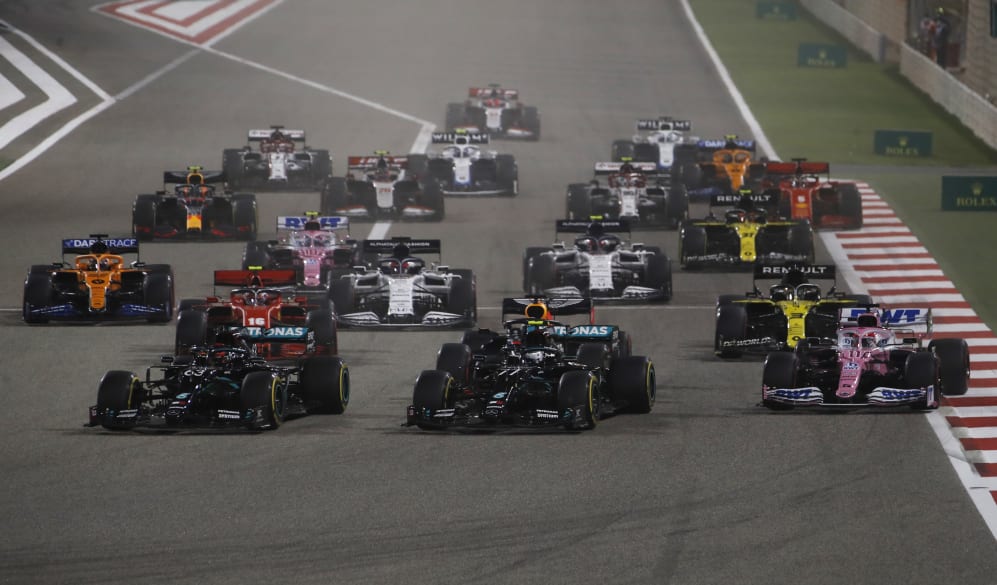 "Sometimes the driver messes it up. I have once or twice this year in the Williams. Sometimes it goes the other way. We learn from these things. It was an incredibly late call to pit as obviously the Safety Car came out seconds before I came into the pit lane, and obviously we got the tyres muddled up.
"Silver lining: I guess I got my first points in Formula 1," he added.
Russell now sits 18th in the standings having ended an agonising 37-race wait for World Championship points with ninth place and the fastest lap bonus point (as well as the fan voted 'Driver Of The Day' honours).
Even after the heartbreak in Sakhir, he still gave credit to race winner Perez – whose future in F1 is unclear as he leaves Racing Point at the end of the season.
"I want to say well done to Sergio. He's a great driver, he's been in F1 a huge amount of time and deserves a victory on the scoresheet. Maybe not the one from today as I feel like that was probably our one! He deserves to have this victory, he's never had the car underneath him, this car he's got this year is great and I'm happy he's got that chance," concluded Russell.
Sadly for Russell, there could be yet more drama to come, with Mercedes awaiting the results of a post-race investigation into their misuse of tyres.