Report
Sergio Perez takes sensational maiden win in Sakhir GP as tyre mix-up ruins Russell's charge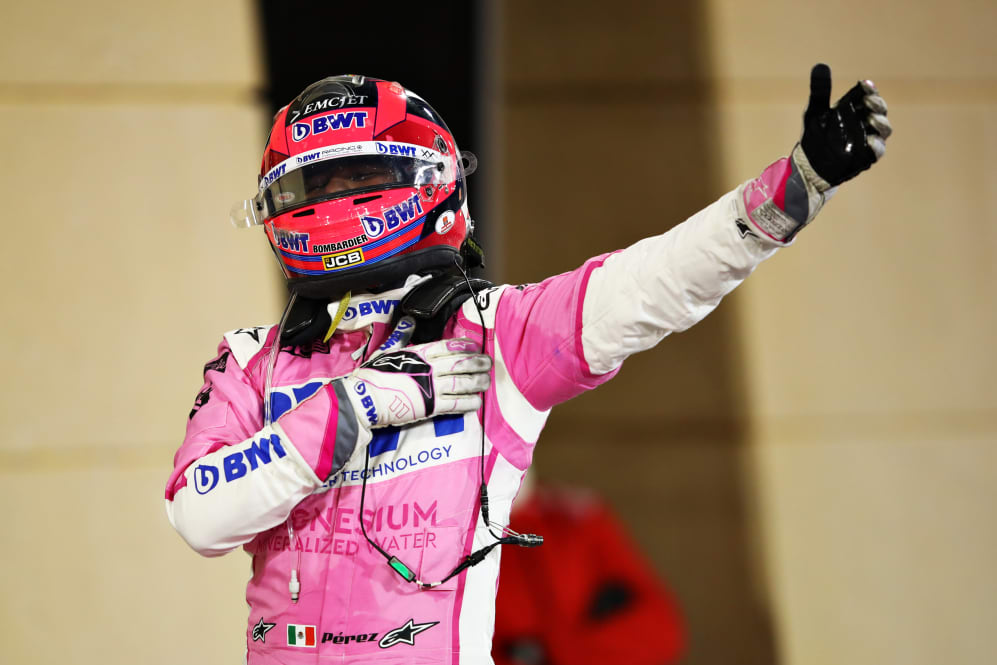 Sergio Perez's F1 future may be uncertain – but whatever happens, the Mexican is now an F1 winner, after he benefitted from a nightmare Sakhir Grand Prix for Mercedes to claim his first ever Formula 1 victory, as Renault's Esteban Ocon and Racing Point's Lance Stroll completed the podium on a wild evening in Bahrain.
It had initially looked as though George Russell was set to pull off an incredible maiden victory on his first outing for Mercedes, having aced the start to lead pole-sitter Valtteri Bottas for the majority of the Grand Prix. But Mercedes gave Russell the wrong tyres when he was pitted under a Safety Car on Lap 62 of 87, forcing another pit stop to correct the error – while Russell then suffered a puncture that left him P9 at the flag for what was at least his first ever F1 points finish.
READ MORE: 'I hope I'm not dreaming' – Perez rendered speechless after ending 190-race wait for victory
On his 190th F1 start, Perez had been forced to pit at the end of Lap 1, dropping to last place after getting caught up in a Turn 4 crash that eliminated Ferrari's Charles Leclerc and Red Bull's Max Verstappen, and was due to be investigated after the race.
But an incredible turn of pace from the Mexican allowed him to benefit from Mercedes' pit error – which also left Valtteri Bottas on old hard tyres, the Finn coming home P8 – to sensationally claim his and Racing Point's first ever victory, a week after an MGU-K failure had robbed him of a podium.
FORMULA 1 ROLEX SAKHIR GRAND PRIX 2020
Bahrain
2020
Race results
POSITION
TIME
POINTS

1

Sergio

Perez PER

Racing Point

1:31:15.114

25

2

Esteban

Ocon OCO

Renault

+10.518s

18

3

Lance

Stroll STR

Racing Point

+11.869s

15

4

Carlos

Sainz SAI

McLaren

+12.580s

12

5

Daniel

Ricciardo RIC

Renault

+13.330s

10
After a difficult return to F1, Renault's Ocon claimed his first ever podium finish in the sport, with Stroll holding off a charging Carlos Sainz to take his second rostrum of the year, ahead of the McLaren driver and Renault's Daniel Ricciardo in P5.
READ MORE: Russell expresses disbelief that maiden win was 'taken away from us twice' after Mercedes pit drama in Sakhir
Alex Albon was P6 in the sole surviving Red Bull, ahead of the AlphaTauri of Daniil Kvyat.
The Mercedes pair of Bottas and Russell in their P8 and P9 positions led home the second McLaren of Lando Norris, who took the final point of what was a stunning evening in Sakhir.
AS IT HAPPENED
George Russell said that, starting P2, he would be happy if he reached the first corner in the top four, so circumspect was the Briton about the chances of getting the start procedure right in Lewis Hamilton's Mercedes W11.
He'd do better than that, enjoying a perfect launch to head the pack into Turn 1 ahead of Valtteri Bottas. The two Mercedes had crowded out the Red Bull of Max Verstappen going into Turn 1 – but as Russell scampered off at the front, Bottas ran wide at Turn 2, with Verstappen and the fast-starting Perez going line astern of the Finn as they charged down to Turn 4.
Verstappen was on the brakes early, but as Bottas made the corner, an opportunistic Charles Leclerc launched an attack up the inside of Perez at Turn 4. But the Monegasque failed to get his Ferrari slowed down sufficiently, banging into the Racing Point and spinning him around, as Leclerc – with left-front suspension damage – slithered into the wall.
Verstappen had taken avoiding action of the incident, but rolled onto the gravel and slid pathetically into the wall and out of the race himself, the Dutchman kicking the barriers in frustration after exiting his stricken Red Bull.
READ MORE: 'What did he expect?' – Verstappen says 'reckless' Leclerc has to accept blame over first-lap crash in Sakhir
That exciting opening gambit brought out the Safety Car, neutralising the field with the top 10 Russell, Bottas, Sainz – up from eighth to third – Ricciardo, Kvyat, Stroll, Gasly, Ocon, Sebastian Vettel and Lando Norris – who'd moved up from P19 to P10. Meanwhile, Raikkonen had also spun on Lap 1, putting him P17, one place ahead of Perez, who'd pitted for mediums after his contact with Leclerc, rejoining P18 and last – and with what looked like a long evening ahead of him just to try and recover some points.
Having nailed the start, Russell now needed to do the same at the Safety Car restart on Lap 7. He did so, helped by a charging Sainz filling the mirrors of Bottas, allowing Russell to escape once again at the front, as Sainz briefly got in front of Bottas before running wide at Turn 2 and allowing the Finn back past.
Perez, meanwhile, was a driver on the move, the Mexican jumping up from P18 to be P11 by Lap 15, and relishing in the high top speed of his Racing Point RP20 at the power sensitive Sakhir Outer Track. Perez was up into the points by Lap 20 as he followed Red Bull's Alex Albon through on Lando Norris to claim P10, with Perez then passing Albon a lap later at Turn 5 for P9 – Albon complaining to Red Bull that he was faster than the Racing Point, but that he was unable to race it.
Russell was doing a masterful job of leading out the front, quickly establishing and then maintaining a two-second gap to Bottas behind, the two Mercedes quickly gapping the rest of the field without the usual thorn of Verstappen in their side following the Dutchman's exit.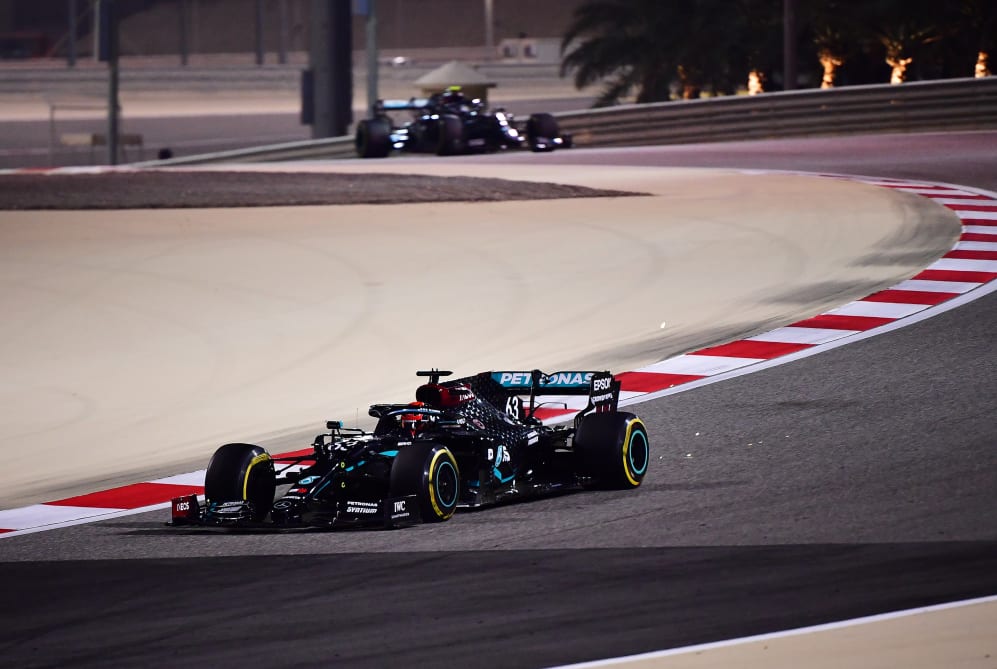 Behind, Carlos Sainz had managed to lap fast enough to break the DRS chain of the fourth-placed Ricciardo, McLaren pitting him on Lap 28 and maintaining the Spaniard's advantage as he slotted back into P7, while AlphaTauri's Kvyat managed to undercut Ricciardo and get ahead of the Australian.
With the laps ticking by quickly around the 2.2-mile Outer Track, with the halfway point reached by Lap 44, the order was Russell, 3s clear of Bottas – the Mercedes yet to stop, having been the only cars to start on the mediums in the top 10 – with Perez third, after his Lap 1 stop, Albon fourth having yet to pit after starting P12 on the mediums, with Sainz fifth, Kvyat sixth, Ricciardo seventh, Pierre Gasly eighth, with Ocon ninth after passing Stroll when the Racing Point exited from the pits.
Russell was brought in by Mercedes on Lap 45, emerging P2 after taking on the hard tyre. After a brief worry when he feared he was losing power – remedied by a switch change – Russell got on with it, to the extent that by the time Bottas came in for the same tyre four laps later, the Finn emerged eight seconds down on his new team mate, and presumably wondering what he had to do to win a race in the latter half of this season.
Lap 55 saw the Williams of Nicholas Latifi pull to the side of the track and out of the race, with McLaren and Renault pitting Sainz and Ricciardo out of third and fourth under a Virtual Safety Car. The timing didn't quite work out though, with green-flag racing resuming just as they headed into their boxes, leaving them P7 and P8 – although Ricciardo had at least jumped Kvyat in the stops, the Russian now P9 after his own second stop.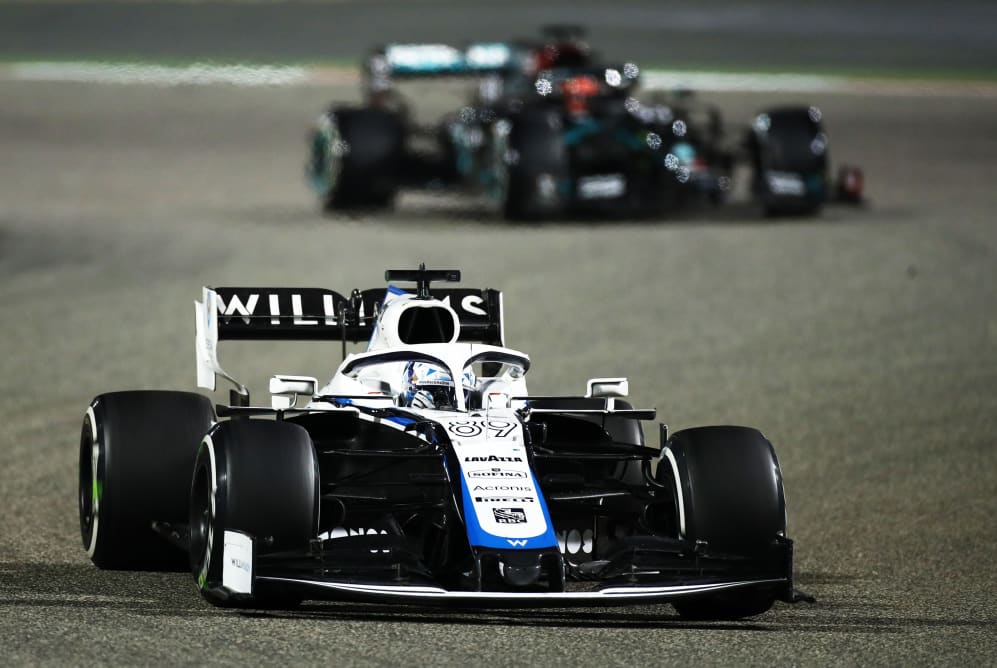 Perez, meanwhile, was on the move once more, passing his team mate for P4, before quickly getting past Ocon for P3. A second Safety Car of the evening was then called for when Jack Aitken got a swapper on at the final corner, wiping the front wing off his Williams and ducking into the pits for a new one.
Given their sizeable advantage, Mercedes made the call to pit both Russell and Bottas – a call which saw their evening quickly began to unravel. Russell was out quickly, but there was confusion as Bottas was changed onto mediums and then back onto his hards, the Finn sent back out 27s later.
WATCH: Aitken spin brings out Safety Car on his Formula 1 debut
It initially looked as though Bottas' race had been ruined while Russell now had a clear run to victory. But worse was to come for the Briton, who was told to pit again, Mercedes having fitted Russell with Bottas' mediums by mistake.
Russell rejoined the neutralised race fifth, one spot behind Bottas, with Perez, Ocon and Stroll now in the podium places. "You should have a big tyre advantage," race engineer Pete Bonnington told Russell. "I ****ing hope so," came the sanguine response of the naturally disappointed Russell, who appeared to have seen a fine evening's work undone.
At the restart on Lap 69, Perez led the pack away beautifully, quickly gapping Ocon behind. Russell had at least got fresher rubber than his team mate now, and was quickly past Bottas on Lap 70 with a beautiful move around the outside into Turn 6, before charging through on Stroll and Ocon and up into P2, Russell looking as though he might even be able to salvage that first victory as he set off after Perez. Then he got a puncture.
Russell uttered a guttural scream as he pitted for the fourth time of the evening, emerging P15. With both Mercedes out of the picture, it was simply left to Perez to enjoy a smooth run to an astonishing maiden victory, at what could yet be his penultimate Grand Prix in Formula 1.
READ MORE: Mercedes handed €20,000 fine for Russell tyre mix-up in Sakhir Grand Prix
The Racing Point pit wall erupted, while in the cockpit of the RP20, an emotional Perez was in tears as he thanked the team that helped to salvage his career when he joined them back in 2014.
There were more tears to come too, Ocon confessing that he too hadn't been able to hold back the emotions as he'd crossed the line to score his first podium in the sport after a trying return to F1 in 2020. Stroll taking third, meanwhile, secured a double podium for Racing Point for good measure, the team leaping back to P3 in the constructors' standings – while Perez moved clear in the fight for P4 in the drivers' championship too.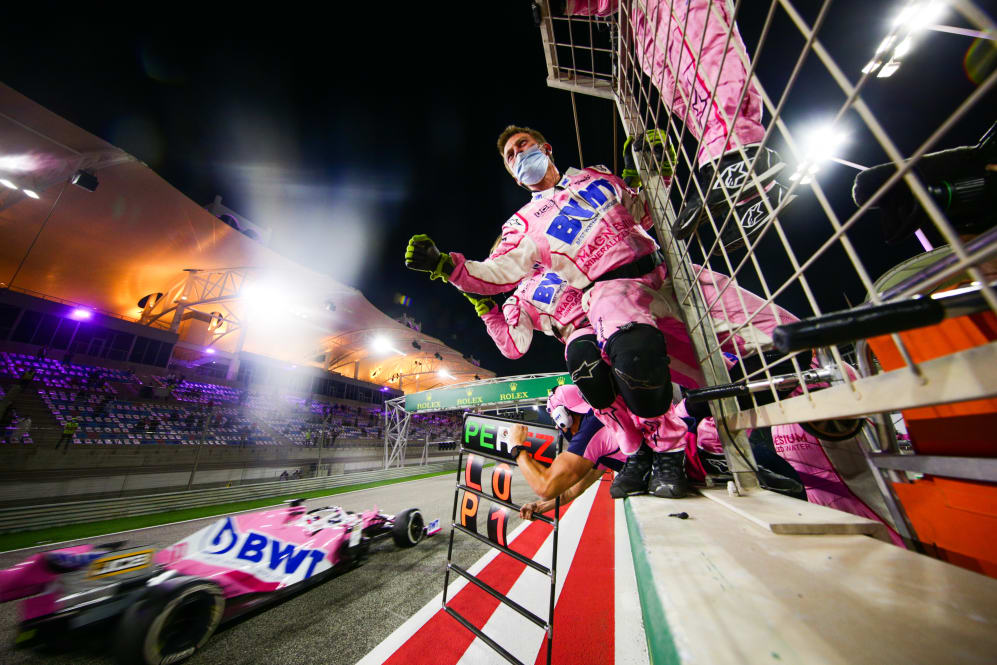 Carlos Sainz at one point looked like he was set to take his second podium of the season, but eventually had to settle for what was nonetheless a fine fourth, ahead of Renault's Daniel Ricciardo and Red Bull's Alex Albon – who will surely have felt the pressure get turned up a notch after Perez's sensational P18 to P1 drive.
Like Perez, Daniil Kvyat is another driver who might not have an F1 seat for 2021, but the Russian drove a solid Grand Prix to take seventh – ahead of the shame-faced Mercedes duo. Having been left on what were already 13-lap-old hard tyres, Bottas had humiliatingly sunk from P5 at the Safety Car restart to P8 by the time he reached the chequered flag, the Finn seemingly having been without the tyre life to resist the attacks from his midfield rivals.
MUST-SEE: Sergio Perez's maiden F1 race win sparks tears and wild celebrations
He at least finished ahead of Russell – something which had looked in serious doubt for much of the evening – with the Briton recovering from P15 to finish ninth at the flag, and claim his first three points in the sport, including one for the fastest lap. "It's been a pleasure," said a bewildered Russell over team radio at the race end, "but honestly, I'm gutted." Toto Wolff was quick to offer an apology to the 22-year-old, after what he'd described as a "brilliant drive" from Russell – and a "colossal f*** up" from Mercedes, with Russell finishing just one place ahead of the second McLaren of Norris.
Mercedes' misfortune, however, meant that after 190 starts, Sergio Perez was finally a race winner in Formula 1. It was another shock result thrown up by this astonishing 2020 season – and surely there wasn't a soul in the F1 paddock who could have begrudged the Mexican the spoils of victory… at last.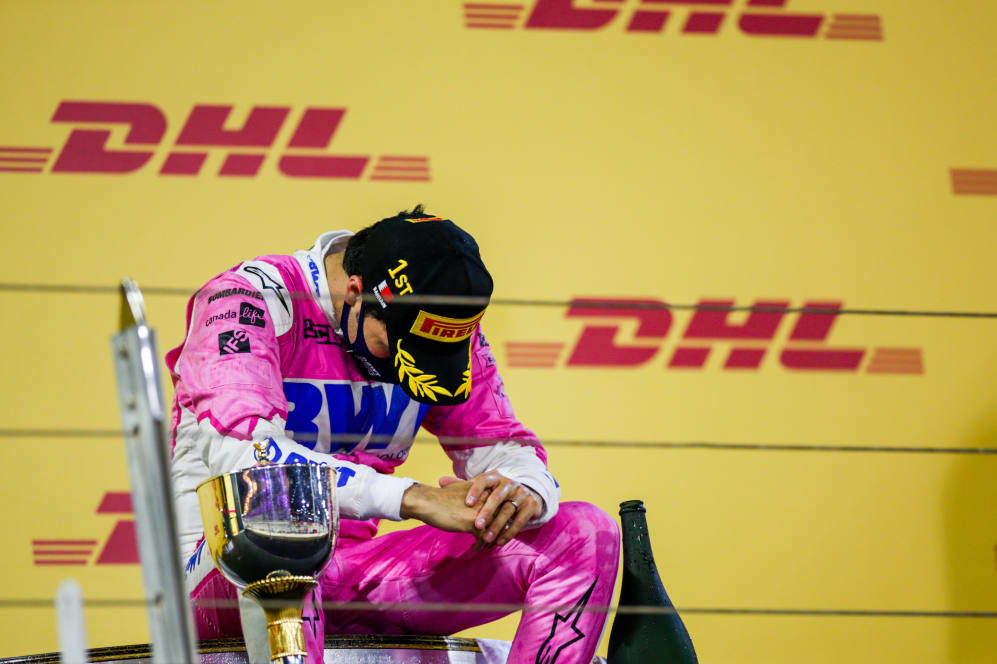 The key quote
"I'm a bit speechless. I hope I'm not dreaming you know because I dreamed so many years of being in this moment. Ten years, ten years it took me. Incredible. I mean, I don't know what to say.
"After the first lap the race was again gone, same as last weekend. But it was all about not giving up, recovering, going for it, just making the best of what you possibly could. This season the luck hasn't been with us, but we finally got it. I think today we were on merit. Yes, the Mercs had some issues but in the end my pace was strong enough to hold George – who did a fantastic race today" – Sergio Perez, Racing Point
What's next?
Just one more race remains in this whirlwind 2020: the Abu Dhabi Grand Prix, taking place at the spectacular Yas Marina Circuit on December 10-13. And you wouldn't bet against this season having one more twist before the curtain comes down on what has been a truly extraordinary year.