Alonso admits he was eyeing podium finish as leaders battled in front of him around Silverstone
Fernando Alonso reckons his run to fifth place in the British Grand Prix was Alpine's best race of the year – but says he was even eyeing a podium as the cars in front of him engaged in some dramatic wheel-to-wheel racing in the final laps.
The veteran Spaniard qualified seventh and had a great start to get up to P5 on the opening lap, before the red flag came out for Zhou Guanyu's crash, putting him back to P7 for the restart.
ALL THE ANGLES: Watch the dramatic multi-car crash at the start of the British Grand Prix
But thereafter he had a textbook Alonso race, climbing to fifth when he was able to pit under the Safety Car and jump Lando Norris ahead of him.
But with Charles Leclerc, Lewis Hamilton and Sergio Perez fighting it out with some hard racing just ahead of him on the track in the closing laps, Alonso was ready to pounce if any of them made an error.
"It was close. When I saw them fighting that hard and nearly touching each other I said 'okay, if they touch with two cars it's enough to be on the podium'," he said after the race. "But in the end I'm very happy with fifth. It was a very good race pace-wise from us from the beginning.
"Even the first start was mega – P5 – but unfortunately because of the rules I positioned myself P7 again, so I had to do it again. It was probably the best race for us in the championship."
Alonso's result also helped Alpine cut the gap to McLaren to six points in the fight for P4 in the constructors' championship – though the two-time champion was aggrieved that Leclerc was not punished for weaving, as Alonso was two weeks ago in Canada.
READ MORE: 6 Winners and 5 Losers from the British Grand Prix – Who shone at Silverstone?
"This circuit – we knew that for McLaren, it would be one of the best with the high-speed corners, and we were matching them for pace so definitely our package is working well and this P5 feels good, even though I have to say I expected P4 because Charles was moving three or four times in front of Hamilton on the back straight. I moved once in Canada and I had five seconds' penalty, so I think by moving three times it would be 15 seconds' penalty for Charles, unfortunately!"
Team mate Esteban Ocon, meanwhile, largely had a weekend to forget. After qualifying 15th, he was then caught up in the first-lap crash, and though the team repaired his car in time for the restart, he was eventually forced to retire with a fuel pump problem.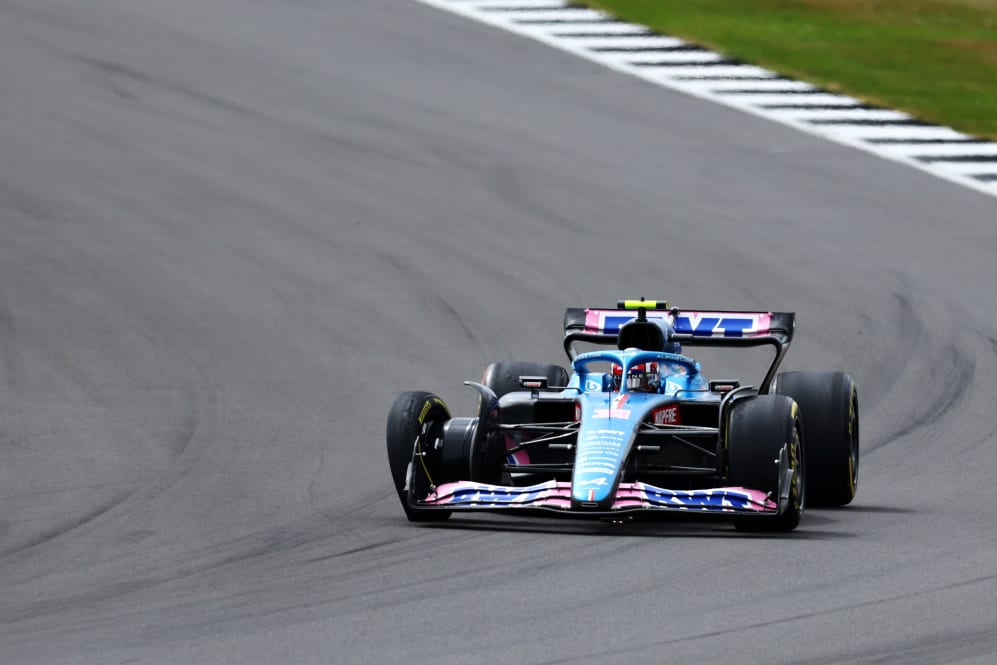 "The first thing to come out of today, the best news, is that Zhou is fine. We're very happy to hear that he's okay because it was a very scary crash," the Frenchman said.
"I had a good launch, went around Yuki [Tsunoda] at the start, but everything in the front that happened, I tried to avoid it and managed to avoid it, not hit anything. But Alex [Albon] came spinning and hit my wheel. I managed to bring back the car – just – at the back of the grid and the guys repaired it, and did a fantastic job.
MONDAY MORNING DEBRIEF: Binotto says there was 'no way' for Leclerc to win the British GP after the Safety Car – but is he right?
"We had a flying launch on the start after that – again, like five places or something like that, which was great and a good race from there on. We were going to finish sixth or seventh, it was going to be a good one, but unfortunately, the fuel pump issue.
"So a tough day: yesterday, quali problems with the battery power and today the fuel pump. So we need to review and come back stronger."