Alonso rates his performance on F1 return as 'five out of ten' ahead of first home race since 2018
Ahead of his first home Grand Prix since 2018, Fernando Alonso has rated his performance in the first three rounds of the season with Alpine after his return to F1 following two years racing in other categories.
Heading into the Spanish Grand Prix, Alonso has scored twice in the last three races with a best of P8 in Portugal last time, but he wasn't overly complimentary about his own performance when asked to rate it out of 10.
"Maybe five. The minimum level necessary," he replied. "I think I can do much better than what I did so far but at the same time it's out of three races we've scored two times and one time we had to retire the car because of [debris in] the rear brakes. A little bit unlucky in Bahrain but the other races we did score points.
READ MORE: Norris hails 'best run of races I've had so far in Formula 1' but remains realistic on McLaren consistency
"We could have scored more, probably, yes, but one step at a time. [While] we are adapting and being comfortable with the team, we need to deliver the results on Sunday and keep on scoring points, and it is what we are doing," he added.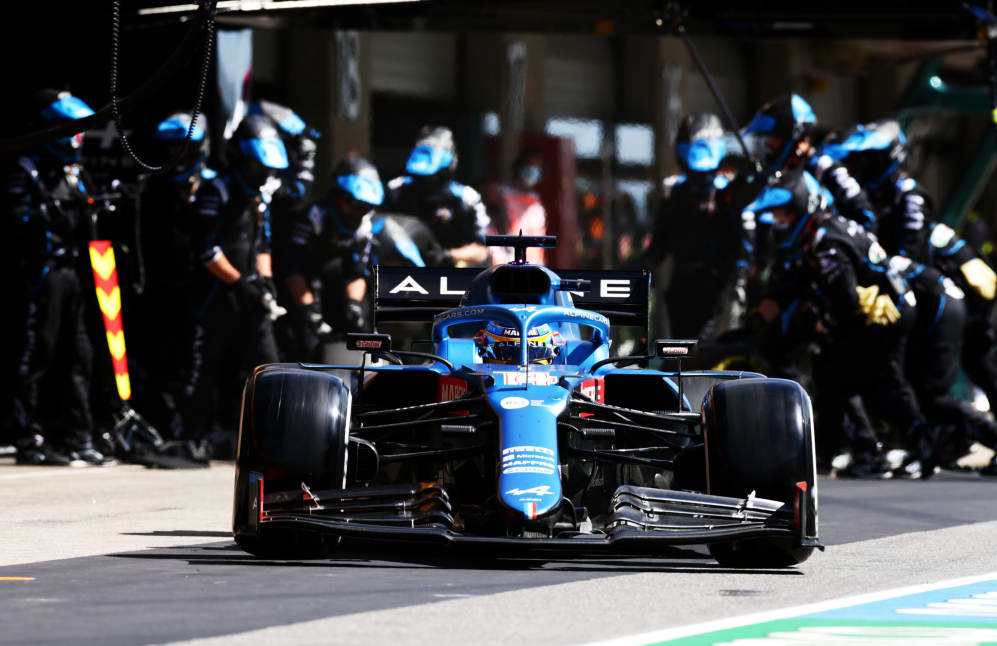 Alpine have been improving along with Alonso, with upgrade packages at Imola and Portugal that helped them to a brace of double-points hauls. But Alonso is yet to see for himself whether the upgrades have done their intended purpose.
"I think we have to take it one at a time," he said. "In Portugal it was a good team performance, a good level of competitiveness in our car, in all the sessions apart from qualifying, maybe. But over the weekend it was very strong.
READ MORE; 'It's going to be a good season for us' if Alpine upgrades work in Spain, says Ocon
"Now we are here in Barcelona we need to re-confirm if that was a track specific performance or if it was the truth of the Alpine evolution so, you know, quite curious to see what we can do here," he added.
It's been three years since Alonso has raced at home in F1 and, while there will just be 1,000 fans compared to the hundred-thousand-strong crowd Barcelona normally draws, he said he's been feeling the support all around him.
"I'm really excited," he said. "It feels very special. Obviously we miss the fans but we still feel the support from them at home. You arrive here… you feel the support in the airport, the hotel. You feel you are at home, somehow. That extra pressure, that extra adrenaline because you are in your home country, it is special.
READ MORE: TREMAYNE – After a shaky start, Portugal proved Alonso and Alpine are getting the hang of F1, 2021-style
"Unfortunately we cannot share the moment with the fans but we try to put a good show on television."
Sitting 12th in the table after three rounds, Alonso aims to make up ground with his 18th Spanish GP this weekend.