Alonso says he 'didn't have a chance' to take Monaco GP win as he praises Verstappen for driving 'super well'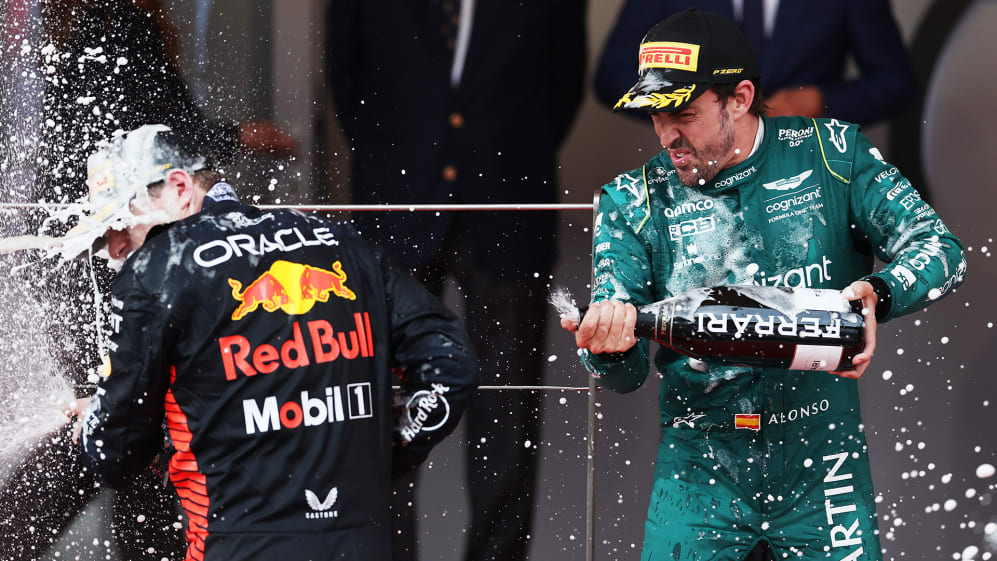 Fernando Alonso has admitted that second was the maximum he and Aston Martin could achieve during the Monaco Grand Prix after an impressive display from Red Bull driver Max Verstappen in both dry and wet conditions.
Alonso started alongside Verstappen on the front row of the grid but slotted in behind the reigning world champion at the first corner and gradually dropped away as the race developed and dark clouds gathered.
READ MORE: Verstappen beats Alonso to Monaco GP victory despite rain causing late drama
When drops of rain began to fall, Alonso pitted and took on more slick tyres, only for the intensity to go up a notch over the following laps and force him in again for intermediates, which Verstappen moved straight onto from his starting mediums.
Alonso managed to hold on for second despite the additional stop, but Verstappen's pace advantage in the dry carried over to the wet as he pulled almost 30 seconds clear on the run to the chequered flag.
"It was difficult," said Alonso, who nonetheless notched up his fifth podium in six races with Aston Martin. "We opted to start on the hard tyres, so we gave up the possibility into Turn 1, due to the short run.
"We thought to play a long game with the strategy, but Max drove super well on the medium tyres, extending that first stint – so we didn't have any chance. Then at the end the rain put things a little bit complicated out there, it was not easy to drive around."
Alonso also took a moment to explain just how tricky the conditions were when the rain arrived in the closing stages, saying he expected more incidents to unfold given how slippery the track surface had become.
READ MORE: 'It's super nice to win like this' – Verstappen explains how he survived rain and more en route to Monaco victory
"No full power around the lap, braking was extremely fragile into Turn 5, into Turn 10, so it was not easy," he commented. "I was surprised that there was no Safety Cars, no incidents, so I think everyone was doing an amazing job today to keep the cars on track."
Alonso remains third in the drivers' standings after his latest podium, but now sits just 12 points behind Verstappen's team mate, Sergio Perez, who crossed the line in 16th position after a qualifying crash left him at the back of the grid.
Aston Martin, meanwhile, have narrowly held onto second in the constructors' battle, one point clear of Mercedes, who bagged a double points finish to take advantage of Lance Stroll's retirement in the other green machine.