Alonso says Sprint 'felt like a marathon' after brilliant start helps him claim P7 on the grid for British GP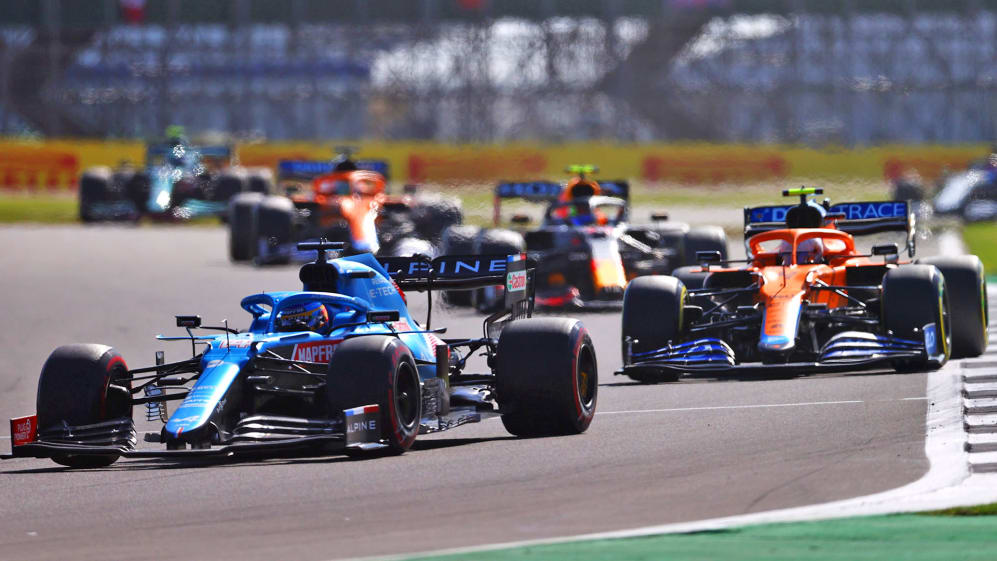 Alpine's Fernando Alonso was one of the stars of the first ever F1 Sprint, enjoying a phenomenal opening lap that saw him blast his way from P11 to P5 by the end of the first lap.
Alonso had ended up P11 on the grid for the F1 Sprint after failing to make it out of Q2 by just 0.025s. But the Alpine driver made the bold decision to start the F1 Sprint on soft tyres – going on to justify that decision by surging through the field in the opening few corners.
READ MORE: Verstappen wins thrilling F1 Sprint at Silverstone to claim pole position for British GP
"We gained four positions, and I think we did the right call," said Alonso, of his decision to start on the C3 soft tyres. "The start was mega, the first lap was good, and then the degradation – okay, it was higher on the red tyre, but not to a point where you could not drive anymore."
Alonso was eventually forced to succumb to the medium-shod McLaren pair of Lando Norris and Daniel Ricciardo, who made it past the Alpine driver despite some robust defensive driving from Alonso – although the two-time champion was at least able to hold the hard-charging Aston Martin of Sebastian Vettel at bay.
But Alonso admitted afterwards that the first ever F1 Sprint had been more of a marathon for him on the less durable soft tyres.
READ MORE: 'There was nothing more I could have done' says Russell, after first lap contact with Sainz in F1 Sprint
"It was very intense," said Alonso. "Only four or five seconds, or one minute, of high intensity [at the start] and after that it was a very long race for me! I know that it was a Sprint qualifying for you, but for me it was like a marathon.
"I was a little bit out of position, P5 was not our real pace on track. So we had to give up on the McLarens but we could hold Sebastian [Vettel] behind, and P7 is good for tomorrow.