Sprint winner Verstappen 'really worried' about brake issues on lap 1 after fire on grid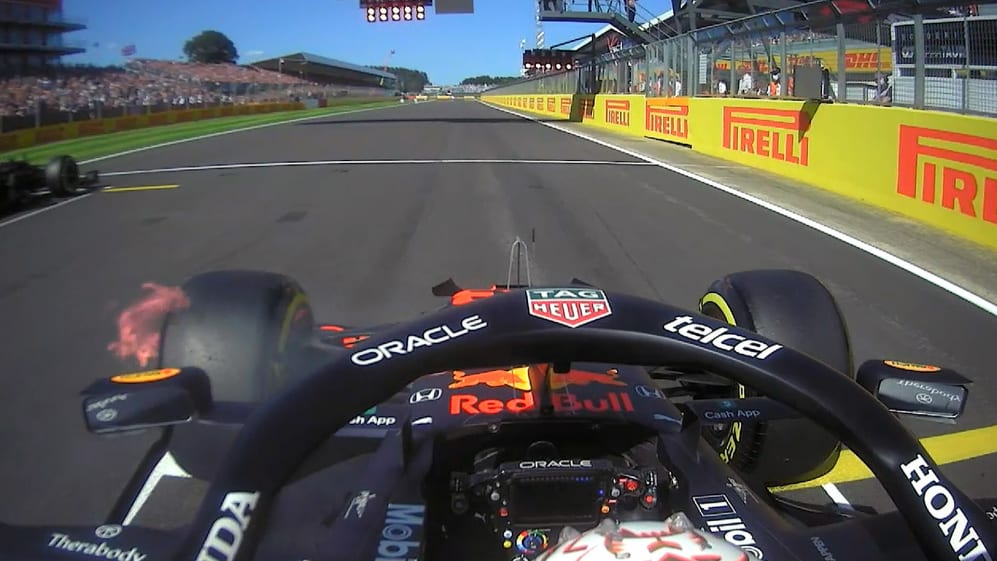 In the end, the inaugural F1 Sprint couldn't have gone much better for Max Verstappen, the Red Bull driver jumping title rival Lewis Hamilton at the start and holding first until the chequered flag to bag himself three points and pole position for the British Grand Prix. But the Dutchman admitted his heart was in his mouth as he sat on the grid, with his brakes on fire and flames clearly visible…
Verstappen boosted his world championship lead by a point to 33 as he finished first and Hamilton second in the 17-lap race. But as he arrived on the grid after the formation lap and lined up in P2, it was immediately obvious his brakes were extremely hot.
READ MORE: Verstappen wins thrilling F1 Sprint at Silverstone to claim pole position for British GP
"Yeah, I was really worried," Verstappen said afterwards. "A little bit of fire is ok, but at one point it was becoming quite big and I was just looking in my mirror to the guys in the back [of the grid] thinking 'please speed up, speed up!'
"So I was not sure going into Turn 3 if my brakes were going to work, but luckily it didn't do too much damage. I saw a few people in the grandstand making pictures when the brakes were on fire, so for sure they had a good few shots there!"
Having been pushed hard by Hamilton for the lead throughout the first lap, Verstappen kept the Briton just out of DRS range for the duration of the race before eventually crossing the line just 1.4s ahead.
WATCH: Alonso brilliantly charges from P11 to P5 at the start of F1 Sprint
Asked what he'd learned from the experience, heading into Sunday's all important Grand Prix, Verstappen said: "What we learned today is that it's very close again.
"It's a bit different – we are quick through the corners and they [Mercedes] are quick through the straights this weekend. Of course, after only one free practice session and then you are not allowed to make any changes, if you don't get it right then you are a bit stuck. So we are a bit stuck on the straight, so that's why we have to make up our time in the corners.
"It seemed like it was more or less a flat-out race - you cannot really call it flat out, but pushing more. The pace was alright, but I still expect with a pit stop coming into play, or two pit stops who knows, it's going to be a good fight."
Victory in F1 Sprint means Verstappen has now claimed four straight pole positions, ending Mercedes' streak of nine successive P1 starts at Silverstone, and gives him his first front-row start at the British venue.