Alpine drivers braced for tight battle for Q3 spots despite strong Friday in Melbourne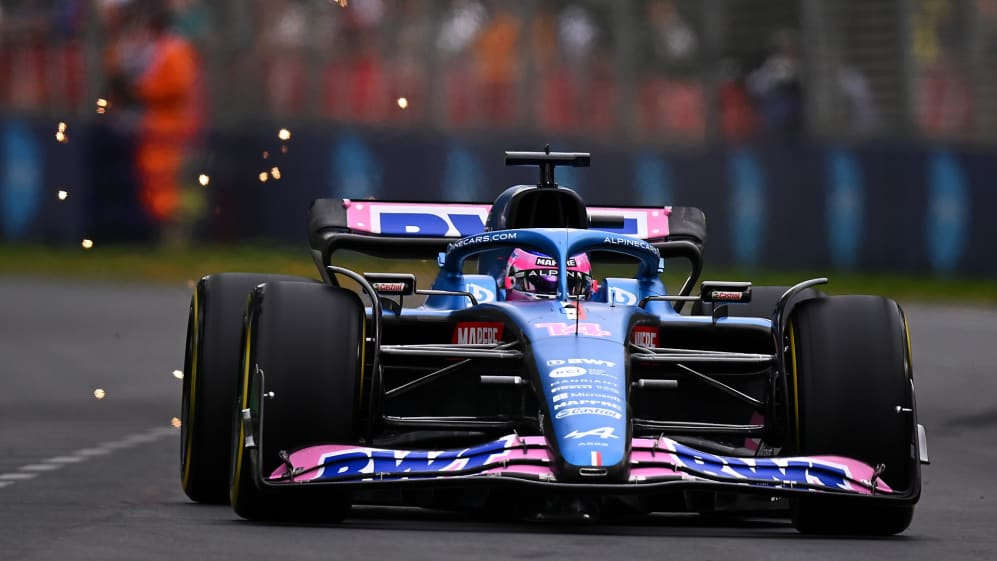 An encouraging turn of pace from Alpine in FP2 was met with cautious optimism from the two drivers, who expect qualifying to play a crucial part to their hopes in Melbourne.
Fernando Alonso was fourth quickest in FP2 with Esteban Ocon sixth, following on from ninth and sixth respectively in the opening session. The pair were particularly quick in the middle sector, with Ocon feeling it was an area where Alpine had made good progress
"It's been pretty decent, obviously both cars in the top 10 for both sessions," Ocon said. "A lot of things discovered today on this track, some good surprises with the level of grip being much higher than before, the track being quite a lot smoother as well. Some great challenges with some great fast corners. We look pretty okay at the moment, but as you know I'm going to tell you, it's only Friday.
FP2: Leclerc leads Verstappen in second Australian GP practice session
"It was good fun," he added. "With these cars it's not a bad thing that it's much smoother because it would have been a pretty difficult one, but there is a lot of speed that you can carry now. And the high speeds are quite impressive, the corners are more open than before but the walls are not far so it's important to take it step-by-step today!
"We tried a few different things between cars, trying to optimise the aero platform through [the middle sector] and today it seems to have worked. But again, tomorrow is when we put it together and that's when we need to be releasing the power."
Despite the strong showing in terms of headline lap times, Ocon expects plenty of challengers to Alpine in the fight for best-of-the-rest behind Ferrari and Red Bull.
READ MORE: 'Nothing you change on the car makes a difference' – Mercedes drivers frustrated after tough Friday in Australia
"Today, for sure, it was tight. We see the competition being there with Haas and Alfa Romeo as well – we see that they are quick in the long runs and they are going to be there in the mix with us, so small differences are going to make a big difference for Q3."
Alonso was just over half a second away from the quickest time in FP2, but feels Alpine have plenty of room for improvement.
"The middle sector is one corner unfortunately – we would love to be a little bit stronger in the last sector!" Alonso said. "But yeah it was okay, a good Friday for us. We still need to understand the tyres a little bit better, and also the set-up, but let's see tomorrow."
READ MORE: McLaren drivers hail 'best Friday' of the season after top 10 finishes in Melbourne
A veteran of 16 races in Melbourne, Alonso is a fan of the new track layout, but doesn't think it will have a massive impact on the importance of qualifying.
"It felt good. Obviously a lot faster compared to the last layout, but still not totally sure about the overtaking possibilities. Even with four DRS [zones] that makes it easier, but I think it's still a difficult track to overtake – it's narrow and Melbourne historically has been a difficult one and I think it will still be difficult to overtake on Sunday."