Feature
ANALYSIS: How Vettel went from missing Q3 to his first podium for Aston Martin in Baku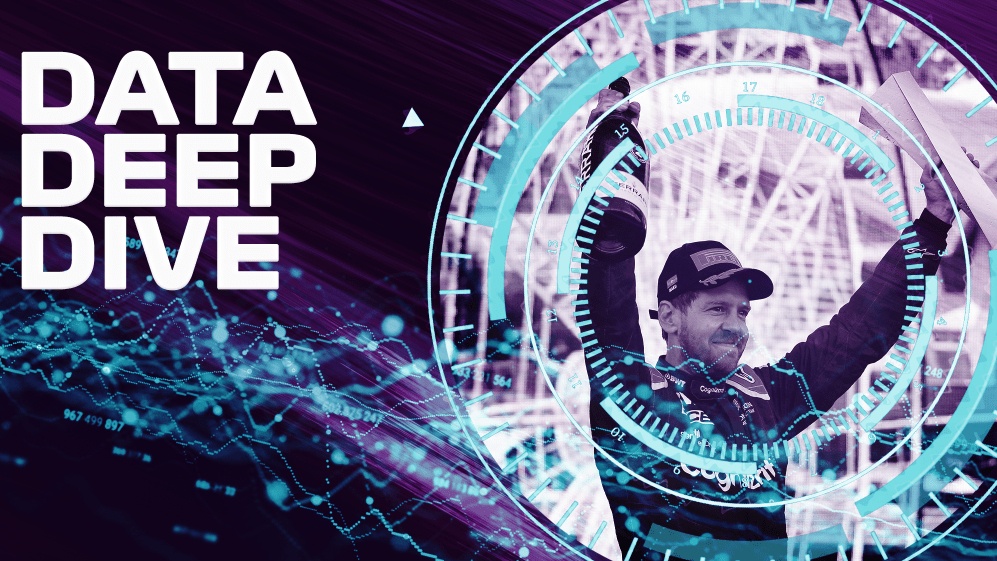 After a trying start to the season with Aston Martin, Sebastian Vettel has been on a bit of a charge of late, culminating in his feel-good podium in Azerbaijan. In our latest data deep dive, we look at the key parts of Vettel's weekend to show how he went from disappointment on Saturday to joy on Sunday.
Missing the Q3 cut in qualifying
Vettel was left frustrated after qualifying having missed the Q3 cut after being edged into P11 in Q2 by just 0.029s by Alpine's Fernando Alonso.
"I'm a bit disappointed because I had a mistake that was up to me so I should have done better," he said. "I locked into 15 and lost a lot of time. Otherwise it would have been quite easy to Q3 but it is what it is."
As we can see from the data below, Vettel is correct in that the lock-up was almost certainly to blame for him missing out – he was actually ahead of Alonso for all of the lap until the final DRS zone, when Alonso snuck ahead.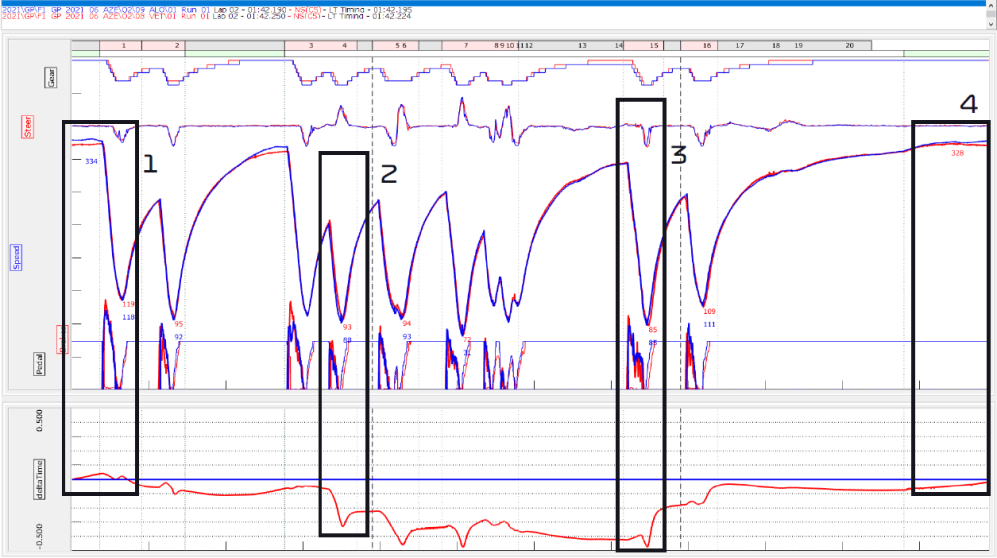 1. Similarly to his Q1 lap, Alonso was around 3.5s behind Red Bull's Max Verstappen on track and had better speed into Turn 1 than Vettel - even if they were evenly matched throughout the corner itself.
2. Vettel gained over a tenth through Turn 4, mainly on corner entry, showing perhaps his new found comfort with the Aston Martin.
3. But Alonso gained around 0.2s through the increasingly treacherous Turn 15, with smoother deceleration and a better exit than Vettel, who locked up.
4. Alonso, with momentum on his side, then gained more speed than Vettel in the last DRS zone to clinch that coveted Top 10 slot.
Still, for Vettel starting P11 didn't turn out to be the worst thing in the world, given it would leave him with a fresh set of soft tyres for later in the race…
Gaining three positions in long opening stint
Even though he had a free tyre choice for the race, Vettel chose to start on the soft tyre – the same as the top 10. But, after gaining two positions on the opening lap, to run P9, what Vettel did differently to the rest was to run the softs for a full 18 laps – much longer than anyone that had started ahead of him. That allowed him to actually lead the race for four laps, from lap 14-17. In the graph below we can look at his lap times between lap 1 and lap 30.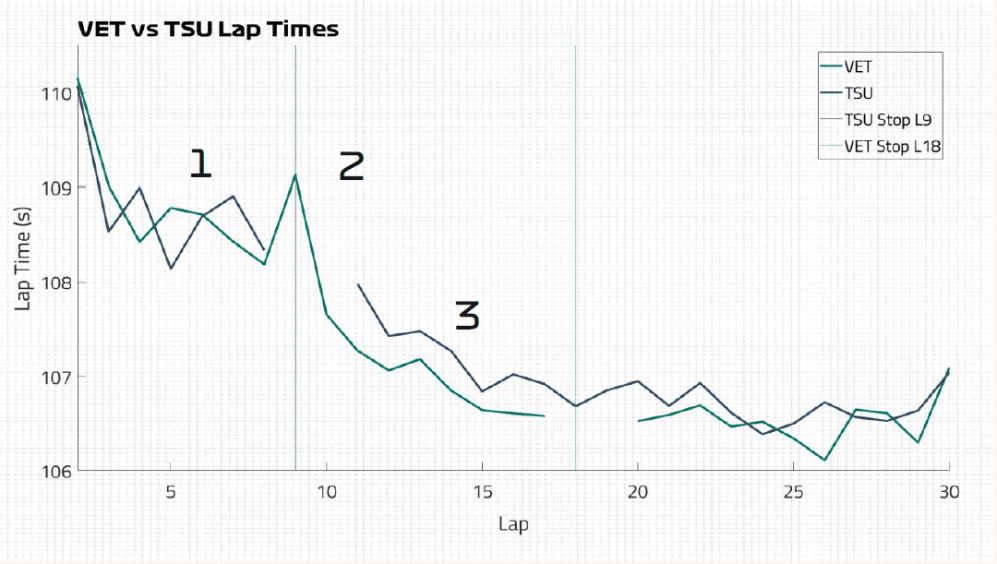 1. Vettel follows AlphaTauri's Yuki Tsunoda until the end of lap 9, the duo trading lap times with each other as the gap remains fairly constant.
2. Vettel made his biggest error of the race on lap 9, losing over 1s at Turn 7 after locking up his right-front tyre and running deep, narrowly avoiding the wall. Before his lock up he was 0.5s up on his previous lap.
3. As soon as Tsunoda pits (on lap 9), Vettel – now in clean air – is able to up his pace.
Making the overcut work
That upping of pace is crucial to how Vettel's race works out for, as in Monaco, he's able to ride an overcut to overtake Tsunoda and Alonso (who was also ahead after lap 1, but pitted on lap 7) and move up to P7, which was effectively P6 as team mate Lance Stroll had yet to stop, though more on that later…
In the graph below we have adjusted the gap between Vettel, Tsunoda and Alosno to remove the pit stops.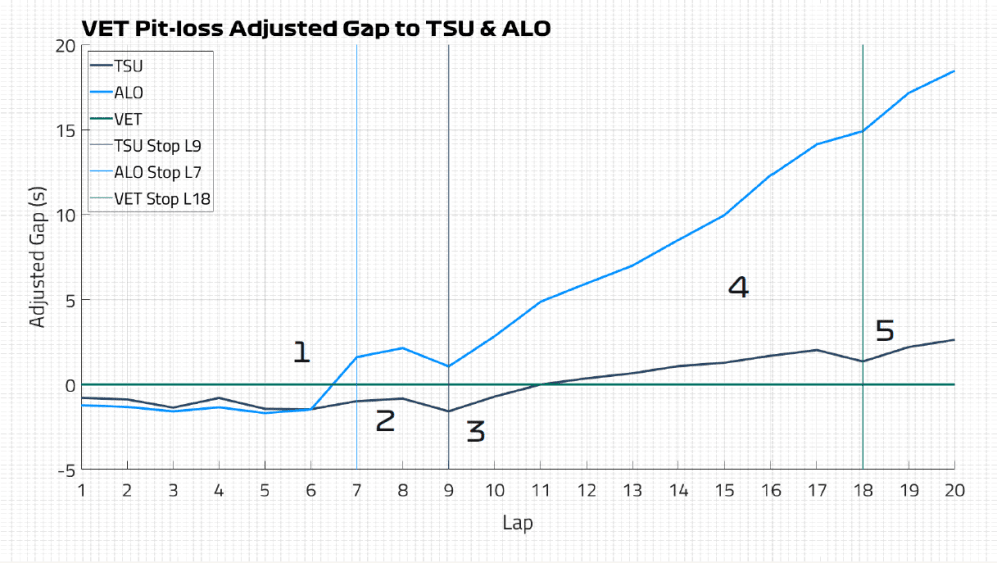 1. Alonso struggles for race pace - clearly under pressure from Tsunoda until he pits on L7.
2. By the end of lap 7, Vettel and Tsunoda could both have pitted and come out in front of Alonso, such was their pace.
3. Tsunoda pits on lap 9 with a comfortable gap over Alonso, gaining that position.
4. The positive gradient of both Tsunoda and Alonso indicates that Vettel had a pace advantage over both.
5. Vettel pits on lap 18, completing the double overcut. He set almost the exact same lap time for his last flying lap on soft tyres and first on hards.
Picking off Leclerc for P5
One of the race's defining moments came on lap 30, when the other Aston Martin of Lance Stroll suffered a tyre blowout, pitching it into the barriers and necessitating a Safety Car.
No sooner was the Safety Car in than Vettel – now in P6 – launched an attack on Charles Leclerc's Ferrari for P5. Here's what that looked like in the telemetry, Vettel with the red trace and Leclerc with the blue.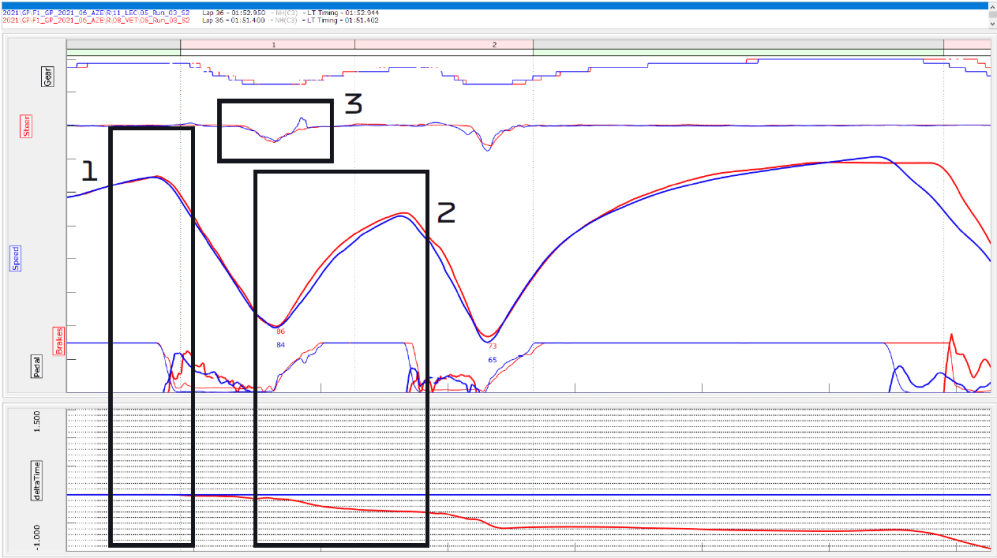 1. Looking at the speed and brake traces we can see that Vettel braked later and heavier into Turn 1 than Leclerc who was perhaps cautious of Gasly ahead, who locked up.
2. Vettel takes a sharper line into Turn 1 and picks up the throttle earlier.
3. Leclerc picked up some oversteer on the exit and had to lift slightly, giving Vettel a large enough speed advantage to complete the pass into Turn 2.
The pass that would eventually net him P2
Vettel made his final pass on track came at the end of the same lap, as he passed Gasly for P4 on the pit straight. The German would gain his final two positions from the dramatic retirement of Verstappen and the surprise lock-up of Lewis Hamilton at the subsequent restart.
Again, here's how the move played out in the telemetry, Vettel again in red, Gasly in blue.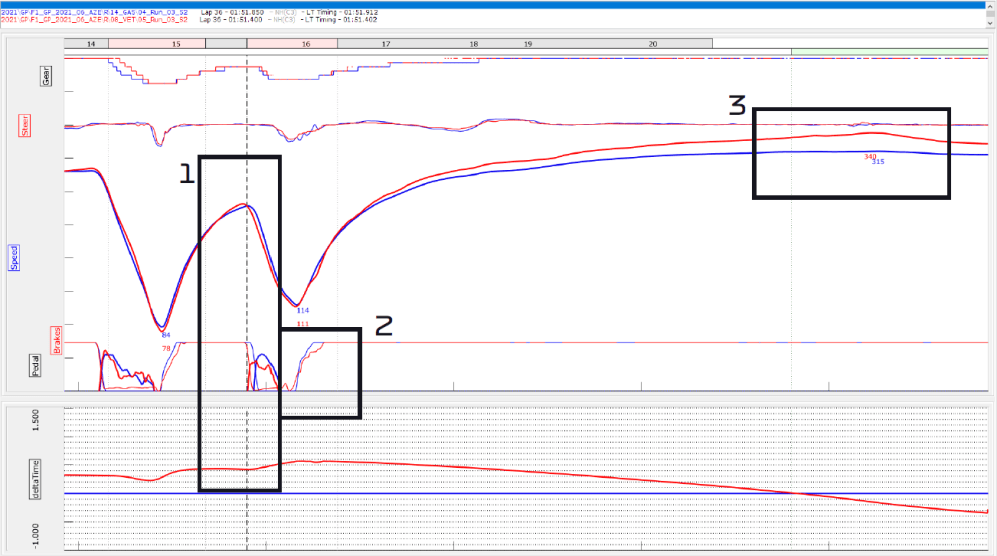 1. Gasly brakes later and heavier into Turn 16 (the final real corner of the lap), carrying less minimum speed into the apex but taking a sharper line.
2. Gasly picked up the throttle much earlier onto the straight, however Vettel was gaining due to a decent aerodynamic tow prior to Turn 18 and 19.
3. Despite the poorer exit, Vettel gained 25km/h on the straight before overtaking Gasly.
What we didn't know at the time, but know now, is that Gasly was suffering from a loss of power, the extent of which can be seen in the graph below.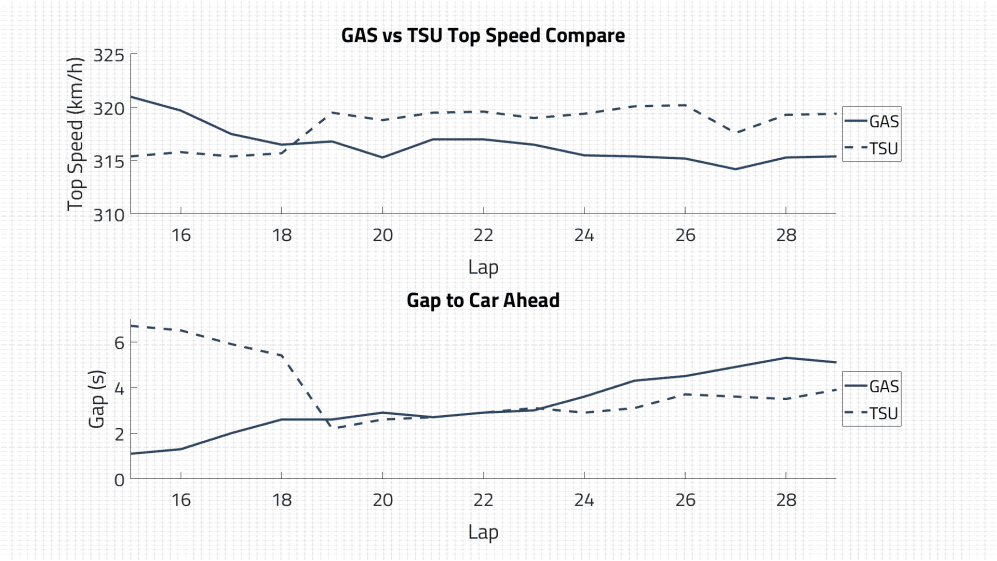 Comparing Gasly and Tsunoda between laps 21-23, when both had a similar time gap to the car ahead and therefore a similar tow, Gasly was around 4km/h down, with our data saying he was around 12kW down on power.
Regardless of this issue, Vettel must be commended for getting the job done. After all, Gasly was able to hold of Charles Leclerc in the closing stages. And after a second strong race in a row, where he's blended tactical acumen with controlled aggression, Aston Martin must be hoping that Vettel is now fully in the groove.