Vettel and Ocon left ruing red flag that banished Q3 hopes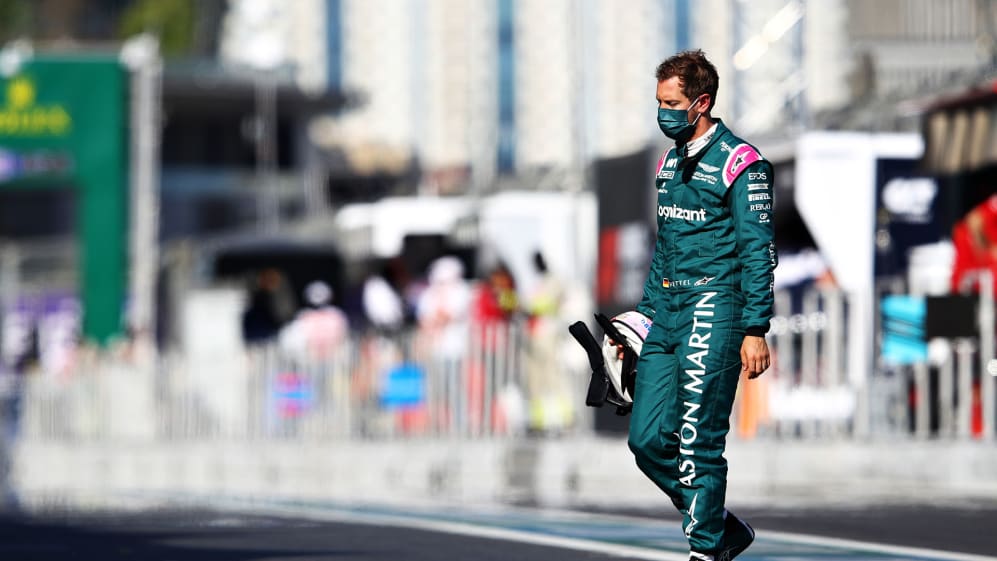 Both Aston Martin's Sebastian Vettel and Alpine's Esteban Ocon were convinced that they had the cars to make Q3 in qualifying for the Azerbaijan Grand Prix. But sadly for them, a red flag late in Q2 prevented either driver from improving, leaving them P11 and P12 respectively.
In a qualifying session that witnessed a full four red flags, a crash for Vettel and Ocon's erstwhile team mate Daniel Ricciardo in Q2 put paid to their final flying laps, with Ocon forced to watch as his Alpine team mate Fernando Alonso was able to make it through to Q3.
READ MORE: Leclerc takes shock pole in dramatic Baku qualifying session as FIVE drivers crash out
"It hasn't been our session I think, clearly," said Ocon, who also clouted the wall at the exit of Turn 3 on one of his Q2 laps. "There were a lot of incidents on the track. On my lap I got impeded into Turn 3 and I hit the wall because of that. After that there was a red flag so I couldn't go again.
"But the car looked good, the car looked well into the top 10 so we'll look to convert that tomorrow," he added. "I think plenty's possible with our pace. Definitely looking forward to that race which is always a crazy one here."
Vettel was arguably even more frustrated, having locked up into Turn 15 on one of his earlier flying laps in Q2 – while he'd ultimately miss out on a berth in Q3 by just 0.029s, adding to Aston Martin's disappointment after Lance Stroll crashed out of qualifying in the early part of Q1.
"I'm a bit disappointed because I had a mistake that was up to me so I should have done better," said Vettel. "I locked into 15 and lost a lot of time. Otherwise it would have been quite easy to Q3 but it is what it is. In the end there was the red flag so there was nothing I could do.
READ MORE: 'I don't feel great, but it happens' - Ricciardo philosophical after Q2 crash in Baku
"It's an advantage on free choice of tyres," added Vettel jokingly. "I think that's the standard phrase that everyone in P11 always talks about…"
Both Ocon and Vettel can at least take comfort in the unpredictable nature of races in Baku, with Daniel Ricciardo having famously won the 2017 Azerbaijan Grand Prix from P10 on the grid.