Podcast
Barrichello's Brawn GP race engineer on why the Brazilian lost out on the 2009 title to Button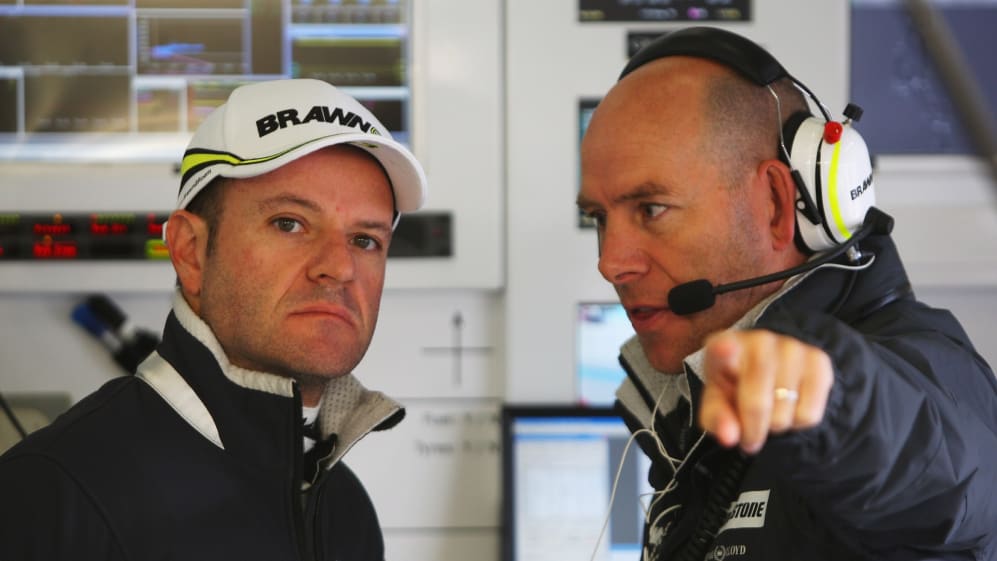 Jock Clear's storied Formula career has included roles as race engineer for the likes of Michael Schumacher, Lewis Hamilton and Nico Rosberg – and winning the world championship with Jacques Villeneuve in 1997 at Williams. But in 2009 he was at Brawn GP and on Rubens Barrichello's side of the garage, and with first-hand experience of that incredible season, Clear shines a light on why the Brazilian lost out on the drivers' title to team mate Jenson Button.
Clear (main image, right) is currently heading up Ferrari's driver development efforts, working not only with Charles Leclerc but their junior drivers – including Mick Schumacher. Having worked with Barrichello at BAR Honda in the late 2000s, he stayed with the team when they became Brawn GP in 2009. And on this week's Beyond The Grid podcast, Clear recalled why he thought Barrichello fell behind 2009 title winner Button that year.
READ MORE: Brawn GP engineers 'thought we'd got our sums wrongs' ahead of fairytale start to 2009 season
"When the time came, I think Jenson was more ready. I think Rubens, Rubens probably… wasn't aware as early as Jenson maybe that it was all looking very strong," he said.
He explained why he thought Barrichello wasn't quite as prepared to drive a car with the potential to win the championship, and how something of a generational gap had formed between the two team mates when it came to preparing for a Grand Prix.
"This comes back to the drivers' psychology," continued Clear. "This is probably the overlap of the old guard and new guard. If we talk about Max [Verstappen] and Lewis [Hamilton] and Charles [Leclerc]… where again, they've taken it to a new level, Michael took it to a new level in the '90s and these guys now have taken it to a new level.
"Rubens was probably the last of that. Michael's [Schumacher's] era and driver psychology, driver preparation was simply: 'well I'll go for a run a couple of weeks before Melbourne and I'll do some sit-ups and then I'll be fine', if you know what I mean.
READ MORE: Ferrari's Jock Clear on working with Mick Schumacher – and why the Haas rookie has surprised him in 2021
"The fitter drivers were getting fitter and fitter but it's not just getting fit; it's a whole mental preparation. It's a whole getting your head into gear: 'I need to be thinking about this. How do I approach the season? What are my short-term objectives, what are my long term objectives?'
"And this is stuff that other sports have been doing for a few years now. You look at the American sports have been doing it for 20 years and athletics has been doing it for 20 years and F1 is behind in these things and [was] catching up, so in 2009, the older drivers weren't used to this as being a requisite. You were going to get found out if you weren't absolutely on it at the beginning of the season," he said.
Button went on to win six of the first seven Grands Prix and it took until Round 11 for Barrichello to respond, as he won the European GP. But that would be just one of two wins for the Brazilian veteran in 2009 as his last came at Monza (above).
As for Button, he took his first and only drivers' championship that season, while Brawn GP won the constructors' title and went on to become Mercedes from 2010 onwards...
To hear more from Jock Clear, Listen to the full Beyond The Grid podcast in the player above, on Spotify, or Apple Podcasts.