Feature
Behind the scenes with Carlos Sainz: Wakeboarding, boating and football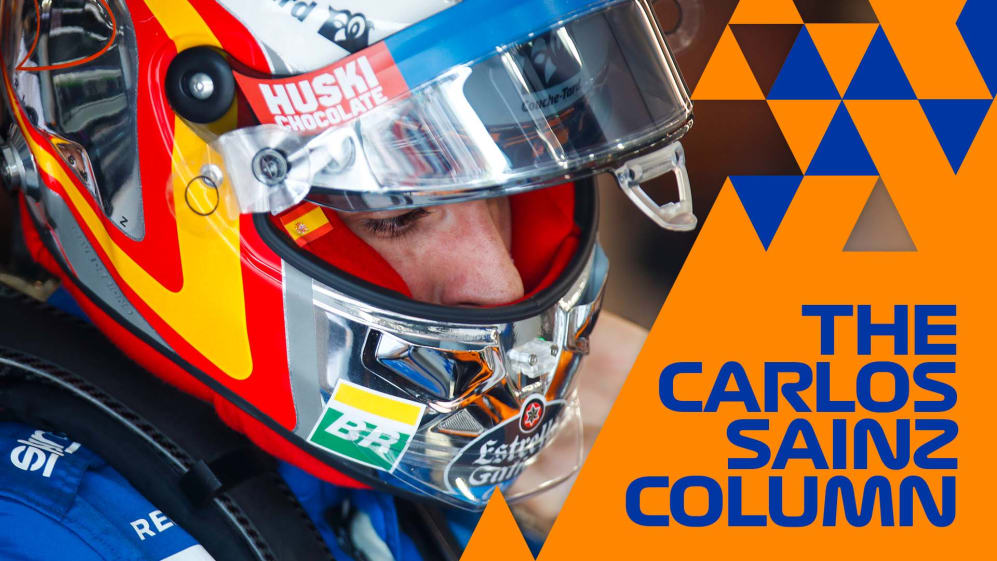 Hi everybody, one third of the way through this season already! After a frustrating opening three races, we turned a corner in the next three - ending with sixth in Monaco, a result that I was so pleased with after all the hard work we have been putting in. Canada was challenging and, even though the result was not good for the team, it showed our potential and gives us the motivation to keep on pushing.
Monaco is always a weekend I look forward to. Ever since I first raced there and won the Junior Monaco Kart Cup I have enjoyed it very much. It's such a special place. The weekend didn't start really well with the issue in P1 which meant I lost the whole of the first session. Monaco is about building confidence, so you don't want to start the weekend 30-40 laps behind. But I stayed calm and found a rhythm. I was really happy to get into Q3, after a tough P3 where we were nowhere on pace.
Then in the race, I got a good jump off the line but had nowhere to go so Alexander Albon nearly passed me around outside of Turn 1. But going up the hill, I was committed to getting ahead. Then I felt by braking late to stay ahead of Albon, I had an opportunity to get around the outside of Daniil Kvyat – so I took it and it was possibly one of the best moves of my career.
I knew it was possible since I had already done it in the Renault 3.5 Series against Oliver Rowland. Thereafter it was good racing, good strategy by the team and I think it ended up being a very complete weekend. I also like the fact that I kept my record of always qualifying in the top 10 and finishing in the points in Monaco.
Pre-Monaco football match
Before we get down to racing, there was time to stretch my legs in the annual charity match, hosted by Prince Albert II of Monaco. A bunch of us drivers took part alongside ex-footballers in the Stade Louis II stadium. It was great fun. I played quite a lot this year – and even nut-megged William Gallas! The soreness the following morning was not that fun though, but it´s always a pleasure to join this match!
Yachting in Monaco's harbour
I was pretty excited when I found out I would get to drive a boat in Monaco as part of our PR schedule. On Friday, Lando and I took a VanDutch 40 and 55 – both draped in a McLaren-inspired design with my one having my number 55 on it – out onto the water for a photoshoot. It was a very cool boat, so I might ask Zak for a pay rise to get one!
It was not only me and Lando out there but our communications team and my family, too. We needed to make it look like it was only Lando and me on there so, as you'll see from the videos, they had to hide during the shoot. The backstage of these things can be quite funny at times! The sea wasn't very flat, so everyone ended up feeling a bit dizzy when we got back on land. But the photos looked good!
Surfing with friends
After Monaco and some engineering work back at MTC, I headed back to Madrid for a promotional activity with my sponsor Shiseido and spent the weekend with my friends at Avila, near Madrid. We took a boat out for some wakesurfing. You use the wave of a boat to surf. I have never surfed in my life, but I really enjoy doing this. When I have time off, it's important to have time alone with your friends and family to recharge your batteries as life in F1 can get busy!
Onwards to Canada
We arrived in Canada on Monday, it's part of our plan to arrive at races earlier to give me more time to get acclimatised, get some quality training done and counter any potential jet lag. It's an amazing city, so it was great to have some time to walk around – and of course there was time to get a burger in, too.
Passenger ride for Rupert
At certain races, McLaren run passenger rides – or Hot Laps – for guests so they can experience what it's like to be driven round an F1 track at high speed. It was my turn to do a few in a McLaren 600LT on Thursday – but I was surprised to see Rupert jump into the seat next to me for one of them! I was expecting a journalist!
It was a fun moment to suddenly see him next to me. You could see on my face I was about to enjoy a good lap, as I wanted to scare him! And I think I managed well. It's a tough track to do show laps as the surface is slippery and you obviously don't want to put the car in the wall (my friends from McLaren Automotive will definitely not appreciate it much!). We also belt out some lyrics from Bohemian Rhapsody during the lap - feel free to rate our singing abilities.
A difficult weekend
Canada was challenging. I started the weekend very well and had good pace in FP1 and FP2, but I knew it would be closer in qualifying and that the Renaults would be a threat. We managed to get both cars in Q3, which was one of the targets of the weekend.
In Q3, however, I got a bit overambitious. I really wanted to get on terms with Renault and get a 1m 11.3 out of the car. But I went too hard for it in Turn 8, locked up a wheel and that was it. I got P9, which should have been P7 or P8. When trying to push the limit around the whole track these things can happen! Unfortunately, the P9 then became P11 on the grid because of a penalty I received for impeding Albon.
I was disappointed with the penalty. I did actually impede Albon in his first run of Q1 due to a miscommunication on the radio, but it didn't really affect his qualifying because he managed to go forward to Q2 after his second run in Q1. We all do two runs in Q1. What happens in the first run doesn't affect things because there's always half a second of track evolution and driver improvement, so I didn't think I was going to get a penalty for it.
I was in a very similar scenario in Austria last year with Sebastian Vettel. In my opinion, if you're impeded on a lap, but it doesn't affect your qualifying because you still progress, like happened to me in Austria, then there is no reason to push the stewards to give the other driver a penalty. It's about respect. It's also the right thing to do. I said in Austria that Sebastian shouldn't get a penalty even if he did impede me, as my qualifying wasn't affected. This is how I think it should be.
And that leads me onto the penalty Sebastian received when battling Lewis Hamilton. Every driver in Vettel's position would have done the same - moving across the track to protect your position and taking into account he was a bit out of control after going across the grass. He lost time and he re-joined the best he could to the racing line.
I don't think there should have been a penalty. I know there is a rule that you have to re-join the track safely but, for me, this sport could do better without so many rules and politics and a bit more respect and honesty from all drivers and teams. Having said all that, the extreme criticism and threats the stewards received after Sebastian's penalty is totally unacceptable. The only thing we should demand from them is to apply the current rules in the best way possible and be consistent with penalties, which is what they did in this case.
Going back to my race, I had to do a very long stint after a tear-off got stuck in a brake duct and forced an early stop. We nearly made it work, we were just a few laps short. When I pitted, I came out last but passed a lot of cars and got back into the points. We had the pace, but couldn't really show it due to the extra tyre management. It was a tough stint, a long race and unfortunately it went a bit away from us towards the end and we dropped out into 11th. I had no tyres whatsoever to defend my position!
Without that early pit stop, I reckon good points were definitely possible. We'll take confidence from that and now turn our attention to the French Grand Prix. As ever, thanks so much for reading – and for leaving so many positive comments. I'll speak to you after the Austrian Grand Prix – and until then, you can follow and get in touch via @CarlosSainz55. Have a great few weeks!