'Best ever overtake' helps Sainz maintain Monaco points record
The prospect of Carlos Sainz keeping his record of finishing each of his Monaco Grands Prix in the points alive seemed remote on Thursday morning, as an energy store issue robbed him of most of his running in Free Practice 1. But the Spaniard regrouped on Saturday afternoon to qualify P9 before a mixture of his speed and McLaren's strategic nous saw him finish a fine sixth in Sunday's race.
Sainz enjoyed a fantastic start to the Grand Prix, surging past the Toro Rosso of Alex Albon on the drag up the hill before going around the outside of Daniil Kvyat through Massenet – in what he called "definitely one of my best overtakes" – to claim an early eighth place.
Really happy, really good job by all the team and that P6 is a good one
Sainz was then one of the drivers who opted not to pit under the Safety Car brought out on Lap 11, meaning that when he boxed on Lap 30, he was up in fifth place. He re-joined in ninth before setting what at that point was the fastest lap of the race to keep Kvyat behind when the Russian pitted two laps later, before getting promoted to his eventual finishing position of sixth when Alex Albon and Romain Grosjean then pitted.
"A very good weekend," said a delighted Sainz after the race. "It was difficult to start with but we peaked at the right time, which was in qualifying [and] we peaked in the start picking off the two Toro Rossos. Around the pit stop we managed to put some solid laps together and jumped the rest of the field. So really happy, really good job by all the team and that P6 is a good one."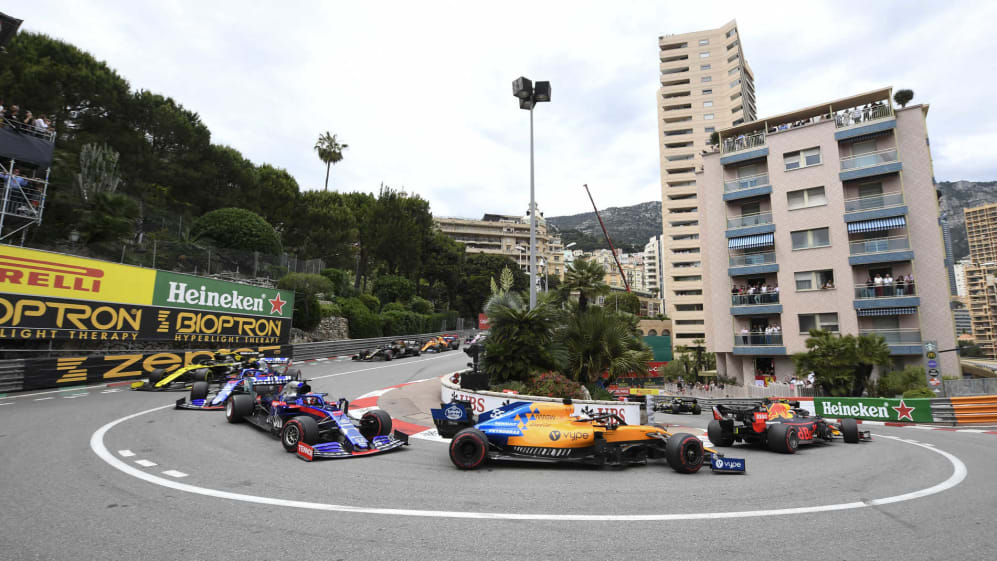 In finishing sixth, Sainz matched his best result in Monaco from 2017, as well as keeping that points streak in the Principality going. And according to the Spaniard, it's a record that his father, three time Monte Carlo Rally winner Carlos Sainz Senior, is especially proud of.
"It's a good record and I like having it here in Monaco," said Sainz. "My Dad, when I was a kid, told me, 'Look, if there's a place to shine, that is Monaco', and I always prepare this race more special than the others, put a bit more focus on it, focus a bit more and it seems to pay off all the time."
Having failed to score in the first three races of the season, Sainz has now taken points the past three Grands Prix, with his Monaco result moving him into the prized seventh spot in the Drivers' standings, four points clear of Haas' Kevin Magnussen.